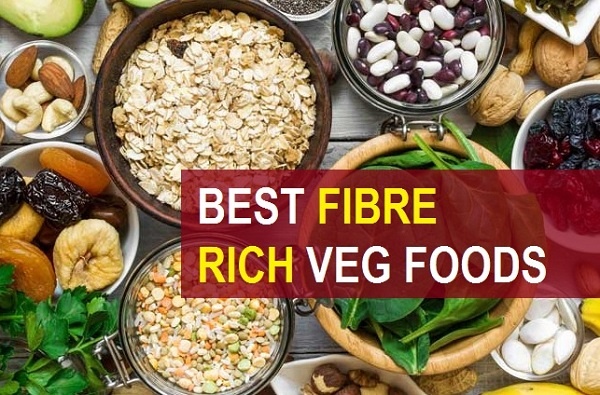 Fiber in your diet is extremely important. High fiber content in your diet helps to lower the blood sugar levels and fights constipation effectively. This is so true, that when your diet is rich in fibrous food then your immunity is also enhanced. While there are numerous benefits of taking fiber rich diet, we'll be sharing the Indian food items which are rich in fibers.
Fibers can be both soluble and insoluble which is a good food source for the good bacteria in your large intestine. This is why they help in softening your tools and supports a regular bowel movement. Therefore, they are extremely beneficial to make you feel fuller and in minimizing the constipation. Fiber rich food items also lower the bad cholesterol and reduces the risk of heart diseases.
Let's check the top healthy foods which are high in soluble and insoluble fiber.
List of Best Fiber Rich Indian Food Items for Better Immunity & Digestion
1. Pears
Pear is an extremely popular tropical fruit which tastes delicious and is highly nutritive. It is one of the best fruit sources of natural fiber. 100 grams of pear gives you 3.1 grams of fibers. Taking it regularly also helps to get relief  in consitipation.
2. Strawberries
Strawberries are used in lot of sweet dishes and even ice creams are flavoured, yoghurt and smoothies. It is a nutrient rich fruit which is loaded with Vitamin C and powerful antioxidants that help to boost your natural immunity. For 100 grams of strawberries, gives 2 grams of fiber. Strawberries are suitable for people who want high fiber with low calorie count. This is why these are power fruit that can be taken when you are on a diet.
3. Avocado
Avocados are extremely delicious foods which are high in carbohydrates and loaded with heart healthy fats. They are high in vitamin C, vitamin E, magnesium and potassium. These are also rich in vitamin B9.  100 grams of avocado contains 6.5 grams of fibers.
4. Apples
An apple a day keeps the doctor away. Apples are not just loaded with iron, vitamin A, Vitamin C and lots of antioxidants but the power food is one of the best fruits to have which is rich in fibers. Per 100g of Apples contains 2.5 grams of fibers.
5. Raspberries
Raspberries are used in Sweet dishes and for flavoring purpose. It is a highly nutritious fruit with a very strong flavor and taste. They are high in Vitamin C and Vitamin B complex. 100 grams of raspberries gives you 6.5 grams of fiber content.
6. Bananas
Banana is rich in potassium and Calcium. The power food is suitable for kids and adults of all age group except for diabetic individuals. They contain fibers along with other nutrients. It gives you 2.5 grams of fiber per 100 grams.
7. Carrots
Carrots are rich in Iron, Vitamin B6, Vitamin K along with several other micronutrients. They contain beta-carotene and are high in vitamin A that is required for maintaining healthy vision. 100 grams of carrots gives you 2.8 grams of fiber. They are one of the best vegetables to have in your salads when you are on diet and would like to have something fibrous and with low calorie count. Carrots top the list of food item available in India that are suitable for relieving constipation.
8. Beetroot
Beetroot is rich in potassium, copper, iron, and vitamin A. The root vegetable is highly nutritious and rich in fiber content. 100 gram of beetroot gives you 2.9 grams of fibers. It is also loaded with antioxidants and is suitable to be used in your salads.
9. Broccoli
Broccoli is a cruciferous vegetable which is packed with nutrients. This food item or Vegetable tops the list of fibrous vegetables in India. It is loaded with Vitamin C, Folate, Vitamin B complex, and other antioxidants and cancer fighting properties. It is high in proteins and contains 2.5 grams of fibers per 100 grams.
10. Pulses or Lentils
Lentils are also known as one of the best plant based protein sources for vegetarians. There are different types of lentils available in India, that you can have in the cooked state. Every 100g of pulses gives 1.9 g of fibers. They are one of the best thing to have daily, when you are vegetarian.
11. Kidney Beans
Kidney beans are very commonly used and food item in Indian subcontinent. They are loaded with proteins and other essential vitamins. Every 100g of kidney beans provide 6.5 grams of fiber. They are also known as powerful food item that boosts immunity.
12. Oatmeal
Oatmeal are amongst the healthiest whole grain food on the planet. They are high in vitamins, minerals, proteins and carbohydrates. Other than that, they are also rich in antioxidants. They contain powerful soluble fibers which also reduce the blood sugar and cholesterol levels. Having oats everyday keeps your heart healthy and decrease the insulin resistance. 100 grams of oats gives 10.5 grams of fiber content.
13. Chick Peas
Chick peas are used a lot in preparing various delicacies. You get 7.6 g of fibers in 100g of chickpeas. A lot of people also uses them for breakfast salads and in sprouts.
14. Almonds
Almonds give 12.5 grams per 100 grams. They are power house of proteins, vitamin E, Iron, Vitamin B complex along with the fibers. You can have a handful of almonds every other day or take 5-6 per day. It also increases the brain functioning.
15. Chia Seeds
Chia seeds are super food and are also available in packaged which health conscious people love to include in their diet everyday. You get 35 grams of fiber per 100 grams.
16. Sweet Potatoes
Rich in iron, Vitamin B6, Calcium, Vitamin C, Magnesium and Vitamin A in ample amount. Every 100g of sweet potatoes contain 2.5 grams of fiber content. They can be eaten boiled or roasted. During winters, this is eaten in their roasted form.
17. Flaxseeds
In 100g of flaxseeds, you get 27g of dietary fibers. This is a huge amount but these should be taken in moderate quantity. Other than that, Flaxseeds also contain good fats like omega-3 fatty acids which helps in the reduction of bad cholesterol.
18. Cabbage
You get 2.5 g of fibers in 100g of cabbage. The vegetable is rich in protein, Vitamin C, A, K, B6, along with Potassium, Calcium, Magnesium and more.
19. Fig
You get 1.2 g of fibers in 100g of fig. The tropical fruit is beneficial in eliminating the free radicals as it contains high amounts of anti-oxidants.
20. Guava
We can get 5g of fibers in 100g. The fruit is wonderful source of natural anti-oxidants and vitamin C. It also contains other nutrients like Vitamin A, Vitamin B-6, Iron, Calcium, Magnesium and Potassium.