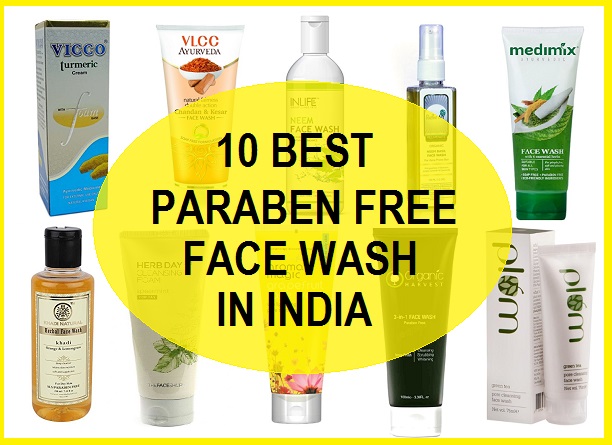 Best Paraben-Free Face Wash in India 2019: Oily, Dry skin, Sensitive, Acne Prone Skin
Out of the so many brands of face washes, it gets extremely difficult to find which is the best paraben free and soap free for you? There are face washes that are chemical filled and there are products which are totally herbal in nature. The number of herbal brands has increased and these brands offers the paraben free and chemical free stuff for the skin care. So, here I have compiled a list of the best chemical free and paraben free face wash in India. These facial cleansers are organic in nature and consist of the very herbal ingredients that are known to cleanse the skin well and also to make sure that the skin stays pH balanced.
The list includes herbal face washes for the oily skin, dry  sensitive skin, combination and also for the acne prone skin types. Hopefully, the list will help you in finding the best herbal paraben-free facial cleanser for your skin type. How amazing would that be when you use a face wash with no chemicals like parabens and other harmful sulphates? Let's check the list friends!
Best 15 Chemical Free and Paraben-Free Face Wash in India (2022)
The list is in no order so, do not think that the product at the top spot is the best but they all are the best for different reasons and considerations. 
1. WOW Apple Cider Vinegar Foaming Face Wash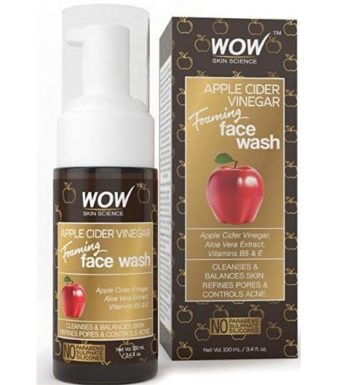 If you are searching for the best paraben free facial cleanser then this tops the list. The face wash comes with a bio-active rich formula which has pure apple cider vinegar, vitamin B5, Vitamin E and aloe vera extract. It prevents the future breakouts by cleansing the skin extremely well. Apple cider vinegar makes the dead skin cells loosen up and then remove them completely. It also kills the bacteria causing acne and skin issues. Natural Vitamin E oil repairs the damage skin and heals the scars. It is one of the best rated paraben and Sulfate free face wash in India. The product has received extremely good reviews from the customers across the globe.
Recommended For: It is suitable for all the skin types yet, I would suggest that oily and acne prone skin will really like it. Even for blackheads, We've this complete list of face washes for blackheads that you must try to get rid of the blackheads on your skin. 
2. Mcaffeine Neem Face Wash Cleanser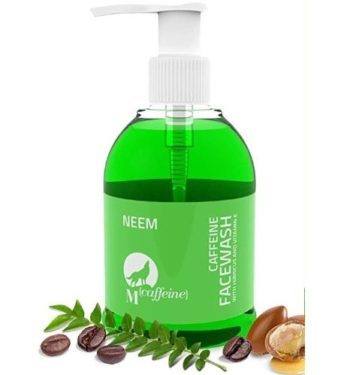 Mcaffeine facial cleanser is a dermatologically tested and recommended product. It is safe for all skin types. Free of harmful chemicals, it plays a part in keeping the skin supple. It is one of the most suitable face cleansers for oily and acne-prone skin. Rich in the Argan oil, caffeine, it gives beautiful glow on the skin. It deep cleanses the pores and the gel texture doesn't give psuedo lathers. It's powerful anti-oxidant rich formula ensures the pore minimization and skin detox but yes, it does cleanse thoroughly. It is the best paraben-free and cruelty-free face wash for acne prone and oily facial skin.
Recommended for: Oily to Acne prone skin
3.ST. D'VENCÉ Moroccan Argan Oil and Raw Honey Face Wash
D'VENCÉ Face wash is a blend of herbs like Argan oil and honey to moisturize and make the skin glow. It is able to cleanse the skin and to gives deep cleansing. Other than that, the chemical free Ayurvedic face wash also has the ingredients like aloe vera and vitamin E. These regulate the sebum and maintain pH balance. It also promotes and lessens oil secretion. So what you get? Oil-free clear skin! It is also suitable for all other skin types. The important thing, it's free of SLS, SLES and parabens.
Recommended for: All Skin Types
4. Blue Nectar Ayurvedic Acne Face Wash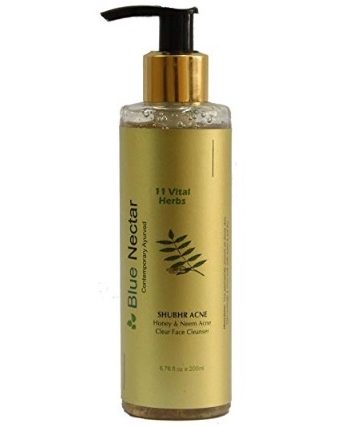 The cleanser is made with the Neem and Honey. It is gel based and also contains 11 herbal ingredients. The mild face wash is suitable for everyday use and protects the skin against pimples. It lathers well and has a pleasant smell. Only a drop is enough to wash your face once. With the oil controlling and regulating formula, this is one of the best paraben and chemical free product or oily acne prone skin. Moreover, this cleanser is also soap free and synthetic colorant free. By the way, I made my skin clear by using the charcoal facial packs, if you aren't aware  about this latest beauty products then you should read this article on best charcoal face masks in India. 
Recommended for: Oily and Acne prone skin and Dull and Dark skin
5. Morpheme Remedies Apple Cider Vinegar Face Wash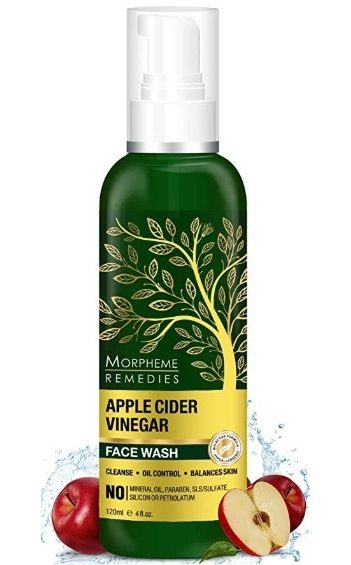 Biotique Honey Foaming Face Cleanser has no parabens, SLS, soap residue or alcohol. It deep cleanses the facial skin pores and balances the pH of your skin. It has apple cider vinegar extracts which also shrinks your pores. The presence of exfoliating nature, it is bound to give you clear skin as it also scrub the dead skin cells from your face. While controlling the oils, it also balances the skin tone. When pores is your concern, check this post that talks about how to keep the pores clean to prevent skin problems.
Recommended For: All skin types, but better for oily-combination skin
6. The Moms Co. Natural Vita Rich Face Wash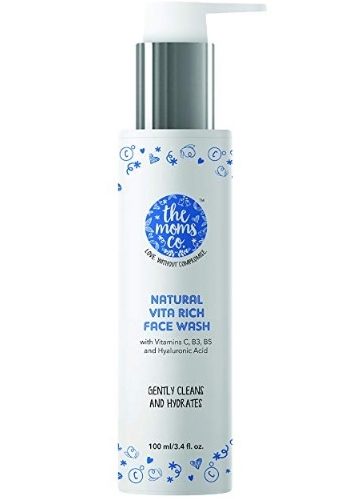 FB acid Vitamin C, vitamin B3 and B5. It also contains Neem and Witch Hazel. It is a suitable facial cleanser for dry and sensitive skin. Hyaluronic acid helps to treat the dryness and also works like an anti aging ingredient. The olive oil based cleanser is purely natural and is free of parabens, SLS, SLES, phenoxyethanol and synthetic fragrances. It has received rave reviews from the customers, who have incorporated it as a part of their daily skin care routine. Vitamin C decreases the dark spots and breakouts on your acne prone dry skin.
Recommended for: All skin types, especially dry breakouts prone skin
7. Oriental Botanics Activated Charcoal Bright Glow Face Wash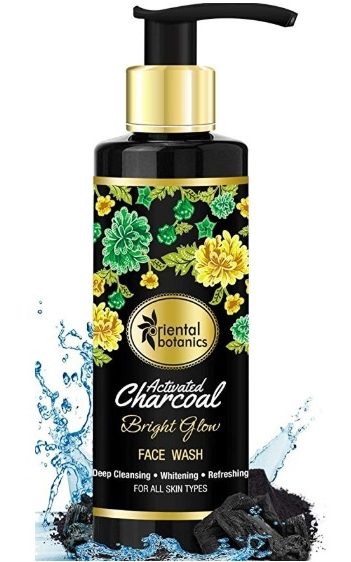 You can supercharge your skin with this paraben free facial cleanser. It contains activated charcoal, Vitamin C, vitamin E, vitamin B3 and B5. A powerhouse of vitamins and antioxidants, this cleanser gives you clear glowing skin. It also contains tea tree oil therefore, it is best for pimples and blackheads on your skin. It prevents the skin from pore clogging and blemishes. It is a suitable facial cleanser for oily and sensitive skin. Even if you have combination skin, you can put it in your skin care routine. The pump dispenser makes it easy to use, but once opened, it cannot be taken along while you are travelling.
Recommended for: All skin types
8. Mamaearth Refresh Oil Control Face wash for Men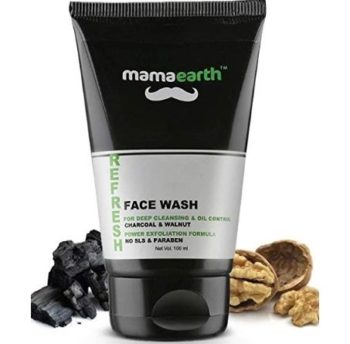 Our list of the best paraben and SLS free cleansers won't be complete, if we do not include an effective men's face wash in India. Mamaearth Refresh Oil Control Face wash for Men is loaded with walnut extract and charcoal. 18 extracts gives your skin polishing and fight the blackheads and dead skin cells. Activated charcoal acts as an anti pollution element. It draws the deep seated impurities from your skin. It also detoxifies your face, if you are someone who stays outdoors for most of the day when use of a facial cleanser like this with surely help you in combating the pollution effects. It is free or from the Chemicals like SLS, paraben and artificial fragrances. The scrubbing beads in this product make your skin clear and glowing. It does not control the oil as much, if you have very oily skin during summer season.
Recommended for: All skin types, especially dry breakouts prone skin
9. Khadi Mauri Herbal Neem Face Wash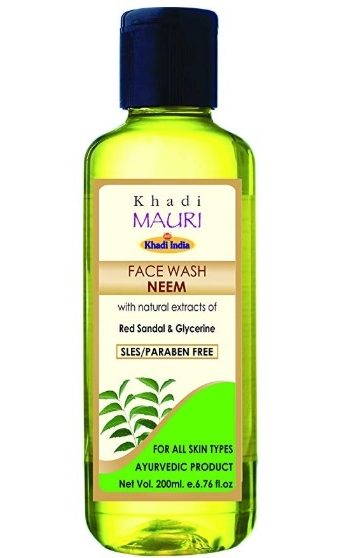 Khadi products are made from the herbal ingredients and the best thing about them is that these face washes are free of the chemicals like parabens and SLS. It has pure form of ingredients and has no artificial colorants etc. It lathers gently and is able to cleanse the skin better. Neem and Red sandal keeps the skin free of acne and fights skin tan and darkening. So, if your skin is dull with very shallow complexion, this can be used. There are a lot of different variants but the one with orange and lemongrass is for everyone and all skin types.
Recommended for: Acne prone, combination skin
10. Evam Green Tea Bamboo Face Wash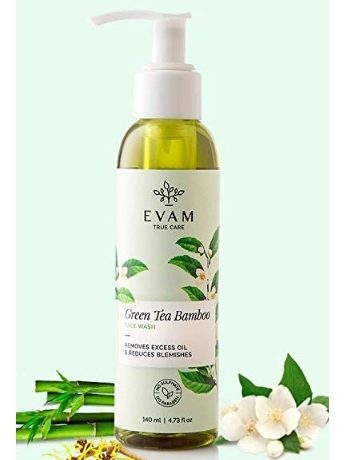 The bamboo and Green tea laden face wash is effective in removing excess oils and in reducing blemishes. It is one of the best paraben-free cleansers for men with oily-acne prone facial skin during summers. It gently purifies and protects your skin from environmental pollutants, dust and sun burning to keep the skin fresh and glowing. Evam's products are free of Sulphates, Parabens, Silicones and Mineral oils, this is why it has gotten good reviews.
Key Ingredients: Green Tea, Bamboo, Aloe vera, Witch Hazel
Recommended for: Oily to combination and acne prone skin
11. Vya Naturals Anti-Acne, Turmeric and Tea Tree Face Wash
Tea tree and Turmeric in this paraben-free facial cleansers helps to uplift the impurities and freshen the skin. Tea tree also tightens the skin pores and reduces skin spots like black marks and dark spots. Moreover, it's purifying and calming nature helps to sooth the irritated skin in case of cystic acne. It can be used by everyone as it is not a drying product that leaves the skin stretchy or dry post the application. It does not lather much as it is a purifying one.
Key Ingredients: Curcuma Aromatica (Kasturi Manjal/ Wild Tumeric) extract, Melaleuca Alternifolia (Tea Tree) Oil, Ocimum Basilicum (Basil) oil,
Recommended For: Oily, acne prone and combination skin types
12. Organic Harvest 3-in-1 Paraben Free Face Wash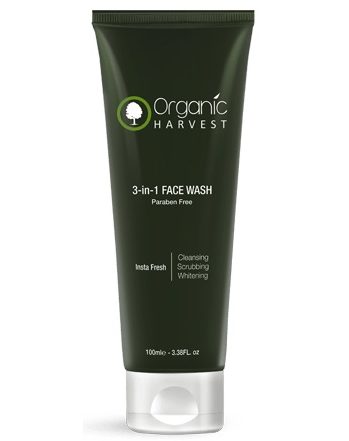 Organic Harvest paraben free face wash is a dual product i.e it's a cleanser and a scrub. It deep cleanses the skin's  impurities. The scrubbing particles removes the hardened sebum and deep seated impurities. Moreover, it is also a skin whitening face wash that everyone can try. It contains the natural actives like the pure Ribose which is obtained by corn seed sugar.
Recommended for: All skin types for men and women
13. INLIFE Soap & Paraben Free Neem Face Wash
This face wash from Inlife is a paraben free and soap free skin cleaner which has neem extracts. Hence, the cleanser is good for sensitive, oily and acne prone skin types. Anti-bacterial neem helps to cleanse the skin by eliminating the bacteria and sebum. It also cures the acne.
14. Rustic Art Organic Paraben Free Neem and Basil Face Wash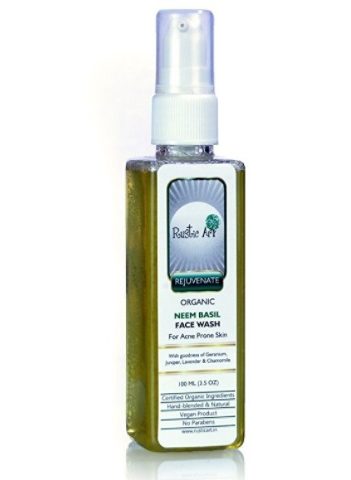 Rustic Art products are free of chemicals and parabens. The face wash has basil, neem and lemon essence that is good for open pores and oily skin. It is quite refreshing and gives and oil free skin. Price too is quite affordable, therefore, it can be used by people with oily face. The cleanser shrinks and tightens those large pores. So, you can apply this before makeup. men can use this before going out for a party 🙂
Recommended for: Oily skin, combination and normal skin (open pores problem)
15. Plum Green Tea Pore-Cleansing Face Wash
It's a chemical free deep pore cleansing product that is suitable for very oily skin and skin that is more prone to the acne problem.This Green Tea range is most suitable in for Oily, Sensitive, and Acne-Prone Skin.
This is the list of the best chemical and paraben free organic face washes available in India. Have you tried any of these? These can be used by men and women and even the teenagers.