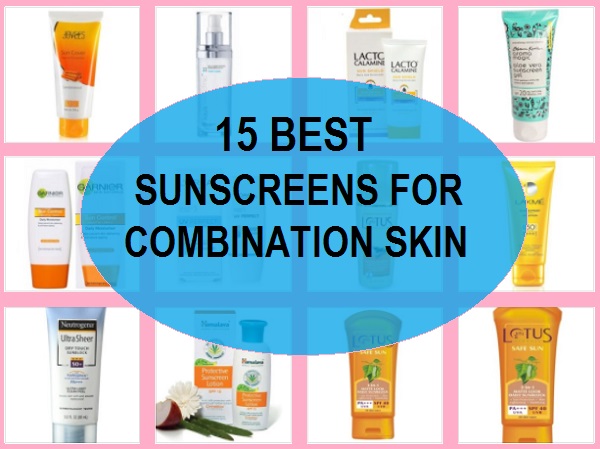 Top 15 Best Sunscreens for Combination to Oily skin in India
Sunscreens are extremely important and it should not matter if it is summers or winters, rainy or cloudy. But how many for us actually use them until we get darker. Yes, most of us would apply sunscreens not to protect the skin cancer, photo aging, sun burns etc, but to protect the skin from getting dark and dull. No one of us would wish to lose their precious fairness. But it is also true that no matter what your reasons are, application of sunscreen is must. Here, we created this list of the best sunscreens for the combination skin and oily skin in India. Oily and combination skin is tricky to manage but using the appropriate skin care product, half the battle is already won. This list can help you in choosing the best one according t the skin type, price and its availability.
Top Rated Sunscreens for Combination skin and Oily skin in The Market (2021)
In summers, when the sun rays are more damaging, you can become a victim of photo aging and the dreadful results can be lines, wrinkles, crow's feet, sagging skin, age spots, sun spots etc. So, let's take a look at the best sunscreen lotions that we have for combination skin useful for both men and women.
1. VLCC Matte Look Sunscreen Lotion SPF 30 PA+++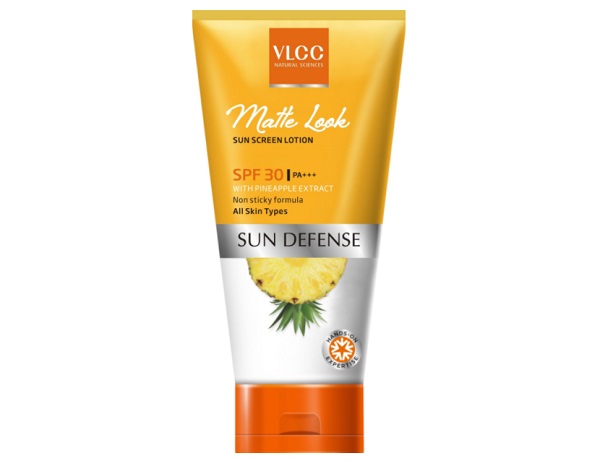 SPF 30 is good for daily use. VLCC Matte Look Sunscreen Lotion is suitable for all skin types except for the dry skin. Hence, for the summers you can apply it, if you have oily and combination skin. It provides a matte finish and also protects these skin from the UV rays. This lightly fragranced sunscreen from VLCC is made using the pineapple extracts.
2. Lotus Herbals Safe Sun 3 In 1 Matte-Look Daily Sun block PA+++ SPF-40
This Lotus Herbals Safe Sun 3 In 1 Matte-Look Daily Sunscreen is rich in the SPF 40, so, while you are roaming around in the hot weather, your skin is still protected. The sunscreen is surely one for the best sun lotion and is also very affordable. It is light and non oily hence is perfect for combination skin and oily skin. It provides a matte finish as the name suggest and gives oil control benefits for few hours. Therefore, to protect the skin sagging and darkening, use a matte lotion like this.
3. Himalaya Protective Sunscreen Lotion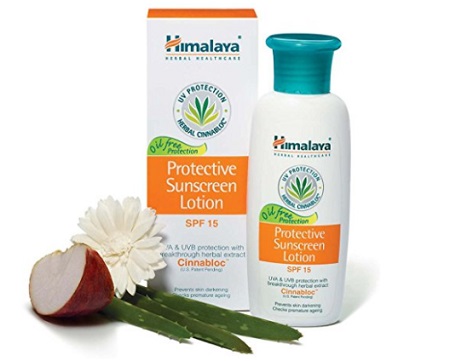 One of the most pocket friendly and best sunscreen for dry sensitive and combination skin in India. It has the goodness of natural ingredients like aloe vera, greater galangal, spiked ginger lily and crab apple to give you sun protection.
4. Neutrogena Ultra Sheer dry-touch Sunblock SPF 50+
Get freedom from the sun tanning and ageing for skin with the help of the Neutrogena Ultra Sheer Touch Sun Block. It has a high SPF 50 that works in all seasons. It is appropriate sunscreen for all skin types especially when the skin is very oily and combination. It is one of the best and popular non-sticky sunscreen for sensitive, combination and normal skin.
5. Ayur Sunscreen Lotion SPF 15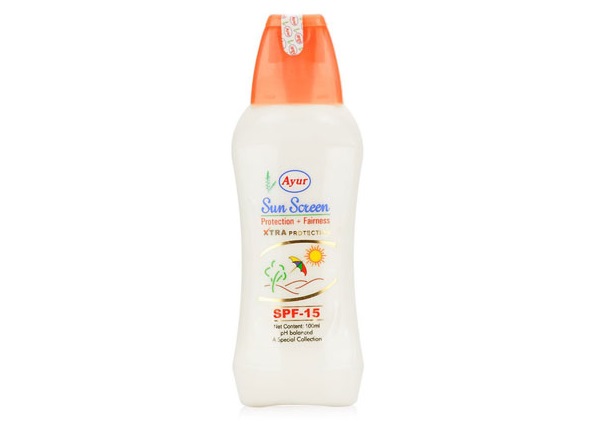 Ayur sunscreen is made for the combinations skin that is a combination of dry and oily. It is suitable to apply all around the years and is also safe for the people with sensitive skin type. The sunscreen lotion is very affordable and light on the pocket. The non greasy and light formula is safe and does not feel excessively heavy on the skin.
6. Lakme Sun Expert UV Sunscreen Lotion SPF 50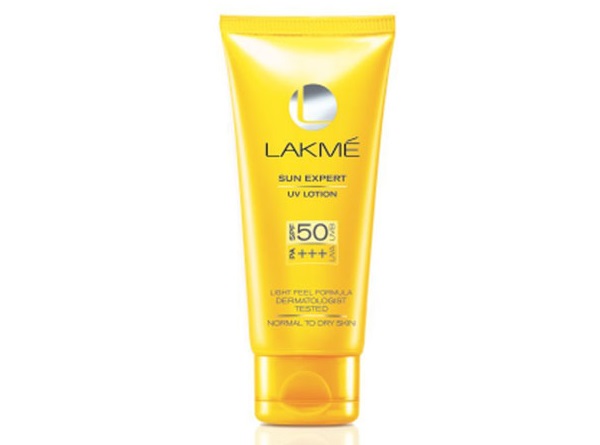 Our very own Lakme also formulates various different sunscreen lotions. Like this one with the SPF 50, SPF from 20 above are considered good for the everyday use and are also safe to act as a shield from the harmful UV rays.  It can be called as the one of the best sunscreen lotion for the acne prone skin, oily and combination skin. It has SPF 50 PA+++ for broad spectrum and to prevents the wide range of UVA and UVB rays.
7. Lotus Herbals Sandalscreen Sandalwood Sunscreen Lotion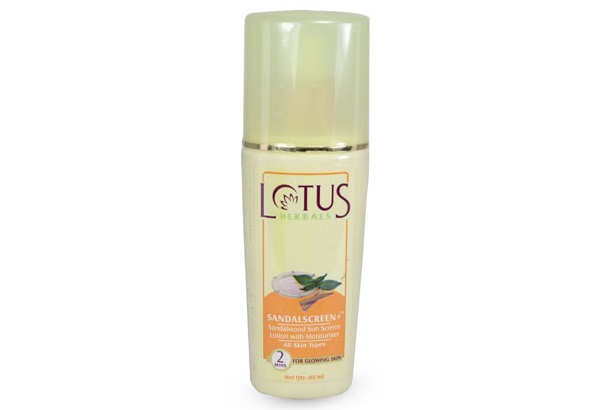 It's a body sunscreen for the people for combination and dry skin. It heals the dryness with the sandalwood extracts and also makes the skin tone lighter and more glowing. The sunscreen can be applied once in the morning before stepping out of the home and then it can be used after few hours to further strengthen the protection. It also gives mild cooling due to the sandalwood in it.
8. L'Oreal Paris UV Perfect Moisture Fresh Sunscreen SPF 30
L'Oreal Paris is well known brand that is highly reputable. The L'Oreal Paris sunscreen is with SPF 30 with a broad spectrum, thus,it is suitable or summers for daily use and for men and women all. It is a mildly scented product which does not irritate the sensitive combination skin. Though it can be used for hot weather, but it can also be applied during winters.
9. Garnier Sun Control Daily Moisturizer SPF 15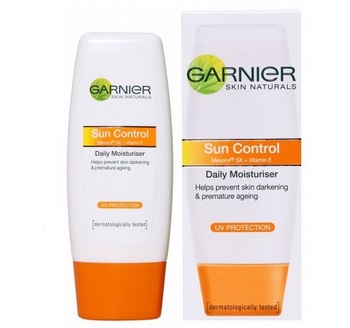 Though SPF 15 is not that much but yet is good for every day application. It can be applied under the makeup products like the foundation, powders, BB creams etc. It contains glycerol and coriander extracts and thus helps in skin purification. It is slightly greasy hence not for the oily-combination skin types, but is more of a sunscreen for dry-combination skin. The sunscreen spreads nicely on the skin and provides the hydration and glow.
10. Vedic Line Sweat Free Sun block Cream Gel SPF 30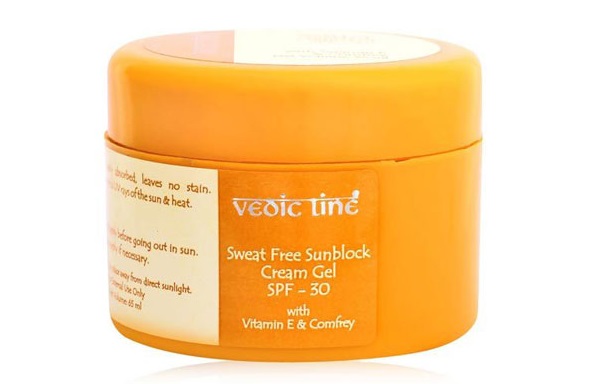 Vedic Line sunscreen is made with some of the natural ingredients hence, it can be the best natural or herbal sunscreen lotion. It has a gel formula and suits the combination- acne prone skin type. The texture is easy to blend and gets absorbed leaving behind the layer of physical sunscreen that reflect the harmful Ultraviolet rays. Upon application, the lotion also gives subtle cooling sensation which is considered beneficial for the irritated and sun burnt skin in summers. For the oily skin, this can be the best sunscreen cream for summer season.
11. Biotique Bio Aloe Vera Face & Body Sun Lotion SPF 30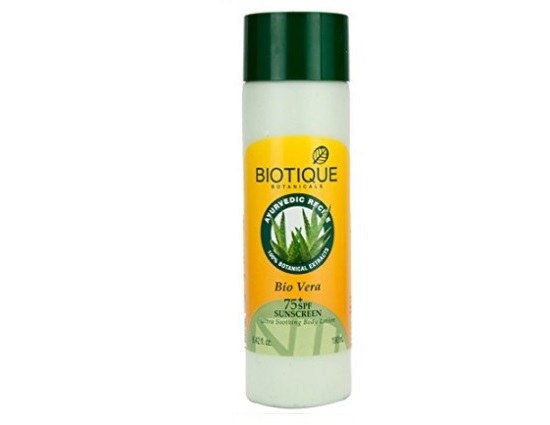 For dry –combination skin, Biotique Aloe Vera Face & Body Sun Lotion is appropriate. The aloe vera ingredients in this make this soothing and cooling for sun irritated skin. It can be dual purpose as this can be applied on the face and body both. SPF 30 again is apt for daily use.  Price is also affordable and so does the packaging which is extremely easy to carry around with you!
12. Aroma Magic Aloe Vera Sunscreen Gel SPF 20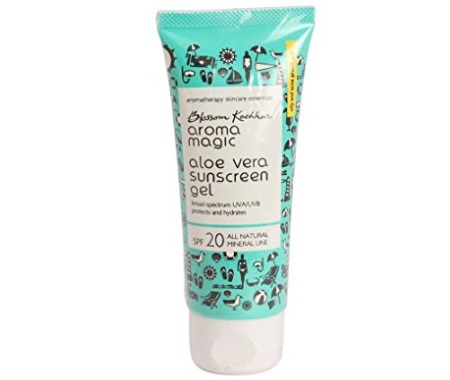 Another herbals sunscreen lotion for combination skin, this time it is the Aroma Magic Aloe Vera Sunscreen Gel. It is for combination to oily to acne prone skin type. The formula is very light and gel texture makes sure that you do not sweat as much and yet get the maximum protection. It has SPFF 20 for daily application. The gel blends nicely and for oily skin give at least 3-4 hours of oil free look. It is enriched with wheatgerm, avocado, and grapeseed oil that re also considered good for all skin types by the way.
13. Lacto Calamine Sunshield with Aloe Vera
Aloe vera is a hot favorite for sunscreen brands. Lacto Calamine Sunshield with aloe vera imparts sun-protection to all skin types. You can take just a blob of this and apply all over the face neck and your nape as well. There is one more variant which has lemon extracts thus is for the oily to acne prone skin. This can be suitable for combination skin type.
14. Kaya Skin Clinic Daily Moisturising Sunscreen with SPF 30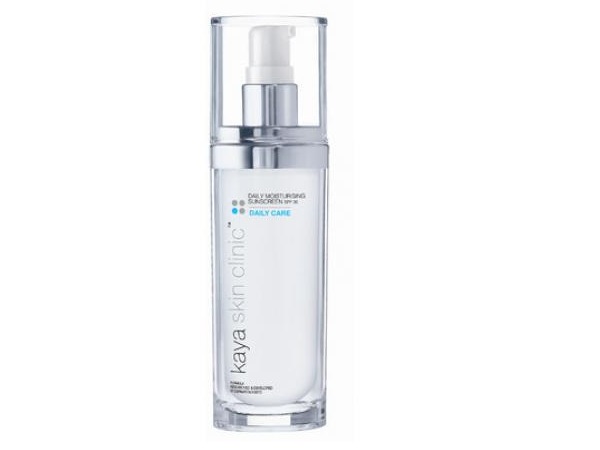 Kaya moisturizing sunscreen is best for sensitive skin that gets heat rashes and red itchy spots on the face. It gives nourishment at the same time, give sun protection. It works by absorbing all the harmful ultraviolet rays and giving skin the much need sun shield.
15. Jovees Sandalwood Sun Cover Natural Protection
Jovees Sandalwood sunscreen is applicable for all skin types. It also improvises the dull and shallow skin color due to the sandalwood extracts in it. It aids in skin lightening and also removal of the tanning. The sun lotion has a pleasant sweet woody smell of sandalwood and spreads very well on the skin to give glow and dewiness. Tube pack makes it travel and user appropriate.
Tips for using sunscreens and sun lotions
We use sunscreen when the weather is hot like in summers but UV rays are present all around the year. Though the intensity is reduced in seasons like rainy and cloudy days but yes, the harmful and skin damaging UV rays are still there.

SPF 20 or above is good for the everyday use.

Apply generous amount of sum lotion so that a protective layer is formed on the skin.

You must apply your sunscreen at least 15-20 minutes before you step out in the sun.

Use sunscreen as per the skin type and requirement.

While going for swimming or beach try water proof sunscreens
So, folks, these are the best sunscreens brands for combination skin in Indian market.
Hope that it will help you in choosing the best and suitable one for you! Have you used any of these do share in our reviews!