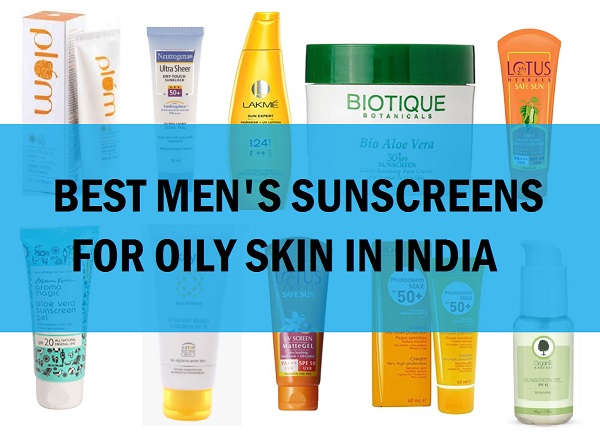 Best Sunscreen for Men's Oily Skin in India
Daily sun exposure makes the skin dull, dark and aging signs appearance. The direct sun light damages the skin by making the skin darker and producing the fine lines. This is why sunscreen and sun protection is extremely crucial. To cure the photo damage for men's skin, using the right sunscreen lotion become essential. Oily skin sun lotions should be oil free and light in texture especially, for the hot summer season. In summers, oily skin in anyways become greasy due to excessive sebum production. So, using a Sunblock for oily skin that is non sticky should be the priority.
Top 10 Best Men's Sunscreens for Oily Skin and Acne Prone Skin in India 
Here, we have compiled this list of the best sunscreens for oily skin for men's skin in India. These are the natural sunscreens and sunscreen lotion that helps in the protection of skin. Men stays outdoors therefore use of an effective sunscreen or sunblock lotion is must if you want healthy skin.
1. Neutrogena Ultra Sheer Dry-Touch Sunblock SPF 50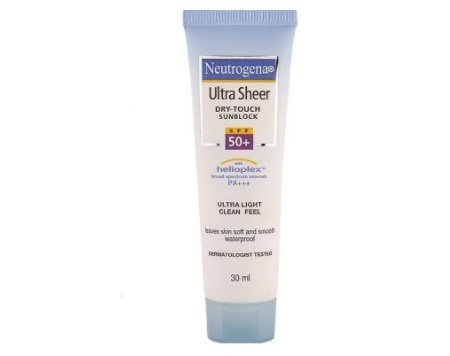 Men who want sunscreen that should be completely oil-free must try Neutrogena. This Neutrogena Ultra Sheer Dry-Touch Sunblock has the SPF 50. SPF 50+ sunscreen helps prevent sunburn and tan. This is an oil-free sunscreen  for oily acne prone skin that is also waterproof and sweat proof, so this does not get wiped off easily. You can be worry free while hitting the pool as its water resistant formula makes sure the sunscreen stays on the body. This can be applied on the face and body skin both. Neutrogena Ultra sheer sunscreen is a Dermatologist tested unscented sunscreen product and is the best non-comedogenic sunscreen for men.
My skin was very oily and had loads of break-outs, there were few creams which I used to combat oiliness and breakouts, Hopefully, this list of Best Men's Anti Acne and Pimple Cream for Oily Skin in India will help you.
2. RE'EQUIL Sunscreen for Oily, Sensitive and Acne Prone Skin SPF 50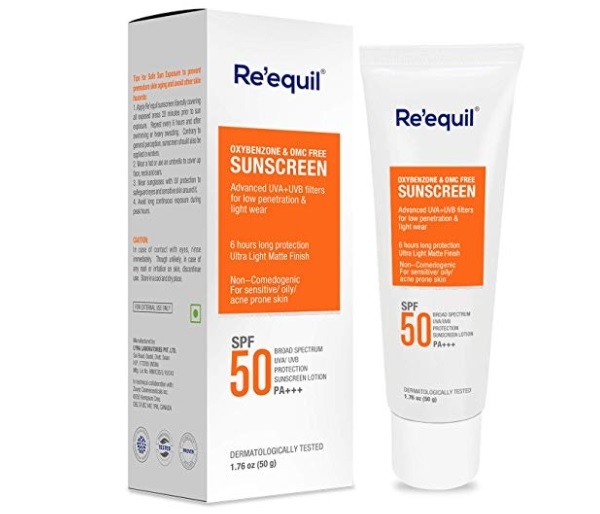 This nutrient-rich cream is non-comedogenic and oil-free. It's non-greasy finish helps to make skin matte without the white cast and greasiness. You just have to apply it once a day to get long lasting broad spectrum protection from UV rays. It is a high SPF sunscreen which is not heavy and just perfect for the oily skinned men. It has a micro-emulsion formula that spread evenly and smoothly on the skin. It has Oxybenzone and OMC Free Formulation. It is the best sunscreen for acne prone and oily skin in India which is suitable for men. I used this personally and have gotten really good results, which any of us would want from a sun lotion when the skin is sticky itself.
3. Lakme Sun Expert SPF 24 PA Fairness UV Sunscreen Lotion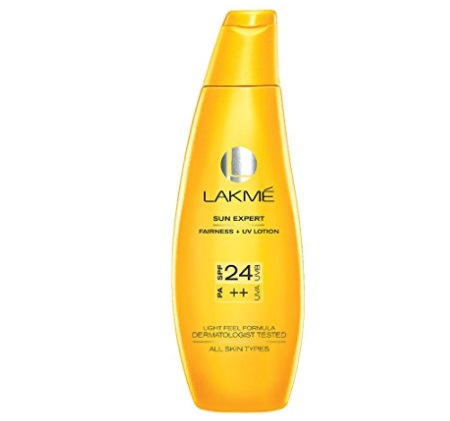 Lakme Sun Expert Fairness Sunscreen Lotion is a basically fairness sunscreen, is also ideal moisturizer for sensitive skin and oily skin. SPF 24 offers sun protection and sun damage cure. It also enhances the skin complexion by blocking the sun rays that can potentially harm the skin. It is suitable for all skin types. Lakme sun expert blocks up to 97% harmful sunrays. The formula and texture blends easily onto skin. This sunblock for oily face has a moisturizing formula which also heals the dry patches.
I've seen that a lot of you guys, have this issue of dark spots and scars, Even , I had, Like I mentioned. So, you must pick a skin creams from this list of the Best Pimple and Acne Scar Removal Creams in India to get rid of those quickly and use it daily. 
4. Plum Sheer Matte Day Cream SPF 50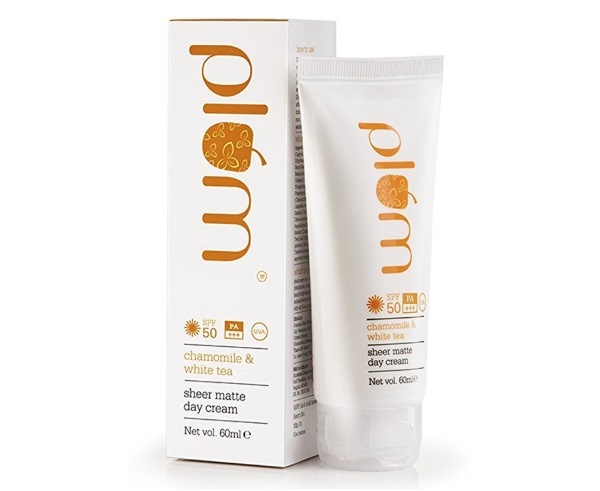 The sheer Matte day cream is one of the best mattifying sunscreen for oily skin. The Matte texture of this sunscreen helps you to appear shine-free especially on your T-zone. Rich in chamomile and white tea, this sunscreen is very easy to apply and doesn't leave white cast on application. SPF 50 shields your skin from the UV rays, which can lead to skin darkening and also premature aging. Chamomile in this sunscreen also soothes inflamed skin.
The best thing is that this product is free of chemicals, parabens, SLS and any other fillers. It's also a cruelty free brand. By far this, is the best men's sunscreen for oily in India at affordable prices. Few years ago, I also tried this, when this brand was newly launched, It was effective but then as I am a blogger, I have to try new products, therefore never really re-purchased. By the way, check more of the best paraben free sunscreens in India.
5. IPCA Acne-UV Oil Free Gel SPF 30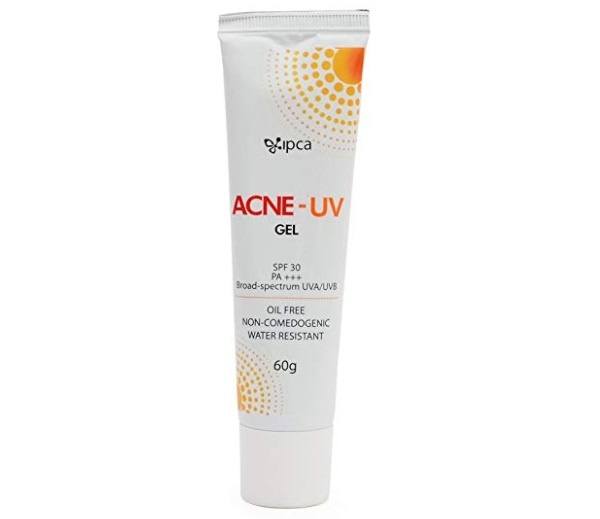 It is one of the best sunscreen for oily and acne prone skin. It is dermatologically tested product that is non-comedogenic and seeps into your skin brilliantly. The gel has a light texture and doesn't make your skin greasy upon application. It is water resistant and is free of preservatives and alcohol. It is an oil free sunscreen which is perfect to be used by people with oily and acne prone skin type during summer season. When applied on your acne and spotted skin, it doesn't make your face sticky or cakey. The oil-free formula is best for skin that is susceptible to pimples. It is an affordable product which is best suited product for summer season.
6. WOW Anti Pollution SPF 40 Sunscreen Lotion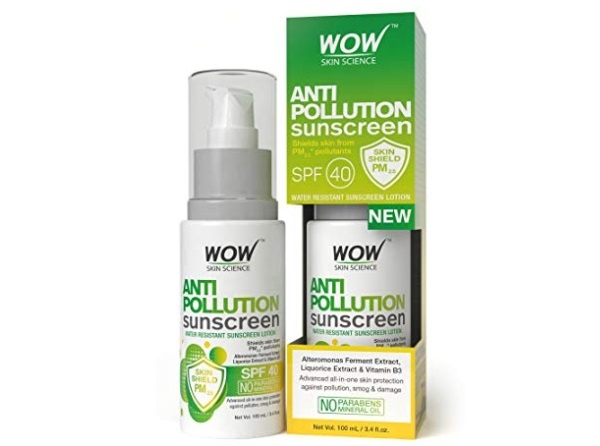 We can't deny that pollutants bad effects on skin. Pm 2.5 level pollutants may leads to dullness, peeling, itching, blackheads, whiteheads and what not. In the air pollutants in the industrial smoke can make your skin look dull and damaged. This anti pollution sunscreen comes with SPF 40. It is the best sunscreen for acne prone skin in India. These pollutants can also block your skin pores. Sunscreen has a mild pleasant smell and works to protect your skin from all those bad effects.
7. Lotus Herbals Safe Sun 3-In-1 Matte Look Daily Sunblock SPF-40
Lotus Herbals makes so many different sunscreens and that is no wonder that it also becomes difficult to find the right sunscreen for you? This Lotus Herbals Safe Sun 3-In-1 Matte Look Daily Sunblock has the SPF 40. The formula is matte which ensures an oil free look. The sunscreen gives natural sun protection and is suitable for the oily skin as the ingredients used and the formula makes the skin matte. A lot of sunscreens have this oily greasy feel and formula that makes the skin shiny after few hours. Moreover, they also give a sweaty look on the face. So, using a matte sunscreen is considered safe for the oily to combination skin.
Features:
It has the birch extracts that helps in rejuvenation. Regular application ensures the reduction of skin oiliness and refines the skin pores. Mallow extracts aids in the soothing of the inflamed skin. Hence, this sunscreen is not just for the oily skin but it is for the acne prone skin as well. Know more about the best summers products that men should use.
8. Kaya Ultra Light Aquagel Sunscreen SPF 25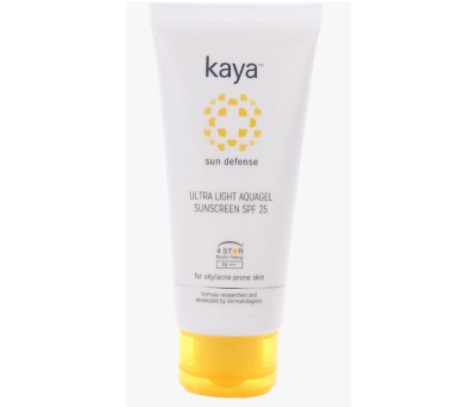 Kaya is a one of the best skin care brands which makes quality products which are well tested by the dermatologist. This is a sunscreen gel which is over SPF 25. It is a daily use sunscreen that is for all skin types though a gel base offers more benefits to the oily skin and acne prone skin. Kaya gel sunscreen is a broad spectrum sunscreen specially designed for oily/acne prone skin. It has a light gel texture that does not clog pores and prevents the facial skin from the environmental damage. This gel based sunscreen is fragrance free also. It provides a cooling sensation on application with a weightless, matte finish. So, if your skin is prone to breakouts, it does not make the situation worse but rather heals them.
I would also like to share Best Men's Cream for Dark Spots so, no excuses for dark spots guys.
9. Lotus Herbals Safe Sun UV Screen Matte Gel SPF 50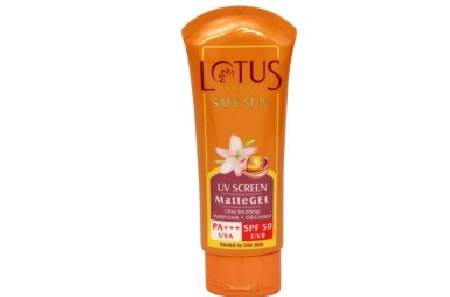 Even Lotus has a sunscreen which is over SPF 50. This high SPF sunscreen is suitable for everyone and or men and women. This has main ingredients like Comfrey, vanilla and horse chestnut. It can be used on face and body. The gel base gives oil free look and smooth skin. Lotus sunscreens are very widely and easily available in chemist (Pharmacy) shops, online and in supermarkets.
10. Bioderma Photoderm Max Cream SPF 50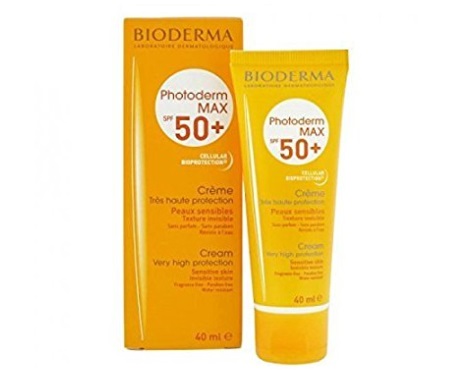 Bioderma sunscreen is also a high SPF sunscreen which is safe for the oily and cane prone skin. There are tow variants of this sunscreen like one is for dry to normal skin while the other one is for oily skin. You should keep a check if you are thinking of buying thus sunscreen. It has an exclusive patented Cellular BIO protection complex that provides maximum protection for the skin cells. It is water-resistant and photostable sunscreen suitable for oily skin. The sunscreen for oily skin does not leave an oily film or layer on the skin rather blends easily.
11. Organic Harvest Sunscreen Gel SPF 15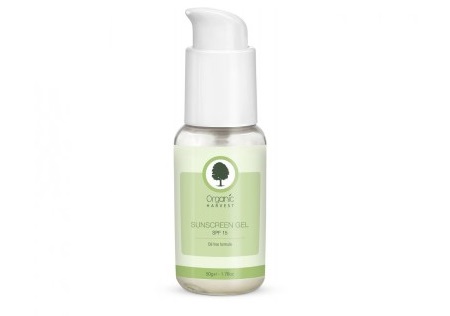 Organic Harvest Sunscreen is a gel sunscreen used by men. It has a formula that is so light, so, one of the best sunscreens for oily skin and sensitive skin. The sunscreen nourishes the skin from within, at the same time protecting it against the harsh effects of sun. Organic Harvest Sunscreen Gel SPF-15 has a gel based formulation that gets absorbed quickly and leaves a moisturized yet matte feel. I'm sure, you'll like its gel texture which is mildly cooling, so perfect for summers.
12. Aroma Magic Aloe Vera Sun Screen Gel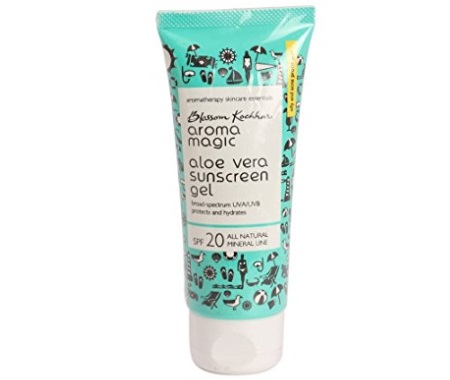 When the skin is oily then gel based sunscreens are considered good. Gels do not make the skin surface greasy or oily. This is the reason why the gel formula based skin care products are the best for the oily skin. The sunscreen is loaded with aloe vera which is one of the best things for the oily skin cure. It is more of a natural sunscreen for men with oily and acne prone skin. Price too is very affordable. It is very easy to get online as this brand is popular one. Aroma Magic sunscreen claims to be 100 percent free of oxybenzone, paraben, harsh chemicals, alcohol and artificial fragrance. 
So, guys, these are the top best sunscreens for oily skin and acne prone skin in India. Have you used any of these? Which is the best sunscreen as per you?