Natural Face Whitening Tips for Men with Oily, Dry, Combination skin
Men have skin that is a little rough and thicker than the women. Young boys have this skin that is going though lot of changes like facial hair eruption etc. This is why the texture of the skin also change over the time. Skin whitening can be done by home remedies or by using the treatments like glycolic facial peels, bleach creams, facials etc. Homemade beauty tips for whitening of the skin is the easiest, since they are cheaper. The most common factors for the darkening of men's skin are outdoor activities, riding bikes, vehicles, field jobs and sports activities. Let's have a look at the face whitening beauty tips that you guys must try to improve dark skin.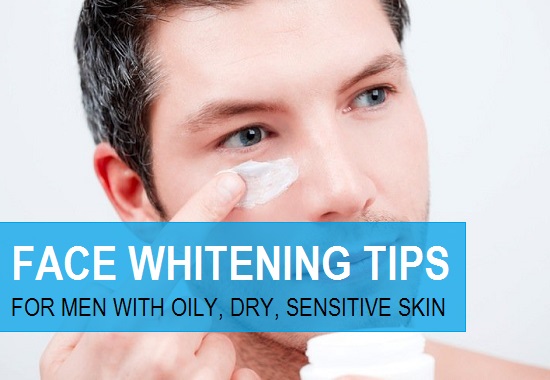 Natural Face Whitening Tips for Men
Here are some natural ways that can help men to lighten their skin complexion. These tips are homemade and they can be either face packs, face scrubs etc which work well. The remedies stated below will be suitable for men's dry skin, oily skin or sensitive skin as mentioned. it's important to use the remedies and homemade beauty tips as per the skin type for optimum results.
Papaya Pack for Skin Whitening for Men
Papaya face pack is ideal to whiten the skin naturally. In fact, the face packs with papaya are considered best to whiten the skin effectively. So, what exactly papaya does? Papaya has enzyme papain. Papain is rich in AHAs like Alpha Hydroxy Acids and Beta Hydroxy Acids. These acids will exfoliate the cell mildly resulting in cell rejuvenation and cell renewal. This will gradually enhance the complexion of the face. To improve the fairness by homemade tips, try papaya. Let's know how to use papaya for skin lightening.
How to prepare:
Take a small chunk of ripe papaya and mash this with a spoon in a bowl.

Add 1 teaspoonful of honey and little bit of lemon juice in it.

Mix these well and apply on the face.

Wash this after 20 minutes.

Evening is the best time to try this remedy.

This is ideal for all the skin type like oily skin for fairness and for dry to normal skin as well. Though if your skin is sensitive, try this next face pack for fairness enhancement.
Yoghurt and Orange Juice Pack
Yoghurt is rich in the lactic acid and many vitamins and proteins. This is why yoghurt is used since ages to improve skin tone and to increase the skin's fairness.
How to prepare:
Take 1 teaspoonful of yoghurt and then add 1 teaspoonful of orange juice in this.

Orange juice will help to rejuvenate the skin.

Orange also lightens the uppermost skin layer, hence, skin appear brighter and radiant.

Men's skin is tougher so orange juice will help to penetrate the skin layers and bring a glow on the face.

Apply this face pack on your  skin and let it get dry for 30 minutes.

Wash off after that and pat dry the skin.
If that's too much, you can also go for the readymade skin whitening face packs in India for men. 🙂 I understand guys can at time get bored of such preparations. Haha.
Honey Remedies for Facial Skin Whitening
Milk and Honey Face Pack
This milk and honey face pack is more like a lotion which will help you to treat the facial blemishes, like dark spots, scars and black marks. This face whitening pack will also promote skin fairness since, honey is natural skin lightening agent. Milk promotes the skin's moisture levels and add glow.
How to make:
Mix 1 teaspoonful of honey with some milk.

You will obtain a lotion like liquid that you need to apply on the face like lotion.

Keep massaging this on the face and skin will absorb this.

This lotion of honey and milk will enhance your skin complexion hence can be used by sensitive skin as well.

Men can try using this once in a day.

Apply and wash after 20 minutes.
Honey and Methi Dana powder pack
Methi dana is known as fenugreek. Fenugreek is used for skin care and hair care purposes. It's rich in vital minerals and vitamins that nourish the skin on deeper levels. This is why, you may have seen that fenugreek is used in so many skin care and hair care products. You can take 1/2 cup of fenugreek seeds and then grind them in the mixer. When you grind the seeds in a sufficient quantity, then this powder can be kept in an air tight container so, that you can use this whenever needed.
How to make:
Take 1 teaspoonful of methi dana powder in a bowl

Add 1 teaspoonful of honey in this.

Mix them and apply on the face.

Keep for 15 minutes undisturbed

After that, rub this on the face like face scrub.

Then, you can rinse the face with plain water.
This is good homemade face pack and scrub for glowing fair skin for men and women all. You can also use facial kits available in India for men to keep the fairness long lasting.
Lemon and Honey Face Pack
Mix 1 teaspoonful of lemon with 1 teaspoonful of honey in it.

Mix them and apply on the face.

Then let it work on the face to revive the dull tired oily skin and the wash off the face using clear water.
It can be applied daily so that your skin stays glowing with no sun tan. You can also check out our remedies on the best ways for men to remove sun tan effectively and faster.
Banana and Honey Whitening Pack
Banana is great to hydrate your skin because, it's rich in skin moisturizing properties. Honey will hydrate your skin as it's a natural moisture retaining agent.
You can mix little bit of honey in a ripe banana pulp.

Keep mashing the banana and honey mixture so that the consistency gets smoother.

Apply this paste on the face and keep for 30 minutes

Then rinse this with clean water.

This is a natural homemade facial pack for men for fairness and moisturization.
Amla Juice and Aloe Vera Juice for Light Skin
Amla juice is rich in minerals and skin lightening. It's good for health as well. Skin care benefits of amla are also well known. It lightens the skin due to its richness in Vitamin C. So, you can use amla juice to whiten the skin and to make the skin smoother. You can mix the amla juice in aloe vera gel for this homemade natural beauty tip to whiten the face. Aloe vera is also a great natural ingredient for the skin healing, skin lightening, face whitening and soothing of skin. Moreover, men can also get benefits in healing and calming the irritation of skin after the shaving. 
How to make:
You need to mix the amla juice and the also vera gel in equal amounts.

Check here to know about the best Aloe Vera gel brands, if you do have hard time choosing the best one.

Apply on the face and keep for 30 minutes

Massage little bit and then wash with cold water.
Milk Cream and Lemon Juice 
Milk cream is rich in fatty acids and lactic acid while lemon juice in good for skin whitening. This face pack can be tried by the men who've dry skin. This induces the fairness and firmness of skin.
How to make:
Take 1 teaspoonful of lemon juice

Add 1 teaspoonful of milk cream in it.

Apply this facial pack on the skin and then wash in the morning.

This can be done daily.

It's only for dry skin.
Face Scrubs for Men's Face Whitening
Face scrubs for men will further contribute in the skin lightening and cell renewal. Whitening face scrubs will help in getting rid of the dead skin cells, impurities and pollutants off the skin layer. This also helps to give smoother texture to your skin. Additionally, scrubbing the face is a great skin step to make the skin glowing and de-clogging the facial pores. Facial scrubbing has numerous benefits in face whitening. Scrubbing is very important for oily skin for pore cleansing and skin whitening. However, for dry skin, exfoliation is good for getting rid of the dry rough skin and to make the skin glow. Let's check which are the skin whitening face scrubs that men must try.
Milk and Sugar Scrub
Mix 2 teaspoonful of sugar with some milk for oily to combination skin

While for dry skin use some milk cream instead of the milk.

Apply this homemade natural whitening scrub on the face.

Massage the skin in gentle circular motions so that the dead skin cells gets scrubbed off.

Then wash off.
This will also make the skin appear lustrous and translucent. This should be done 2 times in a week for better results in face whitening.

Sugar and Honey Scrub with Lemon Juice
Honey is also a potential agent that is used as a base for many homemade facial scrubs. Honey acts as a natural skin moisturizer which heals the skin. having said that, it also makes your skin look glowing. Men who've dry face will experience naturally hydrated skin. Hence, this will cure the roughness on men's face. Men who likes to keep facial hair like bread and mustache will also get benefits from this face scrub. This is because this will declog the pores and removes the dirt and debris trapped in the men's facial hair. problem of ingrown hair can also be treated with this.
Rose Water and Oats Scrub
Men with sensitive facial skin shall try this. Sensitive skin gets red after using harsh face scrub for skin whitening, therefore, they can use this face scrub. This has oats and rosewater, this is very gentle face whitening scrub for sensitive face.
How to make:
Take some oats in a bowl and add sufficient rose water in it.

Let the oats get softer and get drenched in rose water.

Use this mixture to scrub the face.

Leave for 10 minutes and wash off.

Use it twice in a  week
Papaya and Sugar Whitening Scrub
This papaya and sugar face whitening scrub is for men with oily skin and acne prone skin. Papaya juice is also ideal to heal the acne and acne scars effectively.
Take a ripe papaya and cut off a small slice.

Then mash that slice evenly and smoothly to get smooth pulp of papaya fruit.

In that pulp, add ½ teaspoonful of honey and 1 teaspoonful of sugar.

Now, use this to exfoliate your face.

Concentrate more on the jaw line, where there are facial hair and on the upper lip area so that any dead skin and dirt particles can be thoroughly cleansed.
You can also use the readymade products but using home remedies to lighten the skin is better. This is because home remedies like skin whitening face packs, face whitening mask etc are safe to be used. It should not mean that we should not apply creams and face washes. It's just that do these too regularly. Here are the best anti tan face packs in India that you must try.