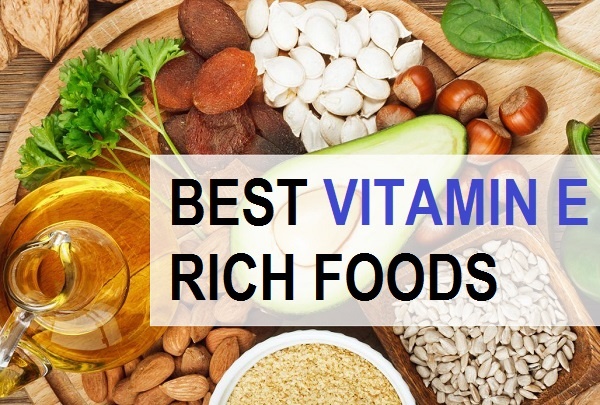 Vitamin E is a group of powerful antioxidants, helping you in protecting oxidative stress by fighting the free radicals. Adequate amount of Vitamin E helps to keep your body functioning optimally. This is the major benefit of Vitamin E, but we can't overlook that this vitamin is also essential for your hair and skin. So, which are the best foods rich in vitamin E or alpha-tocopherol.
You might have seen that this vitamin holds a very special place in skin care and hair care products. This vitamin is highly moisturizing for your skin this is why, it is used a lot in creams and lotions.
Benefits of Vitamin E for Health
It is a fat soluble vitamin which is a powerful antioxidant, just like the vitamin C. Vitamin E helps to fight the free radicals and other inflammation in your body.
The immunity boosting vitamin also keeps your skin glowing and younger for lot longer.
Other than that, this antioxidant helps to protect our body for minor wear and tear.
Vitamin E is known to speed up wound healing to cure skin related ailments, scars etc.
You can apply the Vitamin E oil topically over the stretch marks during the harsh winter season.
Vitamin E also eases the symptoms during menopause in women along with adequate amounts of vitamin D. 
You can also invest in vitamin E supplements, if you feel like you're not getting enough of this vitamin from your diet. Pregnant women taking some blood thinning medicine, must consult your doctor regarding any Vitamin E supplements during pregnancy.
Health Risk of Vitamin E Deficiency
If someone is deficient in vitamin E, there can be multiple problems by anemia and cataract.
Decrease in libido and weak immune system is also linked with the deficiency of vitamin E, other than the neurological issues.
There are some other symptoms as well like:
Muscle Pain

Vision Problem

Tremors

Numbness

Decreased Immunity

Loss Of Balance

Difficult Walking
Top Best Vegetarian Foods Rich in Vitamin E in India
1. Wheat germ Oil
When it comes to vitamin E, wheatgerm is a good source. 1 tablespoon of wheat germ oil contains 20 milligrams of this vitamin.
2. Sunflower Seeds
Sunflower seeds used as salad garnishing and for the sweet dishes. It gives 35% of RID in 100grams or 12 mg of vitamin E in ¼ cup.
3. Almonds
Almonds are rich source of vitamin E and contains around 26 mg in 100g. But never take them in more than a handful of quantity every day. Almonds are rich source of vitamins and proteins.
4. Hazelnut oil
It contains 4.7 milligrams of Vitamin E in an ounce. This can be used for beauty purposes and for various dishes.
5. Sunflower Oil
Now a days, a lot of people are using Sunflower oil to cook their food. Oil is an integral part of Indian cooking and every 100 ml of Sunflower oil can you give 76% of RDI of Vitamin E.
6. Peanut
With Peanuts, can you get 8.3 milligrams of Vitamin E in 100g of peanuts. You can also eat them raw or add them to others delicacies.
7. Avocado 
A medium sized avocado contains 2 milligrams of vitamin E. It's also a rich source of vitamin C, K and other nutrients. They are one of the best fruits for skin as well.
8. Olive oil 
Olive oil is one of the best oils to cook. Moreover, it is a diabetic friendly cooking oil. The oil is also suitable when you are trying to lose weight. 1 tablespoon of olive oil contains 1.9 milligrams of Vitamin E.
9. Palm oil
In a lot of regions in India, palm oil is used for everyday cooking. 1 tablespoon of palm oil contains 2.2 milligrams of Vitamin E. This is around 11% of the daily requirement. Palm oil is also high in fatty acids therefore, if you our health conscious, then you can replace palm oil with some other oil like sunflower or olive oil.
10. Cashew
Cashew in their raw or roasted form contains 1.9 milligrams of Vitamin E in just 450 grams. You can use cashew in various recipes. Cashews can also be taken as a snacking product between the meals.
11. Mango 
1 cup sliced or cubes of mango around 100 grams give you one parade milligrams of Vitamin E. This amount is around 10% of your recommended daily intake.
12. Spinach
Spinach are rich in vitamin A, Folate, Magnesium and proteins. They are one of the best power foods available for the vegetarians. One cup of cooked spinach contains 3.7 grams of Vitamin E, which is around 20% of the daily value.
Recommended Intake of Vitamin E
0 to 12 months: 5 mg/day
1 to 3 years: 6 mg/day
4 to 8 years: 7 mg/day
9 to 13 years: 11 mg/day
14 Years and older: 15 mg/day
Pregnant women: 15 mg/day
Breastfeeding women: 19 mg/day
Getting vitamin D from your food sources is not a tough task. A lot of food items contain Vitamin E in sufficient amount that has been mentioned above. As it's a powerful antioxidant, it improves your skin health and promotes hair growth. It also reduces the PMS symptoms and supports healthy vision.
If you've underlying health conditions like diabetes or heart diseases then we would advise you to stick to the recommended daily dose of Vitamin E and not exceeding get. As taking high amount of this vitamin can pose a risk of adverse symptoms and even increases the risk of hemorrhage stroke.