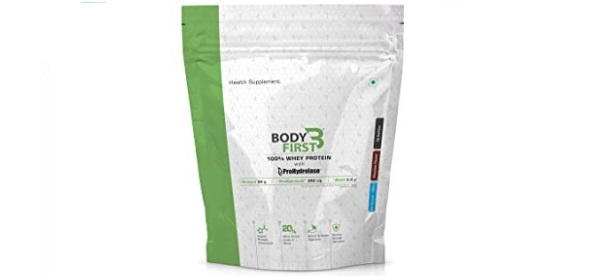 Hi all, I am going to talk about a new whey protein that tried recently. Being into fitness and bodybuilding, I am someone who h ave tried various protein supplements. But honestly, never thought of reviewing any of those, Now, I am thinking that I would soon come up with more protein and other pre and post workout product reviews soon. Anyways, this time I am going to talk about the BodyFirst 100% Whey Protein with Prohydrolase.
What are Whey Proteins?
Whey protein contains different types of essential amino acids that are absorbed pretty quickly in your body and increases stamina, vitality and muscle gain. Whenever you work out your body needs proteins to boost your metabolism, muscle strength and to eliminate muscle stress. People who are into muscle gain and bodybuilding, would know the importance of whey proteins.
About BodyFirst's Whey Protein
The product that I have got is in the chocolate flavor. It is basically is a big bag wherein you get 32 sachets and each sachet contains 32 grams of product. It is appropriate for single time usage.
Price:
This entire bag costs 2699 rupees with 32 sachets inside which is around 1 kg in total and one month's supply. It's available at some extra discount online. On the official website of BodyFirst as well, you will get some money saving deal.
What is there in a Single Sachet of 32g
 A single sachet of 32 grams, which is single serving of this product give you 24 grams of proteins, 250 mg of Prohydrolase and 5.5 grams of BCAAs.
Review:
I like this packaging as in the bag where there are sachets so that you need not to carry a big container for protein, when you travel. Few sachets will work and are space-saving. I can take some sachets with me and use it along with the milk. The taste is really good and this one is in chocolate flavor. I would take it every day after my gym workout.
The whey protein that you get in single sachet is 24 grams, as I mentioned that is helpful in preventing the post workout fatigue and it actually fuels your muscles with the required amino acids even, before your muscles can start to undergo catabolic.
BCAA
So with this whey protein, it gets absorbed faster and enhances the lean mass gain. It also contains BCAAs which are Branched Chain Amino Acids.  As different types of proteins are made up of different varieties of amino acids, this is why this also contains 5.5 grams of BCAAs that includes leucine, isoleucine and valine. This helps to boost the protein synthesis in your body and also leads to faster recovery of your muscles soreness. 
Prohydrolase
Each serving of this product also contains prohydrolase, it is a scientifically studied that this enzyme helps to increase the digestion of protein and its absorption. So, naturally if we are taking whey protein along with the BCAA, if you would need something that can increase or enhance the absorption. Therefore, to recover your muscles and to increase the stamina this enzyme complex is really important.
How I use it
I would take 200 ml of milk or cold water and pour the entire sachet. I use a Shaker that makes the mixing of the protein shake a lot easier. Then, after my work out I will consume it regularly. You can also have it as a protein supplement for your breakfast for 45 minutes. It can also be consumed as a pre workout supplement or within 30 minutes after workout to you boost muscle recovery process. 
I am purely vegetarian, who do not consume anything that I have doubt about, therefore this is a product that is vegetarian and suitable for someone like me who have a very high level of physical activities during the gym session or otherwise.
I would also like to tell you one thing that not just for people into fitness and youngsters, but these protein shakes or supplements can also be taken by senior citizens or elderly parents as well. When we age, we would need more proteins for your body. In fact a lot of people would have less amount of protein in their everyday food intake therefore; this additional protein supplement can help fulfill the recommended daily intake of proteins.
The product is really safe and it doesn't have anything that can make your gut irritatable. It is very easy to digest, in fact people who are lactose intolerant, can also give it a try as it doesn't have any lactose content as such, if it has that is negligible.
Now this is about why proteins are important and why you should consume them, now coming back to the brand BodyFirst.
After trying and suing various protein supplements, I can figure out about a product and its efficiency. I find BodyFirst's Whey Protein to be really pure and not something that is filled with fillers and additives. Yes in India, there are brands and some manufacturers, that will give you some crab thing in the name of pure whey protein. I find this brand protein to be 100% genuine. Moreover, the taste which is in chocolate flavor is also really good.
Mixing was a not an issue, till the time you are using normal or cold water. If you use warm water, then obviously the pure protein is going to coagulate. The best thing is to use protein shaker. If you do not have a Shaker I will share a simple tip.
Take around a cup of water only in a glass and pour the sachet in that. Now mix it using a spoon. You'll get a very thick mixture. Not slowly add water and keep adding water or milk. This way mixing would be extremely easy.
So, this is my experience with the product and I am really impressed being a regular consumer of protein supplements and products.
I would really get it again, again once my current package gets over.