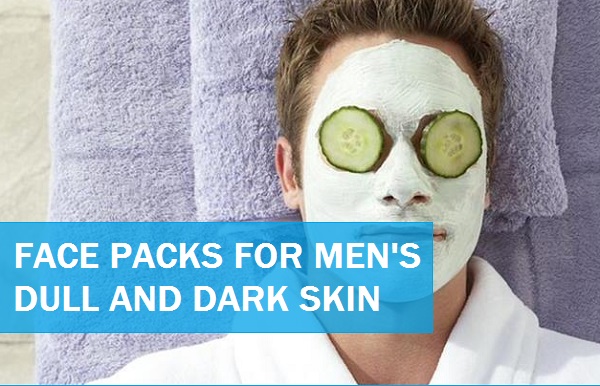 Face packs for Men's Dull skin, Tired Skin and Dark skin
Men can have dull skin due to pollution and excessive dirt. It is caused by a variety of factors, this result in accumulation of dead skin cells and lifeless looking face. Dull and tired skin is a problem that many men experiences. But what is the cause of dull skin. Dull skin can be seen as a lack luster skin complexion that does not glow and does not appear bright. Reasons can be sun damage, stress, lifestyle condition, not taking enough care of the skin and not eating the balanced diet. So, in this post, I will share some of the best remedies that can brighten your dull and lifeless skin.
Best Homemade Face Packs for Men's Dull Dark Skin
So, here are some of the homemade and easy facial packs and masks that can help you in eliminating the skin dullness and skin darkening. These packs can be used at least 2 times in a week for the best results but care should be taken as to if you are not allergic to any of the ingredients used in these. Men with oily skin can have freedom from oiliness and dullness by using such quick face packs. Whereas men with dry to normal skin can brighten their face faster.
1. Baking Soda and Water for Dull Face
Baking soda is used in many household to make delicious cuisines but this simple ingredient can brighten your skin. When there are whiteheads and blackheads on your skin then too your face look lifeless and dull. So, this remedy will definitely help you get a bright complexion. Moreover, baking soda gently exfoliates the skin and lightens the dark spots and the pimple scars. So, here is what you need to do. As I said this is pretty easy.
Take 1/2 teaspoonful of baking soda and mix 2 teaspoonful of water in it.

Mix them and apply on the face. If the paste becomes thicker then add some more water in it.

Keep massaging the face with this gentle scrub.

You need to scrub for 2-3 minutes then keep this paste for one more minute like a quick pack.

Then wash this with plain normal water.

Repeat this treatment 2 times in a week for brighter skin.
Men's Face Packs for Dark Spots
2. Honey and Rice Flour Scrub Pack for Oily Dull skin
Rice flour is very good in skin brightening and lightening. It enhances the beauty of a person and deeply exfoliates the skin. Rice flour is granular therefore, it removes dead skin cells from the facial skin and gives a fresh feel all the day and night. It has natural agents which protect your skin from dirt and dullness.
How to use it?
Take a small bowl and add 1 spoons of rice flour in it

Now mix little bit of honey in it to make a loose paste.

Use this mixture to scrub your face.

Also apply this pack on shaved and clean face

Massage it with your fingers and be gentle on the skin

Keep it until it dries out and then rinse off with cold water
3. Lemon Juice and Honey pack for oily skin
Lemon juice is rich in vitamin-C, ascorbic acid which makes your skin fairer and brighter. This mixture removes excessive oiliness from the pores and makes it clear. Lemon also removes tanning and pigmentation. It heals dark spots and scars caused by pimples. It directly injects new life to your facial skin and induces its natural glow. Men with sun tanning and extreme pigmentation can also get benefits from this pack. Honey contains anti-septic and anti-inflammatory properties. This protects the men's skin from bacteria and acne recurrence. It improves the skin tone and removes uneven skin tone. It helps in restoring lost moisture of the skin and makes it glowing.
How to use it?
Take one lemon and extract its juice in a bowl

Now mix one spoon of pure honey in it

Mix all the ingredients well

Wash your face with water and towel dry the same

Now take a small amount of the pack and apply it onto the cheek and chin area.

Apply the remaining face pack onto the neck and forehead part.

Now dry it for 10 minutes

Rinse it off with chilled or lukewarm water.
Best Beauty Tips and Treatments for Men with Oily Face
4. Carrot Juice and Tomato Juice Pack Lotion
Carrots are a good source of vitamin-A as well as the carotenes that lightens the dull skin complexion of men. When we men roam around in sun then our skin gets dull and damaged hence when a facial pack for dull skin is used with carrots then you can definitely deal with dull skin.  It has many other minerals and vitamins like C, A and B complex etc. It enhances the glow of your face and reduces zits and dullness. Tomatoes are a good source of anti-oxidants and minerals. It contains iron and other micronutrients which makes your skin completely healthy and youthful. This is effective for both dry skin and oily skin.
How to use it?
Take one fresh carrot and peel it off

Now wash it and cut the carrot into small pieces

Grind it by adding little water and make a juice like consistency

Repeat the same step with tomato and take out its juice

You need to mix the ingredients well

Take a cotton ball and dab it into the pack and apply it onto the face and neck

Massage it slowly

Keep it for 20 minutes and rinse it off with cold water.
Natural Face Whitening Tips for Men
Papaya Cube Pack for Dull Facial Skin
This is a very easy and simple remedy to get rid of the oiliness and dull skin. You will love this too. Just take a small piece or slice of papaya and rub this all over the face. Keep this for 20-30 minutes then you can rinse this off with cold water. While rubbing, make sure you massage your skin with the juices of papaya left on the skin. This massaging will give you multiple benefits like the papain rich papaya juice lightens the skin complexion, makes men's dull skin brighter and also fades any skin pigmentation and sun darkening that you may have. If sun has caused your skin to become dry and dark then too, this simple tip can enhance the complexion. But try to do this daily once you get back from home.
So, guys, these were some of the quick facial packs for dull and tired skin that you can try at home. Do share your comments and also let me know if you face any problems with these.You can also use charcoal peel off masks to get bright oil-free skin.