Pond's Men Pollution Out Deep clean Face Wash Review, Price and How to Use
Hi All!! I am really excited to share my review on Pond's men pollution face wash. Actually, I started using this face wash my Garnier face wash got over. I recently reviewed that face wash as well and you may have read the review too. So, This Pond's men pollution out face wash is a new face wash which is mostly or the pollution elimination. When we men ride bike or go in sun then most of the times our skin attracts the dirt, dust, grime and pollution particles. The smoke and dust particles in the atmosphere can play havoc to the skin. My skin is already oily hence; I have to keep an eye to the products I use. So, let's starts the Pond's men pollution out face wash review.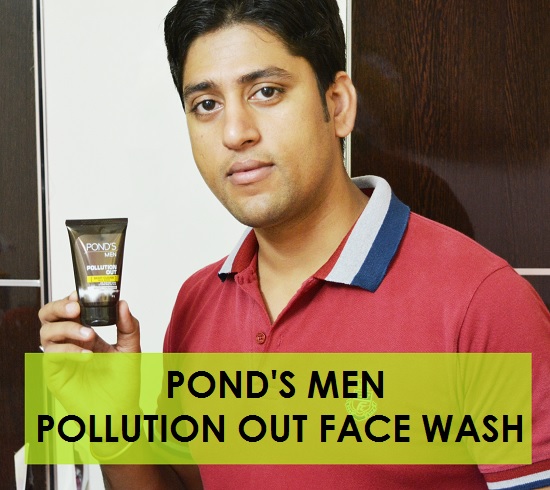 Price of Pond's men pollution out face wash: This is for 100 rupees for 50 g
Claims: With the new Pond's men pollution out face wash feels refreshed and energized. It leaves the skin free from the impurities and makes it squeaky clean. The activated carbon extracts in this face wash will deep cleanse the skin and the coffee beans give gentle scrubbing to the skin.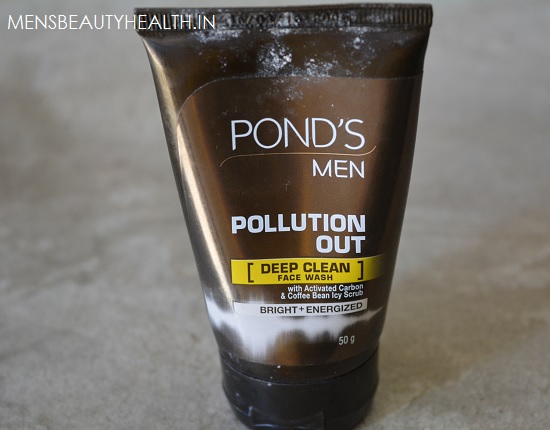 My experience with Pond's Men pollution out face wash
I have this 50g tube of this Pond's men pollution out face wash. The tube is dark grey in color and the face wash too is grayish in color. Actually, the face wash has activated carbon that helps to cleanse the skin. This is why the color of the facial cleanser for men is dark grey. The face wash smells okay not very strong, full of chemicals, rather mild and pleasant. The texture is thick and I have to take around a small pea sized amount to cleanse my face. Let me tell you in detail how I use this Pond's men pollution out face wash and its results.
How I use this Pond's Men Pollution out face wash for men:
I will first splash my face with normal water and then I will take a pea sized amount. A little dollop will be sufficient since the facial cleanser is foaming in nature and produces sufficient rich lathers that helps to cleanse the skin. So, after taking the face wash in my finger pads, I will rub it between the palms and the when the foams are created, I will apply that on my face. I will apply on my cheeks, chin, forehead and nose. My nose is really oily as compared with the rest of my face. Hence, I do make sure to cleanse that properly. I will massage for 20-30 seconds and then will wash the face with water. Washing this is easy as soon as I wash the face, the face wash goes away and not like those slimy face washes that takes loads of water to get rinsed off the face. You can also see the Himalaya men active sport face wash review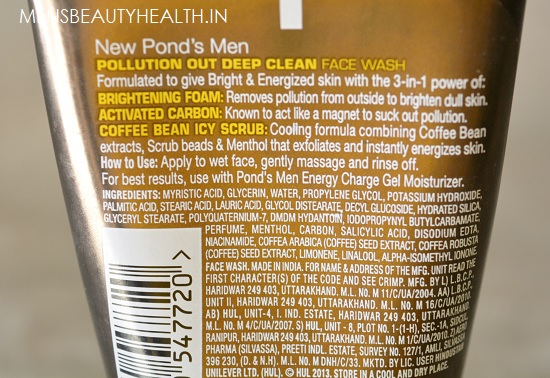 Results:

While I am using this, I feel that the cleanser is making my skin smoother by exfoliating it mildly and moreover, there is a cooling thing in this face wash which makes the face feel cool. I like that sensation, In fact that makes my skin feel refreshed after coming from a hectic day. Your skin also gets tired during the day due to oil dust, dirt, pollutants etc hence the cooling property of this face wash is an added benefits. This cleanses the face thoroughly and skin feels very smooth and bright.
The first time I used this, my wife also said that this product has made my skin look very fresh and bright. She knows a lot about the products as she has reviewed so many different products ever since she started blogging. 🙂 She even asked me to write reviews and share my thoughts so that it could help others somehow.
Anyways, So this Pond's Men Pollution Out Face Wash has given me good results and I like it so much. Currently I am using this face wash along with the Nivea for men dark spot reduction cream and Himalaya scrub, which I use 1-2 times in a week. Just by doing this simple regimen, I have seen some good changes in my skin and I really hope that my skin stays in good condition. This face wash is not that expensive but I feel that brands should make those tiny trail packs so that we can try out and if the product doesn't suit, the money is not wasted. But this is affordable as we need tiny amount for one usage.
Pros of Pond's Men pollution out face wash
The packaging is hygienic and good
The product lather ell and cleanses the skin deeply
Activated carbon really does help to clear the dust, oils and impurities thoroughly.
This  face wash is great for oily to normal skin though I don't know how this will work for dry skinned guys.
This doesn't make the skin dry after cleansing like some other face wash
This has not break me out yet.
The coffee bean extracts does mild exfoliation which is good as we guys get dead skin cells and dust accumulation more than the girls, I believe.
Cons of Pond's Men pollution out face wash
It can be a little pricey but trust me this pack will last long as we have to take little bit of this.
Rating of Pond's Men pollution out face wash: 4.5 out of 5
Pond's Men pollution out face wash is a very good face that can be used by the men with oily to combination skin. I feel that this will be good for dry skinned guys too but I am not sure, as I have oily skin. This cleanses the face effectively and thoroughly, moreover, will not dry the skin. I like the supple, fresh, cool feel after using this, I am sure you too will like it. Also read about the Denver Fair play fairness face cream and Fair and Handsome fairness face wash.
So, have you tried Pond's men pollution out face wash? Which is your favorite facial cleanser at the moment?