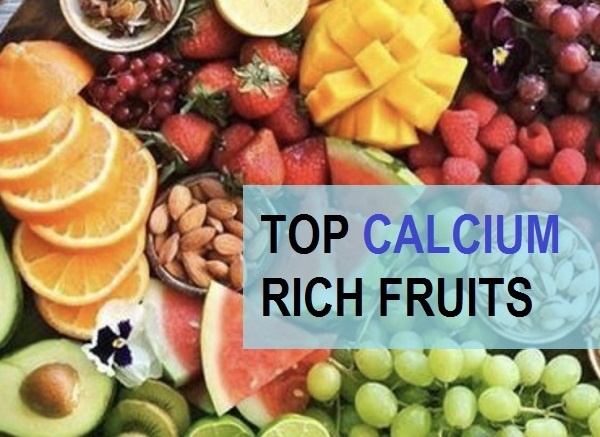 Calcium is the most abundant mineral found in our body. It not just strengthens your bones and teeth, calcium is important for your overall wellness and muscle functioning. Proper doses of Vitamin D and Calcium helps you recover the calcium depletion and to have strong joints and bones. Calcium along with Vitamin D is one of the most required mineral and Vitamin D which is required more for kids and elderly people. On an average your daily requirement of calcium is 1000 mg to 1200mg. In this article, you will know about these best calcium rich fruits which boost up the everyday requirement.
Best High Calcium Rich Fruits in India
1. Oranges
The citrus fruits are among the best fruits for calcium source. Around 100g of oranges can fetch you about 40 milligrams of calcium. You can boost up your intake of calcium with a glass of orange juice. Even for kids, this is one of the best and healthy ways to procure the natural mineral.
2. Apricot
Apricots in their raw form or dried can taste great and give you several health benefits as well. The dried Apricot fruit contains 55 milligrams of calcium in 100 grams of dried apricots. Dried apricots are amongst the highest source of natural calcium. You can mix them with your salads or over some delicacies. You can also take them along with you and eat between the meals in office.
3. Kiwi
Kiwi fruit also known as Chinese gooseberry, it is an edible berry which is amongst a good source of dietary calcium. 100 grams of kiwi gives 35 grams of calcium. The tasty fruit can be eaten raw or by preparing fruit salads and smoothies. You can eat them between the meals to curb the hunger pangs, when you're on diet.
4. Mulberry
Mulberries are very common in India. The tree is majorly cultivated in warm temperatures like India. The fruit not just taste good but is a power house of multiple health benefits. Every hundred gram of this fruit can give you 39 to 42 milligrams of calcium. It can be used in your fruit salad or you can also add in your cornflakes for breakfast.
5. Guava
The tropical fruit is cultivated in tropical and subtropical regions. In India, guava is a very commonly found fruit. Guava is amongst the best calcium rich fruits. It gives you 18 to 20 m grams of calcium in 100 gram of guava. Along with that, guava is an excellent source of vitamin C and provides you with 15% of recommended daily allowance of Vitamin A, along with vitamins like niacin, B6, Folate (Vitamin B9) and riboflavin.
6. Mango
In India, mango is called as the king of fruits. This yummy fruit can give you 11 milligrams of calcium per 100 grams. Mangoes can be used in fruit salads or in various magi recipes. Mangoes are also rich in vitamin B6, vitamin K and Vitamin C.
7. Banana
Rich in vitamin C and potassium, bananas may not be a good rich source of calcium but yet they can give you 5% of calcium in each 100 gms. The Other vitamins that you can find in this are Vitamin C, vitamin and Minerals like Iron and manganese. But you can boost your calcium absorption with the help of Bananas.
8. Papaya
Every 100 gms of papaya can give you 20 milligram of calcium. Papaya is a tropical fruit which is a great source of fruit calcium. The rich fruit is also good source of vitamin C, vitamin A and Vitamin E along with the antioxidants like beta-carotenes which prevents the free radical damage of your skin. This is one of the best fruits to have to increase your skin's natural beauty and immunity.
9. Pineapple
Pineapple is also a calcium rich fruit that gives 13 mg of calcium per 100 gram.  At this fruit in your fruit salad in enjoy the delicacy. The tropical plant is used in so many Indian dishes.
10. Pomegranate
Rich in antioxidants, pomegranate is a high source of fibers and B vitamins. It also contains vitamin C, vitamin K and potassium in ample amounts. 100 grams of pomegranate can supply you with one 10 grams of calcium.
11. Strawberry
Tasting good, the reddish pink fruit is one of the best calcium rich fruits that gives you around 16 milligrams per 100 grams of serving. As compared to the others fruitss this is a rich source of calcium. Other than that, it also has Vitamin C, vitamin A and antioxidants. So it helps to improve your night vision and give you better heart health.
Calcium Rich Dry Fruits in India
Let's check some of the dry fruits which are rich in calcium
12. Dates (Khajoor)
Dates contain around 120 mg of calcium per 100 grams. This is one of the best sources of natural calcium that you can have. Dates are also used in several dishes and even for the sweets which are very popular in India. Not only that you can have date smoothie in the milk.
13. Blackcurrant (kismish)
Blackcurrant or kismish are very easy to find and commonly used item in India. They are used in sweets and other Sweet dishes like kheer, porridges etc. It can give you one 30 milligrams of calcium per 100 gram serving, but are also high in sugar. Along with calcium, they give you vitamin A, Vitamin C and antioxidants to help fight the free radicals in your body.
14. Almonds
Almonds are used in sweets and Sweet dishes in India. Around 100 grams of Almonds provides 65 mg of calcium. This is a very good amount that can give you dietary calcium. But as compared with other food items it will give you more fat and calories than proteins and calcium. So, if you're calories conscious or on diet, then do keep this fact in mind.
These are the best fruits which are rich source of calcium. If you've calcium deficiency or if you feel like then, you can take help from a blood test.
It will reveal the calcium levels in your body and accordingly you can adjust your diet.
Having calcium rich fruits in your breakfast can give you that boost right from the morning.