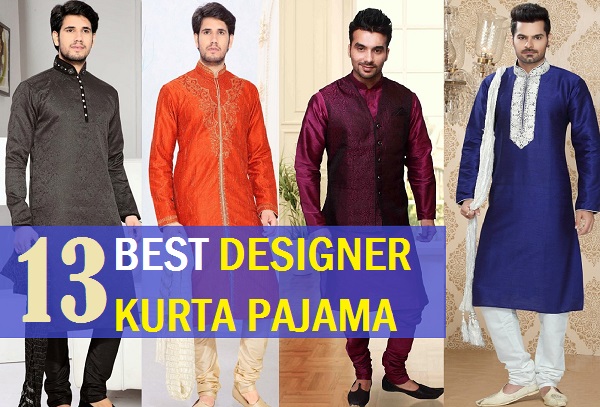 Kurta pajama is an ethnic wear clothing for men. But these days even the kurta pajama have got their own unique styling make them look extremely modern. In this post, we will be showcasing the best kurta pajama designs for men. Men can wear kurta pajama for the ethnic festivals like holi, deepavali raksha bandhan, eid etc. Even for a friend's engagement or wedding ceremonies like roka sangeet mehendi etc. kurta pajama looks good on Indian men. The best thing about a kurta is that men of all age groups can wear it. The only difference can be the color and styling if you are young, you can wear the trendy and vibrant colors whereas if you are older then dark and subtle shades can make you look modern yet suitable for your age.
Let's have a look at the designs of men's kurta pajama for weddings, festivals and ceremonies.
Latest Designer Kurta Pajama for Men
1. Orange Silk Kurta for Men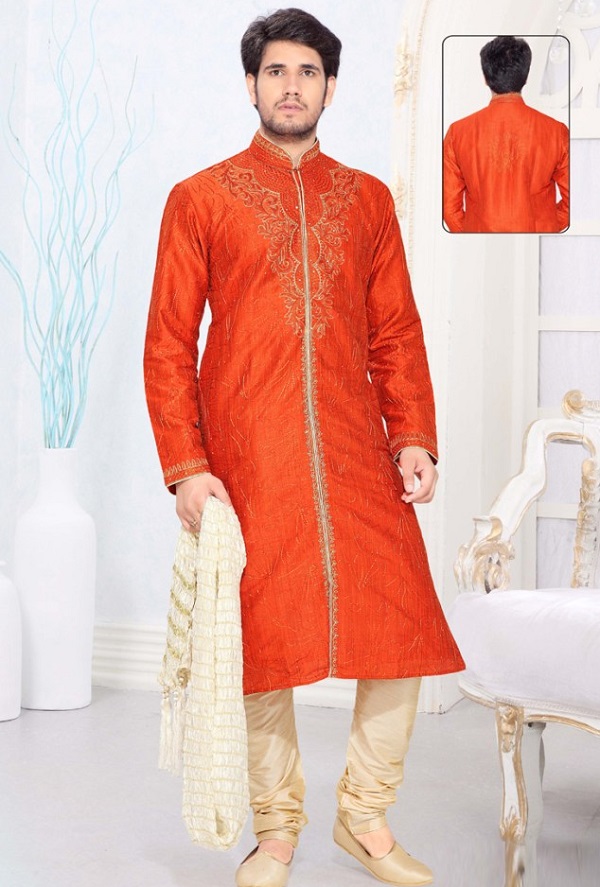 If bright colors are your fantasy then the orange silk embroidered kurta pajama is one of the best. The bright orange colored kurta pajama is paired with the golden pajama or the narrow pajama as we call it along with that it also has got an ivory gold dupatta that you can drape around your neck. Colors like this are very fashionable and appropriate for festivals weddings and any other ethinic ceremony going on at your place or your acquaintances places. This is one of the best kurta for men's wedding.
2. Basic Black Kurta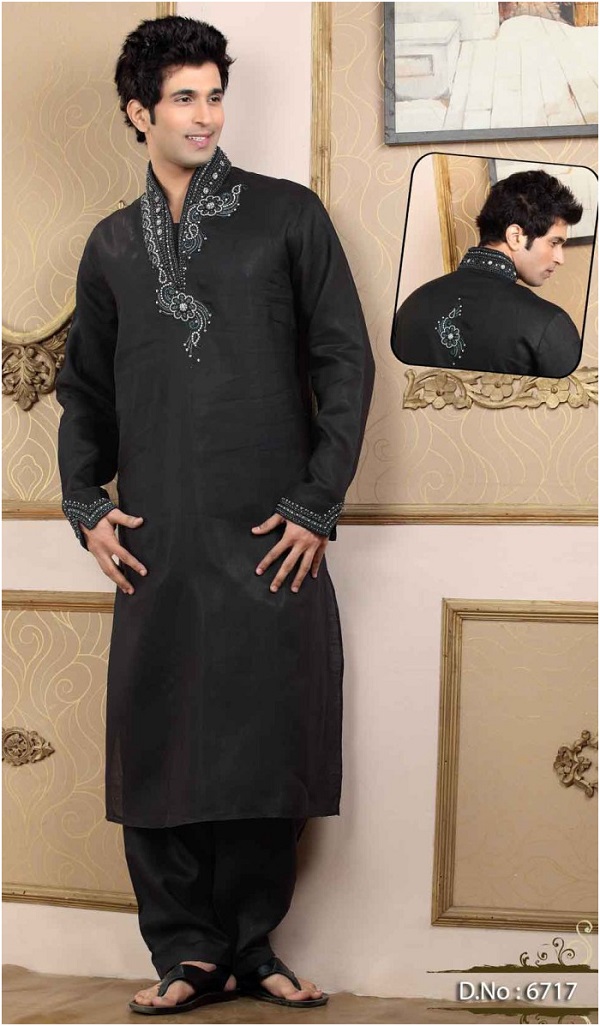 If you love the basic black kurta then this would be a must have for you. The embroidery at the collar makes it look beautiful and the same embroidery is given on the cuffs with a notch. Basic black men's kurta is one of the most desired kurta pajama designs for men in India.
3. Bollywood style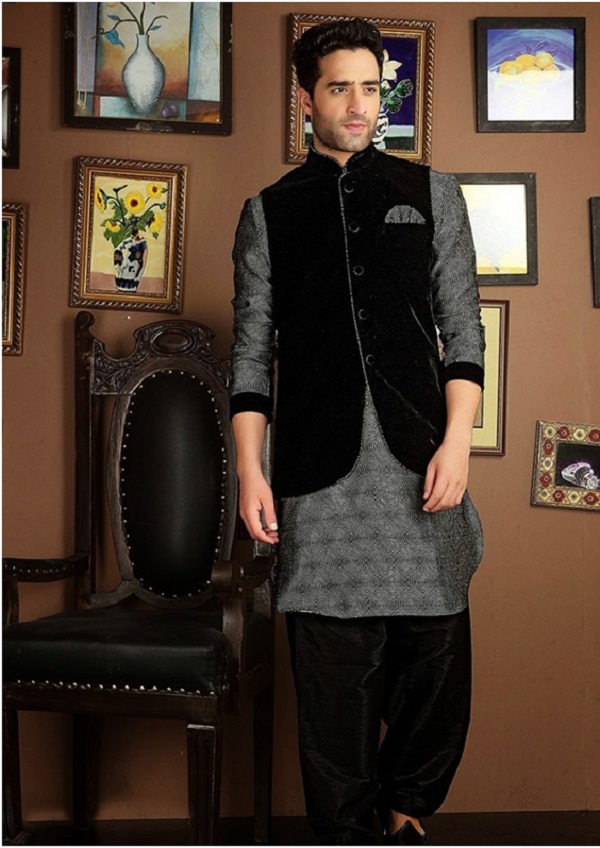 This bollywood inspired kurta pajama design is truly enticing. The velvet jacket and the textured charcoal grey kurta with the black men's salwar type of style is just amazing. It is truly want the best black color kurtas for men, this is it. One can definitely wear this kurta pajama for friend's roka ceremony or even for raksha bandhan. Even if you are bulky or has put on some weight than a black kurta would make you look slimmer.
4. White Silk Kurta Payjama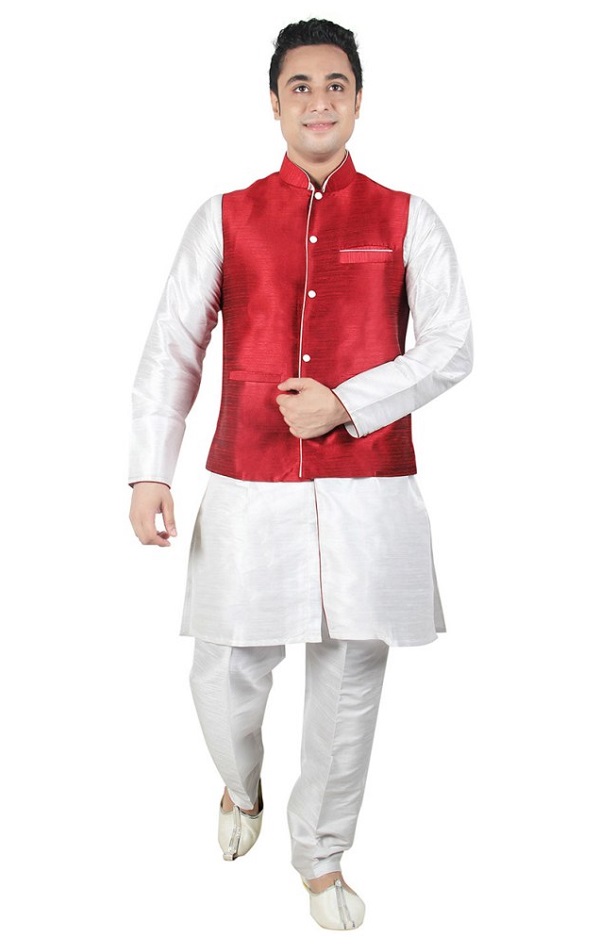 If white is your color then you would love this white silk kurta. It looks absolutely amazing and classy. The best part about this piece of clothing is that red jacket. The jacket is also made up of the silk cloth and have white buttons on it. The red piping on the end of the sleeves makes it even more polished. This one is also a punjabi style kurta pajama that you must try, if you love red color.
5. Khadi Kurta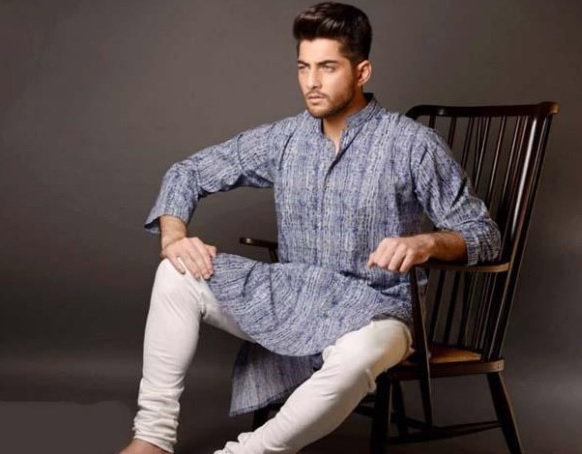 This kurta is more like a khadi inspired kurta white and blue colored texture. It can be paired with a white pajama or with your basic blue jeans. Styling this kurta is not very difficult as the color is so beautiful and subtle that it would look good on men of all age groups.
6. Kurta with Nehru Jacket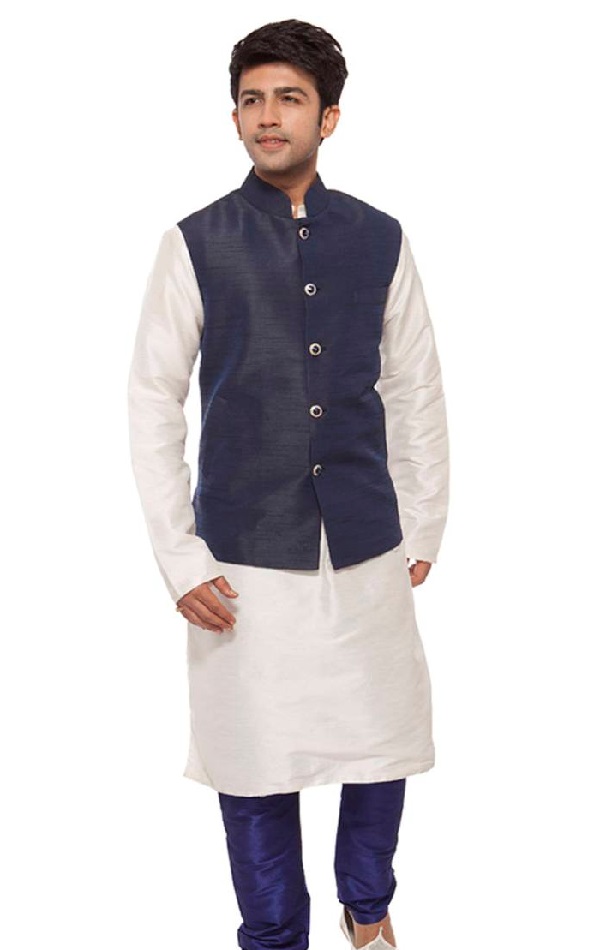 The Nehru inspired kurta pajama is one of the best seller for most of the men. It doesn't matter if you are younger or belongs to an older generation, this kurta pajama design would definitely amp up your style quotient as you would look cool and modern yet traditional.
7. Pink Embroidered Kurta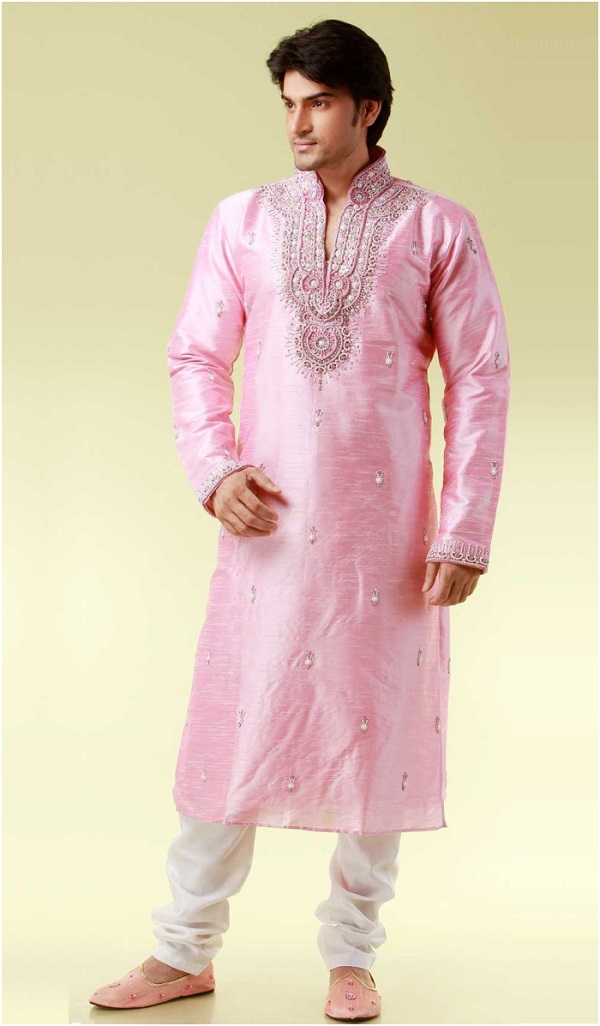 The next is this beautiful pink embroidered kurta with sequins work along with the beads. Pink is not only for women but men can also wear pink. T his is a baby pink or you can call it as a bubblegum pink collar and the front middle piece is the same color embroidery threads and the beautiful beads.
8. White kurta Pajama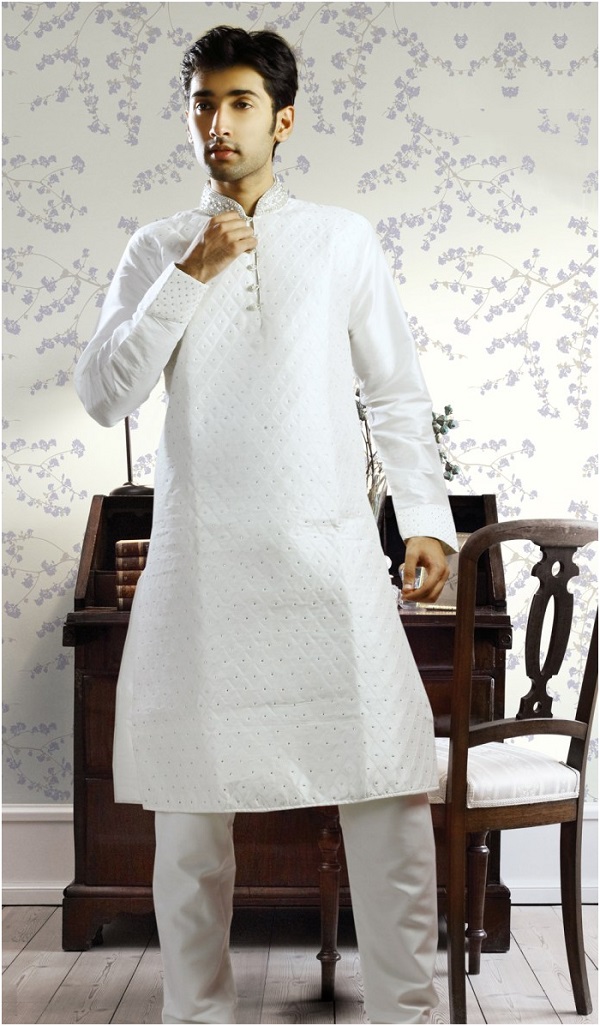 This white textured kurta pajama for men looks enticing. The textured fabric makes it simple yet stylish. It's not all plain but the texture adds to its beauty.
9. Royal Blue Kurta Style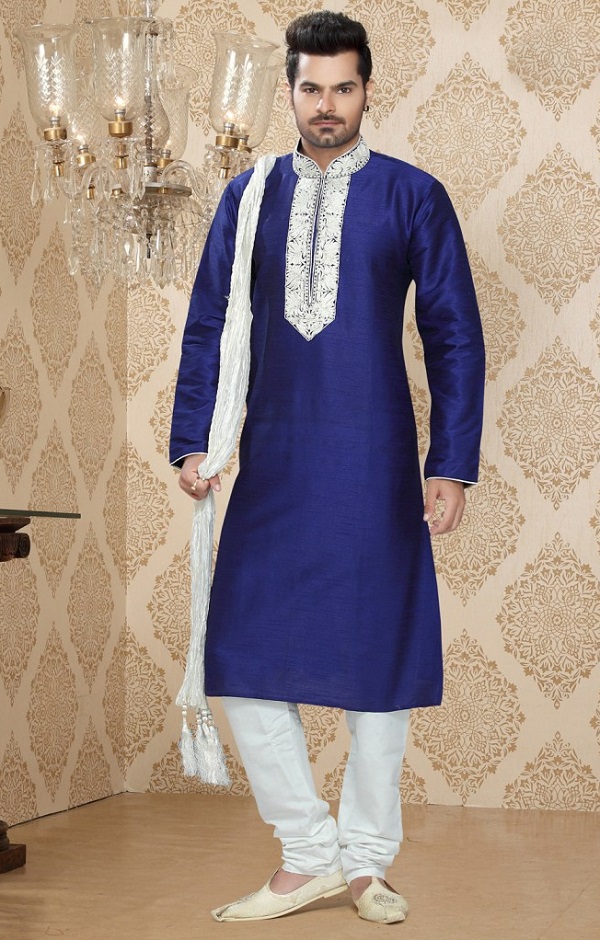 Now it's time for a royal color yes navy blue is the royal color. When you wear navy blue it makes you look fair and slimmer. It has been paired with a white pajama. It has patch on the collar and the front part. The punjabi kurta pajama style is definitely a must try for the next wedding that you will attend.
10. Black and White Kurta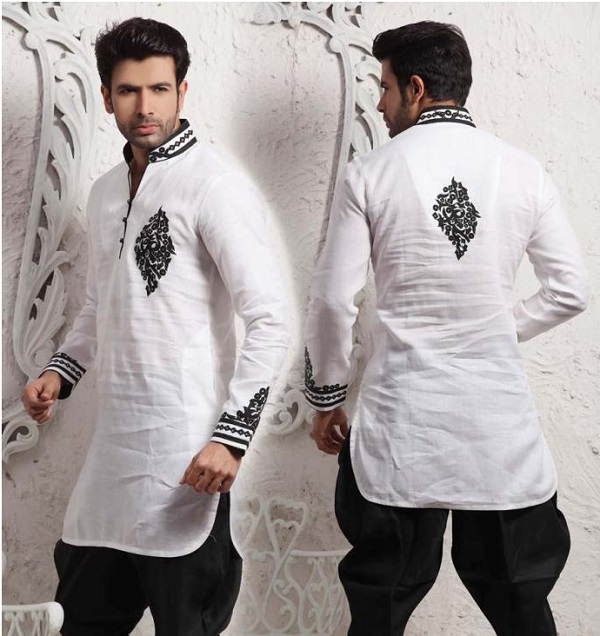 If white is your taste, you'll love this monochrome kurta pajama. The black jodhpuri style pants teamed up with a white kurta and its black embroidery looks classy. What is eye catching in this style of kurta pajama is the embroidery. The attractive and neat thread embroidery makes it traditional and highly contemporary design. Men can try embroidered kurta pajama for simple get togethers, festivals , events etc
11. Jacketed kurta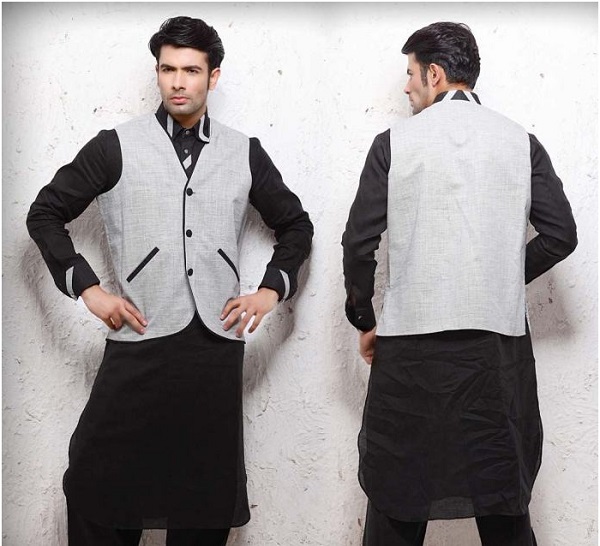 Its option is truly beautiful. The plain black kurta or charcoal grey kurta is paired with the same color pajama. The style factor to this piece of clothing is the jacket with the contrasting shade made this piece look amazing and makes it stand out of the crowd.
12. Wine Kurta Style
The wine and burgundy color kurta pajama looks extremely stunning. Men with all complexions can try a kurta like this. The best thing is that it can really make you stand out of the crowd. The pajama is of the same color as a kurta but you can always mix and match by wearing off white or even a golden color pajama along with this or even a dhoti can work. It would be appropriate for a sangeet or a roka ceremony.
13. Charcoal Grey Kurta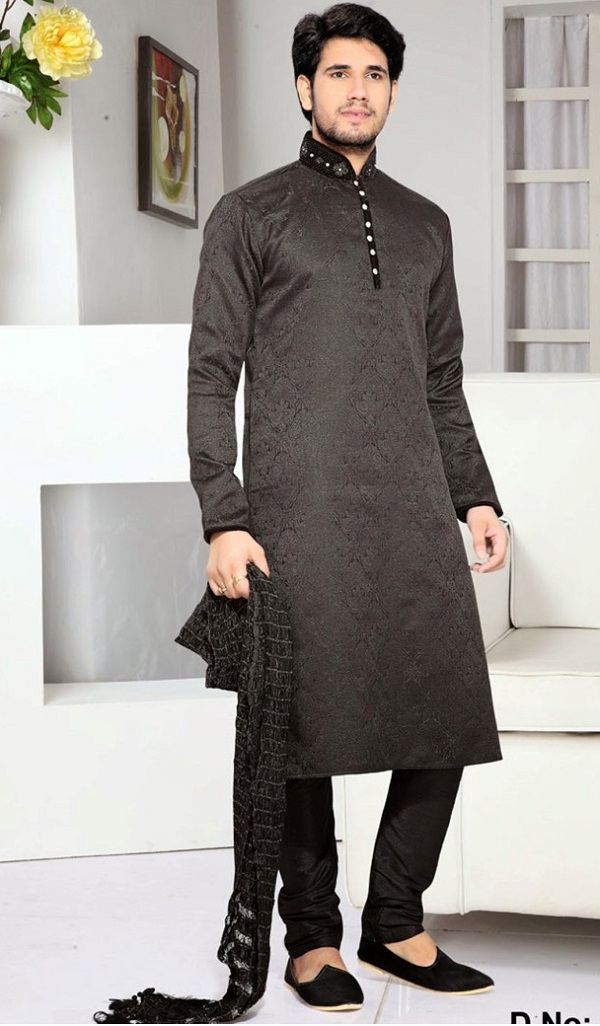 Do you like charcoal grey bandhgala kurta pajama if you do, then this option can be the best for you. It's a textured charcoal grey color. You can call it a simple design or fabric that has very stylish cut and fitting.
So these are some of the best kurta pajama designs for men. Which is the favourite design of kurta that you would love to flaunt on the next festive season. Do you like bright colors or subtle colors like black and white. So, the next time we will bring you more designs of mens ethnic wear till then you can read on our other post form hair skin and health section.