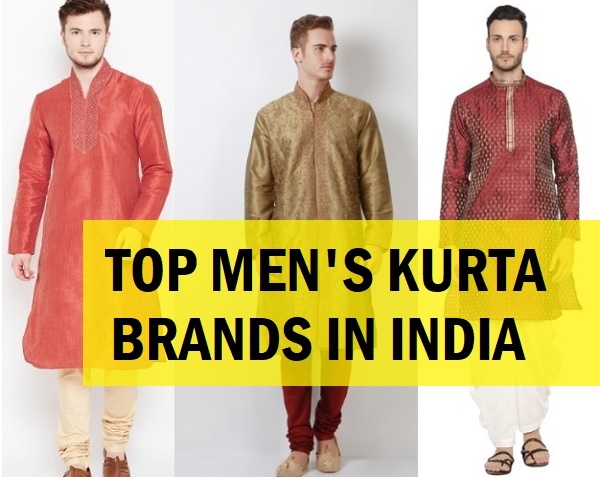 Kurta for men is the ethnic wear attire that Indian men would love to go for. For ethnic functions and festivals nothing can beat the beauty of a traditional kurta for man. It doesn't matter what your body type is, every man can carry a kurta for different traditional occasions. Saying that you must be wondering, which are the best kurta brands for men available in the Indian market? Surely, we'll give you enough of the choices so, that you can pick up the best brand.
Top 10 Best Kurta Brands For Indian Men (2022)
Here is the list of top 10 Ethnic wear or kurta brands in India which men can go for.
1. Manyawar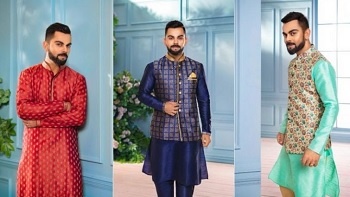 The highly popular brand for men's ethnic wear is endorsed by Virat Kohli at present. Undoubtedly, it's one of the best kurta brands in India for almost every grand Indian occasion. The fabric and styling of the brand's latest design kurtas is impeccable and seamless. However, the pricing is a bit higher as compared with other brands. So, even though these are a little heavy on the pocket they are worth having in your wardrobe.
2. Fabindia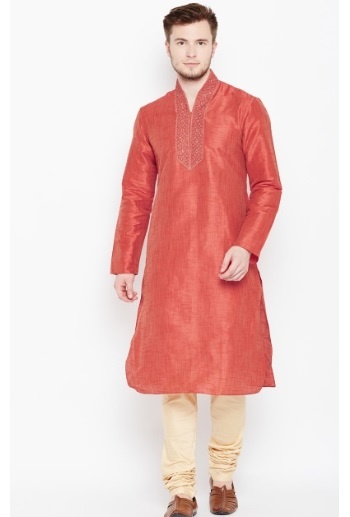 Fabindia is a name that is known for its ethnic wear. The brand offers different types of kurtas for men and women both. You can choose the kurtas in different colours and fabrics. Their silk and satin kurta for men are the best sellers from the various collections. However, the cotton kurtas for summers are equally looking for. The material that they use is long lasting and durable. Even after washing, it does not get crumpled or get faded. You can buy Fabindia kurtas for as low as 500 rupees. The use of multiple variety of patterns like embroidery, prints, woven designs and many more.
3. Peter England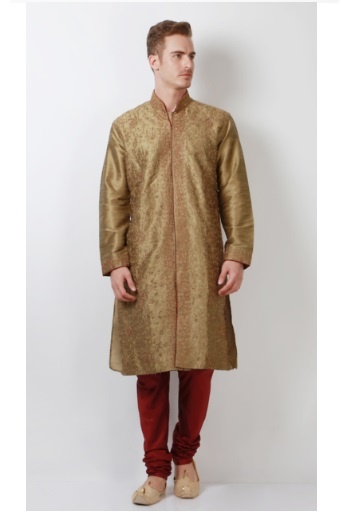 Yes Peter England is a brand that offers formal clothing wear for men, however they also have ethnic wear. The use of embroidered fabric for their men's kurtas is sure to make you look dapper and suave. You can surely choose some really great pieces for the next festive season. You can in fact, build your wardrobe with their ethnic wear. The highlight about the brand is their affordability with quality. Definitely, you'll not regret buying them. Peter England cotton-blend kurtas are very popular with solids and woven designs. If you like textured patterns and fabrics, then they also have that.
4. Indus Route by Pantaloons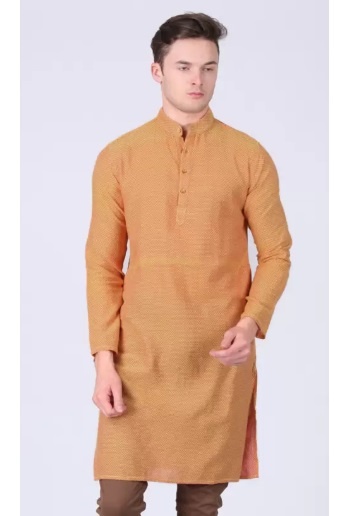 Pantaloons have multiple sub brands that offers various types of clothing for both men and women. Indus route is for men's ethnic wear especially. The brand offers kurtas for Indian men in different varieties, styles and fabrics. Keep in mind the season, you can buy their linen and cotton kurtas in prints and solids. Indus Route woven design kurtas are highly appreciated by majority of people. The designs and the colours that they choose for their fabrics are astounding. The perfectly crafted and stitched traditional wear will not let you down at any ethnic ceremony. They are available in double and triple XL sizes. Therefor, the next time you would like to have a traditional wear for yourself, you must consider this men's brand for kurta. The collection is also available on the leading shopping portals like Myntra.com, Jabong.com and Amazon.in.
5. The Indian Garage Co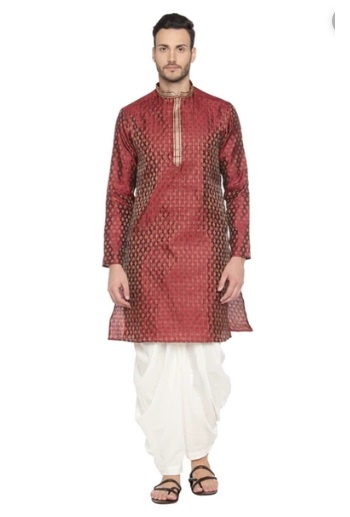 The Indian Garage offers majorly the short kurtas for men. Their prices are very affordable and one can have different patterns like check, prints, solids and even the woven designs. Woven design kurta are suitable for Indian ceremonies. To go with the current trend and style, you can go ahead and try their colourblocked kurta patterns. You can wear them anywhere and you would be comfortable in them. The exclusive kurtas are sure to give you a new makeover. Men who like short kurta should check this Brand. The Indian Garage kurtas are very affordable and available online on  shopping sites like Flipkart.com, Myntra.com, Amazon.in and Jabong.com.
6. Yepme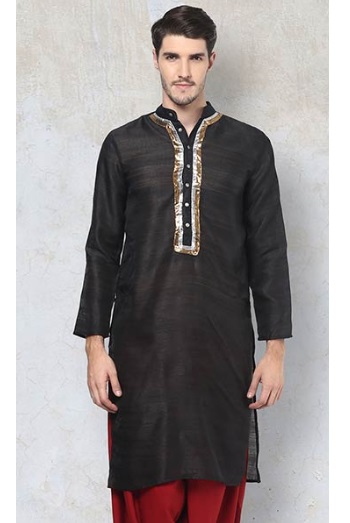 Yepme is a brand that is known to sell quirky clothing for youngsters. However, their kurta collection is equally flamboyant and vibrant. The kurta collection from this brand would catch the attention of many men who fall under younger age groups. You can surely elevate your style quotient by wearing their ethnic wear. It is, in fact, one of the most affordable ethnic wear brands for men. They offers different stylish varieties for their men's kurtas in various comfortable fabrics and styles. When you are on budget and need good quality kurtas for men, you should definitely check this Yepme brand's kurtas. Like The other popular kurta brands in India, this is also available on the leading shopping sites.
7. Svanik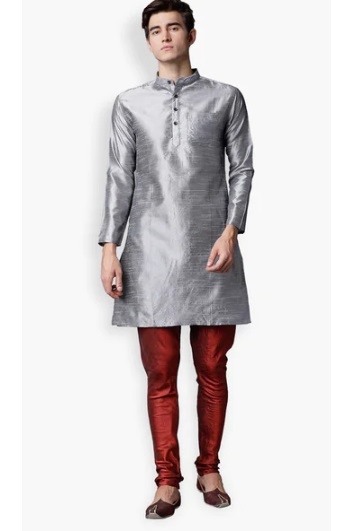 The brand offers different styles of men's traditional kurta. If you are someone who would like to experiment a lot then this brand is for you. They give you that classiness with elegance. Whether you like long kurtas with short sleeves or button tab sleeves, they have everything for you like pathani kurta, short kurtas, long style, diagonal slits, jodhpuri or even angrakha styles as well. With Svanik Kurtas, you can certainly unleash your fashionable side to enjoying the coning festivities. In fact the brand is highly affordable and makes you look a stunner with their multiple variety of Indian men's kurtas.
8. Jompers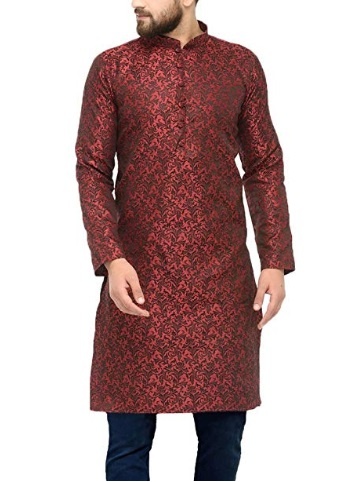 This gents kurta brand is extremely popular on online shopping portals. Jompers offer different variety and types of kurta sets. Their regular fit kurta are something to look at. They not only give you that classy look but the much needed comfortable feel which should be kept in mind for summers. Made with the rich and high quality fabrics, their light sherwanis or kurta sets will keep you at is all day long. The brand is known for their latest designs, high quality and affordability. If you would like to experiment with different styling, try their side slit or angrakha style kurta which are extremely popular this season.
9. Sojanya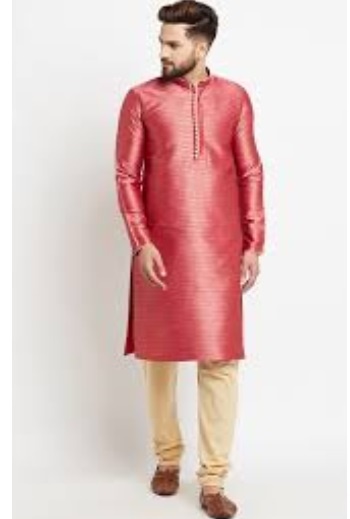 You are sure to get loads of compliments, when you wear a nicely crafted and patterned kurta. It's a home grown ethnic wear brand for Indian men. Men who prefer wearing kurta but comfort comes first will like this brand. Other than that the brand's products comes at affordable prices, so, light on pocket. You not only get regular kurta pajama set but there are dhoti kurta sets, pathani kurta, Punjabi kurta pajamas as well in cotton, printed or textured patterns. The primary material that they use is mostly cotton to keep skin breathe all day long. Their silk blend sherwani type kurtas are perfect for weddings.
10. House of Pataudi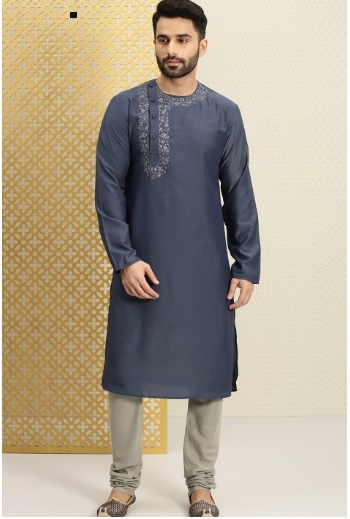 You are sure to look dapper as ever ethnic wear. In spite of, it being a celebrity brand it is highly affordable. You can experiment with their short kurtas and even the long side slit or diagonal cut kurtas. Looking for perfect ethnic attire, for your family wedding, you can consider them. The right fitting and the fabric designs that they offer are budget friendly. It gives you smart edgy and sophisticated feel. Their attire would surely make you one of the best dressed men in traditional ceremonies. House of Patudi kurta collection is available on the popular online shopping sites like Myntra.Com, Jabong.com and many others.
These are the best kurta brands for men in India. Hope you will be able to get all decked up with this traditional attire. To buy these online you can go to the leading shopping portal as we mentioned.