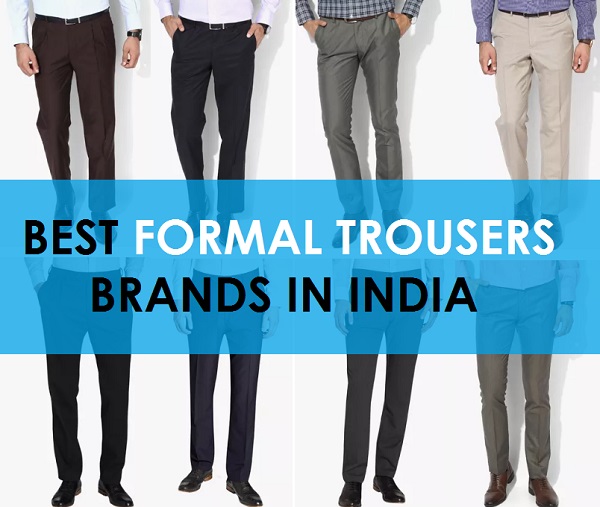 Formal Trouser Brands for Indian Men
When you are well dressed then you can make your presence felt. For that a good pair of formal shirt and a formal trouser is needed. You can never look unkempt when you are wearing formal. They make you look like a perfect gentleman and enhance your personality by taking it to another level. So, here we bring you a compilation of the best trouser brands for men. There are different fabrics used for the trousers and pants for men like cotton, linen, synthetic, polyester etc. We believe that wearing good clothing brands can do a lot for you in enhancing the overall demeanor and personality.
Top 10 Brands for Formal Trousers and Pants for Men 
John Players

Raymond

Van Heusen

Peter England

Blackberrys

Park Avenue

Louis Philippe

Invictus

Arrow

Allen Solly
Here we bring the list of the best in India for trousers and Pants for men.
1. John Players
John Player is undoubtedly is one of the best brand for men's formal clothing. Their formal trousers have beautiful texture and material. They have seamless and perfect finish makes you feel sophisticated and polished. The elegant designs and subtle cuts fit the body perfectly. They are one of the best men's formal trouser brands in India.  You can get sizes from 28 up to 44. The materials used are Linen, Polyester, Cotton, Mixed and woolen.
2. Raymond
Raymond, A complete Man. Yes, indeed! This brand is India's most popular brand for formal wear like formal shirts, pants, blazers and suits.  Their style, cuts, stitch is so perfect that one can not go wrong with a Raymond piece.  Their formal trousers have sizes starting from 28 till 42 and have the usual regular fit, slim fit and narrow fit trousers and pants. Their favorite material for their formal trousers is linen and pure cotton.
3. Van Heusen
The formal trouser and past from this brand are also one for the best in Indian market, the affordability and the style is seamless. They are comfortable and have the breathable fabric. The cut, clarity and finish us also to be noted that makes any piece of clothing beyond a piece of fabric. Their formal trousers sizes start from 28 and goes up to 42.
4. Peter England
Just like the Peter England shirts, their formal trousers are also worth trying. They look extremely classy and have fabulous colors so that you can never go wrong with a Peter England formal trouser. The brand can take your style statement to a notch up and gives you that classy and chic look. They use Viscose, Cotton and linen for their formal trousers.
5. Blackberrys
This popular brand for men's formal trouser is available in online shopping sites and in stores. They make high quality pants for men with good material like cotton, linen etc. The textured trouser collection from this brand is really good. Their clothing exudes style and classiness and are affordable for Indian men. Sizes available for these trousers are from 28-42.
6. Park Avenue
This is a brand that makes awesome formal trousers for men. They have entire collection of men's clothing and their collection certainly unmissable. Their formal trousers can complete your wardrobe and make you feel good about yourself. They make wrinkle-free formal trouser and pants as well so that while in hurry or in a trip you do not need that ironing. Their range starts from 600 Rupees and sizes starts from 28 and goes up to 42. You can get skinny fit, slim fit and the Regular fit formal trousers. The material used is mainly pure cotton, linen and wool for the winter collection.
7. Louis Philippe
Just like the Louis Philippe shirt their formal trousers and pants for men are also extremely popular. The brand makes classy and elegant looking men's  clothing like suits, pants, trousers, shirts and blazers. The fine skilled craftsmanship is visible by the neatness and the crisp fabric. They pants are majorly from the cotton fabric and can be worn on everyday basis.
8. Invictus
Invictus is also a popular and affordable brand for men's clothing. The formal pants and trouser from Invictus can help make you your style statement and in looking sophisticated.  The seamless stitching and finish is just commendable and one should have at least one trouser from them. There little detailing is worth mentioning and taking a look at. You can have the slim fit and regular fit trousers from this brand.
9. Arrow
Arrow is one of the finest and elegant brand when it comes to men's clothing. They have affordable men's formal trousers and shirts. You can have an Arrow trouser can be bought for as less as 600 Rupees though online discounts are huge so, you may also buy online. Arrow clothing can make you feel like a perfect gentleman with a different class. You can surely attend the boardroom meeting or go for a causal dinner wearing these Formal trousers by this brand.
10. Allen Solly
Allen Solly is famous for their formal shirts, pants and Polos. Yes, the brand has an immense fan base which love their works and craftsmanship. The fabrics used are brilliant and can last long with that luster and richness. Their trousers can be your office essentials with classy shirts. You can get few styles in their pants like the Regular fit, slim fit and the skinny fit. They most use cotton for their pants.
So guys, these are the best brands of men's formal trousers in India. Have you tried any of these? We are sure, you must have! Which is your favorite formal trouser brand in India? Do share! Don't forget to read about the best formal Shirt brands in India