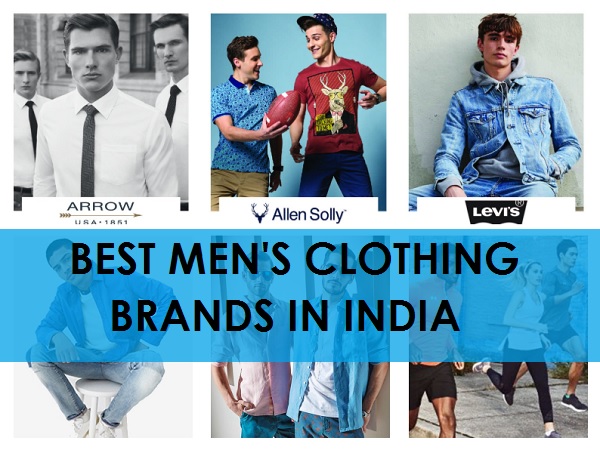 Men's Clothing Brands in India: Affordable, Casual and Formal Wear
Who does not want to look good? Every men wish to look their best. It is simply because a good personality with the right styling speaks for you and does a lot in your favor. Looking presentable is the need of the hour. And one that looks polished and sophisticated gets the most of it. So, it's not that you wear clothes just to look better but to create a mark and leave a lasting impression on others. In this era, fashion, trends and brands go hand in hand; this is why more and more people are getting brand conscious. So, here we will discuss about the best men's clothing brands in India.
Other than that, people follow what their favorite celebrity wears or endorses. This is why branded clothes have become so much in demand and due to that online shipping sites are on a boom. There are lots of different brands that are easily available to be bought online.Here I am talking about the popular shopping portals like Myntra.com, Amazon.in, Jabong.com, Flipkart.com and many others to count on.
Top 14 Best Men's Clothing Brands in India 
Earlier, we had shared the list for the best sites to shop men's clothes and accessories. Wearing clothes from good brands not just enhances your personality but also makes you sophisticated.First let's talk  about the casual wear brands for Indian men.
Casual Wear Men's Clothing Brands
1. Mufti
It is a very own reputed Desi brand that has high number of followers. You can have Mufti casual shirts, Jeans, bags and belts. Even other accessories are also available. The brand is a Mumbai based brand which has been astoundingly popular amongst the college boys and teens. It's been over 20 years that the brand has managed to mark its presence in the world of men's clothing brands in India.
2. Wrangler
The extremely popular Wrangler brand is undoubtedly, a popular brand amongst men's clothing and is widely available in Indian stores, shopping sites and Shopping Malls. Their clothing has quality and style that is impeccable. Moreover, the other products and accessories that they offer are perfect to go with your Wrangler clothes.
3. Flying Machine
Flying Machine is the most popular brand of clothing for teens, youngsters and casual wear. It caters to majority of men and women who loves jeans and everyday clothing that college students like to go for. Apart from the Jeans and regular T-shirts and shirt you can also have bags, belts and other accessories from this brand for men. The accessories are also affordable and there is nothing that it can make you spend a lot.
4. Numero Uno
Yes, you must have worn that Numero Uno Jeans but this brand has a lot to offer just like the brand Flying Machine. This men's clothing brand is a very renowned brand that offers Jeans, Shirt, Casual T-Shirts and many other stuff which one can explore. You can also have accessories to suit your needs from this brand.
5. Levi's
Ok, so, you gotta get a new pair of Jeans, Levi's would be definitely on your mind. Levi's is known for their comfortable causal wear and the Jeans, Of course. The extremely popular brand in the world is bound to get the clothing you would like to have. You can just imagine the popularity of this Men's Jeans brand. Not just that, you can get shoes, shirts, casual pants from Levi's to make you look stylish.
Best Formal Clothing Brands for Indian Men
Now, after sharing the casual brands of clothing for Indian men, coming to more formal clothing brands for men.
6. Park Avenue
Park Avenue is a well known brand for men's clothing that offers Formal shirts, Trousers, Ties, Blazers and what not? You would certainly wish to get decked up in a Park Avenue shirt while going for an interview. Won't you? Coming to that, you can also take a look at the best Men's Formal Shirt Brands in India, which you should wear with your formal clothing.
7. Provogue
Not as affordable as a brand but yes, certainly the brand has lots of loyal followers. Provogue, as a men's clothing brand is known for their formal wear like trousers and the best formal shirts for men. You can never go wrong in Provogue formal wear The accessories from this brand are also high quality and offers high class designs and patterns.
8. Van Heusen
Van Heusen is a comparatively new brand of men's clothing but undoubtedly, the brand has garnered a lot of attention. This is because of seamless class and upbeat styling of their formal clothing. Their formal shirts, Polo T-shirts and the blazers are must try for men, who wish to stay updated with branded clothing. The best thing is that the prices of this men's formal clothing brand are very affordable. You can get Van Heusen products online from the leading shopping portals.
9. Allen Solly
An Indian brand that is no less than any International brand. It was launched by the Aditya Birla Group. The crisp clothing is apt for formal affairs and functions. They have large collection of clothing appropriate for most of your formal affairs. Even their casual collection can amp up your style a notch above. So, the next time you pass an Allen Solly Outlet, do remember to check out their collection. We're sure you must have noticed their Polo T-Shirts on major online shopping sites.
10. Arrow
Arrow is one of the best men's formal clothing brands in India. The products like Formal shirts, pants, trousers, suits are known for the quality and comfort. The company was established in 1851 and has a legacy of its own.
11. John Players
John Player is owned by the ITC and is known for its endorsement with Hrithik Roshan. The company has a very high quality clothing and is available in more than 1500 stores in India. They are affordable and have the best designs for their shirts, blazers, trousers with comfortable and breathable fabrics.
12. Raymond
By far, it is a well known and most popular men's clothing brand in India. You can never go wrong while wearing  Raymond. It makes you classy and elegant. In fact, for this very reason, men choose it as their first choice for their special occasions like weddings, parties, functions and important meetings. Classy dressing style definitely make you a perfect gentlemen.
13. Blackberry
This brand is a very high quality brand with affordable men's clothing in Indian market. Blackberry is an Indian brand and offers you with fashionable yet classy causal shirts, formal shirts, pants, trousers and even the everyday accessories. It is one of the most selling brands on online shopping sites like Myntra.com, Jabong.com and many others. 
14. Peter England
The brand is yet another popular and trusted brand for men's clothing in India. They offers the reasonably priced formal clothing for men. You must try this clothing brand, if you wish to look good without shelling a fortune.
This is the current list of best men's clothing brands in India. Trends keep changing but some brands do stick for long time because of their quality and class. Have you used any of these? We are sure you must have! Which is your favorite clothing brand?