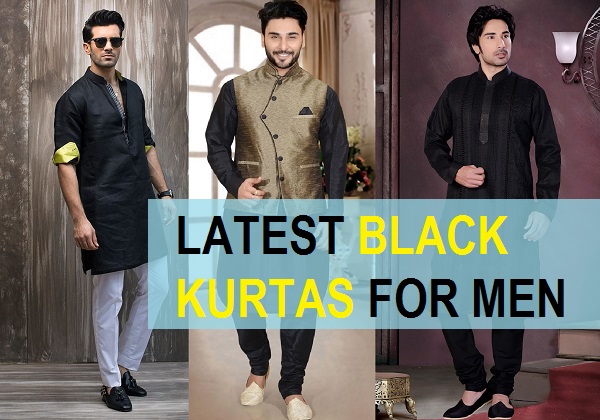 In this post, we are going to share this images compilation on the black kurta for men. If you are bored of wearing t-shirt everyday then kurtas are good. Not just that kurta can also be worn for ethnic Indian festivals like Holi, Diwali, Eid and other similar ceremonies. Whatever is your reason to wear a kurta you would definitely look stunning and handsome and that. So, let's check out the best and unique designs of black kurtas in this post.
Latest Different Types of Black Kurta Designs for Men (2022)
1. Black Punjabi Kurta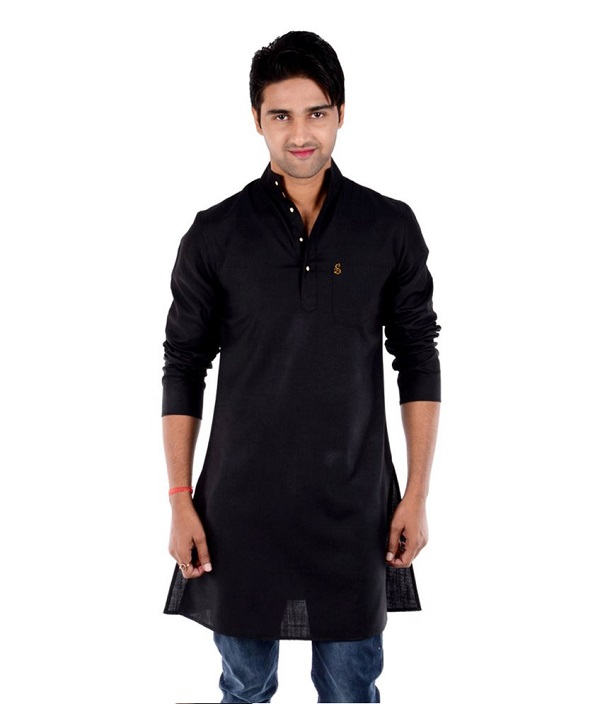 This is a Punjabi kurta for men with full sleeves and a button placket. The cotton kurta has got a pocket on the left side and it is a very casual looking kurta that is not over the top. It can be tamed up with a black or white pajami or even the jeans, like as the model is wearing in the picture.
2. Black Silk Pathani Kurta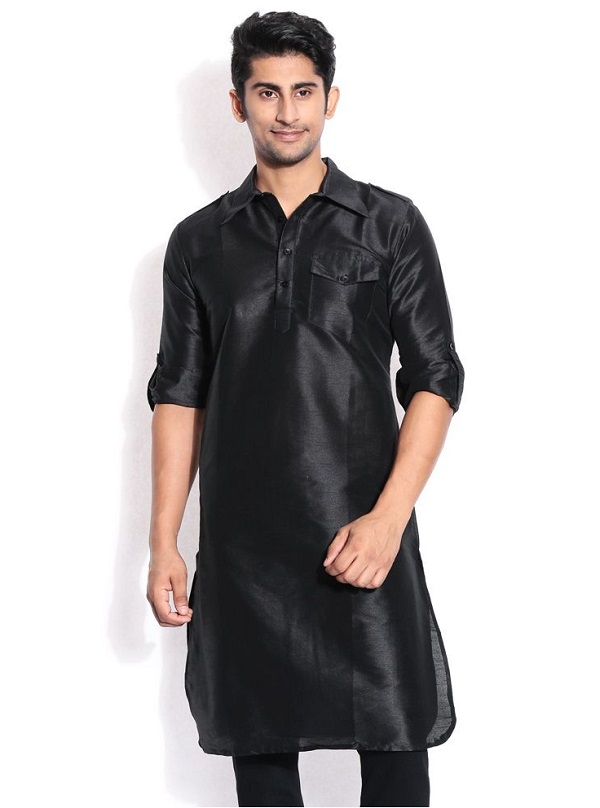 This next one is a Silk Punjabi or Pathani kurta for men. If you will notice the sleeves are 3/4th and they have got a button tab. So, you can wear it in two ways. Either you can fold the sleeves or wear it with the full sleeves. The kurta comes with a collar and a centre button placket. On one of the sides, there is a pocket. The slits have rounded edges which gives it a very festive feel. It is filled with the silk material and adds shine to this otherwise dark color.
3. Silk Black Kurta with Dhoti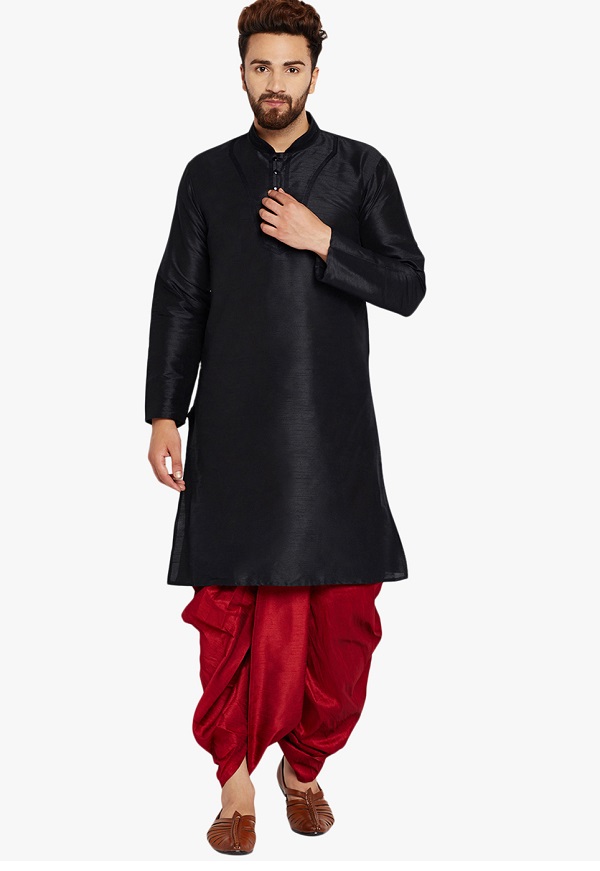 This design is also a silk black kurta for men with long sleeves. It is a simple design that doesn't have too much or over the top detailing but it is extremely beautiful and elegant piece of kurta for men. The black kurta is in silk fabric with a button placket with a mandarin collar. As shown in the picture, it has been teamed up with red silk dhoti. You can also look for a similar kurta in dupion silk or other silk fabrics. It can be paired with jeans, white pajama, black pajama etc.
4. Festive Black Kurta for Men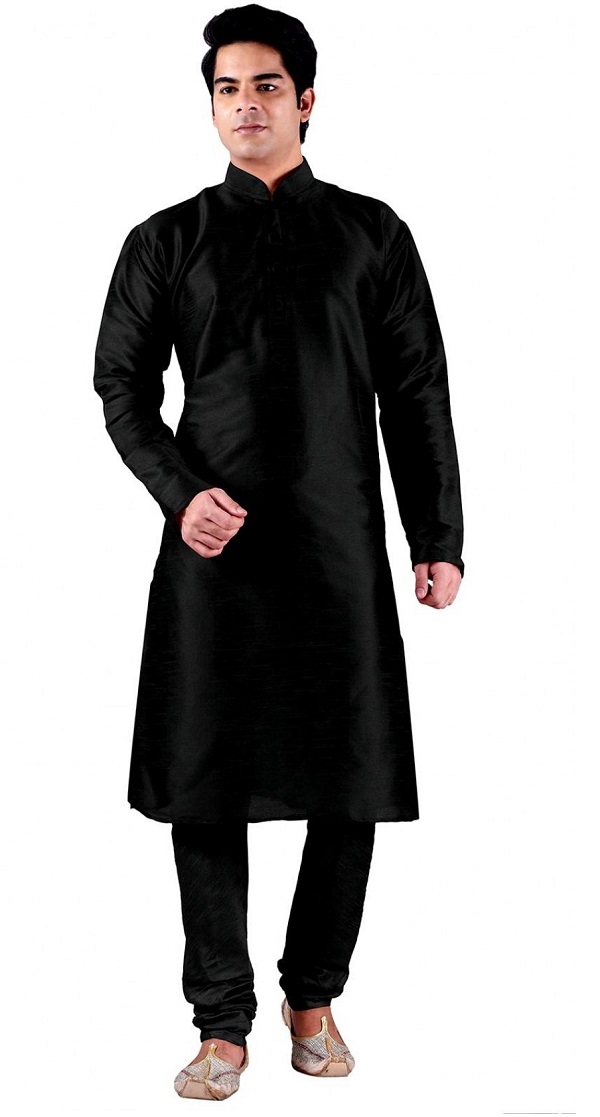 This black silk kurta is turning the long kurta is paired up with black pajami the glossy Sheen finish of the fabric makes it elegant. It comes with the Mandarin collar and button placket without any pockets. The full sleeves make it good for festivals and similar occasions.
5. Black Kurta with Buttons
This next design is a very unique looking kurta for men. It doesn't have a straight cut hemline but it has a diagonal hemline with one of the side being longer than the other. It doesn't have a button placket but it has side buttons. The potli buttons on the side have gatherings and make this beautiful and very unique. You can also wear this kurta with jeans or the regular pajama.
6. Embroidered Black Kurta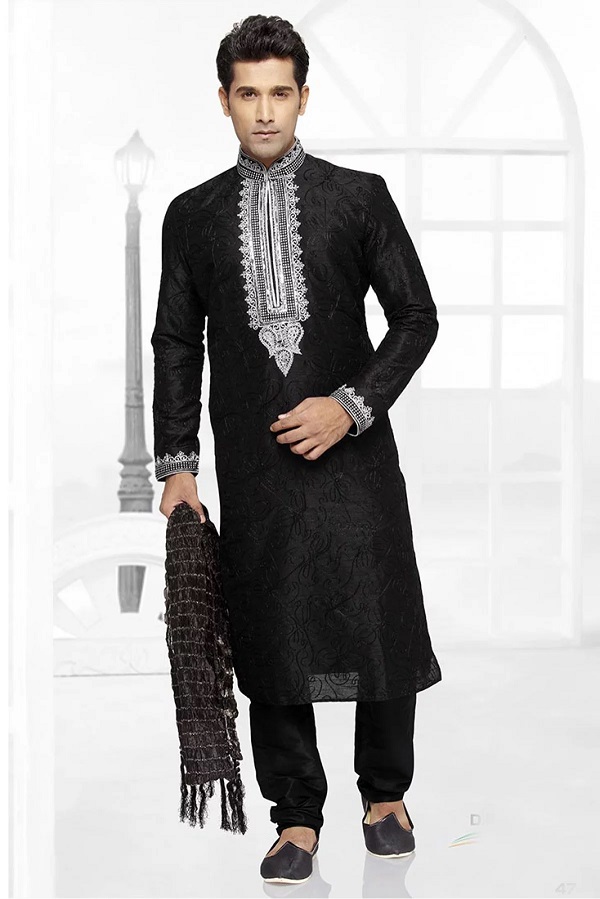 If you want something extra from the regular black kurta then go for designs like this. The embroidered neckline extends below the chest and the same embroidery in contrasting color can be seen on the cuffs. The fabric used is not a plain black but has a texture on it. The embroidery of black thread all over the kurta fabric makes it more unique and gives it more dimensions.
7. Casual Black Kurta for Men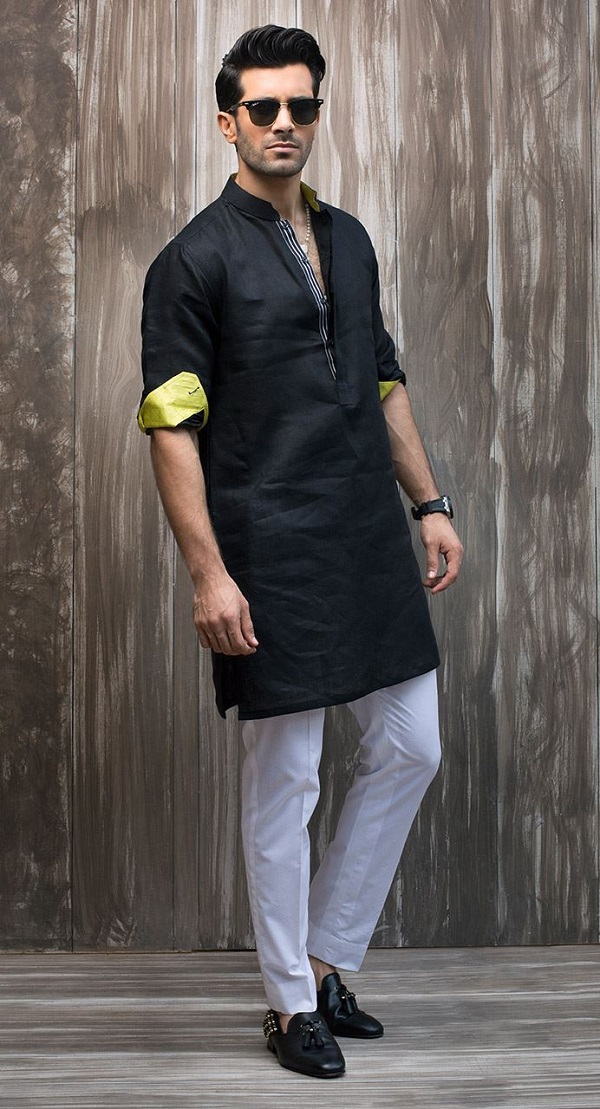 The very smart kurta looks more like a kurta that boys can wear for college with jeans. The inner material of contrasting color has been used for the collar and cuffs. You can either wear it with full sleeves like a shirt or with the rolled up sleeves. This is one of the best black kurta for men that is casual and can be worn for college and hangouts.
8. Punjabi Black Kurta with Jacket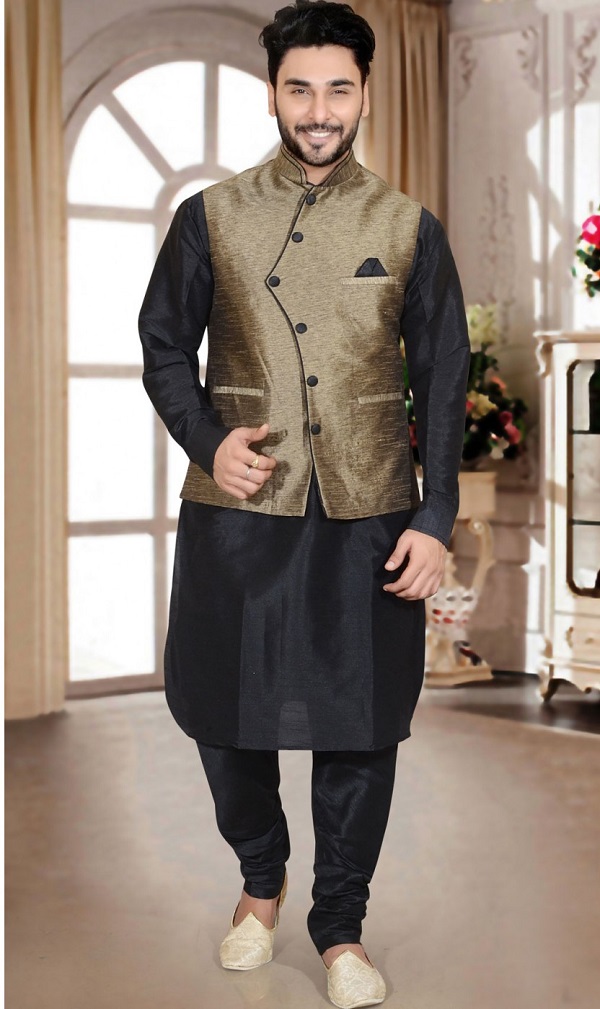 If you like jackets with your kurta then this design is for you. The Punjabi kurta with rounded sleep has full sleeves. It is paired with a bronze colored silk jacket that makes it look perfect for the next festival that you are going to attend at a friend's place. When you are wearing a kurta with jacket, like this you must pair it with either the Kolhapuri Chappals or the jutties are popular with this type of clothing.
9. Grey and Black Kurta Design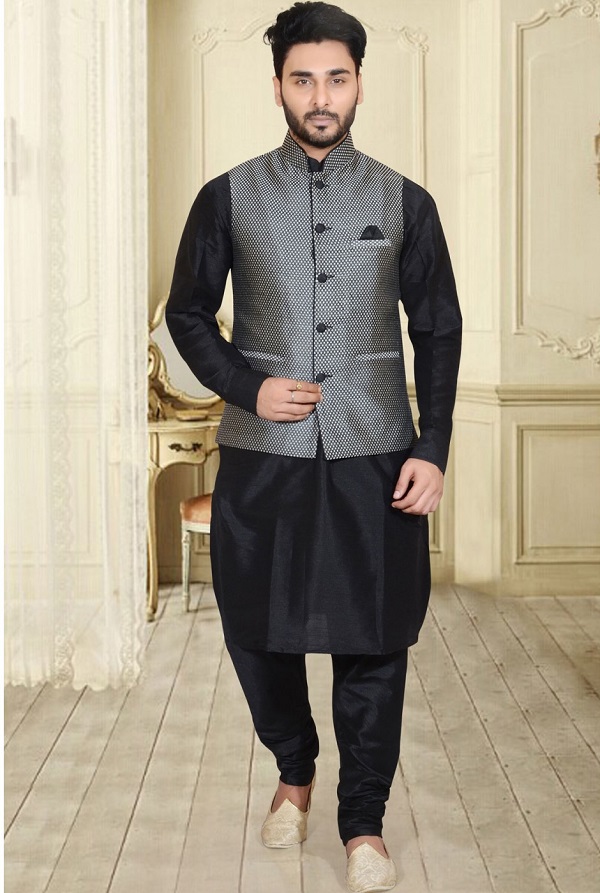 The same kurta has been paired with a grey textured jacket. Grey and black is a superb combination and its suits men of all age groups. Men with dark skin color can also full of Grey as a color. So, the next time, you are about to buy a kurta for yourself then, do think about the grey and black combination.
10. Black Textured Kurta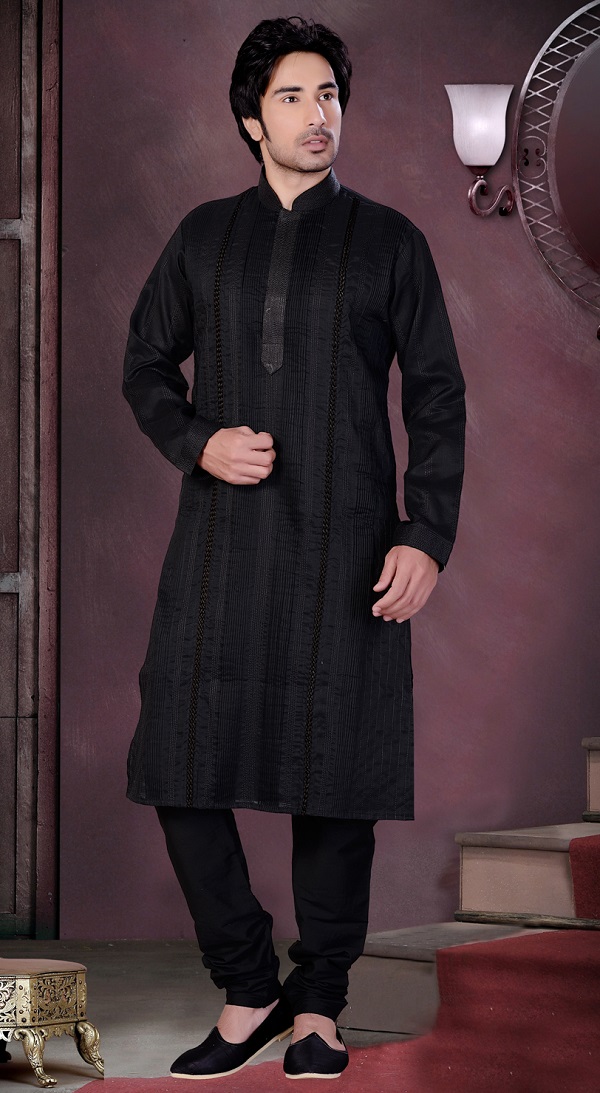 11. Mirror Embellished Black Kurta For Men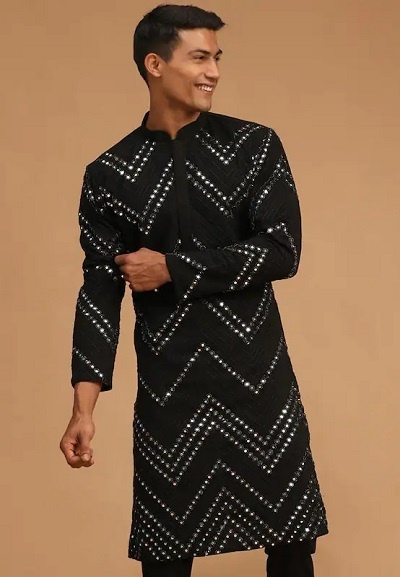 12. Stylish Embroidered Black Kurta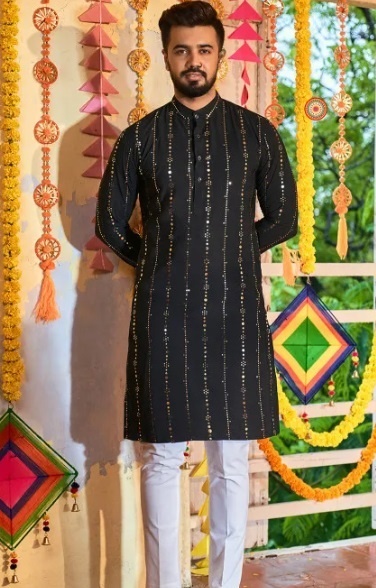 13. One Shoulder Embroidered Black Kurta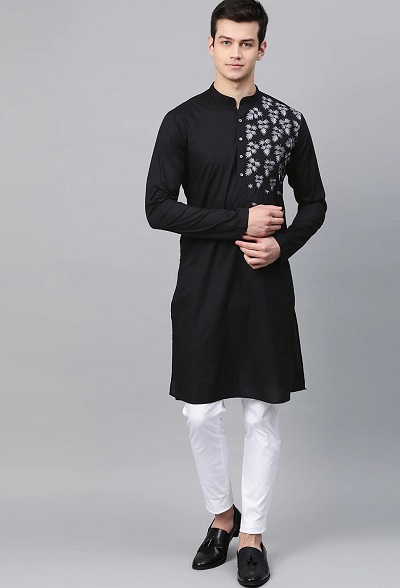 14. Designer Black Kurta For Men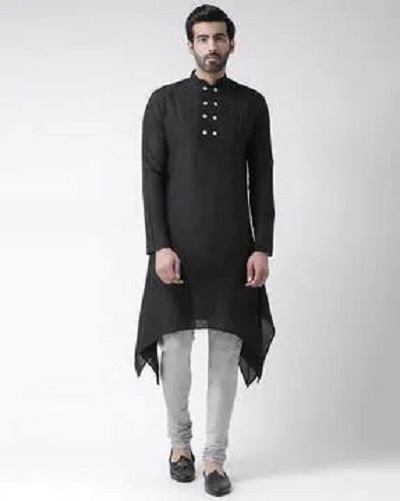 15. Stylish Cowl Neck Black Kurta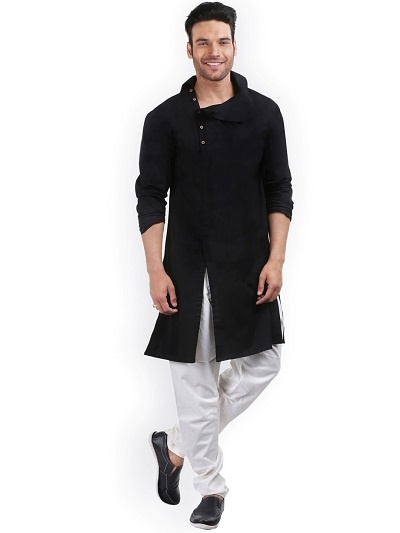 16. Block Pattern Kurta For Men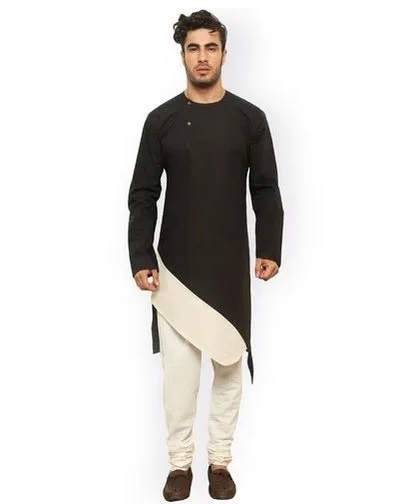 17. Men's Front Pleated Kurta Design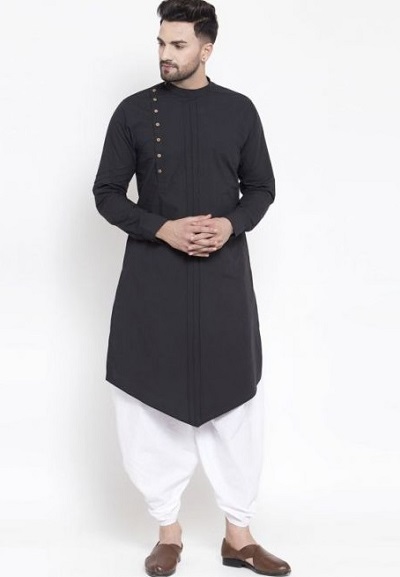 18. Diagonal Hemline Men's Black Kurta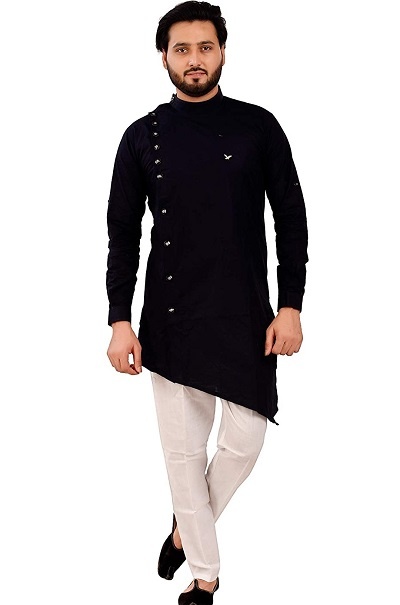 19. Short Black Shirt Kurta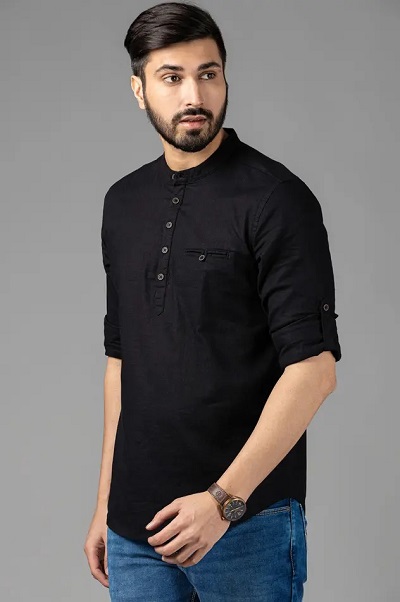 20. Art Silk Long Black Kurta For Men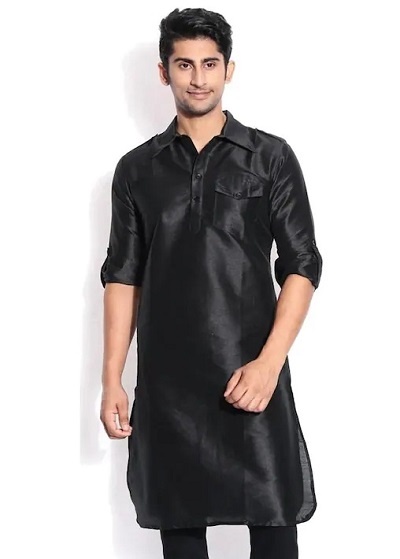 21. Black Kurta with White Button Placket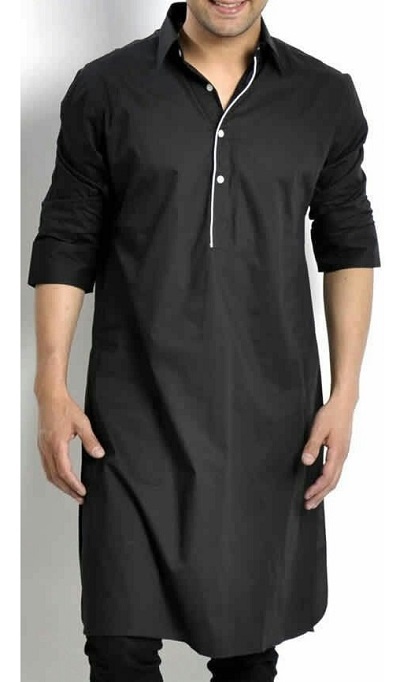 22. Stylish Black Textured Kurta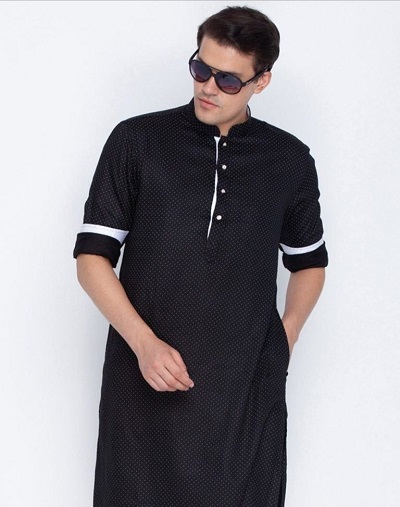 23. Black And White Printed Kurta
24. Collared Medium Length Kurta For Men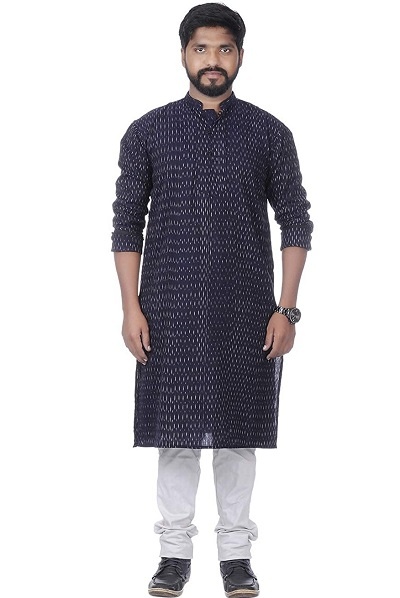 25. Vertical Line Men's Kurta Design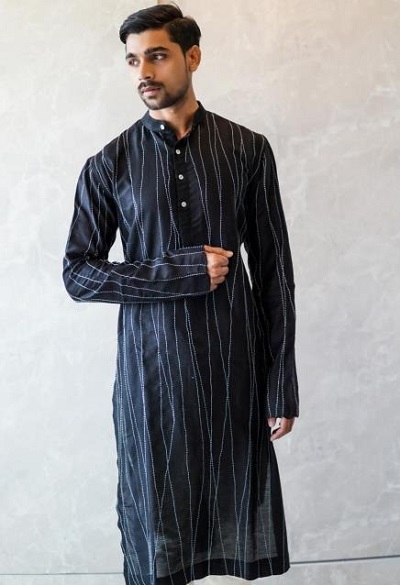 26. Kashmiri Embroidered Black Kurta For Men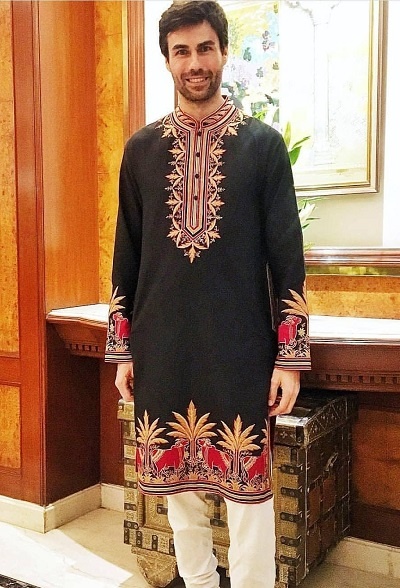 27. Silver Embroidered Black Stylish Kurta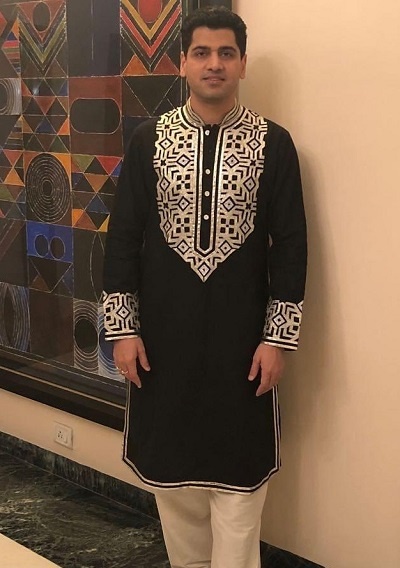 28. Designer Black Kurta For Men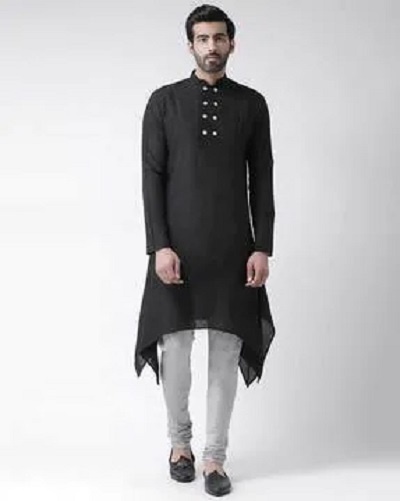 29. Asymmetric Black Embroidered Kurta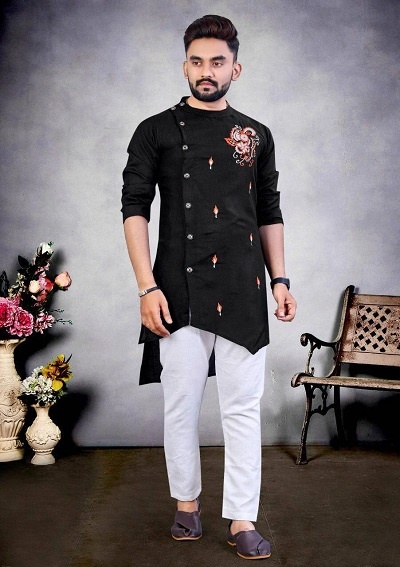 30. Designer Embroidered Mens Kurta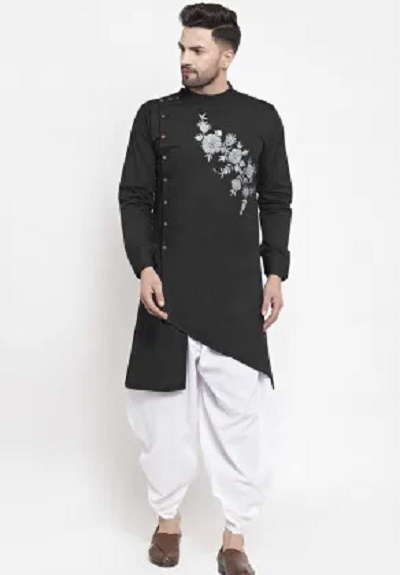 31. Simple Diagonal Black Kurta For Men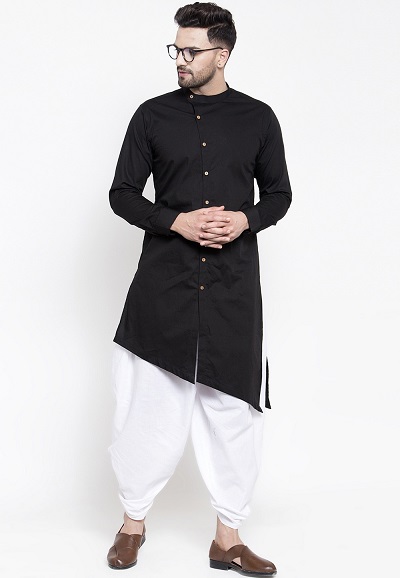 32. Short Length Kurta Design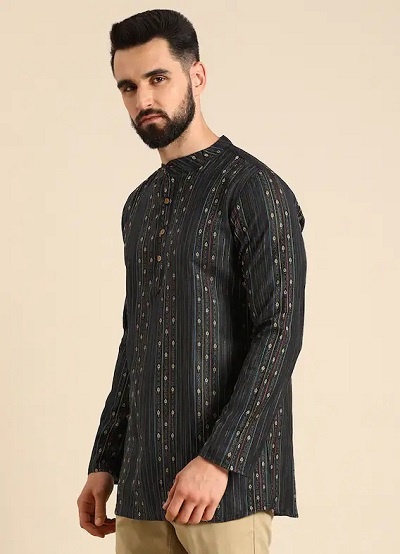 33. Printed Kurta For Men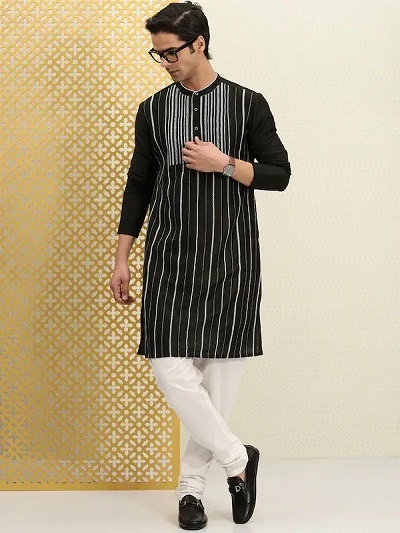 34. Short Party Wear Black Kurta
35. Wedding Wear Silk High Neck Kurta For Men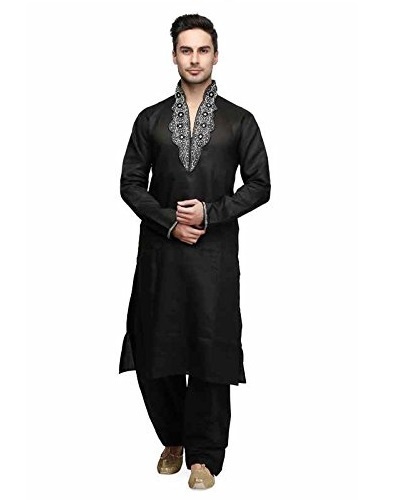 36. Simple Festive Black Kurta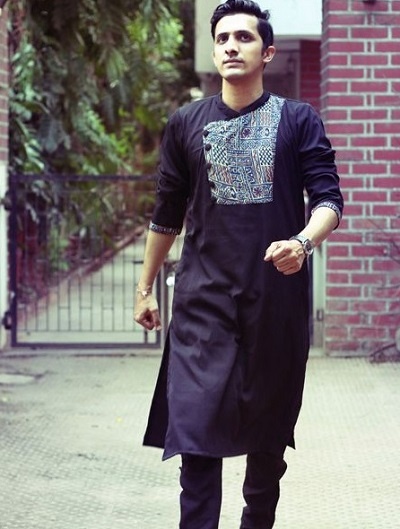 37. Short Art Silk Embroidered Kurta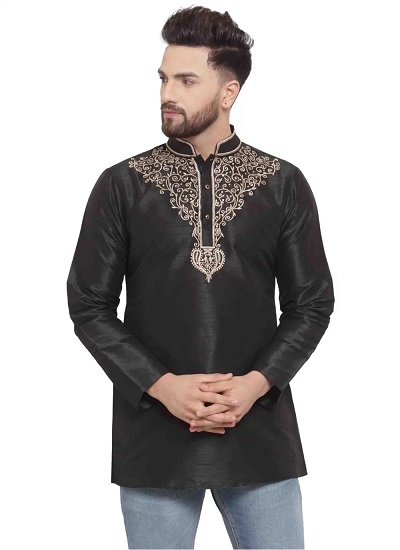 38. Full Sleeve Printed Kurta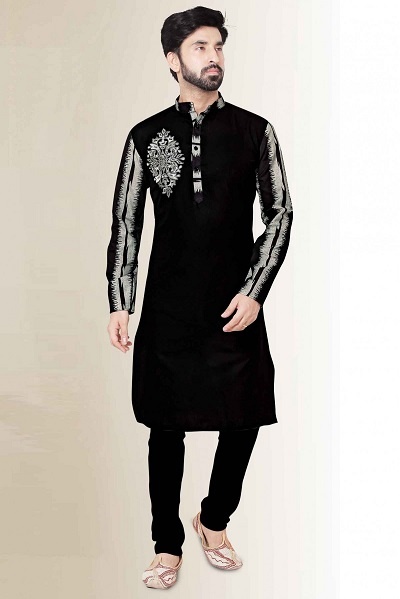 39. Side Button Placket Designer Black Kurta
40. Golden Patchwork Black Kurta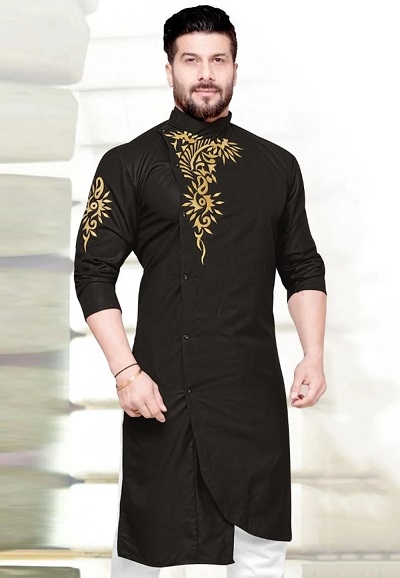 41. Designer Embroidered Kurta For Men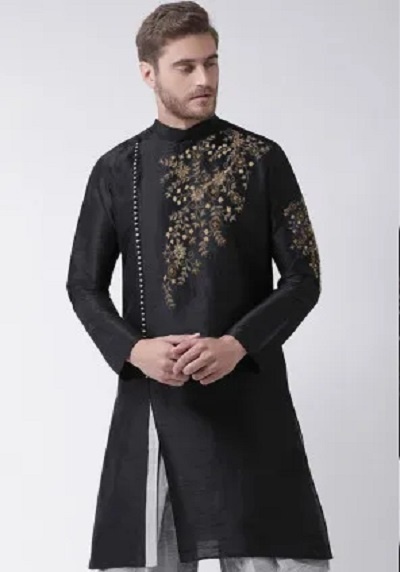 42. Party Wear Silk Black Kurta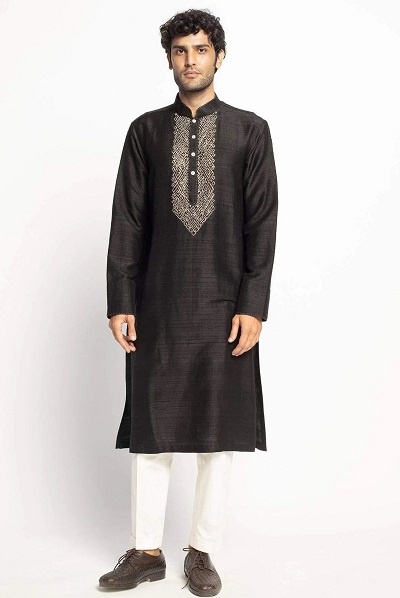 43. Side Pleated Kurta For Men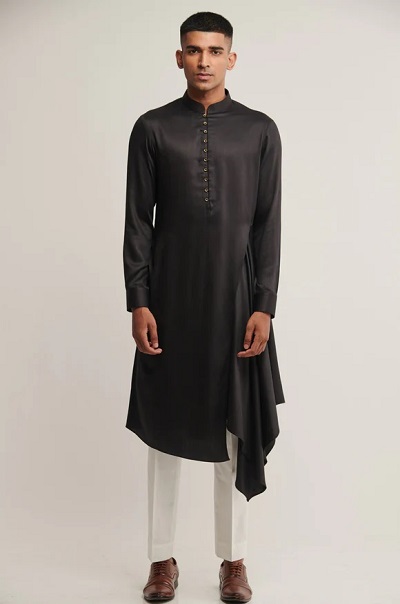 44. Double Layered Kurta Design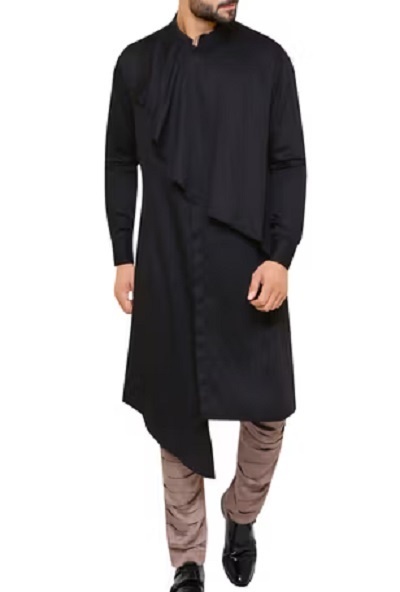 45. Short Designer Black Kurta For Men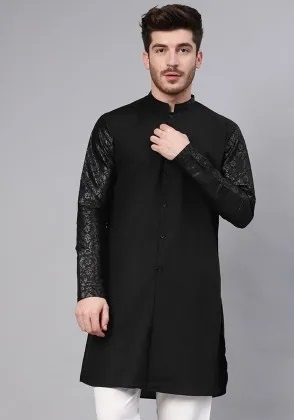 46. Embroidered Mirror Work Black Kurta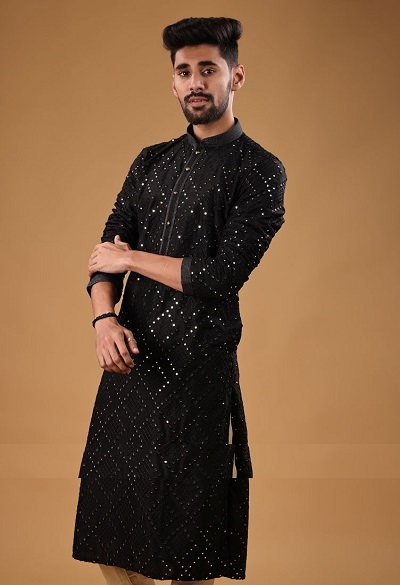 47. Sequined Mirror Kurta For Men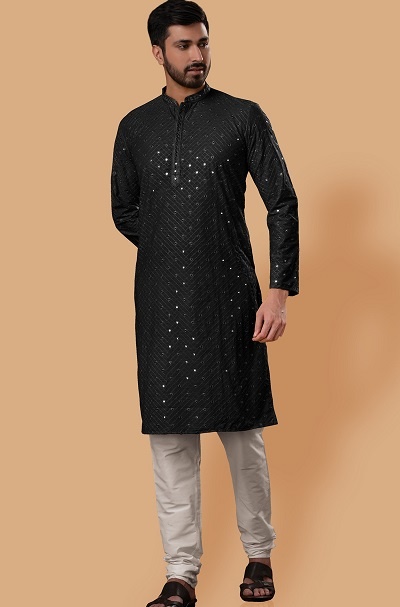 48. Ikkat Printed Kurta For Mens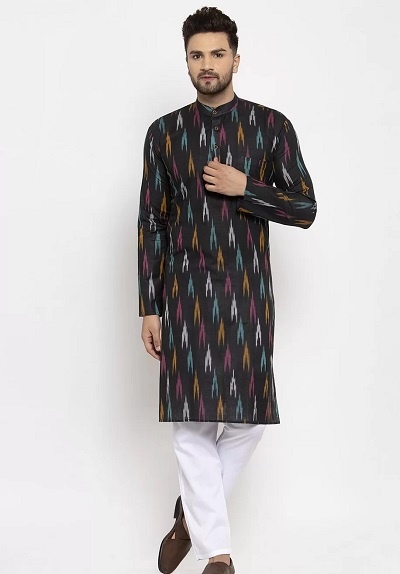 49. Black Chikankari Kurta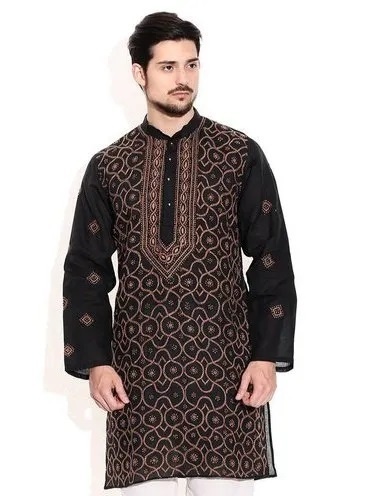 50. Simple Black Silk Kurta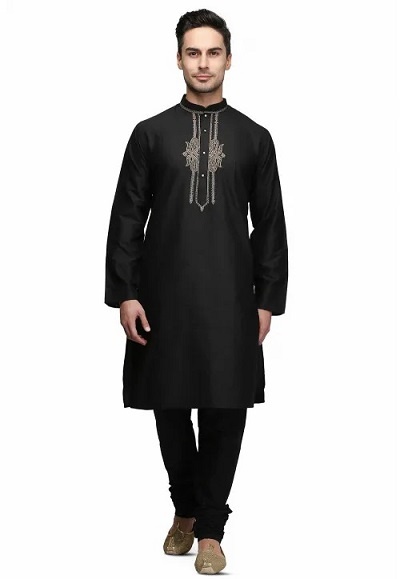 If you want elegant and subtle designs then try a textured black kurta. The kurta has texture and has embroidery with the same thread as the fabric is. It is simple yet yet has a pretty classy vibe to it.
So these were the images of black kurtas for men. Which is the one that you like?