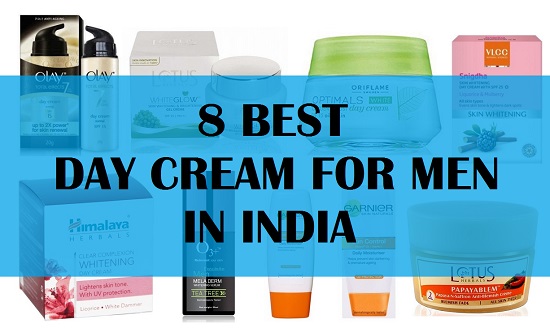 List of Best Day Creams In India For Men
Hi Guys, Do you know that in today's time even we men should take care of our skin. It is mainly because the pollutants and dust particle sin the air are much higher then they use to be. Hence, these will destroy the smoothness and charm of the skin. Moreover, our skin can get dull and lifeless is no time. This is why I always recommend my friends to use a good day cream and night cream along with an under eye cream. Doing this little regimen, will help keep men's skin free of blemishes, dullness etc. So, recently some of you have asked me about the best day creams for men. So, I have created this list of 8 best day creams. You can use them as per your choice and skin type. 
8 Best Day Creams in India For Men with oily, Dry and normal skin
1. Olay Total Effects 7 in One Day Cream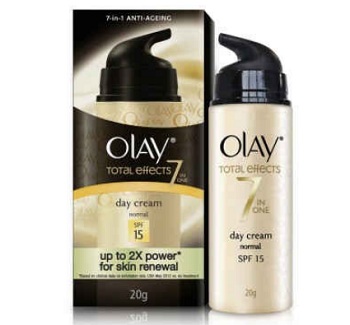 This is one of the best anti-aging day creams in India. One bottle of this cream will last easily for 2 months approximately hence is not that expensive. Anyways, this cream fights the seven signs of aging like dullness, black spots, darkness, fine lines, wrinkles etc. The texture is non-oily, therefore, it is suitable for all the skin type. This cream will not clog the pores, so, is safe for oily sensitive skin as well. Furthermore, there is SPF in there too. See: Best pimple marks removals creams in India for men

2. Himalaya Oil-Free Radiance Gel Cream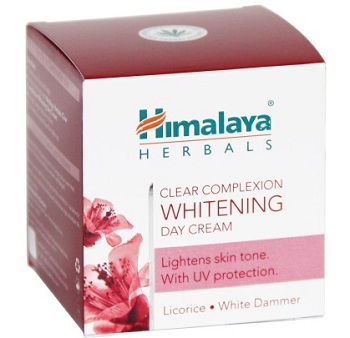 This is a very affordable and inexpensive skin cream which will also last for 2 months. Let me tell you guys that most of these creams will last for 2 month, when the pack is of 50 g or 50 ml. So, you can calculate your monthly cost of the product. And also we will be using this cream for once time in  day, since this is a day cream. Okay, so moving on. This Himalaya Herbals Oil-Free Radiance Gel Cream is a daily-use gel textured cream which is light weight and non-greasy. The gel like formula is non-clogging and is also moisturizing so, even if you have oily skin then too you can try it. Moreover, if this is gel based that does not mean this will be less moisturizing for dry skinned men. No even, if you have dry face, you can try it. This is is dermatologically tested, non-comedogenic, hypoallergenic and free of mineral oils and parabens. Or in other words, this is the most favorite day cream for all ski types.
3. O3+ White Day Cream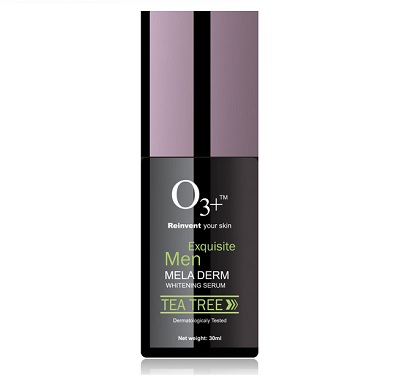 This is slightly expensive with 830 rupees and have got the whitening properties too. This O3+ cream helps to reduce the skin pigmentation and will brighten the complexion. I have used a sample of this cream and liked it. The texture and everything was good. Some of my dark spots were also lightened, but I agree this is high in price. Therefore, not for everyone. This men's day cream also targets the uneven skin tone plus it does give the UV protection which is considered the main culprit in making the skin dark and wrinkled.
4. Lotus White Glow Skin Whitening & Brightening Gel Creme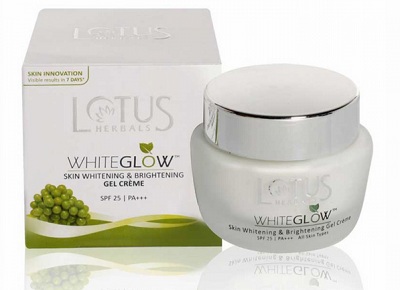 Another favorite day cream which I think is great for boys and girls both. Lotus white glow whitening and brightening cream is for the subtle glow and radiance. Moreover, its gel like cream has a nutrient rich formula with skin whitening agents. It brightens the skin, fades the unevenness and has SPF also, I liked this cream as well and find it is also very affordable for most of us, even when someone is tight on budget or is in college. The price of this cream is 255 rupees. They also make good whitening night cream for men and women.

5. Oriflame Sweden Oxygen Boost Day Cream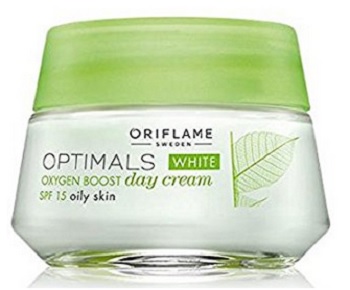 This cream is for men and women with oily skin or combination skin even though this is also ideal for dry skin. This is the cream for men who think that their skin is very oily and looks dull. This Oriflame day cream is priced at Rs 999. You can grab it at discount as Oriflame does give discount every now and then. Check out the best oily skin creams and moisturisers for men in India

6. Garnier Skin Naturals Sun Control Daily Moisturizer
This is primarily is a sunscreen moisturizer hence, is more for men who have dry to normal skin and would need sun protection. It is very moisturizing hence it can be used as a moisturizer with sunscreen. The pack is for Rs 185 and can be used on the face and body as well.
7. Lotus Papayablem Papaya-N-Saffron Anti-Blemish Creme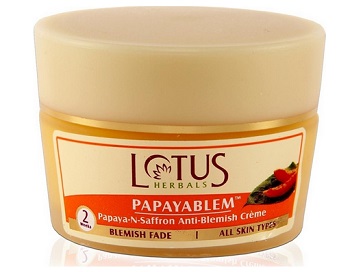 If blemishes is your primary concern then, this anti-blemish cream can be tried. As this has the nutrients like papaya and saffron. You may have seen that papaya has papain and saffron, is a skin lightener. Hence, the two natural ingredients will helps to lighten the dark spots, blemishes etc that we have on the face. The formula is okay for the normal to dry skin but can be slightly heavy for oily skin but try to take it little lesser. This is priced at 395 rupees. The papaya rich cream contains the benefits of almond, apricot kernel and clove oil.
8. Biotique Bio Coconut Whitening & Brightening Day Cream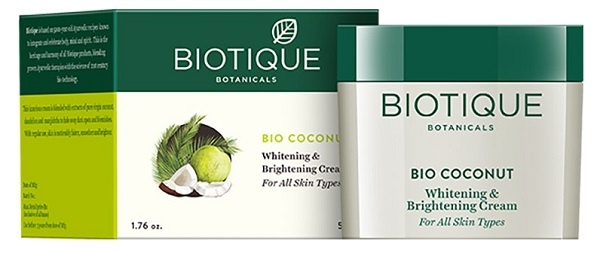 This is a whitening and brightening skin cream from Biotique. I have used this too friends and the texture is light weight hence if your skin happens to be oily to combination you can still try this. It is priced at Rs 115. Hence, is very very affordable. 
These are the best day creams for men available in India. You can choose the day cream as per the skin type and your requirements. Also check out the best night creams for men in India.