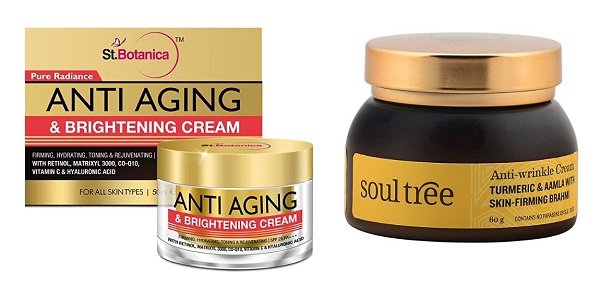 Best Anti-blemish creams in India for men and women, is the topic of today's article. Blemishes on the skin can be problematic as that make your face look patchy and pigmented. You can get rid of spots and blemishes on your skin by the using anti blemish skin creams. Such blemish or spot control products contain effective ingredients which are known help you out.
I've have compiled this list of the best anti blemish creams available in Indian market for men and women. Most of these creams remove not just the blemishes, but spots and uneven skin tone too with their active ingredients to fight dark spots, dullness, age spots and patchiness showing up on the skin. You must try these creams every day at least twice to get the best results in achieving spotless and even tone looking skin. 
Top 10 Best Anti-Blemish Creams in India (2022) for Men and Women
Let's check which are the best blemish and uneven skin fighting products that you can take help from. Please note that before using blemish control creams, you should also use anti blemish face wash products too, here is the list that I created on Best anti-pigmentation face wash for uneven skin tone in India
1. Lotus Herbals Papayablem Papaya-n-Saffron Anti Blemish Cream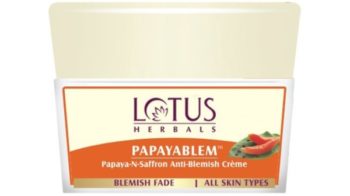 The anti blemish cream contains papaya and Saffron extracts. Papaya is rich in the popular and effective enzyme papain. This helps to fade the dark circles, pigmentation and blemishes on the face. On the other hand, saffron as mentioned in the Ayurveda improves the dark skin complexion. The blemish remover product is suitable to remove dark spots and uneven skin tone. But you've to apply it daily. It's for all skin types and should be used during all seasons.
2. StBotanica Pure Radiance Anti Aging & Face Brightening Cream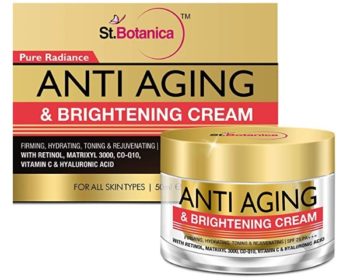 It's an anti aging and anti-pigmentation cream with the power of retinol, Vitamin C and Hyaluronic acid. It's a cream suitable for all skin types. It;s light and easy to blend texture does not make the skin greasy. It can be applied during the daytime due to the SPF 25 in it. It  should be used everyday to keep the skin young for a lot longer. The firming cream tones and hydrates the skin. It reduces the blemishes like age spots and dark spots. I've used it last year and its light formula made me like it a lot but please not that it's not for very oily skin.
3. SOULTREE Anti-Wrinkle Cream With Turmeric, Amla and Brahmi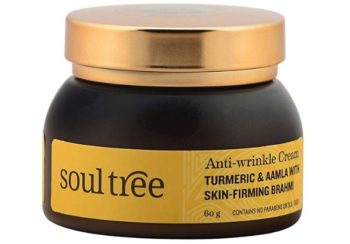 The anti wrinkle cream is also an anti blemish cream. So, it gives you double benefits. It comes with the goodness of turmeric, Amla and Brahmi. These ingredients are wonderful to firm the skin and in minimizing the scars and pigmentation on the skin. It is suitable cream for all skin types specially the mature skin. Yes, people over 35 years of age can apply this daily to keep the dullness, pigmentation and aging signs away from you.
4. Khadi Natural Herbal Anti Blemish Cream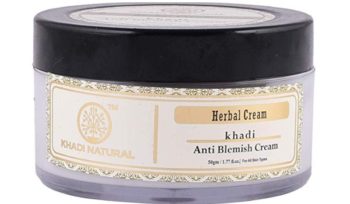 Khadi natural cream is effective for acne marks blemishes, pigmentation and dark circles. It revives the skin tone and helps skin look velvety. The anti-blemish cream is suitable for all skin types. With no mentioned SPF, it can be used both as a day and night cream. Its formula is quite light and non-pore clogging, therefore, it's one of the best and affordable creams for blemishes and scars on the skin. As per my experience with this, it's suitable for men as well as women.
5. Jovees Anti Blemish Pigmentation Cream
Jovees anti blemish cream is a rich formula that contains the goodness of saffron. saffron has natural properties to control uneven skin complexion, dullness and spots. It is for all skin types and contains the bioactives along with saffron. It moisturizes the skin adequately and reduces the appearance of pigmentation, marks and scars. It clears the skin and reduces discoloration that can be because of the pregnancy, sun damage and even die to scarring. All you've to do is to apply it daily and use sunscreen for the day time. I've mentioned this list of best sunscreen lotions for oily skin in India and for dry skin Here which you must read. Friends, without the sunlotions, you can never fight blemishes quickly.
6. Mamaearth Bye Bye Blemishes For Pigmentation, Sun Damage & Spots Correction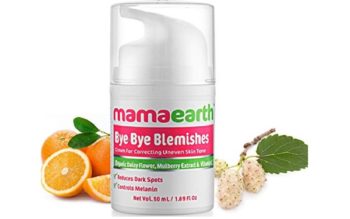 The anti blemish cream is a non greasy formula. It's rich in the powerful ingredients like organic daisy flower, Vitamin C and Mulberry extracts. It is Vitamin C rich cream that reduces dark spots, age spots and controls the melanin production. As the cream controls melanin formation in more than the needed amounts, it is a perfect cream for correcting uneven skin tone and blemishes on your skin. Please use sunscreen religiously when you use vitamin C rich products as they are effective in treating blemishes but can also make skin sensitive for the first few days. You can also try paraben free sun lotions, if you wish.
7. Greenberry Organics BioActive Bright Day Cream with SPF 25
The day cream is rich in SPF 25 and is suitable for normal to dry skin. It is rich in bioactives. The cream is a blend of moisturizing properties and ingredients that minimizes the uneven skin tone, patchiness and blemishes. It is rich in goodness of aloe vera, olive oil, Vitamin E and few more. I would rate it as the prefect day cream for dry skin which is also in budget. I know, it's not very inexpensive, but will last more than a month. 
8. Luster Papaya Blemish & Skin Pigment Control Cream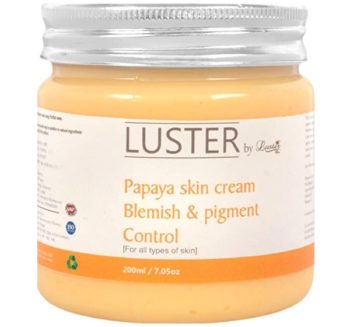 The papaya rich cream is good for blemish control and pigmentation removal. Papaya has active enzyme, called as papain, which works on the dull and lifeless skin to make it bright and clear. The pigmentation control cream also gives you a radiant glow on your face which is free of any scars and marks. It increases the clarity of the skin which boosts the confidence. The cream is suitable for all skin type so it can be a bit greasy for very oily skin.
9. Oxi9 Ultimate Corrective Anti Blemish Cream 
The ultimate corrective anti blemish cream is from a Herbal Skin Care brand. It increases the skin tone evenness and removes the blemishes for the skin. The cream is suitable for all skin types and can be applied as a day and night cream.
10. Iba Halal Care Aloe Aqua No Blemish Cream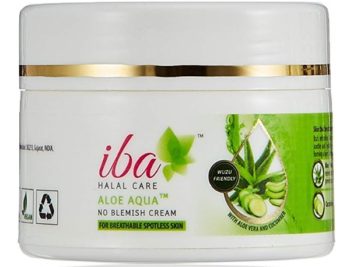 Iba blemish cream helps you get spotless skin. It contains aloe vera and cucumber complex that is known to replenish skin's lost natural moisture while preventing the acne and blemishes. Cucumber helps to cool the skin. Lemon extract along with vitamin B3 in this product, fights the blemishes faster. It is a cream suitable for all skin types as it has a gel like watery formula. If you've excessive darkness then, I will suggest you to go for even the facial kits. yes, here is a post on the best facial kits for pigmentation and blemishes on face.
These are the best anti blemish creams in India. These creams can be applied by men and women and to increase the skin natural clarity and smoothness. Also make sure that you use sunscreens and scrub your skin 2 times in a week.