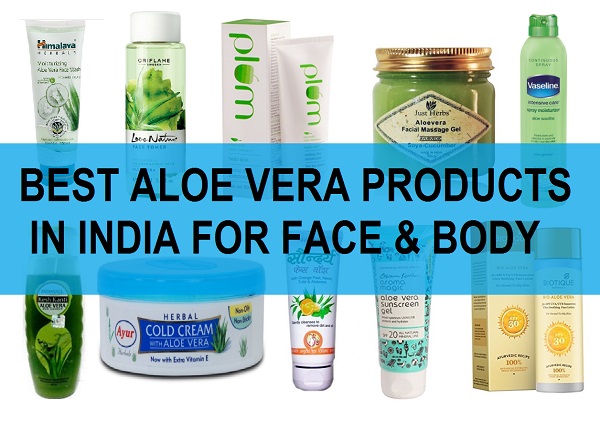 Best Aloe Vera Products in India for Face, body and Hair
Do you like products with aloe vera? Actually these days, brands have known the power of these wonderful naturally occurring ingredient that can be used for hair care, skin care and health care products. So, in this post, we have compiled this exclusive list of the best aloe vera gel products available in Indian market. In India, there are numerous products that contain aloe vera as their primary ingredient so, which are those products. Let's find out. But before that, don't you wish to know the amazing properties and uses of aloe vera. Here's summarizing.
Why Aloe Vera is Beneficial for you?
Our skin and hair go through a lot throughout the day. This can also lead to premature aging that can show adverse effects in the long run. Suitable beauty products can make you feel and look good.
Aloe Vera is termed as one of the most used natural remedy for skin and hair.

Aloe vera gel can help you in getting rid of the sun burn, allergies, irritation and insect bites. See the best aloe vera gel brands in market

It gets rid of the sun tanning and tanning of the skin.

Aloe has the goodness of the vitamin A, B, C and vitamin B12 that aids in the proper nourishment of the skin. Besides this, it also heals the skin and protects from the harmful rays.

Aloe vera plants have medicinal properties and hence are widely used in treating the burns, cuts, insect bites and several other skin ailments

It inhibits the occurrence of pimples and acne on the skin and also purifies the skin.
Best Aloe Vera Rich Products in India for Skin and Hair
Let's know which are the top rated products with aloe vera in them. The products are for the skin and hair like your face creams, moisturizer, body lotions, hair shampoo etc.
1. Oriflame Love Nature Aloe Vera Face Toner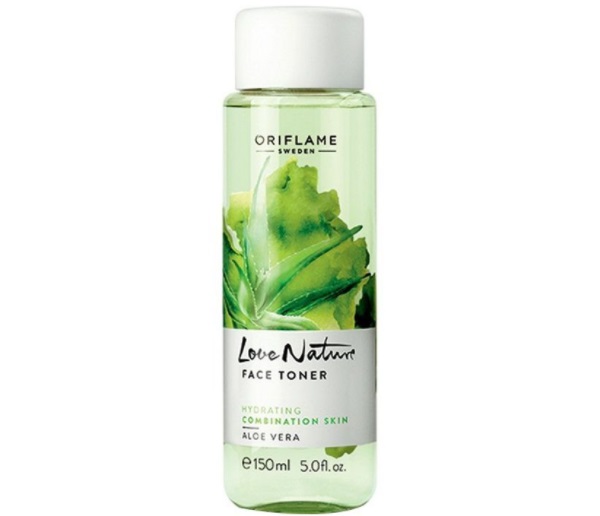 Oriflame Love nature products have mainly natural ingredients and this entire range has aloe vera. Aloe vera is natural and has skin healing properties. While it eliminates the dry patches and flakiness, it also cures the skin from the wrinkles and lines. If you are seeking a good toner for the winters then do try this aloe vera skin toner from Oriflame.
How to apply it:
Take a cotton pad or cotton pad. Pour some of the toner on the cotton. Wipe the face off with this and let it get dry. Follow with your night or day cream.
Features and review:
Helps balance skin's pH levels

Maintains skin's moisture level

Dermatologically tested

Invigorating toner with Aloe Vera extract

The texture is good and is easy to apply.
Price: 250 Rupees for 150 ml
2. Patanjali Kesh Kanti Aloe Vera Shampoo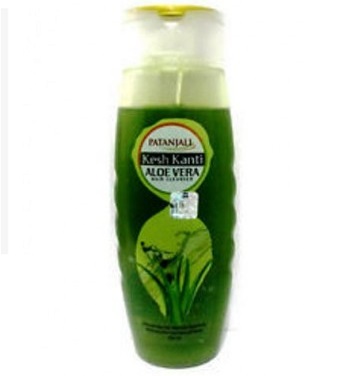 One of the best shampoos which is rich in aloe vera. Do you have dandruff and you are looking for a moisturizing dandruff curing shampoo? Then Patanjali aloe vera shampoo is suitable. The shampoo is green in color that says a lot about its ingredients. Other than the aloe vera, the shampoo also contains beneficial herbs which aid in hair growth and hair shine.
Features and Review:
Rich lathers which cleanses well

Gives shine and softness to the hair

Faint herbal fragrance

Good quantity

Ideal for dandruff cure

Stimulates Hair growth

Decent everyday shampoo
Price: 75 Rupees for 200ml
3. Biotique Aloe Vera Sunscreen Ultra Soothing Body Lotion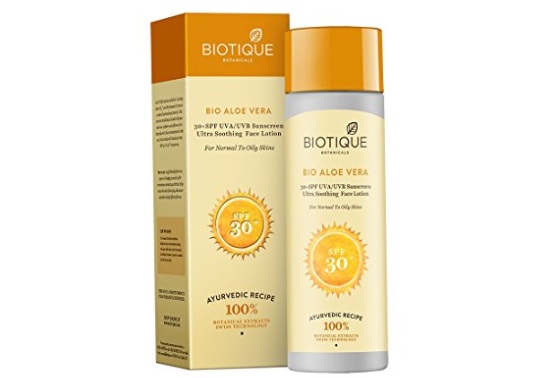 Aloe vera in a body lotion, anyone? Yes Biotique Aloe Vera Sunscreen Ultra Soothing Body Lotion is not just a regular sunscreen, but has the skin healing aloe vera. It is soothing and safe for the sensitive skin. So, when you have sensitive skin, then a sunscreen like Biotique Aloe Vera Sunscreen Ultra Soothing Body Lotion is appropriate. It is a nutrient-rich lotion that is blended with pure Aloe vera, Sunflower and Safflower oils to keep skin soft, fair and moisturized in the sun. Protects skin with broad spectrum SPF 30 UVA/UVB sunscreen.
Features and Review:
Enriched with Aloe Vera extracts along with Sunflower and Safflower oils

It nourishes and protects the skin

SPF 30 UVA/UVB sunscreen

Preservative free

Dermatologist tested for safety, no animal testing

Recommended for: Suitable for normal to oily skin
Ingredients
Ghritkumari (Aloevera barbadensis), Chandan (Santalum album), Surajmukhi (Helianthus annuus), Kusumbhi (Cartamus tinctorius), Yasad (Zincum), Cream base Q.S.
Price: 150 Rupees for 50ml
4. Plum Hello Aloe Caring Day Moisturizer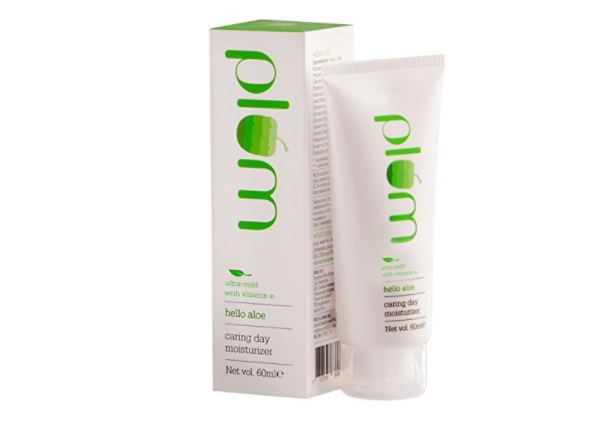 Plum Hello Aloe Caring Day Moisturizer is exclusively made for dry skin. Along with the aloe vera, it also has vitamin E. Both of these ingredients have proven effective for dry skin. In winters, dry skin can be extremely difficult to tackle. The aloe vera moisturizer is suitable and is ready to give intense hydration to the skin. The light yet nourishing texture is wonderful for the dryness treatment. The organic aloe juice in this  moisturizing complex gives hydration without excessive greasiness.
Features and review:
Intense hydration for normal, dry and sensitive skin

Has Vitamin E for further healing of dry patchy one the skin.

Rich nutrient loaded texture suitable for the dry to normal skinned people

Good winter skin cream

Richly textured formula gives an instant lift to face

Paraben-free, SLS-free, phthalate-free,

Ultra-mild day cream for dry and sensitive skin
Recommended for: Normal, dry and sensitive skin
Price: 470 Rupees for 50ml
5. Aroma Magic Aloe Vera Sun Screen Gel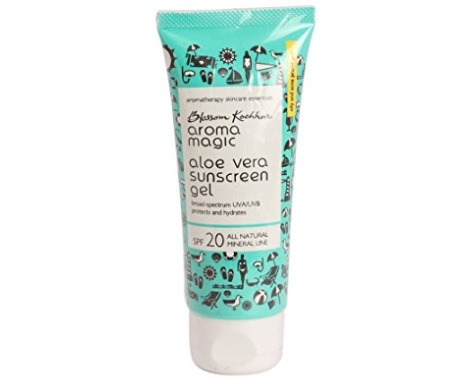 Do you have oily skin, then definitely you need a sunscreen for your oily combination skin. The sunscreen for oily skin should be light and non greasy. This is what this Aroma Magic Aloe Vera Sun Screen Gel is. The gel based sun lotion is a light sunscreen with the power of aloe vera. The aloe vera gel is in anyways has anti-inflammatory and anti acne properties. So, when you use an aloe vera product like then your skin is bound to feel and look healthy.
Features and review:
The gel sunscreen is appropriate for oily skin

Safe and can be tried by boy and girls who have oily acne prone skin

100 percent free of oxy-benzone,

Free of paraben, harsh chemicals, alcohol and artificial fragrance

Rich in vitamins B5, C, E

Has aloe vera gel and cucumber extracts

Cucumber extracts soothe sun burnt skin

Prevents premature ageing and tanning
Price: 160 Rupees
6. Just Herbs Aloe Vera Facial Massage Gel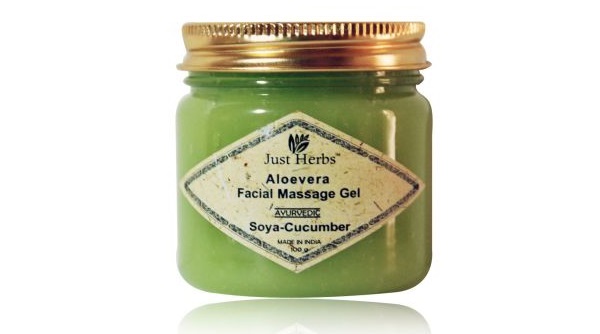 Imagine, a massage gel with the properties and benefits of aloe vera loaded? Yes, this Just herbals aloe vera massage gel has the skin healing features. The moisture rich gel is suitable for massage for all skin types. People who are struggling to keep the dry skin moisturized can use this. While oily skinned people always have this problem of choosing good massage gel or cream, can also try this. Oily skin is more prone to acne therefore, a gel with aloe vera and light texture is nothing one can ask for.
Features and review
Very affordable and the product lasts long

Light and non greasy

Made with certified organic aloe vera

Free from petrochemicals and parabens

Devoid of SLS/SLES PEG/PPG
Being and intensive skin rejuvenating facial massage gel, it is specifically formulated to deeply nourish, hydrate and refresh the dull and tired skin. Aloe vera increases the production of elastin and skin appears a lot healthier and plump. Even women with mature skin or who are over 35 years of age can try a product like this.
Key Ingredients: Aloe vera and soy lecithin
Price: 550 Rupees
7. Patanjali Saundarya Aloe Vera Face Gel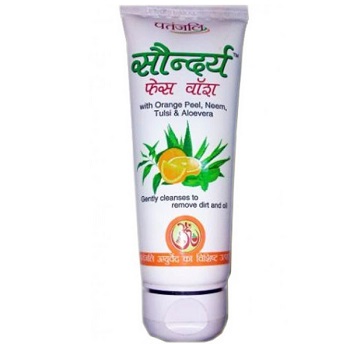 An amazing product for everyone and all skin types. Yes, we are talking about the Patanjali aloe vera gel with the richness of kesar. Yes, this variant has both aloe vera and saffron in it. You can apply it on the body and face both. Moreover, apart from being a good skin moisturizer, it also act as a multipurpose product. Like what? It can be your daily moisturizer for your kin. Mix some lemon juice to get rid of the acne marks or apply just like that on the face at night. It heals the dryness, cures the acne and what not. Other than the beauty purposes, a gel like this can be used on the minor cuts and burn and on the insect bites as well. The Patanjali aloe vera facial gel with the saffron also works as a skin lightening aloe vera product. It lightens and nourishes the skin that is dull and tired.
Price: 80 Rupees
8. Himalaya Herbals Moisturizing Aloe Vera Face Wash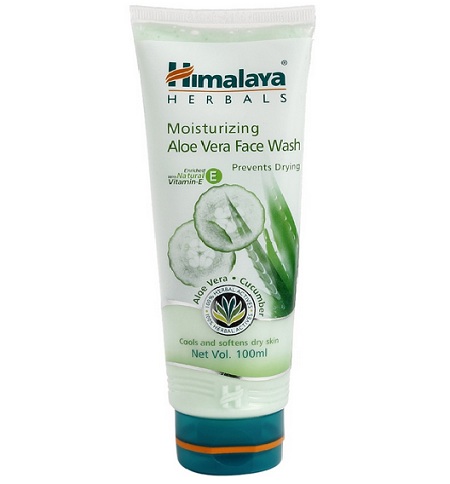 When your skin is dry then do try the aloe vera face was. This should be the first thing in the morning that should do, to take care of the dryness. Aloe vera has wonderful feature sin decreasing the dryness and dry patches on the face. And how amazing would that be when the face wash is soap free. Himalaya's Moisturizing Aloe Vera Face Wash is a soap-free formulation. The rich creamy formula of this cleanser is suitable for everyday use that you would just love the soft feel of your face. The face wash does not lather too much but has the sufficient lathering capacity that easily gets rid of your deep seated face impurities.
Features and Review
Good packaging

Affordable and easy to find product

Apart from aloe vera, it has cucumber that aids in skin lightening and soothing.

Replenishes lost moisture from the dry face

Key Ingredients: Aloe vera, cucumber, Zedoary, Indian Gooseberry
Price: 120 Rupees
9. Ayur Herbal Cold Cream with Aloe Vera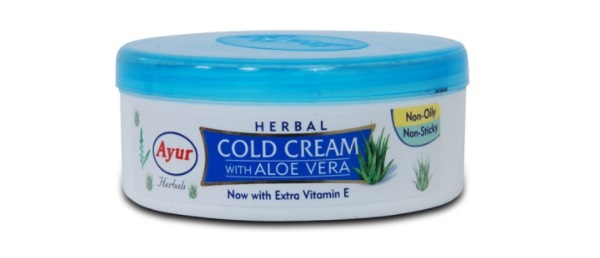 Ayur Herbal Cold Cream with Aloe Vera is a skin cream that is just amazing for the dry skin. For oily skin too it can be used to massage the face or as a body cream. With the properties and benefits of aloe vera and bees wax it aids in relieving the dry skin problem in winter worries. Its rich creamy formula makes even layer on your skin to prevent moisture loss and keeps your skin soft, hydrated and supple.
Price: 250 Rupees
10. Vaseline Intensive Care Aloe Soothe Spray Moisturizer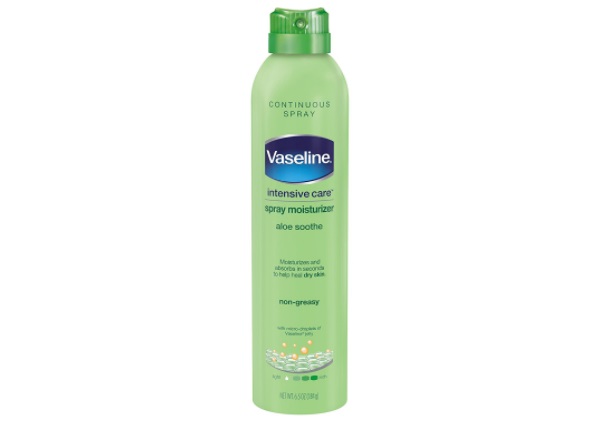 Have you used a product like a body moisturizing spray with aloe vera in it? Yes, if not then do try this Vaseline Intensive Care Aloe Soothe Spray Moisturizer. Besides being a nutritive and high in nutrient product, it also blends well on the skin. To get soft skin a regular application is required. The one of a kind product is easy to use. Just spray it over the body parts and feel freshness of moisturization. Vaseline Intensive Care Aloe Soothe Spray Moisturizer is packaged in an aluminum spray can with a twist-lock button. It is way easy to apply and get the moisturization.
Features and Review:
Extremely fast absorbing moisturizer

Gets into the skin within seconds so that the skin looks moisturized and glowing

Packaged in a spray based bottle like the deodorants that we use

Dispenses the product evenly for a mess-free experience

Leaves skin instantly soft and not greasy

Rich in 100% pure aloe vera extract

Ideal summer moisturizing body lotion
Price: 380 Rupees
These are the best aloe vera products for men and women in Indian market. Do you have any favorite aloe vera product? Do share your thoughts?