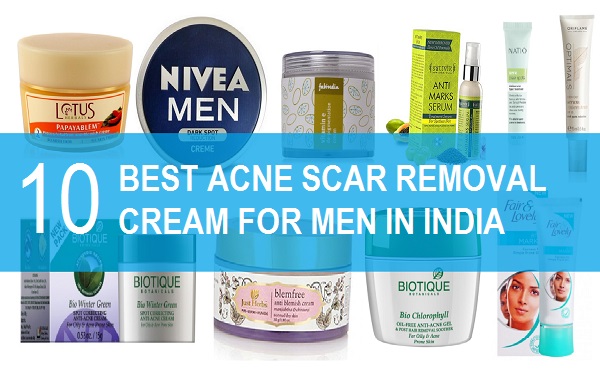 Best Pimple, Acne Scar Removal Creams for Men in India. Acne and pimples, can be common skin problem that affects men and women equally. The teenage boys and girls experience pimples due to the hormonal changes. But adults are also not untouched with this problem. This skin condition not only looks bad but is also painful. Pain and inflammation of these red swollen pimples can be taken care by the anti acne and pimples creams. Mostly oily skin is seen to be most affected by this problem. When the pimples are treated then there can be black spots, red spots and marks left behind. These marks or acne scars are not that as a problem but they look unappealing and lower the self confidence. Men with oily skin and acne scars can use the scar removal cream if they have the problems of scarring and skin blemishes.
Top Men's Pimple and Acne Scar Removal Creams Available in India (2022)
There are skin creams with herbal and Ayurvedic formulation that can be tried to get rid of the acne scars and pimples marks. We have earlier shared skin creams for pimple marks removal. Here, we have compiled the list of the best acne scars removal creams and medicines for men in India. These can be medicinal, herbal or Ayurvedic in nature. Let's have a look as to which are the best skin creams that can vanish your pimples and acne marks on the skin.
1. Nivea Dark Spot Reduction Creme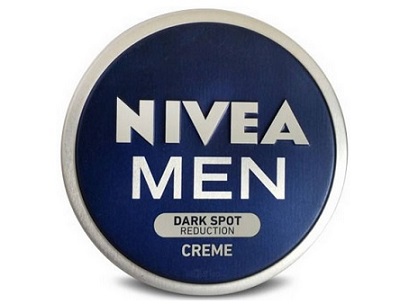 Nivea Dark Spots Reduction Cream is for dark spots and marks by the acne and pimples. It is also a pimple spot removal skin cream. The cream is not extremely heavy for normal to combination skin, but still when the skin is very oily during summers, it can be somewhat greasy. Men do not like greasy skin care products since they tend to produce more oils and shine on the skin. It would be better if you use it at night to let it work on the skin and the spots.
2. Biotique Bio Winter Green Spot Correcting Anti-Acne Cream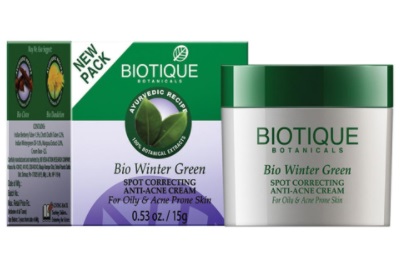 Biotique Bio Winter Green Spot Correcting Anti-Acne Cream is suitable skin facial cream that is used by boys and girls. Wintergreen is a skin soothing ingredient that has been used extensively in this cream. The tough pimple marks and acne scars can be lightened with this effectively. This acne scar removal skin cream is made with the ingredients like the Choti Dudhi, Daru Haldi, Gandhpura and Margosa or Neem. They help clear the skin complexion by getting rid of the dark spots and black spots due to acne.
3. Fabindia Vitamin E De-pigmentation Cream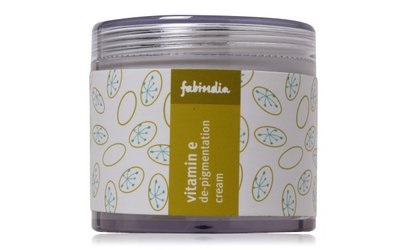 Fabindia De-pigmentation cream has the skin lightening ingredients that cure the root cause of the acne scars. The acne scars removal cream is Hydroquinone-free and is able to penetrate deeper in the skin layer. The cream should not be used when going out in the sun, without the sunscreen as such creams can increase the photo-sensitivity. This De-pigmentation cream works by increases the cell renewal rate and this is why it can create a good skin.
4. Lotus Herbals Papayablem Papaya-N-Saffron Anti Blemish Cream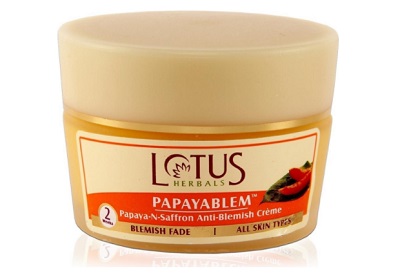 Lotus Papayablem is a blend of papaya with other skin healing ingredients. You may have heard that papaya is a papain rich fruit which is highly effective in lightening the ageing spots, pimple marks, acne scars and also those dark spots on the men's skin. This is a unisex cream that is light and won't clog the facial skin pores. Papayablem skin cream for acne scars contains almond oil, apricot kernel oil and clove oil. Clove oil treats the pimple marks and prevents the re-occurrence of the pimple as well. Apricot kernel oil is known to lighten the skin blemishes and make the skin glowing.
5. Oriflame Even Out Dark Spot Fading Concentrate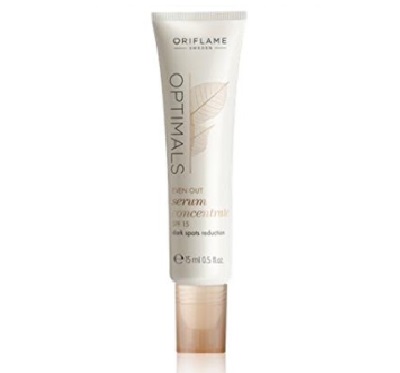 Oriflame Even Out Dark Spot Fading Concentrate is a light weight skin product which can be used by boys and girls. The concentrate is formulated to lighten any blemishes that can make your skin look patchy and dull. Those dark spots, marks acne scars and pimple spots can make the skin spotted. Hence, when these products are used the skin gets lighter. Apart from that, the concentrate can also fade those under eye dark circles, hyper-pigmentation, etc.
6. Fair & Lovely Anti-Marks Fairness Cream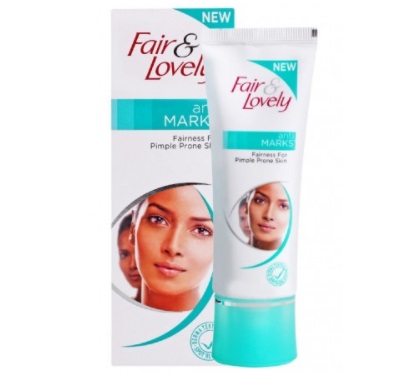 Fair & Lovely is a very popular brand under the fairness skin cream in India but this is not just the regular fairness cream. This is the anti marks cream for scar removal. The cream is used to lighten the pimple marks that make the skin tone to look darker and uneven. Men too can use this. This acne scar removal cream is thick but gets blended easily. It is laced with the substances like Vita-Aloe complex (vitamin B3, E, aloe vera concentrate). These aids in skin lightening and whitening of all types of the black spots and acne scars.
7. Biotique Bio Chlorophyll Gel For Scars
Biotique's Bio Chlorophyll Gel is a concoction of the herbs like seaweed, aloe vera, sea algae, and gum. The chlorophyll in this gel is ideal to lighten those tough scars of acne on the men's skin. It is also blended with aloe vera, sea algae that cure the pimples marks and spots on the face. Gel texture is used to get a light oil free skin. It does not make the skin greasy or oily post using. The pleasant fragrance is good for everyone and not too strong in nature. This is also the best cream to remove pimple marks fast
8. Just Herbs Blemfree Anti Blemish Cream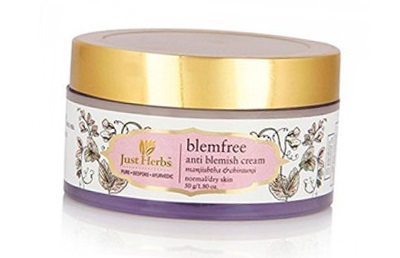 Just Herbs Blemfree Anti Blemish Cream is used to get rid of the acne scars and marks. This herbal in nature Just herbs cream is light and is able to get inside the skin deep layers to show its effects. Regular application even out the skin complexion and also lightens the sun tan. Your skin marks and spots get darker when the sun effects are more. So, while you go under the sun, it is advisable that you should apply sunscreen.
When you skin is oily, you must use a skin cleanser for oily face, read about the Best Soaps for Men's Oily Face
9. Sattvik Anti Marks Serum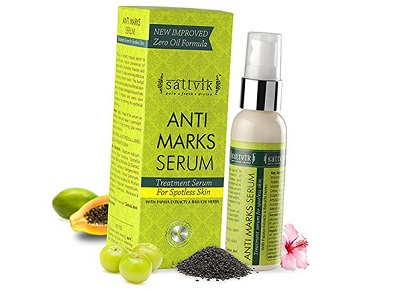 Sattvik's Anti Marks Serum is formulated with herbal ingredients that help reduce blemishes, pigmentation, dark spots and patchiness. The light serum texture seeps deeper in the skin layers and skin glows, once it gets inside. It restores the glow and natural complexion of the skin.
10. Natio Acne Clear Spots Antibacterial Treatment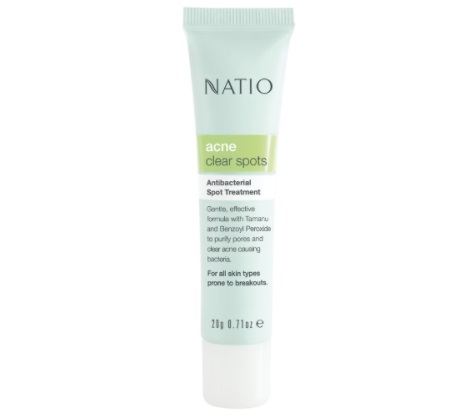 Nation Acne scar lightening skin cream is a light skin product which can be used hassle-freely. The texture is non greasy and is made as per the needs of the oily face. It is formulated with Benzoyl Peroxide and Purifying Tamanu which unclogs the skin pores and dries the acne. The marks and scars left behind by the acne is also lightened by the purifying tamanu in this skin treatment for acne scars. It also contains extracts of aloe vera and green tea which helps prevent damage while soothing your skin.
Here was the list of the worthy acne scars removal creams for men in India with prices that can be tried by men who are facing acne and pimple problems.
Recommended Articles: