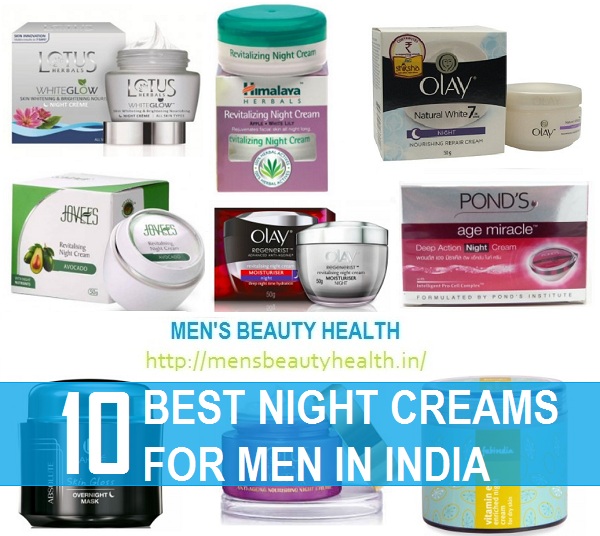 10 Best Night Creams for Men in India with price: We apply skin creams during the day time which helps us to protect the skin from the pollutants and UV rays. But do you know that night time skin care is also important. Yes, you should also take care of the skin at night. Not just women even men should use night creams to keep the skin moisturized. Night cream will also revive and revitalize the skin which is tired and bears a lot throughout the day. Now the question is which the best night creams is for men in India. Well there are so many night creams in the market but how do you know which is the most suitable. We will be sharing this list of 10 best night creams for men with oily skin, dry skin and normal skin.
Night Creams for Men's Dry skin
Lakmé Skin Gloss Overnight Mask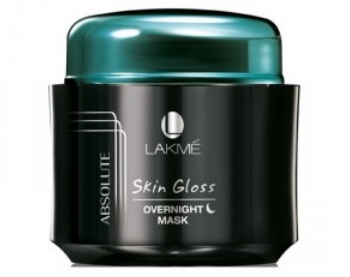 This overnight skin cream is great for dry dull skin. Dry skin needs moisture first of all, hence this night cream will nourish the skin. This is enriched and fortified with the mineral laden glacial water which keeps the skin softer and supple. This is for men as well with dry skin. Also see: Face scrubs for dry skin In India

Fabindia Vitamin E Night Cream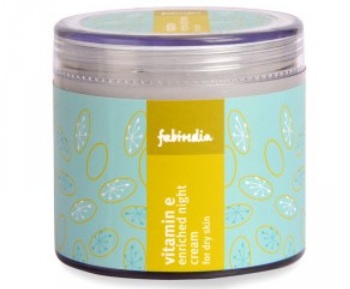 Vitamin E is ideal to lubricate the skin and to get immense moisture. This will give moisture on deeper levels of the skin layers. This can be tried by men with dry to normal skin types at nighttime. The texture is non greasy yet relives the dryness.
Lotus Herbals YouthRx Anti-Ageing Nourishing Night Crème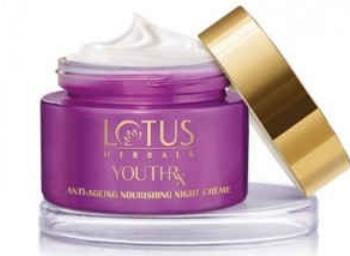 This is for mature men like the men who are 25+ and needs some night cream that can give anti aging benefits as well. This will reduce the open pores on the skin and nourishes the skin all night long. This firms the skin and makes it tighter. This night cream from Lotus is for 635 rupees.
Olay Regenerist Advanced Anti-Aging Revitalizing Night Skin Cream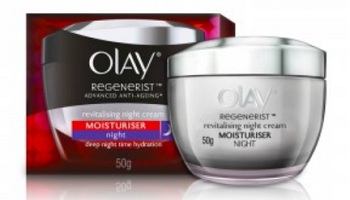 Olay Regenerist gives the anti ageing skin care in this cream and also helps to regenerate skin's appearance. This Olay Night cream is formulated with Olay amino-peptide + B3 complex. This is also rich in the anti ageing ingredients such as vitamin E, green tea extract, pro-vitamin B5, glycerin and allantoin. This will replenish the lost skin moisture hence is ideal to be used by dry skinned men.
Jovees Revitalizing Night Cream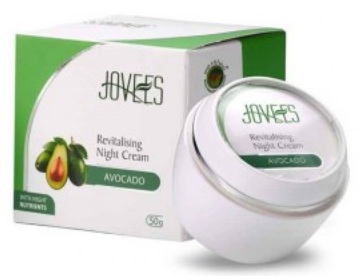 Jovees too makes good herbal skin care products. This has a powerful cell activating formulation that induces suppleness to skin. This night cream for men and women will enhance the blood circulation for greater oxygenation and absorption of the nutrients. This will improve the skin clarity and radiance. The major ingredients in this night cream are Avocado oil, Jasmine flower extract, Almond oil, Cereal Protein, Rosemary oil and Jojoba Oil. This is basically for the dry to normal skin types
INLIFE Night Gold Cream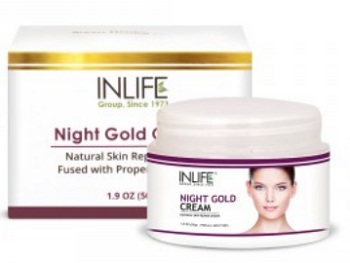 This is a natural and herbal night cream with gold essence. It will help the skin's natural aging fighting mechanism so that the skin's texture is improved. This will also effectively minimizes the appearance of the dark circles and wrinkles, thereby restores the moisture balance and elasticity. This cream is also rich in the sandalwood, tulsi, almond oil, manjistha, aloe vera to heal and cure the skin.
Night Creams for Oily Skin in India
Pond's Age Miracle Night Cream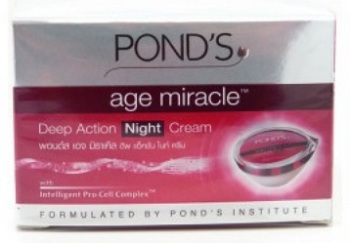 This Pond's age miracle night cream has the rich texture and has the conjugated Linoleic Acid or CLA anti-aging technology. It is enriched with the Alpha Hydroxy Acids (AHA) and Retinols which fights the primary signs of aging. This prevents the fine lines, crow's feet and wrinkles on the face. This cream can be used by oily skinned men too and is priced at 549 rupees.
Himalaya Herbals Revitalizing Night Cream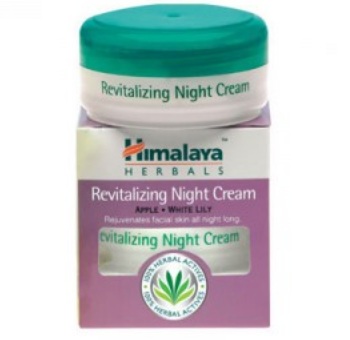 Himalaya makes this revitalizing night cream that can be tried by men and women. This cream contains the essential oils and vitamins to give suppleness and smoothness to the skin. The natural ingredients like crab apple, lemon, tomato, white lily and wheat helps to recover the damaged skin. This will lighten the dark spots, pigmentation, repairs damaged cells etc. This can be tried by all the skin types.
Lotus Whiteglow Skin Whitening & Brightening Nourishing Night Crème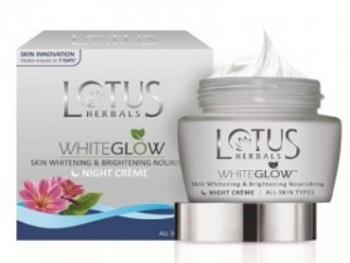 This is a brightening and whitening night cream that is for oily skin mostly but dry skinned men too can try this skin lightening night cream. It helps in reducing the skin pigmentation and the dark spots on the face. This is also a good fairness cream for oily skinned men.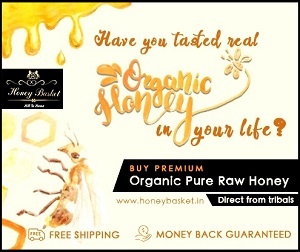 Olay Natural White All in One Night Nourishing Repair Cream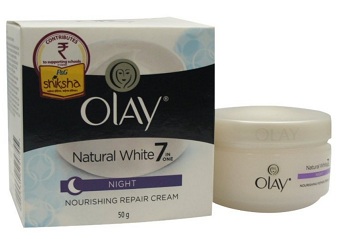 Olay Natural White's unique Triple Vitamin Formula has the goodness of Vitamin B3, Pro Vitamin B5 and Vitamin E. This will helps to revive and nourish the tired dull skin. This is for 350 rupees. This will lighten the skin complexion too hence also takes away the sun tanning on the face.
Olay Total Effects 7 In 1 Anti Aging Night Skin Cream
Olay Total Effects night skin cream can be used by the boys and girls too. This cream has the VitaNiacin complex that gives the skin suppleness. This fights the 7 Signs of Ageing like dullness, dark spots, wrinkles, lines, patchiness, pores, unevenness. You can use this in your 20s and is ideal for normal to combination skin.