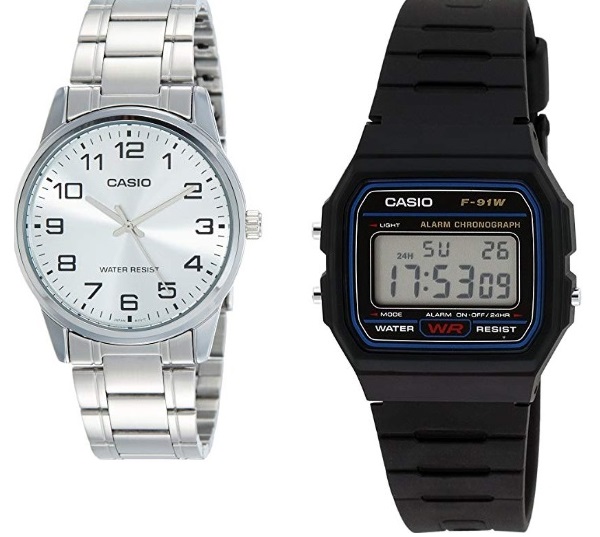 When it comes to men's watches, Casio is a well known brand. Their watches are of high quality and are trusted by millions of people world-wide. Here in this post we are going to talk about the best Casio watches for men in India.
Price is another matter that makes these as, one of the best men's watch brands in India. You can have expensive and high ends watches from this brand while getting some budget options too. So, it's a brand that caters to everyone. Men seeking stylish and sophisticated time-pieces should definitely check out their collection.
List of Best Casio Men's Watches in India (2020)
1. Casio Enticer Men Multi Dial Black Watch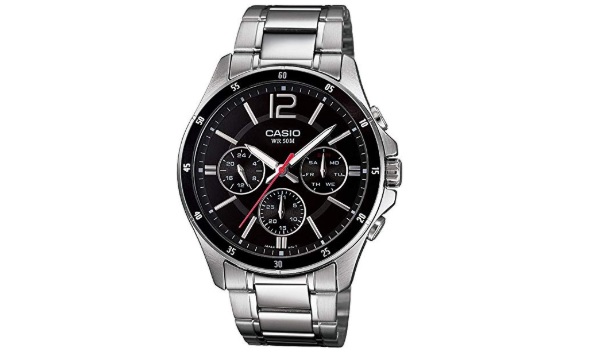 It is an analogue watch with Silver grey stainless steel band with a black dial. It has a water resistance depth of 50 metres. It comes with 2 years domestic warranty. You can enhance your style quotient with this watch. The analogue watch comes with three hands, and three dials that show you time, day and 24 hours format. The lightweight double ok and comes with a mineral glass that resists the scratches.
2. Casio Vintage Series Digital Black Dial Men's Watch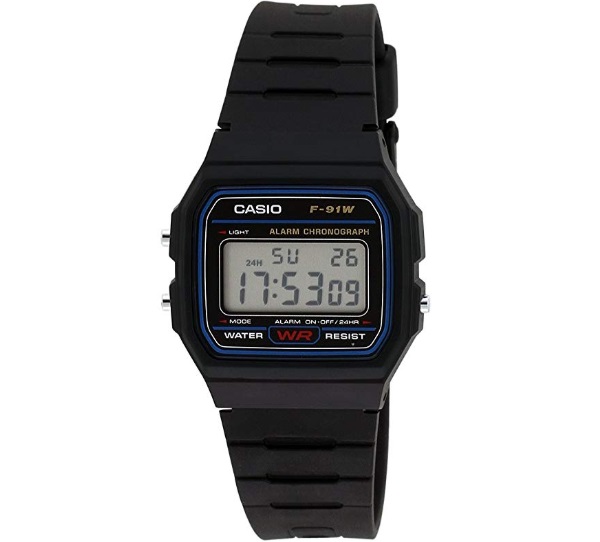 This is one of the most popular Casio digital watches. A lot of people of all age group would just love to flaunt this style of Casio watch. The rectangular shaped dial has a raisin band material and a digital display. It shows you day and date as well. Its digital display can be set for 12 or 24 hours time format.  It is a casual and semi-formal watch that you can wear with most of your casual clothes. The same watch is also available in the stainless steel band material. If you wish to have the same styling and digital display in metallic chain then you can also go ahead with the design. It is by far one of the cheapest and most smart looking digital watches.
3. Casio Edifice Analog Black Dial Men's Watch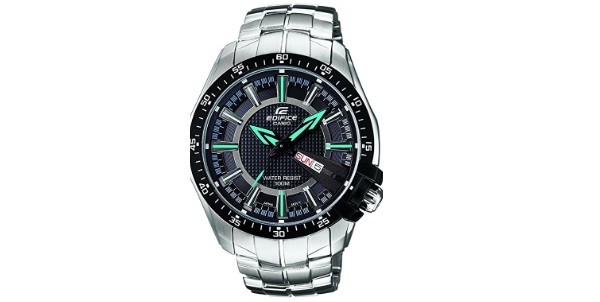 The watch has a pretty chunky design yet it looks extremely sophisticated. This design is one of the best designs from Casio's Edifice collection. It is water resistant up to 100 M. The display and the overall design of this watch is extremely attractive and pleasing. Blue accent on the watch with black dial is another appealing thing. Its layered dial design is kept at minimalistic, it looks powerful and dimensional.
4. Casio Enticer Simple Analog Black Dial Men's Watch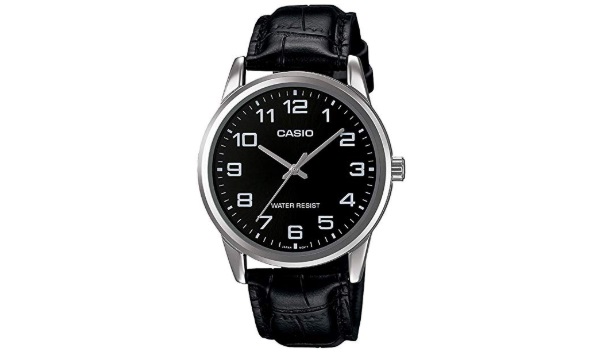 The simplistic watch has a leather bag material and silicone glass style that gives its scratch-resistant features. The band material has texture that adds more to its beauty. The simplicity quotes look extremely attractive and is one of the best Casio simple watches. It has water resistance depth up to 30 meters and comes with 2 years manufacturer's warranty. You can wear this with your casual and formal wear. The design and feel of the watch is such that it can go well with the formal wear like shirts and trousers and suits extremely well.
5. Casio Youth-Combination Analog-Digital Gold Dial Men's Watch
This Chunky watch with gold and black design is so beautiful to look at. Men of all age groups would love to have a designer watch like this. Younger men would definitely love this design. It shows you time, date and day as well. It's a lovely piece for men who like trendy watches. The casual watch can be paired with most of your casual wear. The same watch with the layered dial design is available in different designs and styling, if you wish to have a look then we will put a link that you can check it out.
6. Casio Enticer Men's Analog White Dial Watch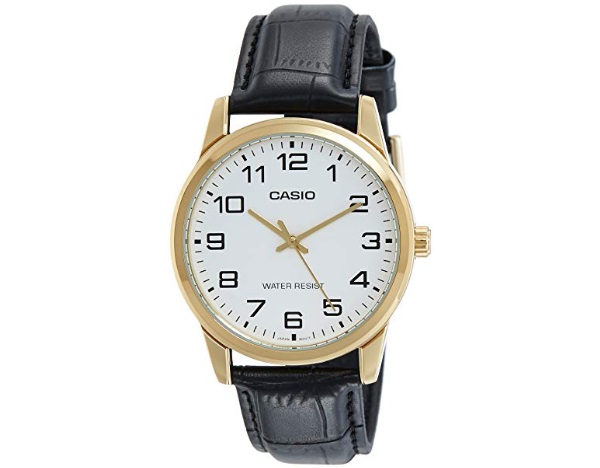 The simple white and gold dial looks uncomplicated and effortlessly pretty. The straightforward design with white letter and numbers gives it an amazing look. Band material is comfortable even for all day long. The mineral glass material helps to prevent scratches on the watch.
7. Casio Enticer Men Multi Dial White Watch with Leather band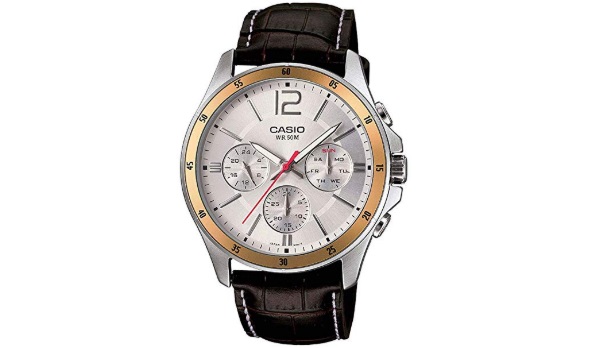 The watch has a nice leather band with extra. It is a combination of Brown gold and white. This combination is one of the best combinations for watches. Men who like uncomplicated and plain designs can certainly go for this watch.
8. Casio Enticer Men's Analog Silver Dial Metallic Band Watch
The watch has a metallic band with the simplistic design and look. It is a very affordable Casio men's watch that many men would love. It has a simple and complicated design. It come with a water resistance depth of 30 metres and it is a part of Casio Enticer collection.  The band material is of good quality and does not give you rashes even if you are wearing it for the entire day.
9. Casio Youth-Combination Analog-Digital Beige Dial Men's Watch
The watch displays the time along with the date and day. The battery warranty is 10 years and 2 years on the product warranty. The band material is of raisin and the band colour is beige. It is an extremely beautiful watch that younger boys would certainly go for. It goes well with your casual and semi-casual wear for college and work.
10. Casio Enticer Men Analog Blue Dial Watch
The blue dial with white accent looks extremely appealing. The stainless steel metal band material is of good quality. The watch is suitable for formal wear. It has a battery life of 3 years and good quality material.
11. Casio Edifice Analog Multi-Colour Dial Men's Watch
It has a beautiful multi color dial. The mineral glass material is sturdy and high quality. The leather textured band material is good for everyday use.  It has stopwatch feature as well. Water Resistance Depth: 100 meters, It has 2 years manufacturer warranty on manufacturing defects
Best Casio Men's watches available in India. Hopefully, the post helps you in finding the best watch for yourself.