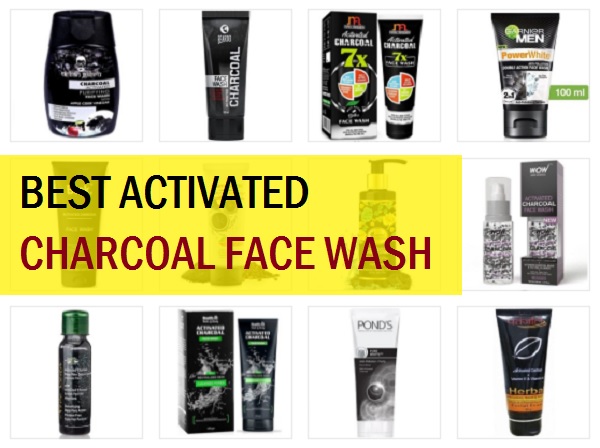 Charcoal is the new stuff in the skin care. This substance has wonderful power to soak up the impurities, dirt and toxins. So, why won't the brands use it? They have become the new hot thing for the oily and acne prone skin. In this article, I am going to talk about the best charcoal face washes available in Indian market. Before moving ahead, let's check what are the benefits that you get, after using such face washes with activated charcoal in them.
Benefits of Charcoal Face Wash
It removes the excessive oils and purifies the skin naturally. So, while you are using such charcoal rich products, you can also get benefits like blackheads control and getting rid of the whiteheads.
Pollutants can make your skin look dull and extremely lifeless. The product eliminates the bacteria, chemicals, dirt and other impurities. You get a flawless complexion when the toxins and deep seated impurities are removed from your face. You skin becomes extremely luminous and radiant.
The Activated Charcoal helps to fight acne by sloughing off the excessive oils and unblocking the clogged pores from the skin. Charcoal is high with its adsorbing power. This feature aids in the proper elimination of the impurities. Even for the dark skin cells charcoal can help you get rid of the excessive melanin and rejuvenates the skin. It can make your skin white and glowing treating the dullness and uneven skin tone.
Regular use of activated charcoal products also tightens the skin. When your skin is clear with no micro toxins, the cell renewal rate enhances that increases collagen production.
It also remove black heads and skin itching and irritation. Charcoal tightens and firms the skin and has anti aging properties as well.
What does charcoal face wash do for oily skin?
Such cleanser contains activated charcoal that draws bacteria, chemicals, toxins, dirt and micro pollutants. There are adhered on the skin surface making it look dull. When such impurities are removed your skin naturally looks radiance and fresh. Also it eliminates those blackheads that you wish to get rid of.
Is charcoal face wash good for acne?
As charcoal has the high adsorbing properties, it sucks bacteria, sebum, impurities and particle off the face. In turn skin is clear and pores are not clogged any more. This gives you multiple benefits like, blackheads treatment and prevention, less acne and pimples and clear facial skin. Such cleansers are also not very harsh for the skin cells unlike most of the skin soaps out there.
15 Best Charcoal Face Washes in India with Reviews
Here goes the list of the best charcoal face washes available in India
1. Pond's Pure White Anti Pollution with Activated Charcoal Face Wash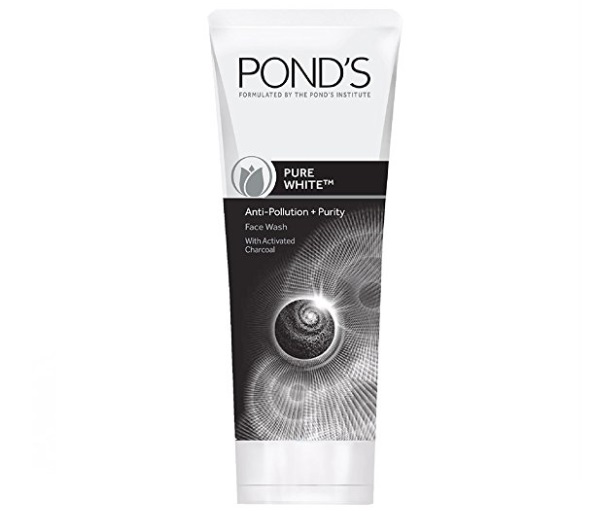 You must have seen the ads by Disha Patani in it. The activated charcoal absorbs all the impurities from the water magically as shown in the advertisement. The facial cleanser contains activated carbon, which uproots the blackheads and lifts the impurities and pollution particles easily.
Pros
Reduce the causes of blemishes

Reveals your natural pure looking white skin

Clears uneven skin tone

Removes dirt and impurities

Cleanses skin deeply

Gives pollution free glow
Cons
2. Healthvit Activated Charcoal Face Wash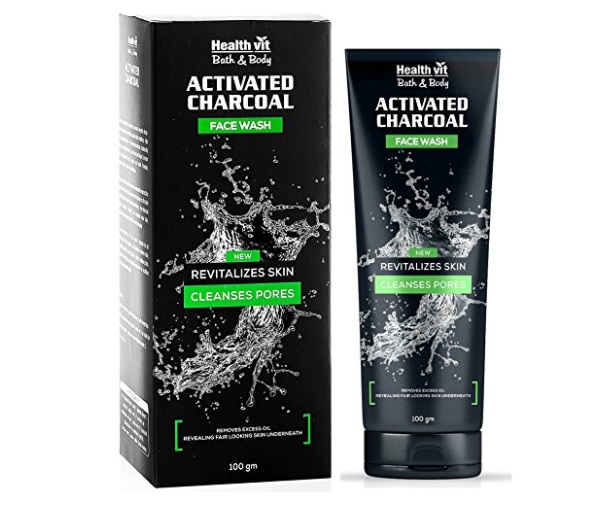 To defend the skin from the daily impurities and pollutants, one can also use Healthvit Activated Charcoal Face Wash. Everyday skin bears a lot and gathers so much of the dirt, oils and other chemicals. To stay oil-free and spot free, you can try a cleanser like this. This claims to draw the impurities 2 times more. The mild lathering formula does not dry the skin but nourishes the dry face. It can be easily used 2-3 times in a day or depending on your need. This is one of the best face wash for blemish and pimples skin for the summers.
Pros
Removes daily dirt buildup

Purifies and deep cleans

Has high quality charcoal

Clarifies the pores

Balances the pH

Soothes the irritated facial skin

Makes skin look brighter

Kills acne causing bacteria
Cons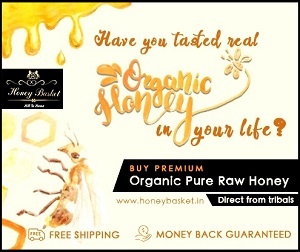 3. Aloe Veda Activated Charcoal Deep Pore Detox Face Wash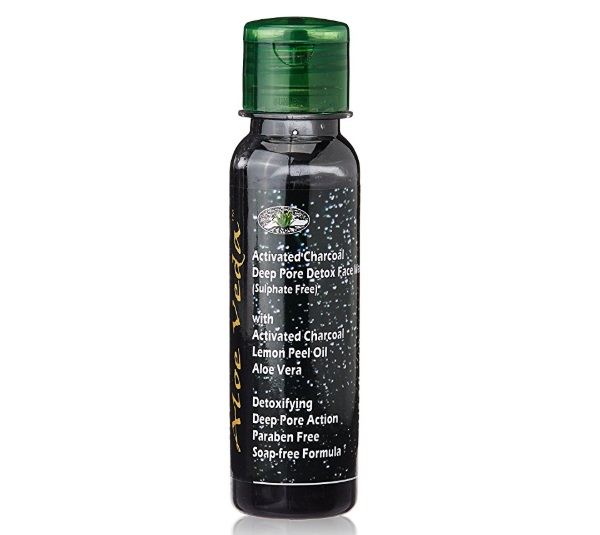 The product is a best seller from Aloe Veda. With the richness of the activated charcoal, this face wash aids in detoxifying the skin from deep within. Not just from the surface level but it also cleanses from deep skin layer. This is done by the activated charcoal. Considering this, it is one for the best charcoal face wash in India for all skin types. Aloe vera in this product doesn't allow the skin to get dry or stretchy when you use this. You can use this 2-3 times in a day. Also see the best clean and clear face wash
Pros
Contains aloe vera

Paraben free

Not tested on animals

Suits all skin types

Organic face wash
Cons
4. Trycone Activated Charcoal Face Wash Anti Acne Face Wash
It might be an unfamiliar brand but it is quite effective and promising. It is one of those made in India brands that is growing at a steady pace. The face wash contains the goodness of activated charcoal particles and tea tree oil. Tea tree is anti-fungal in nature and anti-bacterial. So, if you've acne prone skin then this is the best bet.
Pros
Paraben Free

High Quality

Lathers adequately

Removes oil, toxins and impurities

Treats acne and blackheads

Mildly exfoliates

Suitable or all skin types

Teenagers can also try
Cons
5. Aroma Magic Activated Bamboo Charcoal Face Wash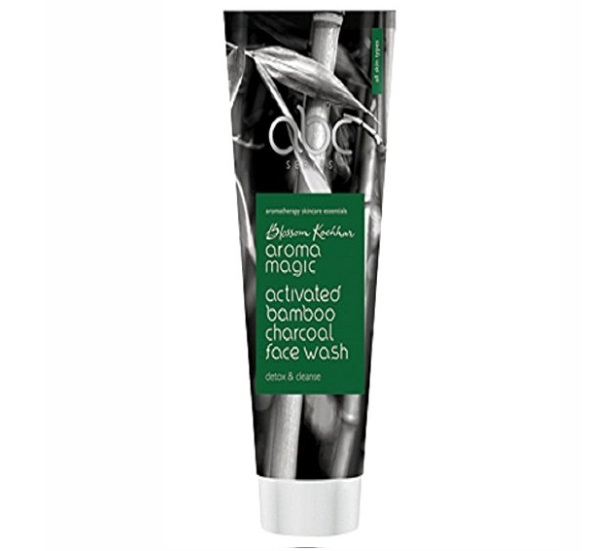 One of the best charcoal face wash in India. The product hails from the Aroma Magic. It's a brand by Blossom Kochchar who is known in the beauty world immensely. If you are looking for a good paraben free, soap free organic face wash with charcoal then this is for you. Aroma Magic Activated Bamboo Charcoal Face Wash cleanses the skin and clarifies it deeply. When the skin is cleansed thoroughly you are bound to get good skin. So, even though you apply heavy makeup daily, it will give you a toxin free skin. You can use it after removing the makeup using makeup remover. It also clears your pores which can get filled with gunk and makeup traces.
6. Wow Activated Charcoal Face Wash with Activated Charcoal Beads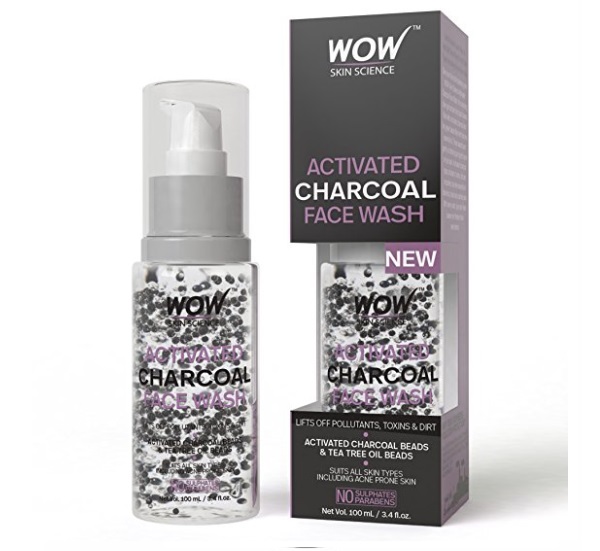 With the charcoal beads, this face wash has the best pore clearing features. The bead helps in mild exfoliation and gets rid of the dirt, gunk trapped in your facialsskin pores. Often when we apply makeup and other skin creams etc then skin attracts more dirt. This increases when the skin is oily. It draws bacteria, chemicals and micro-particles that are hard to get rid of while suing the regular cleansing products.
Pros
Helps fight acne and pimples

Gives a flawless complexion

Pulls the dirt out of pores

Has gritty texture

Clarifies the skin

Cons

None
7. Oriental Botanics Activated Charcoal Bright Glow Face Wash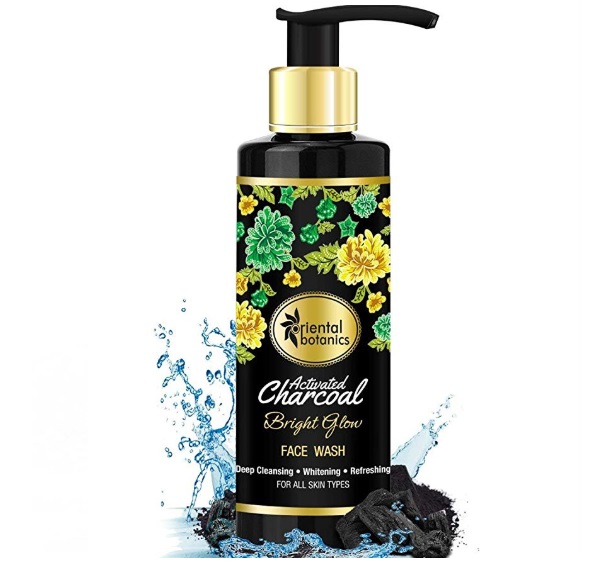 Vitamins and charcoal can make powerful combination. Yes, this face wash has charcoal with the Vitamin C, Vitamin E, B3 and Pro-Vitamin B5. This Oriental Botanics Activated Charcoal Bright Glow Face Wash helps protect your skin from the chemicals irritants, free radicals that adhere on the skin surface. Tea tree oil is also included in this product that further help in making the skin free of acne.
Pros
Makes skin glowing

Heals acne and pimples

Rich lathering texture

Removes excessive oils

Good for all skin types

Free of Parabens, Sulphates, SLS and Harmful Chemicals
Cons
Not easily available offline
8. Mamaearth Charcoal Natural Face Wash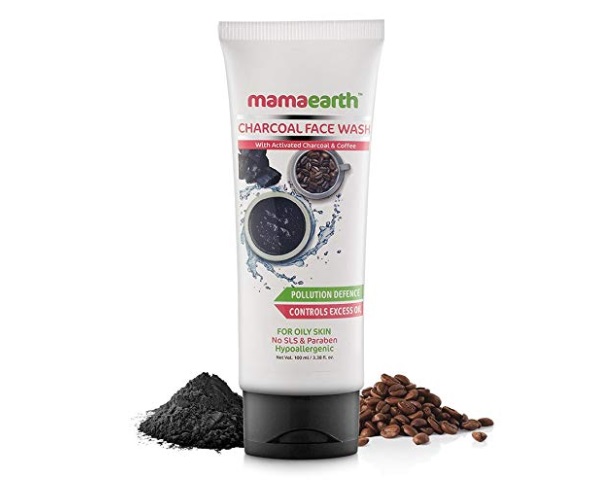 Mamaearth's Charcoal Face Wash is rich in the activated charcoal and clay. It draws out the toxins like impurities, dirt, dust etc that can make your skin blemished and dull. Clay is very effective for the oily skin in removing the excessive sebum. It also has clay that pulls the dirt, grime that can be your biggest concern regarding getting a healthy skin. Along with that, it also has tea tree oil which is effective in treating the scan and pimples.
Pros
Safe for oily and sensitive skin

Dermatologically tested

Certified toxin free

Free of SLS and Mineral Oil

Petroleum and Paraben Free

No Artificial Preservatives
Cons
Not really good for dry skin
9. BLCK Activated Charcoal Face Wash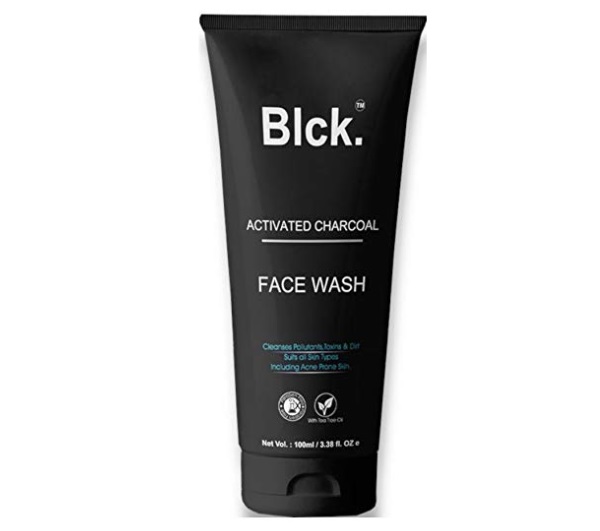 This activated charcoal and tea tree oil cleanser is suitable for the oily skin. While cleansing the facial skin, it also cleanses the skin pores so that your skin stays pimple free. Have you noticed that the clogged pores, is the biggest cause of getting skin issues like blackheads, whiteheads and even the acne? The pimple control cleanser won't make your skin dry but revives its natural sheen. It can give you the clear skin.
Pros
Brightens the skin complexion

Has tea tree along with charcoal

Lightens the dark spots

Thoroughly clarifies the skin

Effective

Reduces the acne
Cons
Not very easy to get offline
10. Greenberry Organics Detox Charcoal Face Wash with Tea Tree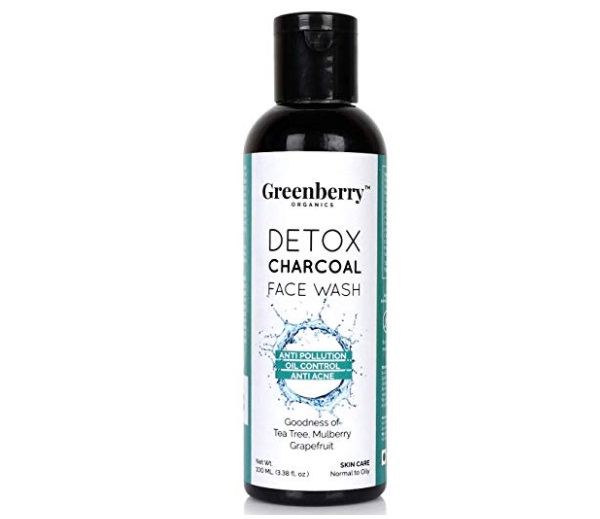 If tea tree extracts make you feel good about a facial cleanser, then you can also opt for Greenberry Organics Detox Charcoal Face Wash. The cleanser has a double detox formula that purifies and clarifies. With the soothing properties it calms the skin. Like when we have acne, the skin gets inflamed and red. Use of a detoxifying cleanser like this can sooth it. You can also call it as an anti-pollution face wash with the anti-septic benefits for pimple prone skin. Mulberry extracts lightens dark spots that can come with age and pimples
Pros
Paraben and sulphate free

Double action detox face wash

Rich in pure activated charcoal

Controls the sebum

Has anti-septic properties

Affordable

Can be found online
Cons
11. Patanjali Activated Charcoal Face Wash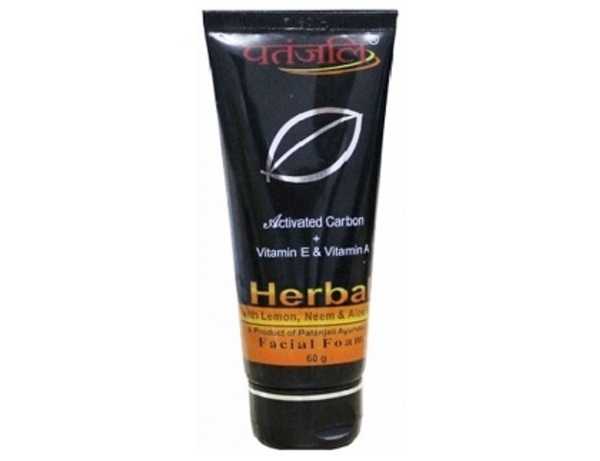 The next option can be used by people of all skin types. It is the very popular Patanjali Activated charcoal facial foam. The cleanser deep cleanses the skin and detoxifies. It is good to absorb the dirt and oil off the face. Application of this face wash keeps pores clean and minimizes the blackheads on nose forehead, chin etc. It also has Aloe vera, lemon and mint that soothes and clarifies. If you have dark spots then too this acts to fade them. In summers, when the skin gets excessive oily and during the winters when skin lacks hydration, this can be used. In fact girls and boys with dry face also find it suitable because of its creamy texture and hydrating nature. But this moisturization is not very much for the very dry face skin. Teenagers who have got acne prone skin can also apply it to get rid of the acne.
Pros
Creamy base

Eliminates oil and sebum

Hydrates the skin

Removes pollution particles and micro toxins

Lathers well

Suitable for all skin types
Cons
Can be drying for very dry skin
12. Garnier Men Power White Double Action Face Wash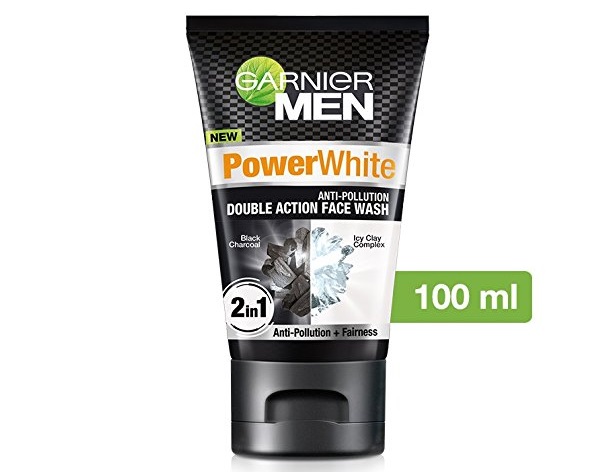 It is one for the best face wash for men with activated charcoal. It has a double action i.e. it eliminates the toxins and pollutants from the skin and works on whitening the skin. It is able to get rid of the dust and dirt. It comes with a dual texture. Like there you'll see white and half of the face wash is black. The black part is the activated charcoal thing while the white one has skin lightening properties. It is an effective cleanser for oily-acne prone skin type for summers especially. With this you also get the salicylic acid and vitamin C.
Pros
Dual texture face wash

Removes dust and pollution

Makes skin fairer

Rich in Salicylic acid and Vitamin C

Decreases dullness

Cleanses skin deeply

Easily available
Cons
13. Man Arden 7X Activated Charcoal Face Wash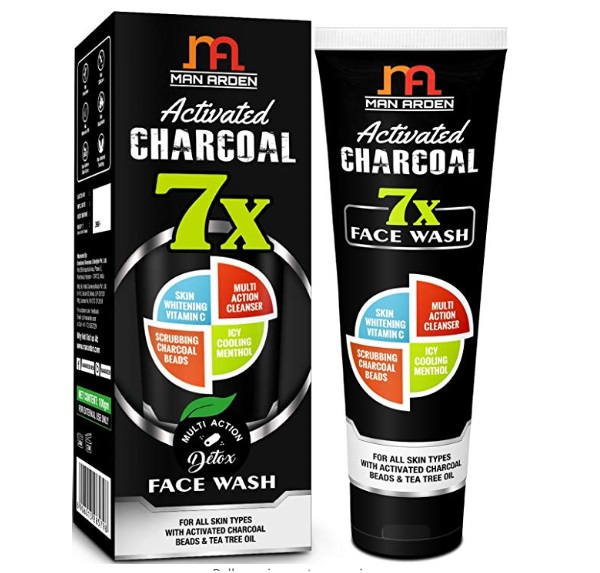 Man Arden is a reputed brand for men's skin care products. If you're looking for a men's only brand then this can be your choice. Women can try it too even if it is a cleanser for men. With the presence of vitamin C and activated charcoal, this cleanser works on two ways. It brightens the skin and sucks out the impurities. In cities there are lots of grime and dust that gets all over the face and body. Charcoal products also eliminate them faster. One of the best face washes for men's skin with acne and oiliness.
Ingredients:
Tea Tree Oil, Colloidal Oat Powder, Caffeine Powder, Activated Charcoal Powder, Vitamin E, Roman Chamomile Oil, Lemon Extract, Licorice Extract, Sugar Acne Extract, Green Tea Extract, Goji Fruit Extracts
Pros
Contains antioxidants like Vitamin C, and Vitamin B3, B5

Refine the skin

Suitable or all skin types

Gets rid for the dirt, dust, pimples and clogged pores

Mildly exfoliates the skin

Removes and prevents the occurrence of blackheads

Free of the harsh chemicals
Cons
14. Beardo Activated Charcoal Acne Oil and Pollution Control Face Wash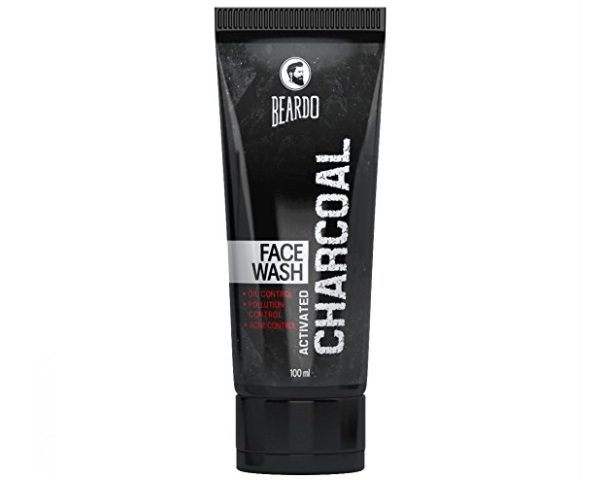 Girls and boys with oily skin, here is another option for you. The charcoal product is rich in the Activated bamboo charcoal, olive oil, tea tree oil, lavender oil, aloe vera. It gives you're a deep cleansed face which I am sure all of us desire. A clean face looks bright too, right?
Pros
Deep face cleansing

Controls oils

Removes dirt and surface level grime

Acne control benefits

Slough off blackheads

Prevents whiteheads
Cons
15. UrbanGabru Charcoal Face Wash with Apple Cider Vinegar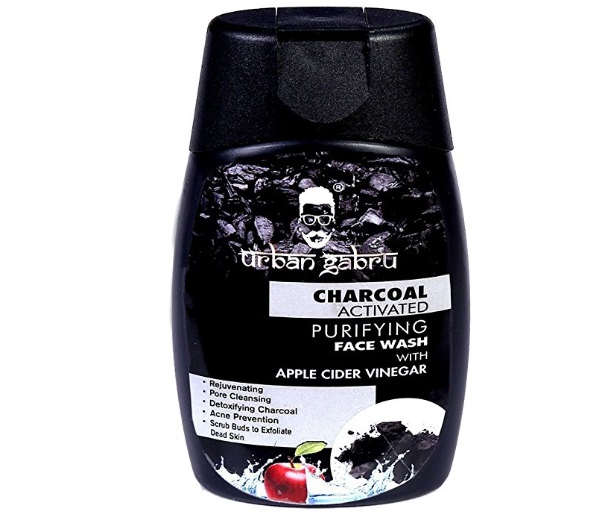 Boys, you have got another choice out there. This one gives you the benefits for activated charcoal along with the apple cider vinegar. This makes a very deadly combination for the people with oily-acne prone skin. Apple cider vinegar ahs loads of benefits like it exfoliates slightly, just enough to unclog the blocked pores. If you've large pore size, it reduces that and tightens the skin. Eventually, it also decreases the oil production on the face.
Pros
Brighten the skin

Affordable

Suitable or men and women

Reduces dark spots

Clear and reduces pores

Cleanses deep layer for the skin

Has Apple Cider Vinegar
Cons
This is the list for the best charcoal face wash in India for men and women in India. Have you used any charcoal products? You should also go though our list of the best charcoal face masks. Masks give more benefits in getting rid of the blackheads and dirt.