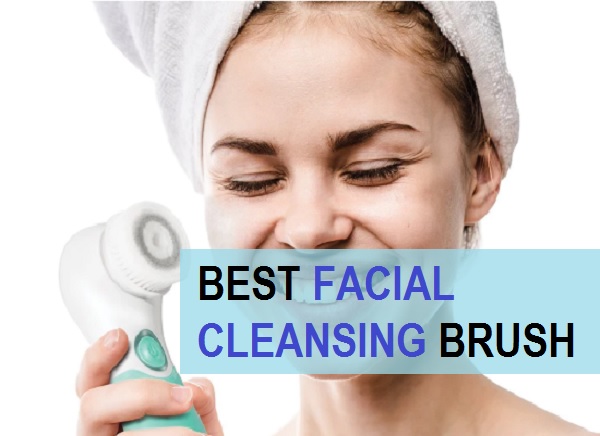 You might have heard about the face cleansing brushes? These brushes help boost your blood circulation and help you get glowing skin. In this post, we will be mentioning the list of the best face cleansing brush available in Indian market. These brushes can be hand held or without any battery and the second section of this list is for the brushes that require battery and electricity. So, while using a face cleansing brush can give you smooth skin and also uproot the blackheads, whiteheads and dead skin cells. It increases the glow and suppleness of your skin. People who are in the Mid-Ages should use such brushes because they not only give you that proper exfoliation but also increases the cell renewal rate. When your cell renewal is improved, your skin's collagen production is also enhanced. This in turn decreases the lines and wrinkles and smoothens your skin.
Top Best Face Exfoliating/ Cleansing Brushes in India (2020)
So let's have a look at the best face cleansing brushes available in India.
1. Panache Face Cleaning Brush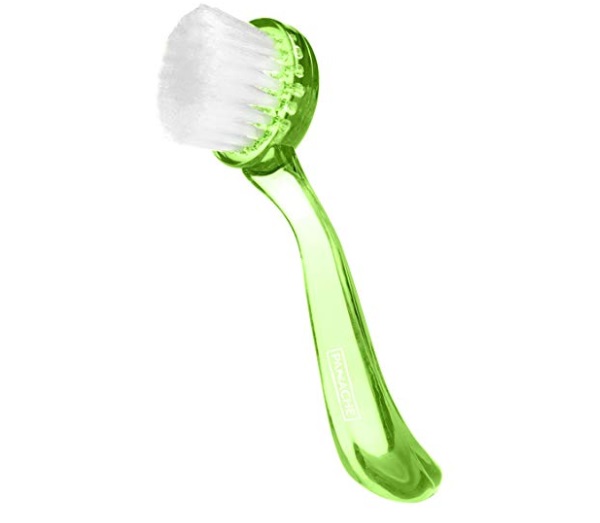 This brush is very affordable and is a handheld brush. It doesn't need any electricity or anything, you just have to take the brush and use it on your face. The brush available in two to three different colours and the price is also very affordable. The handle is made of the plastic and the bristles are very soft that gives you dead,  skin cells free facial skin. It can also be used on your body and other body parts.
2. Generic Deep Cleaning Facial Cleansing Brush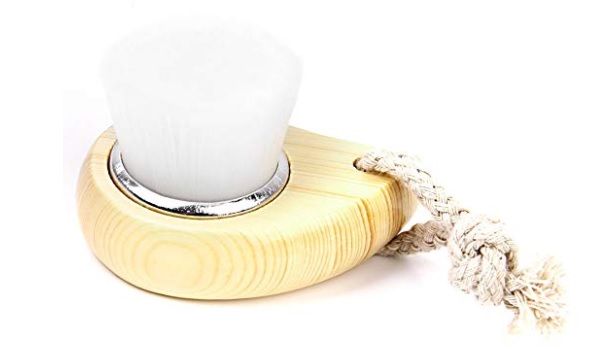 This brush has a wooden base and over that the bristles are there. It is made from high quality and is able to approved the blackheads and whiteheads from your nose, chin etc. The brush is of high quality as the wooden base also has a loop to make it dry faster. The bristles are not very abrasive but are very soft so that while you are using this it does not hurt your skin. It claims that there are approximately 4,50,000 bristles  in it that gives you super clean skin.
3. The Skin Time Deep Pore Cleansing Brush Set
This brush is also same as the previous brush. This means that it looks a lot similar to that one and the price is almost the same. The small bristles of this deep pore cleansing brush helps you get rid of the whiteheads and blackheads, and also prevents them from coming back. It removes the pollutant particles from your skin and also unclogs the clogged pores. Brushes like these are suitable for oily skin to get rid of the makeup, sebum and sweat. While for dry skin, it helps to get rid of the dry flakes and revives the smooth skin.
4. Segolike 2 In 1 Deep Pore Cleansing Face Cleansing Exfoliating Brush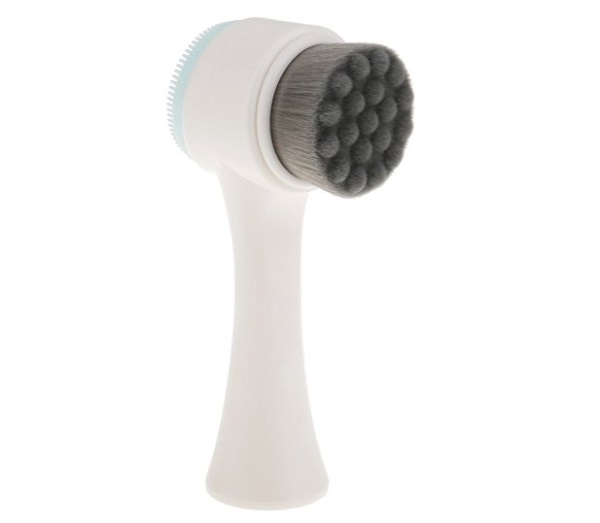 Deep pore exfoliating brush has got 2 ends, or even call it as a double sided brush. On one side, you have got the bristles that give you extra deep cleansing while on the other side, there is a silicone massager that helps to massage your skin that improves the facial blood circulation. The ergonomic design of this brush makes it suitable to use it every day or when you need. Soft bristles help you get rid of the dead skin cells easily without damaging the skin layers.
This section ahead includes electric or battery operated facial cleansing brushes.
5. HealthSense FB 09 Pure Skin Electric Facial Cleansing Brush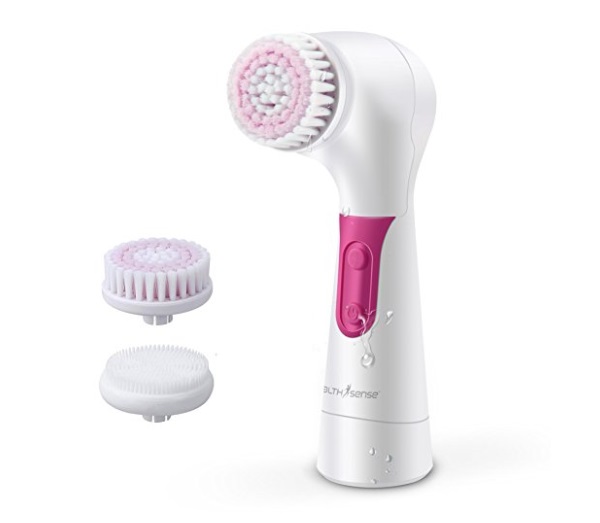 This brush comes in a beautiful pink and white colour and has got 2 power settings. It includes two different rotations and has two different brushes. The normal bristles would give you deep cleansing while the silicon head is suitable for massaging your skin. You can also use massaging cream along with that, or just use the Silicon massager on your skin just like that. It removes the pores clogging dirt, makeup articles, dead skin cells and the other skin problems like blackheads and whiteheads.
6. Velveeta Krevia Spin Skin Cleansing Face and Body Brush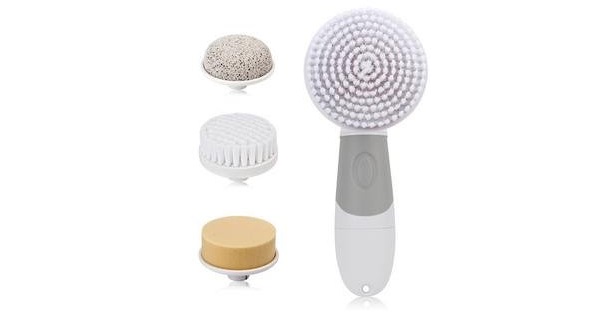 This next option is also very similar to the previous option the only thing is that it includes 3 brush heads. One is a massager and the other one has the pumic head, while the third one has regular bristles. It clears the skin pores and gives you a healthy glowing skin. It also removes the callus and rough skin from your arms and other rough and dry parts of the body. The brush can be your all in one solution for smooth and supple skin.
7. Vega VHFC-01 Facial Cleanser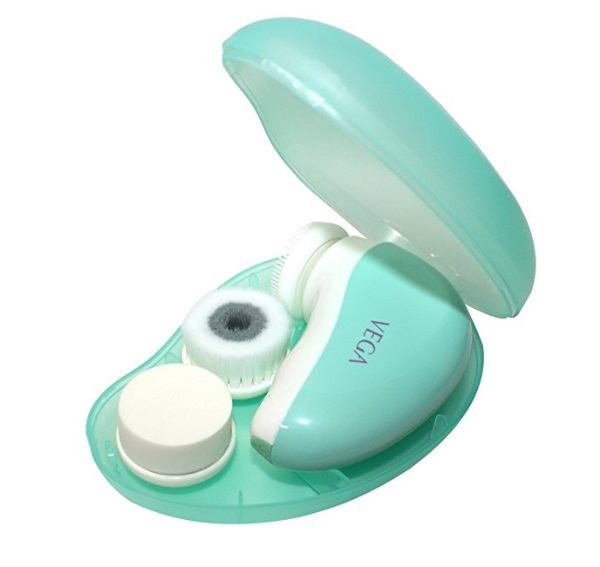 This facial cleansing brush is from the brand Vega. Vega is known for its accessories like makeup brushes, straightening irons and other tools. This comes in a compact kit where you will get an electric device that contains 3 brush heads. One is a face massager, a cleanser and the other one is for the light massaging. It is a USB rechargeable product that has a cable included in the set. The storage case makes it very easy to carry along with you. The three head attachment gives you total massaging and exfoliation. It also comes with a two year warranty from the manufacturer.
8. LXOICE Unisex Electric Portable Face Cleanser and Massager Brush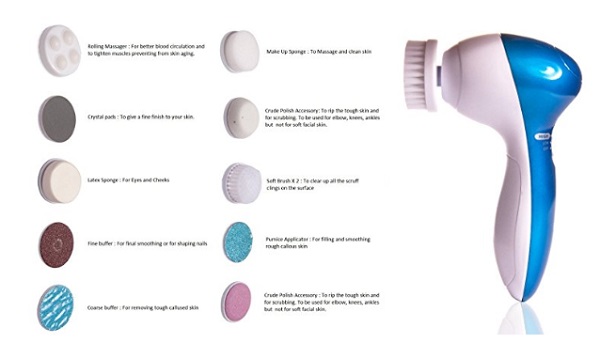 The Unisex product comes with 9 heads that includes and exfoliating face cleansing brush as well while the product is very affordable it is a complete solution to your facial and your body skin. It is water resistant and gives you deep cleansing, scrubbing or exfoliation and also body wash. It massages your skin and makes it glow. Men and women both can use it. It also comes in n storage case that is perfect for travel. It is used with AA batteries that are not included, but you can buy and use them. It is not a rechargeable product so, you have to carry extra set of batteries along with you.
9. JSB HF17 Home Beauty Massager 
This battery operated beauty exfoliating face massager brush comes with 11 attachments and considering that it is extremely affordable. It comes with attachments like a soft brush humus applicator, find buffer, course buffer, latex sponge for your eyes and cheeks and also to apply foundation, a rolling massager and few other attachments. You can go to the product page and I have put a link for it to check out all the specifications. So, while it gives you good blood circulation and exfoliates the skin it also gives you many other benefits.
10. 5-In-1 Smoothing Body Face Beauty Care Facial Massager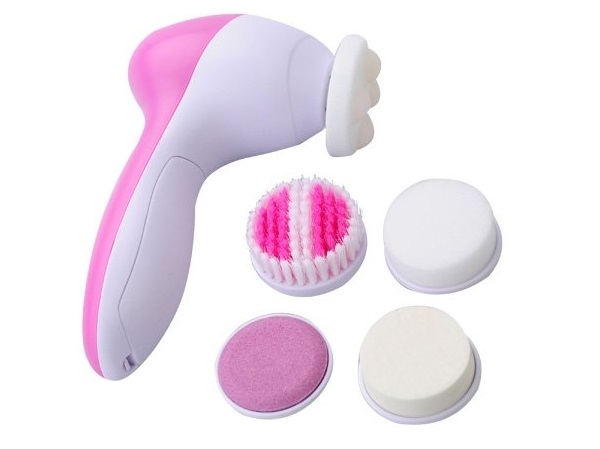 This next exfoliating face cleansing brush comes with 5 attachments and it is also a battery operated non rechargeable brush set. The makeup sponge applicator is also good to apply foundation and concealer. It helps to blend the products nicely on your skin if you would like to apply your makeup using that.
11. Philips Visa Pure MS5030/01 Men Essential Facial Cleansing Device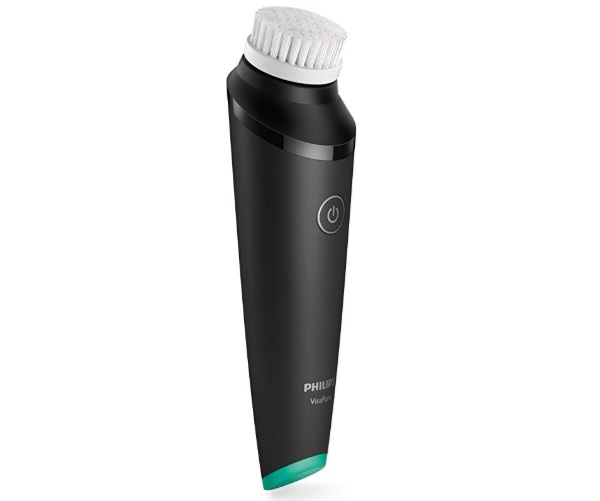 This face exfoliating brush is made for men's skin and is from the trustworthy brand Philips. It gives up to 10 times better exfoliation than your hands, and its unique dual motion technology is for ultimate facial cleansing. Its coordinated bristle movement helps increase the blood circulation and remove dead skin from your skin. You can also use it, before shaving so, that the dead skin cells can be removed and you get a smooth and close shave.
When and How to use face brushes
If you are wondering how often you need to exfoliate then make sure you exfoliate every day, if the attachment or the bristles are extremely soft. You must exfoliate daily when you are in your 40s. If you are very young like in your twenties, then you can exfoliate two to three times in a week or even if you are in thirties. If you face any allergies or any redness then discontinue using the product and start using it after few days to reconsider.
This is the list of the best face cleansing brushes available in India.  Have you used any of these face exfoliation brush kit.