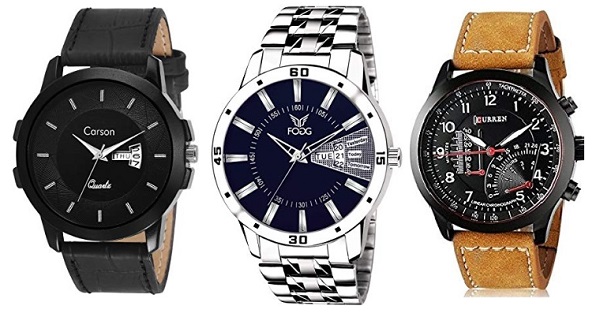 Out of all the accessories watches are one of the most important accessories that men and women would like to wear. Watches comes at all prices, there are some very cheap and affordable watches, while some of the brands make high end watches, which are very expensive or the luxury watches. In this post, we are going to talk about the best watches available in India under 500 rupees.   
List of Best Men's Watches Under 500 Rupees in India
1. Carson Analogue Black Dial Men's Watch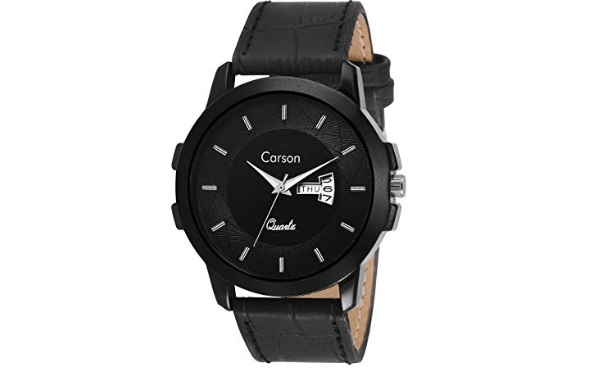 The men's analogue watch comes and beautiful design and a black strap. The dial is also black in color and it also displays date and time. It comes with a 2 years warranty and is one of the most affordable watches that come in the case and gift box. Also check the best men's watches under 1000 rupees.
Price: 349 rupees
2. Fogg Stainless Steel Day and Date Blue Dial Analog Mens Watch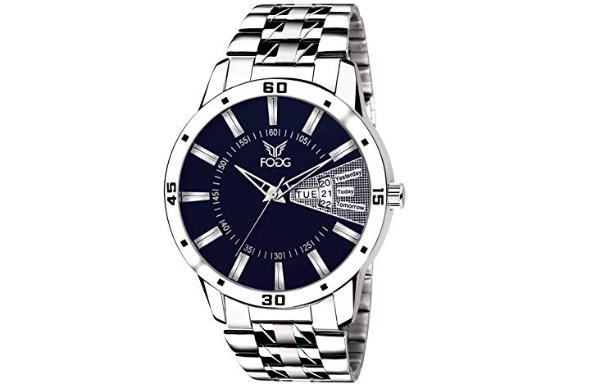 This Analogue watch has a steel dial and the chain. It looks extremely nice. Men who loves this type of design must go for this. It also displays date and day along with the time. The material is stainless steel and comes with a 6 months India warranty. It is one of the best looking watches under 500 rupees if you are tight on the budget.
Price: 375 rupees
3. Geonardo Blue Dial Sports Analog Watch
This watch has quite a quirky design with a blue strap and the black dial. It also has the beautiful blue color mixed with the black dial. It also comes with a 6 month warranty along with the warranty card and company box.
Price: 220 rupees
4. ASGARD Trendy Black Dial Watch for Men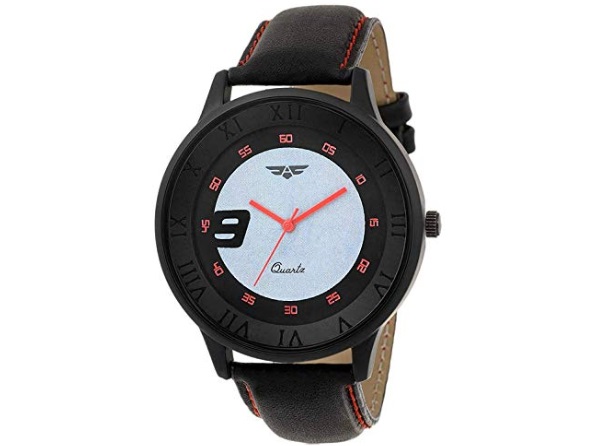 The watch has a beautiful black strap with a black dial and lighter color inside. It looks very smart and trendy. It comes with 1 year warranty. The strap is of leather and stainless steel dial back. It is a water resistant watch that boys would definitely love. It is also a good option for gifting. 
Price: 299 rupees
5. Talgo Analog Black Dial Men's & Boys Watch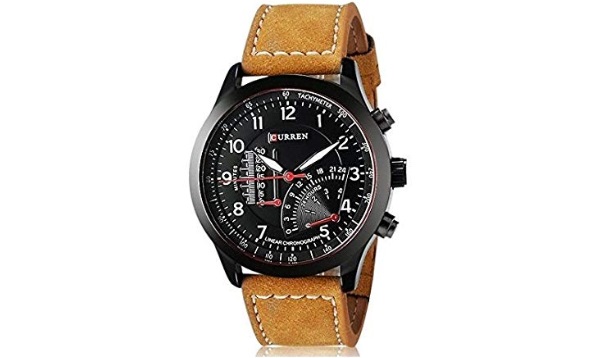 The analogue watch has a rugged feel and is suitable for men of all age groups. It has 3 months warranty against manufacturing defect and is suitable for boys and men. The designer look of the watch is appealing and attractive. The dial has black outer apart and stainless steel back. It looks classy and elegant.
Price: 275 rupees
6. LIMESTONE Day and Date Analogue Blue Dial Men's Watch
This watch comes with a blue strap and blue dial and the outer part is of stainless steel. This is suitable for casual and everyday use. The soft leather strap in blue makes it more enticing. It is also one of the best watches under 500 rupees for young boys.
 Price: 349 rupees
7. Fogg Analog Black Dial Men's Watch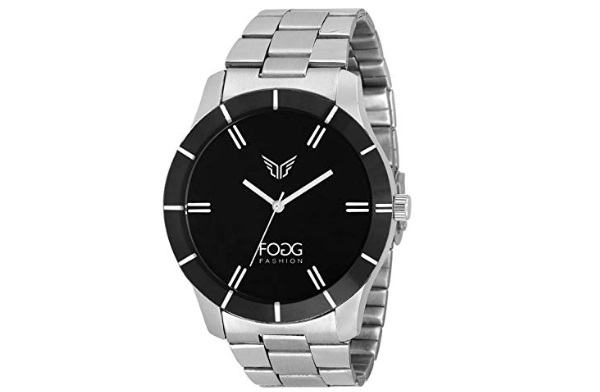 If you like stainless steel chain type of watches then this is it. This is one of the best looking watches for men with Stainless Steel material. The black dial and steel part complements each other and gives it a very attractive look. It comes with 6 months warranty and an outer case. This is why it is also good for gifting purpose.
Price: 300 rupees
8. BLUTECH Golden Silver Analog Watch for Men
If you like gold in your watches then this gold and silver analogue watch is for you. It has a very attractive high end design. And it is got some very good reviews from the users. So if you like golden watches then this can be considered.
Price: 300 rupees
9. Laurels Imperial 2 Analog Silver Dial Men's Watch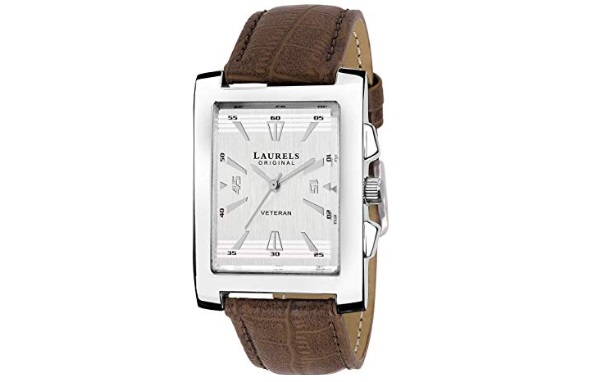 A lot of men would like to have square or rectangle dial, this watch has a rectangle dial made up of Steel. This makes the model looks quite Sophisticated. The dark brown coloured leather strap gives it high and look. it comes with 1 year warranty And also has a silver case along with this.   
Price: 299 rupees
10. Fogg Analog Gold Dial Men's Watch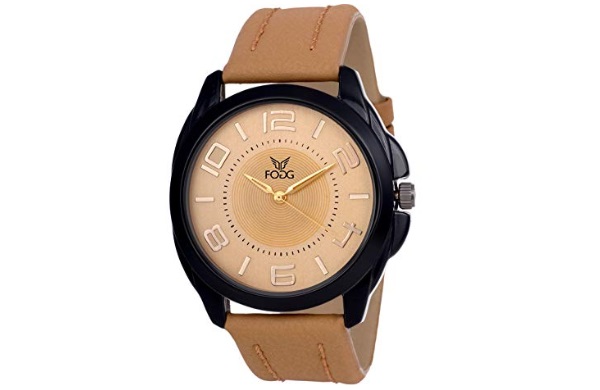 This is also one of the best looking watches under 500 rupees that come from a good brand. The time gold coloured leather band looks and icing with the gold dial. The numbers are quite a big and the outer part of the dial is black that compliments with the overall look and feel of the watch. It also has one year manufacturer's warranty.
Price: 299 rupees
These are the men's watches under 500 rupees available in India online. You can also buy these are offline from shops but if you like the particular design then getting them online is better.