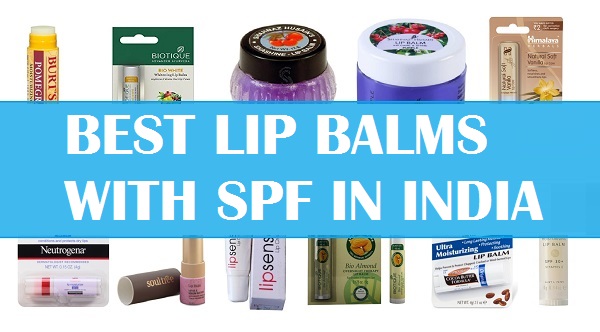 10 Best Lip Balms with SPF in India with Reviews
While you are out in the sun, the worst thing can be damage to the skin in the form of premature aging but when you have used skin care products like body cream, face cream and lip balm that has SPF in them, then you can certainly avoid the aging of the skin. It should not matter, which time of the year it is, the harsh UVA and UVB rays can still effect and damage your lips. It can lead to premature wrinkling on the lips and they look dry and dehydrated. Using a good moisturizer for lips can be quite beneficial and is really important. Men can try lip balms made for them. While some of the lip moisturizing products are for everyone and are unisex in nature, some can be only for men or for only smokers etc. There are lip balms with tint and herbal or organic lip balms as well, but out of all, a lip should serve the primary purpose of giving your lips proper moisturization and should also give sun protection. So, here we compiled this list of best lip balms with SPF in them with sun protection.
Top Best Lip balms with SPF with Reviews for Men and Women (2021)
As our lips are devoid of any lubricating glands, they tend to get darker and pigmented. Smoking also effects the color of the lips. But mostly important, UV rays are also to be blamed for dark dry and wrinkled lips. You certainly do not wish your lips to get like that.  
1. Neutrogena Norwegian Formula Lip Moisturizer SPF 15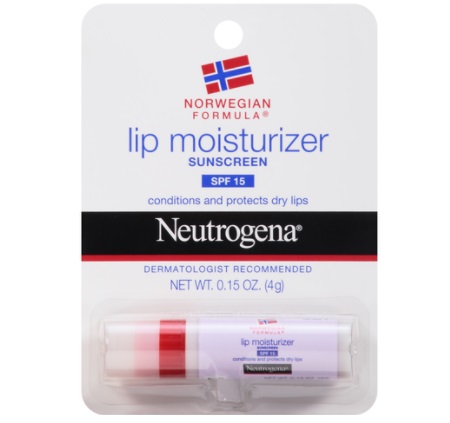 For your lips, SPF 15 is adequate and is quite effective. The Neutrogena lip balm ha the SPF 15 that not only provides the sun shielding but gives your delicate lip skin moisturization.  The lip balm is packaged in an attractive packaging of blue and white tube. It can be used by boys and girls both. The product is not a tinted lip balm but it is a balm that everyone in the family can try. It has no waxy or sticky feel to it and do not have any smell or bad scent. The smoothening lip moisturizer helps to aid in softening of the lips and heal the dry chapped lips.
Features and Reviews:
Softens and soothes the dry lips

Adds a protective layer on the lips

Comes with SPF 15 for UVA and UVB protection

Suitable for dry and chapped lips

Fragrance-free and PABA free lip balm

Affordable lip balm

Can be used by everyone
2. Biotique Bio Aloe Vera Nourishing Lip Balm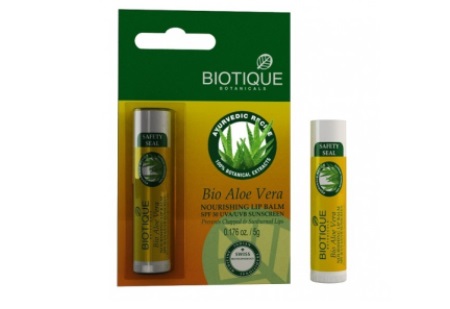 Biotique Bio Aloe Vera Nourishing Lip Balm is a product from Biotique. Biotique is known for their products which are exclusively made using the botanicals and herbal products. The lip balm besides giving immense moisture to the otherwise dry lips, is also fortified with SPF 30. SPF 30 shields the lip skin from damaging UVA and UVB rays of the sun.
The lip balm is made using the miracle ingredient which we know as aloe vera. Yes, aloe vera rich lip balm is organic in nature but also heals the dryness and heals the damage that your lip might have gone through.
Features and Review:
Ideal for curing the dryness of the lips

Made with natural elements and ingredients

Has Aloe vera and other botanical

Comes with SPF 30

Alcohol free and paraben free

Not tested on animals

Affordable price
3. Natio Aromatherapy Moisturising Lip Balm SPF 30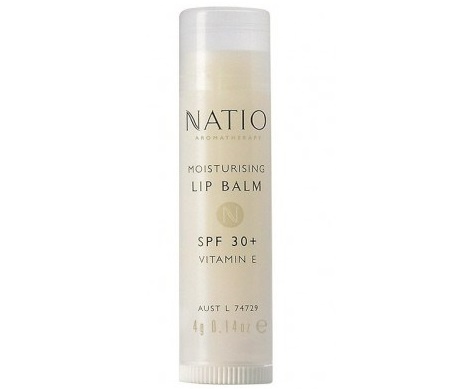 Another Noteworthy lip balm that is with the power of SPF 30, hails from Natio. Natio is a well known Australian beauty brand and its products have been quite appreciated in Indian market a swell. So, this Natio Moisturising lip balms is not only a regular lip balm but is a tint less lip product which has SPF 30. So, if you need a lip balm with high sun protecting factor, then Natio can be tried.
Features and Reviews:
Made from the pure aromatic and essential oils

Deep conditions the dry and chapped dull lips

Suitable for everyone like men and women

Has broad spectrum sun protection with SPF 30

Moisturise and protect lips

Water resistant for up to 4 hours

Bit expensive
4. Biotique Bio Morning Nectar Lightening Lip Balm SPF 30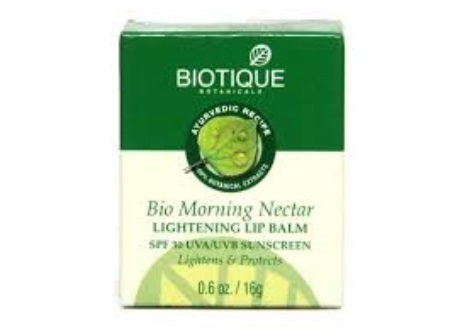 We have got one more Biotique product on our list. This is the Biotique Bio Morning Nectar Lightening Lip Balm SPF 30. This lip balm is also a lightening lip balm that ensures that the darkness on the lips is lightening. But why your lips get darker? The reason, our lips become dark and pigmented can be numerous but generally, sun damage or harsh sunlight, smoking, certain medications, use of bad lip products lie the cheap lipsticks can be the reasons of the pigmented lips. Biotique Bio Morning Nectar Lightening Lip Balm is made for that. It fades the darkness and reveals the original pink color of the lips.
Features and Reviews
Hydrating and Anti-aging lip balm

Made with the natural ingredients

100 percent botanical extracts

Paraben and Alcohol free lip balm

Fights collagen loss and fills-in to smooth out the lines on the lips
5. Palmer's Cocoa Formula Butter Moisturizing Lip Balm SPF 15
Palmer's Cocoa Butter Formula Ultra Moisturizing Lip Balm is in the flavor dark chocolate smells heavenly and is very easy to use retractile tube packaging. Well, a lot of lip balms are packaged like this only these days. The balm is enriched with the goodness of cocoa and has SPF 15. The SPF keeps the lips protected from UV rays and damaging sun rays.
Features and Reviews
Has SPF 15

Easy to Use

Availability is easy online rather than getting this offline

Has benefits of cocoa

Keeps dry lips supple
6. Sebamed Lip Defense Stick SPF 30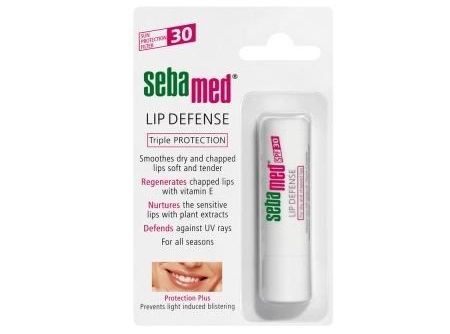 Sebamed Lip Defense Stick is loaded with the SPF 30 that is made for treating the dry and chapped lips in winters. Winter is the season when the lips get dark and dull. The wrinkling problem heightened when the season gets harsh, cold and dry.
Features and Reviews:
Has the SPF 30 protection

Good for dry and chapped Lips

Reduces the effects of dryness

Has vitamin E and bisabolol (chamomile extract)

Pried is high
7. Maybelline Baby Lips Color Changing Lip Balms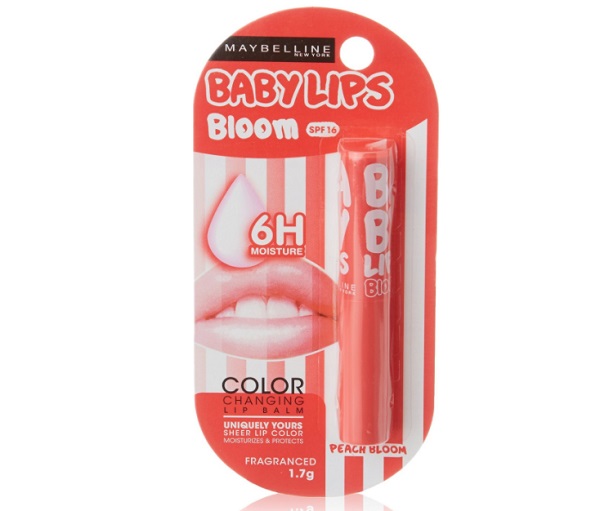 Maybelline Baby Lips Color Changing Lip Balms are available in 2 shades i.e. Peach Bloom and Pink Bloom and the color that they impart also matches with the description and shade name. The color changing balms are good with their long retractile packaging. They apply really well and are creamy. But wait if you have dry lips, we mean very dry lips then tinted balms can make then drier. unless the tint is natural like that of the Island Kiss lip balm that we listed above.
Features and reviews:
Made with Jojoba oil and pro vitamin E

Moisturising formula keeps lips hydrated all day

SPF 16 for sun protection

Tone revealing pigments react with the lips and give them a naturally looking tint
8. Malibu Sun Stick Strawberry Moisturising Lip Balm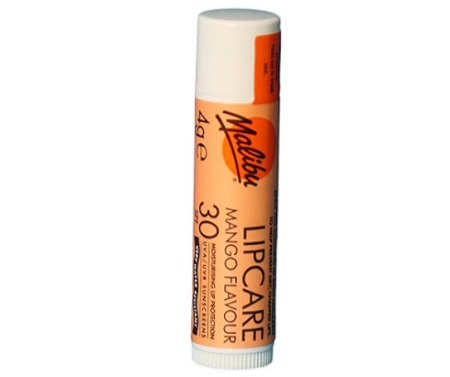 Malibu Sun Stick Strawberry Moisturising Lip Balm is a perfect lip balm for the entire family.  It heals the dry, flaky and peeling lips to stop the dryness and bleeding as well. The lip balm is high in SPF with SPF 30.
Features and reviews:
High protection UVA/UVB sunscreen

Has titanium dioxide which is a physical sunscreen,

Rich in vitamins like Vitamin E and Pro Vitamin B5

Water resistant

Dermatologically tested

Has SPF30
9. Lakme Lip Love Lip Care Lip Balms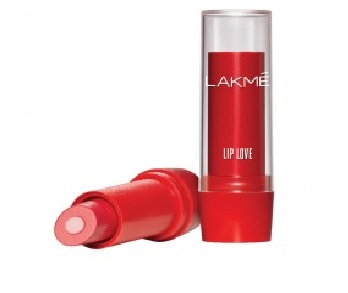 Lakme lip love lip care lip balms are available in multiple variants like watermelon, cherry strawberry etc. The lip balms are dual core ones. They offer sun care and also moisturization with light tint on the lips. The tinted lip balm is suitable or girls and women who likes to keep it real.
Lakme lip love lip care is available in 9 other shades i.e. cherry, strawberry, raspberry, grape, cocoa, peach, tangerine, blackberry and vanilla
Features and Reviews
Extremely moisturizing formula with dual core

Available in 9 flavours

Creamy core for intensive moisturization

Tint on the lips

SPF 15 protects from sun damage
10. Island Kiss 100% Natural Organic Lip Balm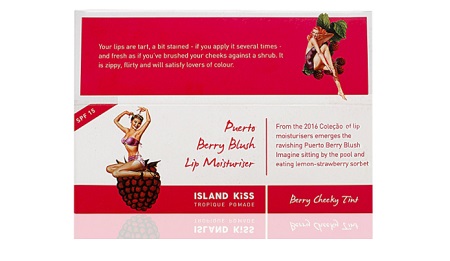 Island Kiss lip balms are new in the market but their products are worth trying. The product smells good and has creamy fee. The slight tint is due to natural color and not due to artificial colourant. So girls, looking for organic tinted lip balms should try it. On top of that, it offers you sun protection of SPF 15.
Features and Reviews
Easy to use tube pack

Softens and nourishes dry lips

Has 100% natural  and vegetarian colors

Contains organic avocado butter, mango butter & kokum butter

SPF 15 for sun protection

Sun protection is derived from organic carrot seed oil

Petroleum-free  and paraben free lip balm
These are the best lip balms with SPF for men women, boys and girls who like tinted ones. Do you have a favorite? Do let us know?