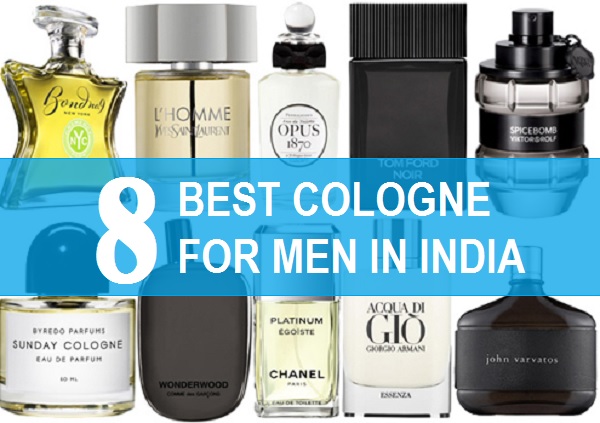 Best Men's Cologne in India
A good fragrance speaks a lot about you and helps in marking an impression. Colognes which are also known as Eau de Cologne which is a generic term for sprays that are typically composed of 2% – 4% perfume oils along with a medium of alcohol and water. With colognes, men can feel fresh and the smell can last for around 1-2 hours only. A good fragrance can make you edgy. So, here we have compiled the list of the best colognes for men. But first won't you want to know about how to apply cologne for men. Check out the colognes listed below to leave a lasting impression on ladies.
How to apply cologne properly?
Once you're done with which is your favorite cologne, then you can head over to its application, but how can you apply your cologne to get the best out of it. Applying it properly is extremely important especially when you wish to keep it long lasting!  Let's have a look at the steps for a perfect cologne application every day.
Once to get out of the shower make sure that your skin is clean and dried properly. This the time when the pores are open and they will squeeze in as much of the scent for a long lasting stay.
Now, it's time to apply your cologne on the major heat points. And what are those? Well, your heat points are the inner wrists, neck, behind the ears, shoulders, inner elbows and also your armpits.
Spray your cologne on these areas and you can also dab if the product is without the spray. Do not spray your cologne on the clothes as it can lead it product wastage and it is simply not made for that.
Best Men's Cologne and Sprays in India
1. Ustraa Cologne Spray Base Camp
Ustraa is a brand known for their men's grooming and skin care products. Ustraa Cologne Spray is a cologne deodorant. While it comes with long lasting fragrance at the same time, it also provides a cooling sensation for couple of minutes. The fragrance comes from the mountains and has a very fresh uber cool vibes. The product is highly convenient to use bit you should always apply your cologne properly as only then they can last longer. It is suitable for everyday use like after the shower. It can be used for all skin types and for occasions.
Price: 499 Rupees
2. Engage Cologne Spray XX1 for Men
Engage Cologne Spray XX1 is made for the men who wish to smell good and have long lasting effects. The spray has no gas and you get only the perfumed liquid that can be applied on the skin to get good benefits in smelling wonderful all day long. Engage Cologne Spray XX1 for men is a fragrance that has the aromatic fresh citrus notes topped up with cinnamon spicy notes. It truly makes this everyday use cologne for men. It says that it can be used on the clothes but it is better you leave that only for the body skin.
Price: 250 Rupees
3. Premium Eau de cologne
The cologne ha the premium scent that is quite refreshing. Just sprit few drops on the pulse points and experience a fresh vibe of the aromatic scent. Price is extremely affordable and a pack should last for a month or so.
Price: 150 Rupees
4. Jovan Musk Eau de Cologne for Men
Jovan Musk for Men Cologne Spray is mainly a romantic fragrance that can be applied daily for work, office and college. The beautiful and intoxicating notes of this cologne leave you spellbound. The elegance and charm is for every man. It feels light and mild and not heavy or too strong unlike few fragrances. It is a masculine scent which is made with the spicy and woody notes. These two can be long lasting when worn on the skin. Appropriate for daily use, it is a good scent which stays longer.
Price: 699 Rupees
5. Fogg Scent Intensio for Men
Fogg Cologne sprays gives 800 sprays and this may not be completely true but yes, Fogg body sprays are free of those gases. Their soothing scent gives a good experience throughout the day. It has the refreshing and long lasting fragrance.
Price: 500 Rupees
6. AXE Signature Gold Dark Vanilla and Oud Wood Perfume
AXE Signature Gold Dark Vanilla and Oud Wood Perfume has the seductive vanilla that is intoxicating for the winters. It is a good spray for the colder season. New AXE ultra premium perfume is a fragrance that is from the warm scent family and can be your go to one for the occasions and in fact for the daily use. Warm and suave notes of this scent bring out a unique impression for your personality. It has tart mandarin, Oudh which is very warm for chilled winter season and also trails off with a smokey tobacco notes. Price is very affordable an dos does it availability. If you are unable to find it then online this isin abundant.
Price: 450 Rupees
7. Avon Black Suede Franchise Touch Harmononisation Eau De Cologne
Avon Black Suede Franchise Touch Harmononisation Eau De Cologne has earthy and aromatic fragrance with the blend of bergamot, creamy cinnamon and woody accords. The Oriental spicy fragrance for men can be applied every day.
Ingredients: Bermagot, creamy cinnamon and sandalwood, black suede accord notes.
Price: 1299 Rupees
8. Jaguar classic Black Cologne for Men
Jaguar Classic Black is an amazing cologne for men. The rich and luxurious aromatic fragrance for men is made with the heart notes of lotus flower, spicy ginger and orange. While it has heart filled with floral fruit notes, the top is made using the mix of green apple and mandarin whereas the base notes have richness of the white musk and sandalwood. The Jaguar men's Cologne is fresh and sensuous with its notes which are masculine and refreshing at the same time. Packaging too of this perfume is unique with the beautiful bottle.
Price: 3300 Rupees
This was the list of the best colognes for men available in India for men of all age groups. But make sure that you apply colognes properly for better stay.