Best Men's Face Packs and Mask for Oily Skin in India
When you have oily skin that is acne prone then definitely use of the suitable facial masks and face packs can be helpful. Such packs and masks have the ingredients that are anti-bacterial in nature and hence, they make the pimples go away faster and also heal them. So, which are those face packs for men's oily skin? There are several face packs which can regulate your skin's natural oil balance and can also prevent the occurrence of the pimples and acne. So, today at Men's Beauty Health, the post is all about the best anti-acne face packs.
Best Face Packs for Oily Skin 
Let's have a look at these face packs which men can apply for their oily skin to treat it and to regulate the oil balance. Regular use of the face pack can make your skin look tighter and flawless since the acne treating ingredients in these packs can also cure the dark spots and marks.
1. Patanjali Aloevera Neem Cucumber Face Pack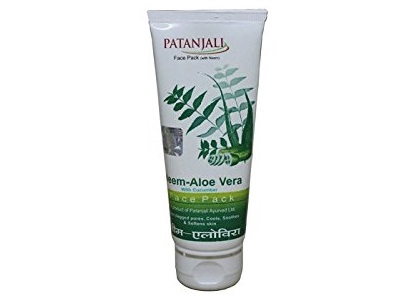 Cucumber is an excellent ingredient to treat the oily skin. The extracts of cucumber are cooling and also soothe the skin. Moreover, it shrinks the large pores which make the oily skin fresh looking. Neem in this Patanjali face pack for oily skin cures the acne and pimples. Using the product is extremely easy due to it pre-made paste like texture. Regular application of Patanjali Neem Aloe vera with Cucumber face pack can make the skin brighter and regulates the oil secretion.
Price: 60 Rupees, Get it Here
2. Himalaya Herbals Oil Clear Mud Pack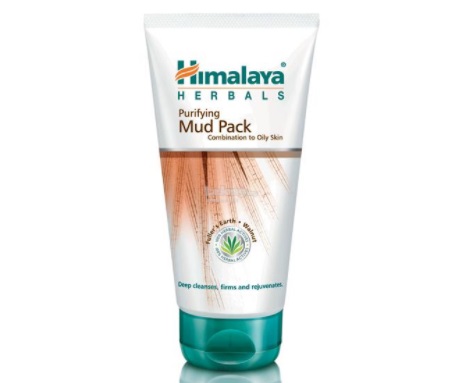 Himalaya Herbals Oil Clear Mud Pack is made to clarify the skin from the oils and sebum. The oils on the face can make you feel darker and sticky thus, the mud content in this pack makes men skin oil-free and fresh. You can use this mud mask once or twice in a week to regulate the oil production and to also keep the skin matte looking. Mineral clay presence in this pack keeps the pores clean by absorbing the sebum off the pores. In return, this also minimizes the acne and pimples and breakouts.
Price: 135 Rupees, Get it Here
3. Khadi Neem, Basil and Mint Face Mask
Khadi Neem, Basil and Mint face pack is in the powder form. It means that you can mix the pack with the water or the rose water and then apply on the skin to get the benefits. Once, you achieve paste of this powder pack. You can apply a thin layer and then leave this on the face to get dry. Afterwards, you can wash the face with plain water. Basil or tulsi, mint is pudina and neem helps to dry out the pimples and thus cures then faster. Even when you do not have acne, you can apply this pack once in a while to make sure that your skin says clean and free of the acne.
Price: 120 Rupees, Get it Here
4. Himalaya Herbals Purifying Neem Pack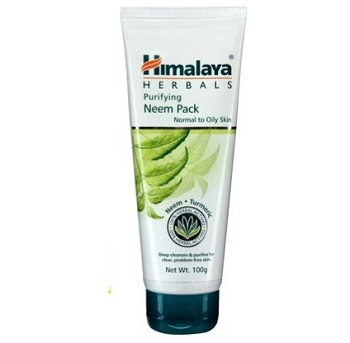 Himalaya makes a lot of face packs and this is the Himalaya Herbals Purifying Neem Pack.  Neem is the major ingredient in this pack hence, you can definitely get the results in the clarification of the skin pores and due to this the skin is devoid of the pimples and cane. When your facial skin's pores are clogged then you get acne. The bacteria responsible for that also thrives in those pores. Therefore, cleansing of the pores is Must for oily skin. This face pack for oily skin can be applied by men of all ages. It has neem oil and neem leaves extracts along with turmeric. Mild tingling is normal once you apply this pack on your face.
Price: 130 Rupees, Get it Here
5. VLCC Mud Face Pack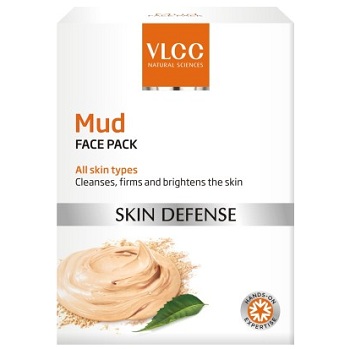 VLCC Mud Face Pack is based on the Ayurvedic remedies for detoxifying the skin. It is rich in mud like Kaolin that helps in soaking excess oils. Along with that it also has Turmeric Powder and Mint Oil which are known to cleanse the deep seated impurities and toxins from the skin. Eventually, it clarifies the skin and tightens it.
Price: 220 Rupees, Get it Here
6. Lotus Herbals Claywhite Black Clay Skin Whitening Face Pack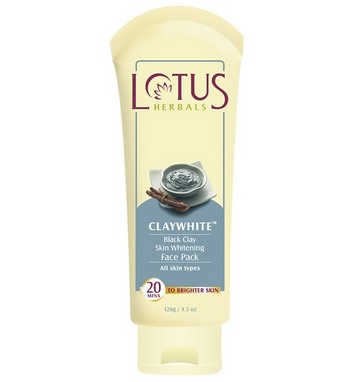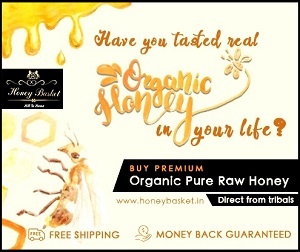 Lotus herbals Claywhite is rich in the black clay and other natural extracts. The Black clay is very rich in minerals and silica. It helps brighten facial complexion. Moreover, Bearberry extracts are rich in arbutin which lightens the dark spots and skin color While the liquorice extracts help lighten facial complexion.
Price: 315 Rupees, Get it Here
7. Vaadi Herbals Anti Acne Aloe Vera Face Pack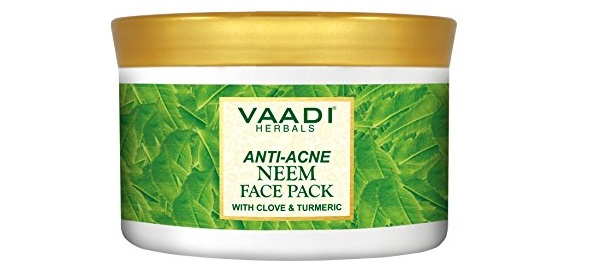 Vaadi Herbals Anti Acne Aloe Vera Face Pack is rich in the aloe vera. We known about the benefits of aloe vera for pimples and oily skin. This is why the pack is good for the men who have greasy and oily skin. It de-stress and detoxifies the skin and makes skin clearer. The richness of aloe in this pack for oily skin, gives radiance by eliminating the excess oils and sticky sebum. Along with Aloe vera extracts, it also has tomato extracts, Manjistha, Rosemary oil and licorice.  This face pack reduces under eye circles and prevents premature skin ageing while tomato and rosemary oil reduce dark spots.
Price: 225 Rupees, Get it Here
8. Biotique Bio Myristica Spot Correcting Anti Acne Face Pack for Oily and Acne Prone Skin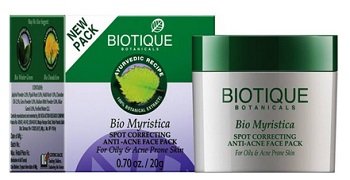 The anti-acne face pack from Biotique is specially made for the oily skin. Since the oily skin is prone to acne and pimples. Therefore, it is crucial that we combat that using the natural herbs. It has ingredients like Jaiphal (Myristica fragrans), Pippli (Piper longum), Haldi (Cumuma longa), Chandan (Santalum album), Geru (Red ochre), Multani mitti (Fuller's earth), Kikkar gaund (Acacia Arabica), Himalayan Water. This special formula of this face pack for oily skin, treats the pimples and controls the bacteria, and thus prevents redness, breakouts and skin irritation.
Price: 199 Rupees, Buy it Here
9. Aroma Magic Activated Bamboo Charcoal Pack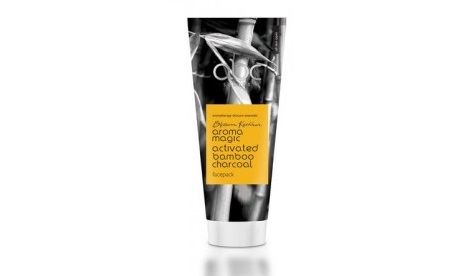 Activated Carbon or Charcoal  face masks are rich in absorbing power hence, the pack gives an oil-free and toxins free skin. It squeezes all the excessive oils from the skin and keeps it make looking. It lightens and brightens the skin quickly by removing the dark and dead skin cells. The activated carbon draws out the dirt, oil and make-up traces. Men with blackheads can also try this pack. It further protects the skin from the harmful bacteria.
Price: 475 Rupees, Get it Here
10. Sri Sri Ayurveda Turmeric Face Pack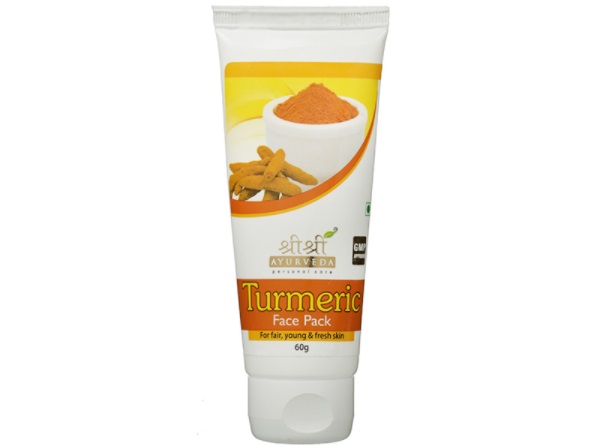 Sri Ayurveda Turmeric face pack as the name suggests is made using the goodness and the healing properties of turmeric. Turmeric or haldi as we call it, is high in the anti-bacterial and anti-septic properties therefore, whenever you have skin infections like pimples, acne and other blemishes, it can definitely treat them pretty faster. The face pack for oily skin for men also contains bentonite clay that aids in absorbing all the excessive oils which makes the skin clear. It also improvises the dark skin color. The face pack also has kaolin powder which treats the pimples and soothes the inflamed and swollen skin.
Price: 65 Rupees, Get it Here
This is the list of the best men's face packs for oily skin and acne prone skin in India. Have you used any of these? Which is your favorite pack to get rid of oily face? Do comment.