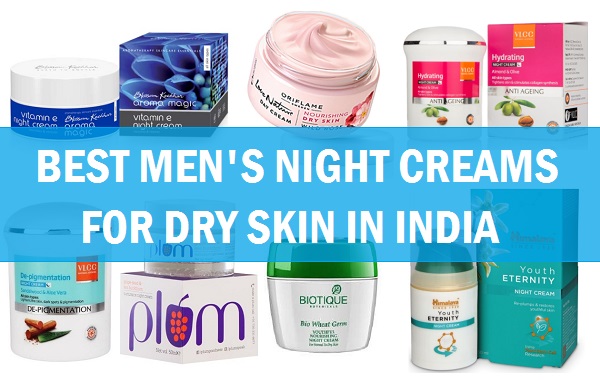 10 Best Men's Night Creams for Dry skin in India
Do you have dry skin? And you are looking for an appropriate night cream for your dry or sensitive skin time? Then guys, this is the post that can help you in deciding that. Night cream is an essential part of your skin care routine. Night time is the best time to keep the skin in its best possible healthy state. This is why a lot of people invest a lot in their night creams. Night creams are helpful in nourishing the dull, tired and lifeless skin to boost the cell renewal process and to keep the skin younger looking. Men with dry skin should try night creams which are extensively designed for the dry face as such night creams can give you sufficient moisture and conditioning.
Top Night Creams for Dry skin for Men in India
Here are the best night creams for dry skin available in the market.
1. Himalaya Youth Eternity Night Cream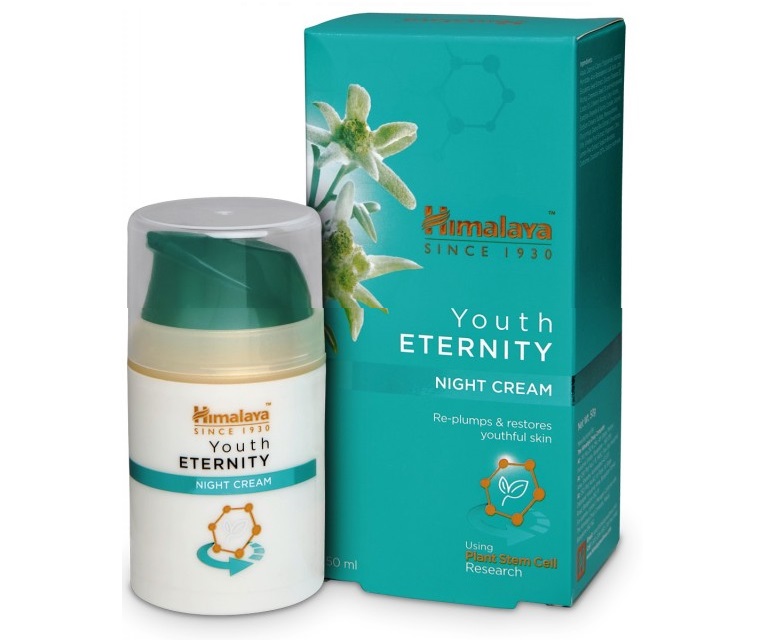 Himalaya Youth eternity night cream is an anti aging skin cream. No by Anti Aging, it does not mean that it can only be tried by the men with mature skin. Even men in their twenties can try this Himalaya skin cream.  The cream has the innovative plant stem cell research and is also loaded with the exotic herbal actives. Herbal actives or botanicals or whatever you say, helps in the skin rejuvenation. The skin is a delicate organ and in fact is the largest organ, which needs to be take care of properly. With the use of proper skin cream, you can make the skin look younger for a lot longer. It is made with the blend of edelweiss plant stem cells, woodfordia, rose myrtle, cipadessa and apple, rich in powerful antioxidants, polyphenols and anti aging properties.
Features:
The night cream works overnight to provide intense hydration to the dry skin

It aids in cell renewal and skin's elasticity

The cream also reduce fine lines and wrinkles

It leaves the skin even toned and visibly youthful.
2. Biotique Bio Wheat Germ Firming Night Cream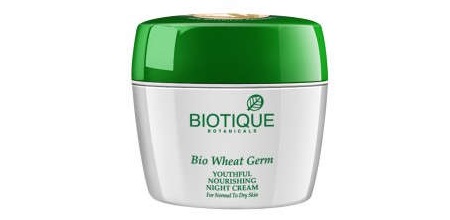 Biotique Night cream is specially made only for the normal to dry skin as it has wheat germ. Wheat germ is a very high in moisturization active botanical that aids in skin healing and dryness cure. This is why, this Biotique night cream is for the dry skin. The Ayurvedic night cream is suitable for the dry skin for men as well as women. This Biotique Firming Night cream comes with an organic blend of Ayurvedic ingredients like wheat germ extracts, sunflower and almond oils, kulanjan, badam and carrot extracts. The cream has a smooth easy to blend texture that gets inside the epidermis layer easily. Just apply it at night and explore the smoothness of the skin the next day.  
Best Fairness creams for men in India
3. Lotus Herbal Nutranite Skin Renewal Nutritive Night Cream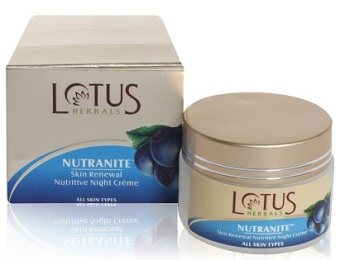 Lotus Herbal Nutranite Skin Renewal Nutritive Night Cream is a nourishing skin cream suitable for the men with dry face. Night creams protect the skin from the damage that had happened throughout the day and heals the dryness. Our skin loses the moisture and skin gets tired, night creams help replenish the moisture and youthfulness.
Features:
Power of ginseng to promote skin tissue regeneration.

It has grapes as well which are rich in the AHAs that aids in cell renewal that fades the age spots and lines.

Alpha Hydroxy fruits have natural antioxidant, astringent and antiseptic properties
4. VLCC Hydrating Anti Ageing Night Cream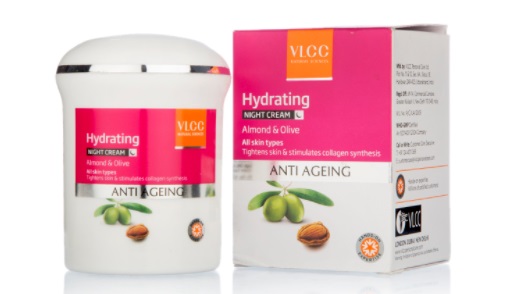 VLCC Hydrating Night Cream is made for the men who have dry face. The unique night cream is made to repair your skin. This night cream for men aids in firming and tightening the sagging skin. Even when you are a guy in your twenties then too you can use this cream. This VLCC night cream is rich in the vitamins, wheatgerm and olive oil that revives the dull looking night cream. In winters, our skin looks dry and peeling. The peeling look is due to the harsh winter season when the weather is extremely dry. So, you can apply a suitable night cream to keep the skin stay nourished.
Best Men's sunscreen for dry skin in India
Features:
Almond oil has anti aging qualities which is helpful for dryness cure

Reduces the appearance of the age spots

Stimulates collagen synthesis

Tightens the skin

Suitable for all skin types especially dry skin
5. Plum Grape Seed and Sea Buckthorn Nurturance Night Cream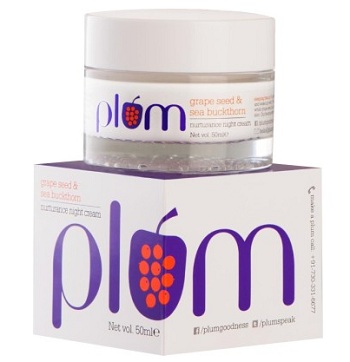 Plum Grape Seed and Sea Buckthorn Nurturance Night Cream comes with the precious sea buckthorn. Sea buckthorn has the richness of the Vitamins and essential minerals. Vitamins and minerals heal the skin. These ingredients keep the skin revived and supply the things that keep the skin young looking.
Features:
Rich in the vitamins A, C, E and minerals from grape seed oil

The creams also contains the Polyphenols, beta carotenes and essential fatty acids from sea buckthorn oil

It has a moisturizing complex that gives long-lasting moisturization, without heaviness or stickiness.

Texture is light yet adequate to give moisture.

Grape Seed Oil is a nutritious oil for the skin that is rich in anti-oxidants like polyphenols (anti-oxidants), Vitamins D, C, E and radical scavengers like the powerful flavonoids.

Sea buckthorn oil helps in healing the skin at the micro-level skin damage.
Recommended for: Sensitive, normal, dry and combination skin
6. Oriflame Love Nature Night Cream – Wild Rose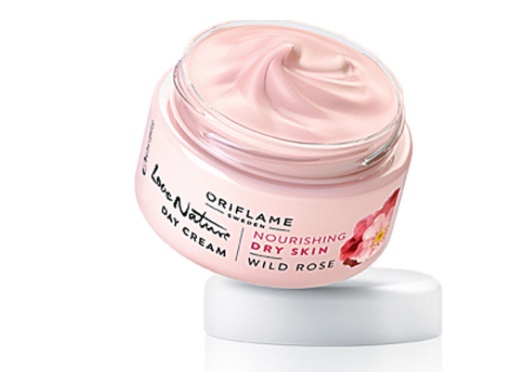 Oriflame Love Nature Night Cream in wild rose is a cream high in the skin moisturizing elements. Who won't like to use the moisturizing elements or emollients in their skin cream like the night creams? The cream nurtures and replenishes the skin at the epidermal level. Night is the time when one can get all the nutrients in their skin and get the young look. Therefore, just try a greasy textured night cream.
Features:
Wild rose variant smells good and blends well on the skin.

Non greasy texture

Gets into the topmost skin layers and penetrate deeper

Affordable

Can be used by men and women
7.  VLCC De-Pigmentation Night Cream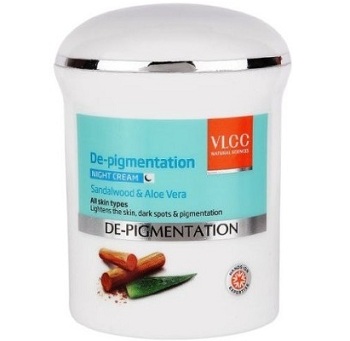 VLCC de-pigmentation day cream helps in keeping the skin nourished and moisturized. This day cream helps in removing impurities, thereby lending you a soft and supple skin. Ensuring conditioning of dry skin, this day cream is an ideal pick. It comes in a 50 g pack.
Features:
It has sandalwood and aloe vera.

Treats the pigmentation and patches on the face

Cures sun damaged skin and problems like spots, sunburn, darkness and dryness
8. Aroma Magic Vitamin E Night Cream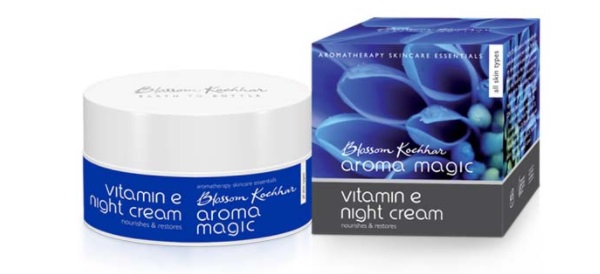 Vitamin E is one of the most used skin friendly emollient and moisturizing agent. You must have noticed that vitamin E is used in 99% of the skin care products, at least for the dry skin. Aroma Magic Vitamin E Night Cream is infused with the plant extracts and herbal elements like that of the natural vegetable oils of sunflower seed, peach and wheat germ. These replenish the moisture level and gives dryness care.
Other than that, the cream for men with dry skin also contains products like essential oils of patchouli and geranium. Along with the extracts of carrot, lotus and olive oil that aid in minimization of the dark spots, dullness and the age spots. The night cream is not just a night cream but it can be regarded as one of the best vitamin E rich night cream for dry skinned men and women out there.
Features:
Has the essential oils like essential oils of patchouli, vegetable oils of sunflower seed and geranium.

Also contains extracts of carrot, lotus, peach, what germ and olive oil.

Rich in amino acids, minerals and vitamins that are wonderful for the aging and dry skin

Completely free of petrochemicals, phthalates, toxic ingredients, artificial fragrance and color.

Repair and replenishes skin that is dehydrated and tired

Lighten blemishes and cures the dark spots on men's skin

Very affordable price
9. Kama Ayurveda Rejuvenating and Brightening Ayurvedic Night Cream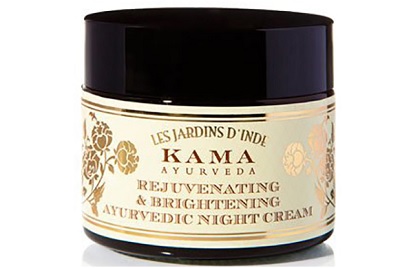 Do you like Ayurvedic skin treatments? Then try this. This Kama Ayurveda Rejuvenating and Brightening Ayurvedic Night Cream is made from the powerful Ayurvedic compilations. This is made from the pure and organic saffron which is kesar. You must be aware about the benefits of kesar and how it gives nourished skin. Saffron also cures those raccoon like dark circles under the eyes that make you look dull and old. Indian madder and aloe vera is also an integral part of this skin healing night cream.  Aloe vera is potential to give the skin a glow that lasts and increases the skin healing process from the day today environmental damages. It treats your dark circles and uneven skin tone while you sleep.
Features:
Extracts of Vetiver and Lotus cool and cleanse while helping clear blemishes.

Has a rich formula that also treats the dryness in dry winter season.

Good night cream for winters and dry season.

Licorice or mulethi aids in the removal of the blemishes from the face and skin looks clear

It's rich in the Ayurvedic ingredients aids in protecting bad looking dark spots and black marks

Eventually the night cream for men also cures the pigmentation that is mostly done by the sun rays and the UV damage.

Has ingredients like the saffron, Indian madder, Licorice, Aloe vera etc
10. Forest Essentials Sandalwood and Saffron Night Treatment Cream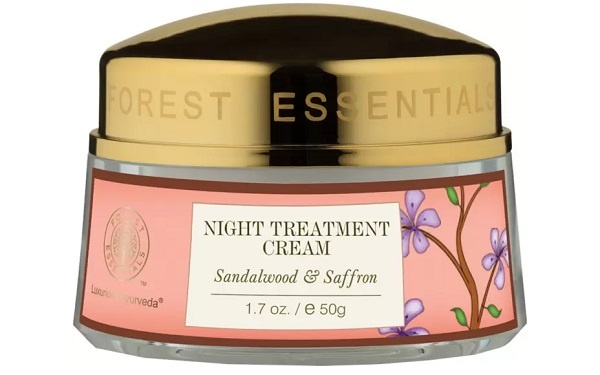 Another expensive but luxurious experience for your skin is by Forest Essentials. Just like the Kama Ayurveda, Forest Essentials too utilizes the knowledge and formulation based on the Ayurveda. Both are Indian skin and hair care brands. They are expensive but worth trying if you seek natural and low on chemicals products which are organic for men's skin care.
Forest Essentials Sandalwood and Saffron Night Treatment Cream is a rich potion that has been made with the finest quality products like saffron and sandalwood. These two natural ingredients are very popular for their skin lightening qualities. Almost every fairness cream based on organic and botanical preparations have these two products in them. Apart from enhancing the skin complexion, the night cream also heals the men's tired skin. Men with dry facial skin experience the patches of dry skin especially on their cheeks. Forest Essentials Night cream is laden with high in moisture, natural emollients that nurtures the skin.
Features:
The cream has a corrective and preventive action that retain the firmness of the akin

Gives proper and adequate moisturization to the skin

Intensive moisturizing night treatment for the dull, dry and tired skin of men

Men even in their twenties can try a cream like this.

Has saffron, sandalwood, almond oil

Suitable for everyone with normal to dry skin type

Free from any Parabens, Petroleum, GMO, Sulphates, Formaldehyde, PEGS, artificial colour, synthetic fragrance
So, these are the best night creams for men with the dry skin in India.