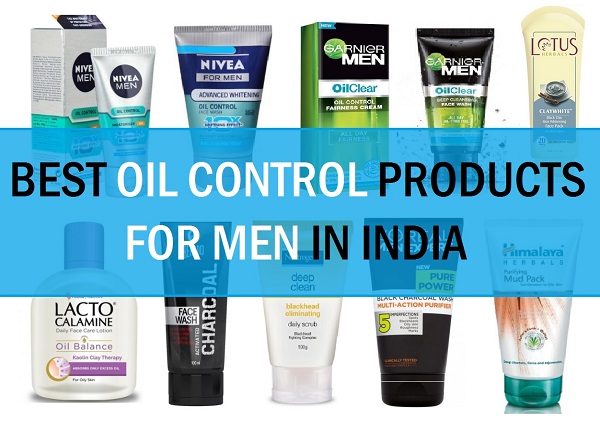 10 Best Oil Control Products for Men in India
We can understand when the skin is oily, then there can be lots of problems in keeping it cleaner and free from the problems. What are the ways that can keep oily skin healthy? There are several ways out of which one can be sure of the products that can control the oils. Yes, when you control the oils then half the battle in making the skin oil-free is won. There are products which are made especially for the oily skin. In such products, ingredients and technology used are oil skin friendly. Such skin care products dedicated to oily skin can be face wash, cleanser, packs masks, creams, soaps etc. Other than the application of these items, you should also try to keep the skin clean by following some simple tips like not touching skin with dirty hands, using oil free products, applying clarifying mud masks once in a week and most importantly, removing all the sebum, oils and dirt traces from the face at night. Doing these stuff can make the chances high that the oily or acne prone skin stays free of the pimples and acne and also glows with radiance.
10 Top Oil Control Products for Men in India with Reviews: 2020
Here is the ultimate list of the best selling products that can give oil control benefits. They are varied products from different categories like face wash, face packs, oil controlling cream etc. So, let's check out which are the best oil control products for men at the moment available in Indian market.
1. Nivea Men Oil Control Face Wash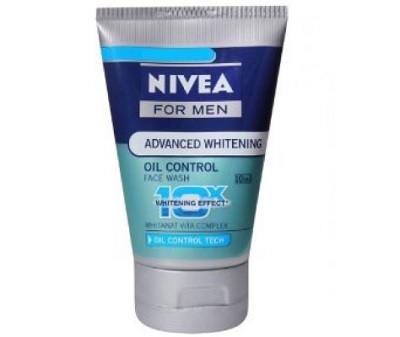 Nivea Men Dark Spot Reduction Face Wash can be termed as one of the best products for men that not only control the oils and sebum from the face. But it also helps in skin brightening. The face wash is a thick face cleanser that gives adequate lathers which are foaming in nature. Those foaming lathers are helpful in removing those stubborn and deep seated impurities like the sebum, dirt, dust and pollutants. These can ruin the skin's texture and tone in the long term. Therefore, a facial cleanser that can wash these stuff is really important. Besides the oil-control feature this aids in the reduction of the appearance of dark spots and blemishes on the men's skin.
It also comes with Whitanat Vita Complex Plus that contains 10 nutrients like the Licorice, Vitamin C, Whitanat, Vitamin E, Pro Vitamin B5,Ginko Leaves Extracts ,Ginseng Root Extract, Glycerin, Magnesium Chloride, Glyceryl Glucoside
Features and Review
Good tube packaging that is easy to carry around

Controls oils up to 12 hours which may not be true but yes, gives at least 5-6 hours of oil control.

Appropriate for summer season for oily acne prone skin

Kills bacteria that can cause acne and pimples

Maintains oil free skin

Tightens the pores

Brightens the dull and tired looking skin
2. Nivea Men Oil Control Moisturizer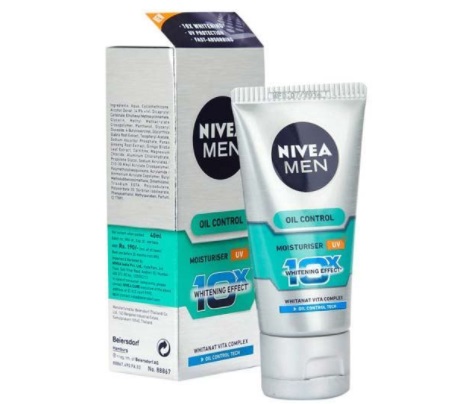 The second product is also from the Nivea men and this is from the oil control range. Nivea oil control range has a face wash and a moisturizer. We had already listed the face wash , so this is the turn of this moisturizer. The same stuff is there in this moisturizer as well but it is light and non sticky. After all, when the skin is oily, the greasiness is the last thing that one needs. It is a decent oil free moisturizer for men in India
Features and review
Light, non greasy and non sticky formula

No bad or chemical like smell

Safe for the acne prone skin

Does not break the skin

Apt for hot summer season and for winters too

Not very dry skin sine the post itself is for oily skin

Whitens the skin to certain extent due to its whitening properties
3. Garnier Men Oil Clear Fairness Cream Sweat Control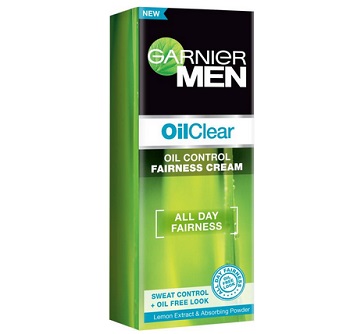 Garnier Men Oil Clear Fairness Cream has Sweat Control for Oil Free Look. We recently tried it and love the way this cream fares. We mean on the oil control department. So, What this cream does? Actually. This Garnier cream for men is a fairness cream with oil control benefits. Therefore, men with oily skin who are on a constant look out for a good skin cream that should make their complexion bright and fair but without the oiliness and greasy feeling. So, for those men this is the cream. Additionally, this cream has sweat control feature too and the price as well is very affordable. This makes this cream one of the best sellers for fairness screams for oily skinned boys.
Features and Review
Instant fairness

Compact tube pack

Small trial pack is also available

Has perlite that brightens the skin without breaking it out

Oil control feature makes skin oil free for some time though do not expect the 10-12 hour protection as that is not true.

Gives sweat free look
4. Garnier Men Oil Clear Face Wash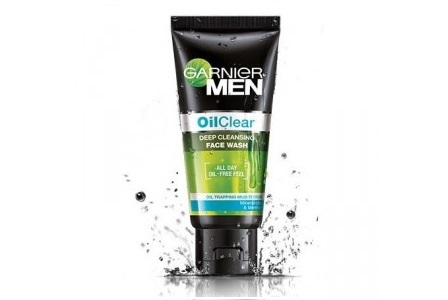 Now, after the inclusion of the oil free fairness cream, it's time for the oil clear face wash. Garnier oil clear face wash is one of the most favorite products for many men. Even the Garnier Match D-Tox is worth trying. The gel like facial cleanser is highly lathering and clear out the impurities on the facial skin and most importantly, the dirt that men's skin gather up throughout the long tiring day. Do you know when you do not remove the dust and dirt well from the skin, then your oil skin can get blemished with blackheads, pimples anytime. Hence, using suitable facial cleanser becomes a MUST thing for us. This face wash can be used with the Garnier Men Powerlight Oil Control Moisturiser or The Oil Control fairness cream that we had listed above.
Features and Review
Very easy to buy from stores, shops and online

Clear the oils but there is no skin dryness

Apt for the oily and combination skin along with acne prone skin type as well

Makes skin oil free and sebum free

Has powerful oil lifting and acne fighting ingredients

When used daily, it unclogs the pores
5. L'Oreal Men Expert White Activ Oil Control Charcoal Brightening Foam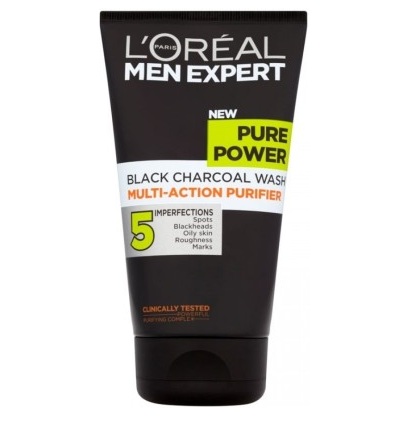 This product from L'Oreal Paris is from their men skin care range. This is a face wash that has white Active and charcoal that keeps the skin oil free by eradicating the sebum and oils from the face. The facial cleanser also contains one for the most effective ingredients called salicylic acid that is used a lot in acne prone skin face wash. Yes, this ingredient that makes your skin clear by cleansing the skin efficiently and leaving it sebum and oil-free. The texture is fine with minute bubbles and also acts like a magnet that attracts all the impurities deep embedded in the skin pores to make the skin clear.
Features and Review
Good packaging

Expensive

Not that easily available

Makes skin free from excess sebum and dark dead cells

Tightens the open pores and reduces blackheads

Active formula fights pimples and acne White Activ lightens the dark spots

Charcoal squeezes the traces of oils from the skin
6. Biotique Bio Pineapple Oil Control Foaming Face Cleanser Normal to Oily Skin
Biotique Bio Pineapple Oil Control Foaming Face Cleanser is designed keeping in mind the struggles of Normal to Oily Skin Yes, oily skin struggles to be clear and free from beak outs and skin problems. This is why this face wash has been made using the extracts for pineapple which is loaded with Vitamin C and vitamin A. Besides that it also holds the neem leaves and euphorbia plant extracts  which are again high on anti bacterial and anti-septic properties. So, when a clear is rich in such elements that it is bound to give you glowing pimple free skin.
Features and Review
Mild and foaming face wash

100 percent soap-free cleansing gel formula

Suitable or oily and acne prone skin

Has pineapple, neem leaves, euphorbia plant extracts and clove oil also

Purifies the skin and pores
7. Lacto Calamine Skin Balance Daily Nourishing Lotion Oil Control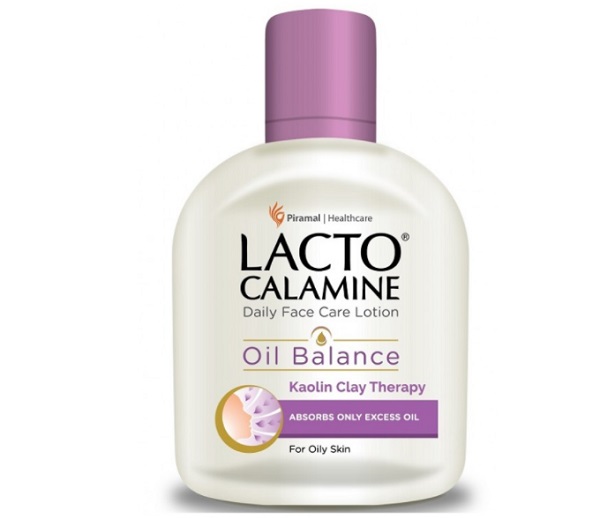 Lacto Calamine Skin Balance Daily Nourishing Lotion is made for the people with oily skin. The product can be used by boys and girls with oily skin. The thick lotion has zinc and calamine which in spite of making it thick, controls the oils. The product is safe for the oily skin. It is a best rated product for oily face and combination skin. Calamine lotion like this also protects the skin from environmental stress and damage from the pollutants. It contains Kaolin clay which absorbs the oils and sebum. Zinc oxide prevents the break outs while glycerin nourishes the skin.
Features and Review
Daily nourishing lotion

Suitable for even the combination and acne prone skin type

Has Kaolin that removes dead skin

Zinc Oxide prevents pimples and heals the spots

Glycerin Gives moisturization

Affordable
8. Beardo Activated Charcoal Acne Oil and Pollution Control Face Wash
Beardo Activated Charcoal Acne Oil and Pollution Control Face Wash as the name suggest controls the oils with its active charcoal complex. This brand is a very versatile and men only brand. After all, a Men only brand that makes multiple products for men's grooming and hygiene. The charcoal loaded face wash targets the deep seated dirt and impurities. It dislodges them and maintains clear skin. Men who stay a lot out doors may be for work purpose or for the sports etc should try facial cleansers that can cleanse thoroughly. Else removing the impurities can give break out and also blemishes.
Features and Review
Fights the oil build up on the face

Naturally purifies the skin

Has charcoal that squeezes the dirt and impurities

Draws out dirt and impurities

Contains activated charcoal

Has olive oil, tea tree oil, lavender oil, aloe vera also
9. Neutrogena Deep Clean Shine Control Daily Scrub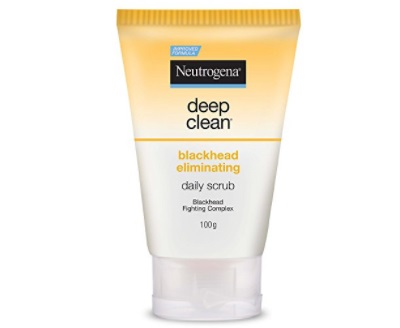 The next product is the oil control or shine control scrub wash. Using scrubs can be extremely beneficial for you especially when the skin type is oily and combination. Even when your skin is prone to acne timely use of scrubs can minimize the problems that come in the form of whiteheads, blackheads, and pimples etc. Scrubbing or simply exfoliation helps to scraping off the dead skin cells which clears the skin and let the skin breathe properly. This process also makes the skin glowing and stay blemish free. This Neutrogena scrub has the salicylic acid and can helps in pimple treatment as well. The gentle but effective formula contains minute granules that scrub the uppermost dead skin, dust etc
Features and Review
Tube packaging

Easy to get offline in shops and online store

Exfoliates the skin to get rid of the dead and dull skin

Specially formulated for Acne prone and oily skin

Clears away 85% of oil build up

Rice protein technology gives shine free skin

Has Micro-sponge particles that absorb the extra oil
10. Biotique Bio Clove Purifying Anti-Blemish Face Pack For Oily & Acne Prone Skin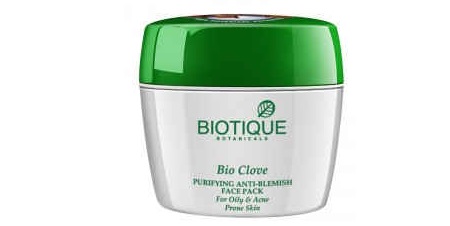 Biotique Bio Clove Purifying Anti-Blemish Face Pack is a purifying face pack that is made exclusively for the oily and acne prone skin by including the clove and wild turmeric. The potent combination of clove or laung with turmeric can be high in anti-oxidant and anti-bacterial properties so, while the pack is used on the face, it ensures to kill all those bacteria accountable for pimples and pus filled acne. The Ayurveda inspired skin care product for acne prone skin is affordable and works in maintaining smooth and vibrant complexion.
Features and Review
Controls the excess oils and sebum from the face

Easy to apply

Has medicated smell of clove and turmeric

Stings a bit but is bearable, that actually tells that the pack is working

Squeezes out the impurities and eliminates the microbes

Makes skin clear by healing the pimples

Prevents pimples when used regularly
11. Lotus Herbals Claywhite Black Clay Skin Whitening Face Pack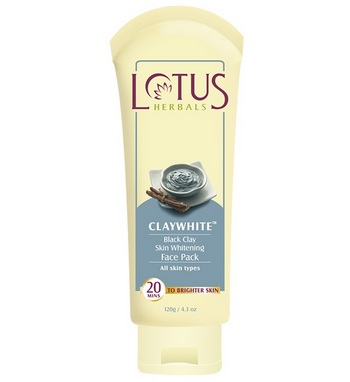 Face packs are important to keep the oily skin free of oils especially when the packs include ingredients like clay, mud etc. This Lotus Herbals Claywhite Black Clay Skin Whitening Face Pack can give two benefits for the skin. One is that the product has whitening qualities that helps to whiten the skin second is that it has back clay that efficiently pinches out the traces of oils from the skin. This results in an oil free skin other than curing the acne. Regular use can also show outcome in the form of skin tightening and shrinkage of open pores.
Black clay is rich in minerals and silica. It also helps brightening of facial complexion. Rich in bearberry extracts which are rich in arbutin for skin whitening and liquorice extract help lighten facial complexion.
12. Himalaya Herbals Oil Clear Mud Pack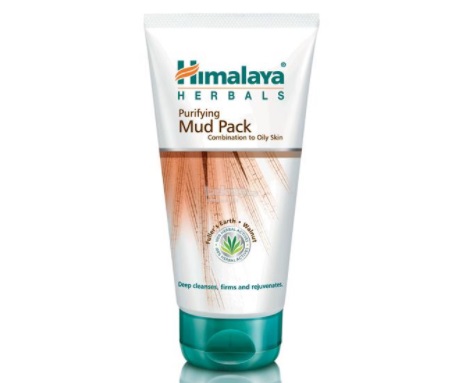 Himalaya Herbals Oil Clear Mud Pack has the benefits of fuller's earth that is extremely oil absorbing in nature. It is made with the mud that gives oil-free look. It is rich in the walnut extracts that eliminates the deep seated dead skin cells and blackheads. Just like that, oil control product also improves the skin one.
Features and Review
Clears impurities and makes skin free of dead skin

Hydrates skin and improves the skin complexion

Removes excess oil to make skin oil-free

Rich in the walnut, khus-khus extracts, mineral clay and fuller's earth
These were the best oil control products for men in India that can make the skin pure and blemish free.
Recommended Articles