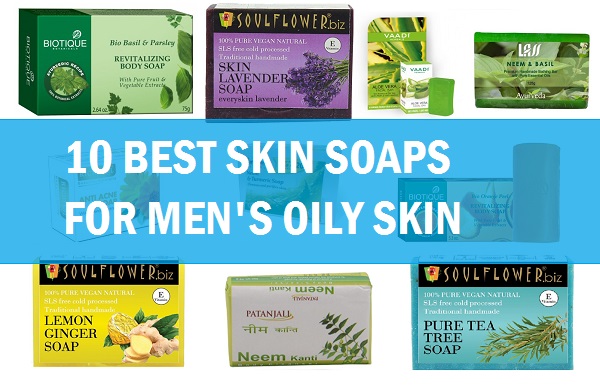 Best Soaps for Men's Oily Face and Acne Prone Skin
Men too get troubled by excessive oily skin. Oily skin makes your face shinier and greasy. Many men will agree that the oiliness of the skin also makes them look darker and tired. There are several skin care products for oily skin for men but there is one more product that boys can try. These are the best soap for oily skin in India. Yes, there are numerous soaps, which are formulated for treating oily skin and skin that is prone to acne, pimples etc. There is another thing that men face is shaving.
When we shave at home or at a salon, our facial skin gets sensitive and this can cause some small tiny bumps, irritation and rashes. At times, due to this, the skin problems like pus filled acne, pimple, whiteheads can arise. Therefore a suitable right skin care is needed. But first cleansing the skin is most important. You can never cure oiliness unless, you use n effective face wash or soap for men's oily skin.
Top Best Soaps for Men with Oily Face and Acne Prone Skin (2022)
Here are the top best facial soaps for oily skin for men that they can use to keep the oily skin under control.
1. Soulflower Pure Tea Tree Soap
Soulflower tea tree soap is made with the tea tree oil and extracts. When you have oily skin with clogged pores, then tea tree can work wonders. It helps to sooth inflamed skin and heals the pimples as well. Moreover, it will cure your dark spots and blemishes as well. Tea tree also stops the growth of fungi and bacteria on skin therefore, one can try this face for oily skin and body too. It has also proven effective for those minor cuts that we get while shaving. The soap is quite big in size so, if you're just using this for the face then, you can cut this in 4 pieces and wrap other pieces in aluminum foil and use one of them. It's the best soap for oily skin and pimples.
Features
This soap can support in controlling the oils and acne

It is made with 100% natural ingredients and cold processed

The soap artificial fragrance free and paraben free

Suitable for oily skin and acne prone facial skin
Ingredients: Tea tree essential oil and Vitamin E
2. Vaadi Herbals Aloe Vera Facial Bar With Extract Of Tea Tree Anti-Pimple/Anti Marks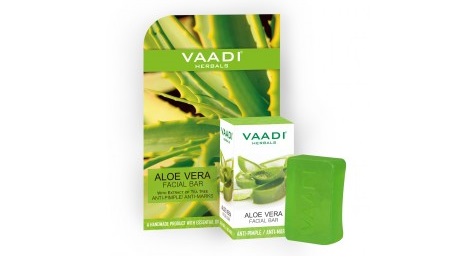 Vaadi herbals facial cleansing bar is a soap which is made for face only. This is tiny but is very inexpensive. This lathers well and does not make your face dry and stretchy after the washing. The facial bar is enriched with Aloe Vera, Honey, Apple & Papaya extracts. These natural fruit extracts help to control oils and removes the  unnecessary oil secretion as well. The Facial Soap maintains the moisture balance by fruit extracts and also lightens the skin color. I have used it and liked this too.
Ingredients
Aloe Vera: It is known to moisturize the skin and removes acne.
Honey: Honey aids in lightening the skin and maintaining the vitality of the skin.
Apple & Papaya Extracts: These have enzymes that treats the dark spots and pimple marks

Best glycerin soap for oily skin
You can also take a look at the best acne fighting products for men here in this post.
3. Soulflower Skin Lavender Soap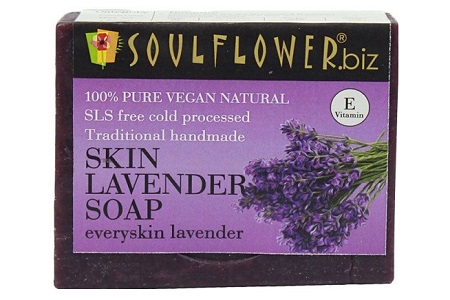 Soulflower Skin Lavender Soap has the lavender extracts basically. Now you must be thinking what does lavender do? Well guys, lavender is helpful for irritated and red inflamed skin. So, if you have acne prone skin that is also swollen with pimples then, lavender can sooth it. The brand says that it's useful for all type of skin problems such as acne, oily skin, boils, burns, sunburn, wounds, insect bites etc. Lavender is also known to increase the cell turnover, which results in beautiful glowing skin and also reduces the blotches and scarring on the skin. It's the best herbal soap for oily skin.
Ingredients: Lavender Essential Oil, Crushed Lavender Buds and Vitamin E oil
For your greasy skin you can also take a look at the best face wash for men's oily skin in India, here in this post.
4. Beardo Activated Charcoal Soap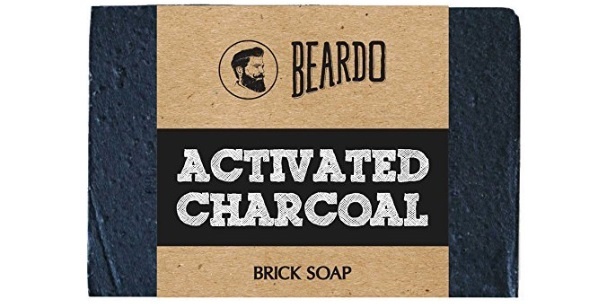 The activated charcoal soap is the best charcoal soap for oily skin. This has activated charcoal that draws the impurities and extra oils from the skin. This is why we've included it in our list of best soap for men with oily skin. It purifies the oily skin and recovers the skin tone. It is also packed with acne clearing and scar treating features. This soap cleanser is ideal for Oily and Combination skin types. 
I've also shared a complete list of the activated charcoal soaps in India, which you can read. Activated charcoal soaps are best for acne prone skin as they are wonderful in absorbing the oils and bacteria forming acne.
5. Biotique Bio Basil & Parsley Revitalizing Body Soap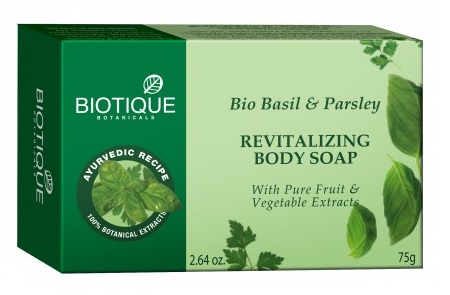 Biotique Basil and Parsley Soap is made with the essential knowledge of Ayurveda and utilizing the cleansing benefits of basil and parsley. This Biotique soap is a potion of pure basil, parsley, margosa, wheat germ and coconut oil. Now you must know that these ingredients are good for oily skin. Men who stay outdoors for work, sports etc can get the advantage of this soap as it does all the deep cleansing of the skin. This is a body soap but can be used on face as well due to the herbal ingredients. It is also suitable for sensitive skin along with oily skin and acne prone skin type.
6. Richfeel Calendula Anti Acne Soap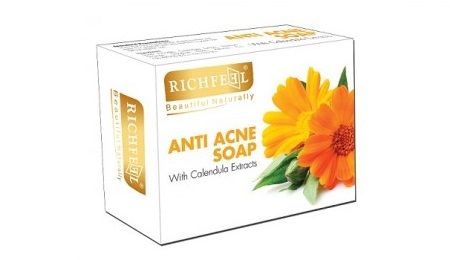 Calendula is just like lavender and  is a skin healing and soothing ingredient. This Richfeel Calendula Acne Soap is a hydrating soap which helps to revive the skin which is dull and lifeless.It's the best soap to use for oily skin.
Features and benefits
It also supports the removal of acne and their spots

Calendula reduces skin inflammation and pimples swelling

Removes the acne and gets rid of blemishes.

It also reduces scars and results in an even skin tone.

Best medicated soap for oily skin
7. Biotique Orange Peel Body Revitalizing Body Soap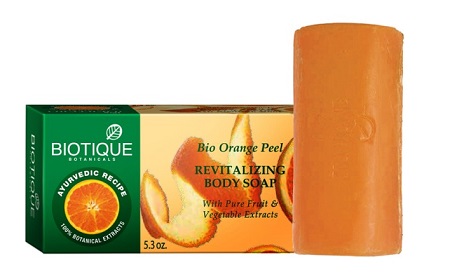 Biotique Orange Peel Body Revitalizing Body Soap is formulated with the pure Orange oil, Orange zest, Musk root, Walnut, Margosa, Turmeric and Soap nut. This supports deep cleansing of the skin and gets rid of the oils. It aids in removal of skin impurities without disturbing the skin's natural pH balance. Gentle peeling action helps to speed up cell renewal. It has pure fruit and vegetable extracts.
8. Lass Naturals Neem and Basil Soap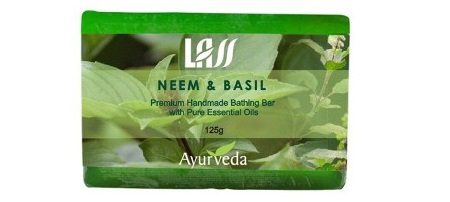 Lass Naturals Neem and Basil Soap is a handmade soap which is developed with the neem and basil extracts. This soap has the power of skin healing properties of Neem and Basil. Neem is antifungal & bactericidal, while Basil has the similar properties. It can cure skin problems like patches, pimples, pigmentation, white patches and itching. This soap also contains Tea Tree oil which is antiseptic and solves pimple problems. 
Ingredients: Neem, Basil and Tea Tree extracts
9. Himalaya Herbals Neem & Turmeric Soap Pack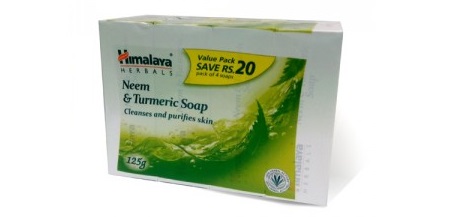 Himalaya's Neem & Turmeric Soap has the mixture of two very valuable ingredients for acne and pimples. The ingredients are turmeric and neem. These remove the oils from skin and cares for the pimples too. The oils of Neem and Turmeric helps to maintain a clear and pimple free skin.
Key Ingredients: Neem is wonderful for skin problems and marks. Neem Oil in this facial cleansing soap also relieves dry skin and soothes itchiness, redness and skin irritation due to pimples, eczema etc. Turmeric has strong anti-inflammatory and anti bacterial properties. This is the best neem soap for oily skin and good for acne problem in men with oily skin.
10. Patanjali Kanti Neem Body Cleanser Soap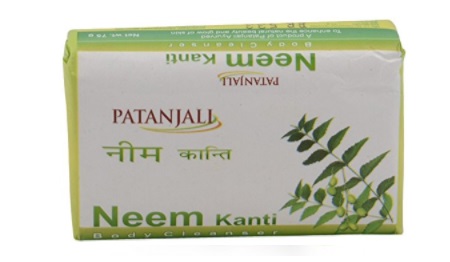 Patanjali kanti neem soap is a body and face soap. The price is so cheap that you can use this even for the body and face. This soap is richly made with neem extracts along with the amla and tulsi too. It may be inexpensive but I will highly recommend it for the very oily men's skin.
These are the best soaps for oily skin for men that are available in India. Have you tried any of these? These soaps can also be applied by the men and women with acne prone skin types to reduce the pimples.