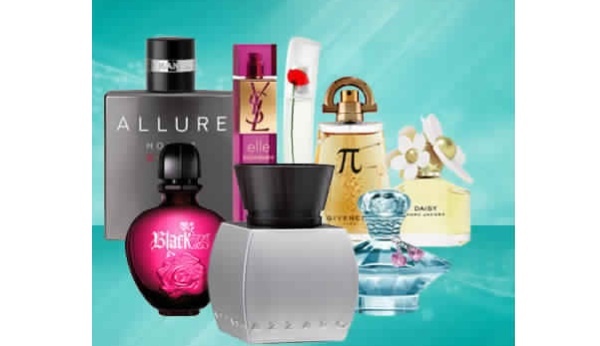 Perfumes not only enhance your personality but also give you that extra boost of confidence. It makes you attractive and feel good about yourself. You may have noticed that there are some men who like to have that signature smell that makes them stand out from the rest. Yes, perfumes are a luxury product but an important one. But when it comes to perfumes, with the bloom of online shopping, most of us would like to buy perfumes online. But the point is, which are those best places you can buy perfumes from online in India? This is what, we are going to talk about in today's post at Men's Beauty Health.
Best Online shopping sites to Buy Men's Perfumes in India (2020)
Let's get to know about the best places online, you can buy perfumes which are genuine.
1. Nykaa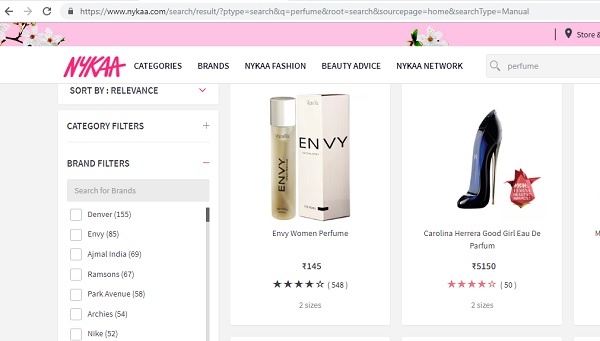 Nykaa is by far the best online shopping sites to buy makeup, beauty and grooming products. For men as well, the website has huge collection of skin care, hair care and the men's grooming products like perfumes, dryers, shaving razors etc. You must check out this site even if you don't want to buy perfumes. You can always go for your daily-use beauty products from this site. It has around more than 1500 perfumes to select from and that includes for both men and women. You can also get perfumes from inexpensive brands as well as high end brands like Bvgari, Guess, Ferrari, Versace, Davidoff and Ralph Lauren amongst many other big brands.
Having said that, you can also check out some of the best credit cards for cashback in India, which will help you achieve good discounts. 
2. Purplle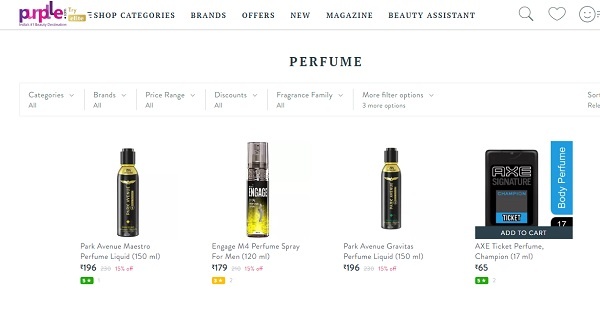 it's a very well known websites that sells makeup and beauty related products for both men and women. They have most of the major brands of perfumes with them that many men use. They have gift packs and individual perfumes along with the deodorants and body mists. Their men's perfume collection is huge and you can pick up a yourself.
3. Myntra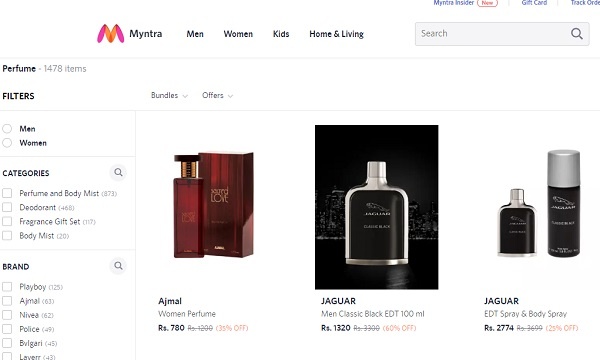 Myntra is not known for clothing accessories and home products only but they also sell men's perfume. On that portal, you can get the perfumes as cheap as 200 bucks and high quality brands are also available. Myntra is a place that can guarantee you that you are getting a genuine product. Most of the popular brands are available on Myntra online shopping site. Brands like Davidoff, Clinique, Marks and Spencer, Ralph Lauren, Guess, Jaguar and some budget friendly brands like All Good Scents, Yardley, Wild Stone etc are also available.
4. Jabong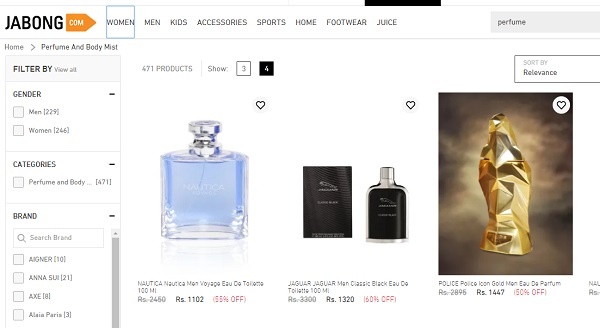 This is a sister site to Myntra and has almost the same brands and sellers as Myntra has. Jabong also offers you a wide variety of perfume range for men and women and the trust that you'll get genuine products. It Includes the high end brands like Ralph Lauren, Guess, Jaguar etc and some inexpensive brands that are also popular. The website also offers various discounts and coupons. During the sale time, the prices get slashed so that even if you would like to buy a high end perfume at lower prices, you may grab the opportunity during the sale.
5. Amazon.in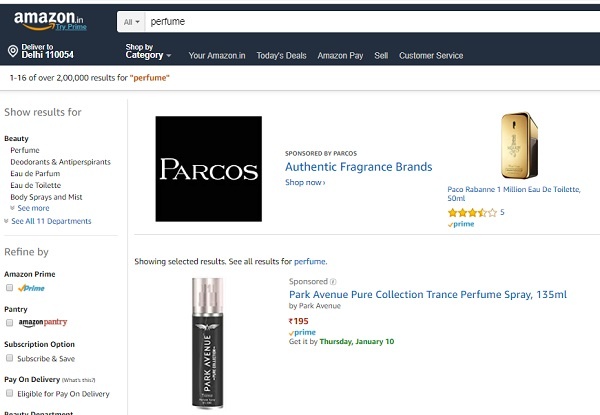 Amazon India is yet another popular website in India that sells everything under the sun. Yes, the website has men's clothing, shoes, watches and everything you can think of. They have most of the high end perfume brands along with the colognes and body mist and body sprays. You can get most of the popular brands but make sure that you are buying from a reliable and reputed seller as there are sellers that can sell fake products. So do go through the reviews and choose the best product for yourself. If you're an avid online shopper, then a credit card with shopping benefits can help you. Take a look here at the best credit cards to shop online in India.
6. Flipkart    
          
Flipkart is the shopping giant and is clearly the most popular and favorite shopping site for Indians. It has around several thousands of perfumes and fragrances to choose from for men and women. You can get a perfume for as cheap as 100 Rupees. Just like Amazon, you need to ensure that the perfume you're buying from a seller is reliable and does not sell fake products. For that the best thing to do is to go through the reviews as we mentioned.  The delivery and returns are very easy and simple procedure on Flipkart.
7. Snapdeal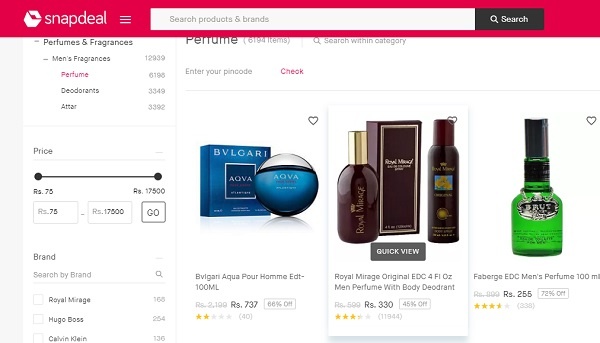 Snapdeal is also popular site but lacks a bit of the similar popularity that shopping giants like Amazon and Flipkart have. But when it comes to buying perfumes, the site also has a good range of men and women's perfume. They also sell body mists, roll-ons, body sprays and deodorants. Snapdeal has vast collection of Men's perfume from both affordable and expensive brands which are popular and well known. They have brands available like United Colours Of Benetton, Jaguar, Givenchy, Estee Lauder, Chanel, Calvin Klein and many more.
8. Perfumesdirect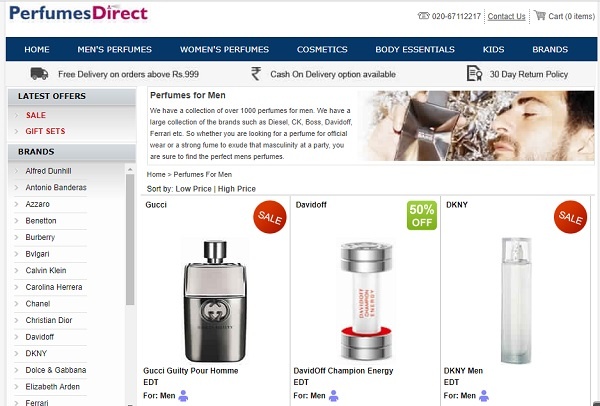 This is an online shopping site that is made only for selling perfumes. Yes, it has the perfumes from International and Indian brands that are really popular. They sell perfumes for both men and women and even from the mid range brands. Some of the popular brands that they sell are Hugo Boss, Chopard, Givenchy, Roberto Cavali, Tom Ford, Carolina Herrera, Gucci and some more.
9. Unboxed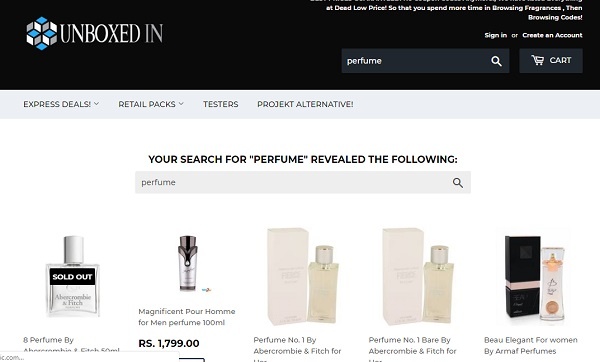 Unboxed is an Indian online shopping site for buying perfumes, where you can get the best deals on perfumes, body sprays, gift sets and body mists. It's a comparatively new site as compared to the other sites which are really popular yet you can get hold of good perfumes from this website. The products are genuine so there is no selling of replicas.
10. Shoppers Stop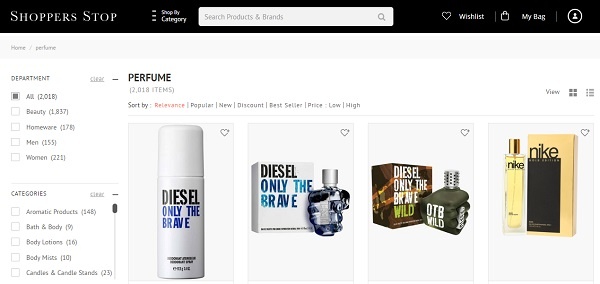 You may have shopped from the retail Shopper Stop stores but they have also got online stores where you can buy clothes, accessories, beauty products and grooming products like perfumes. They sell perfume for both men and women and have most of the high end products. They include brands like Adidas,  Antonio Banderas,  Bvlgari, Gucci, Calvin Klein, Hugo Bose,  Giorgio Armani, Estee Lauder, Jimmy Choo,  Kenneth Cole, Ralph Lauren, Versace and many other.
So, guys these were the online shopping sites from where you can get the best perfumes for men and women and also the gift boxes.