Raymond is a brand that is known for their exclusive formal clothing for men. It has been a name that is synonym with class and quality. Since its Inception in the year 1952, it has been one of the most favourite clothing brands for Indian men. Raymond blazers are of good quality and carry that sophistication. Raymond blazers are made with high quality designs that up your style game. Up to date with the latest style and changing trend in the fashion world. So here we have created this best collection of Raymond blazers.
Raymond Blazers are available in different styles like single breasted blazers, double breasted blazers, casual blazers and even tuxedos with many other styles. They can be worn for various occasions like you can have a Raymond blazer for party wear, Raymond blazers for weddings and even for business meetings. Paired with fitted formal trousers and shoes, they complete your look to give you classiness. For the casual Raymond Blazers pairing them with jeans is a best thing to do. Raymond Blazers are also available online where you can purchase them.
Best Raymond Blazers for Men (2021)
1. Raymond Textured Men's Notch Lapel Regular Fit Blazer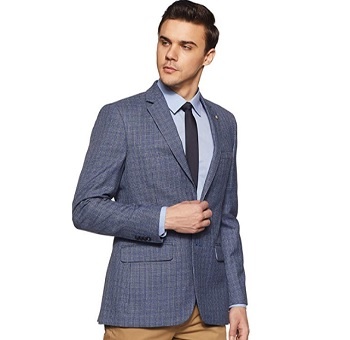 The medium blue blazer has a synthetic material with the regular fit. It comes in different sizes to get you dashing looks. Having a notch lapel collar and 3 pocket design, it exudes class and elegance. Made with contemporary fit, this full sleeve blazer can be teamed up with the different types of shirts and trousers to accentuate your style. It is perfect to be worn for a wedding or even for the business related meetings.
2. Raymond Grey Men's Notch Lapel Regular Fit Blazer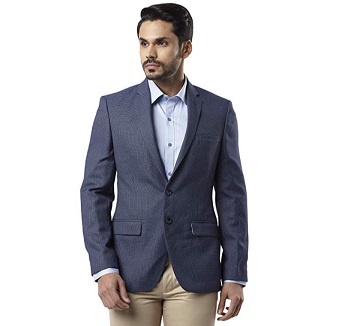 The simple dark grey blazer has regular fit and is available in different style. The impeccably made Raymond blazer fabric is 70% terylene with 30% rayon. The self pattern design is highly fashion with standard lapel. Made with lightweight fabric it is ideal for summer season. You can take your style to the next level by wearing a jacket underneath. The regular fit contemporary blazer is multipurpose clothing piece which can be used for different occasions.
3. Raymond Dark Grey Men's Slim Fit Blazer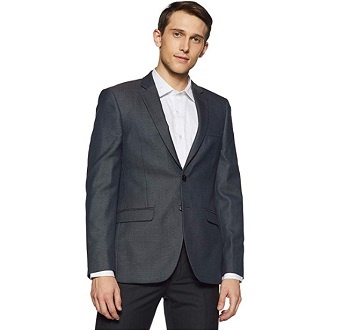 The blazer is breasted with front placket and notched lapel collar. It can be paired with white shirt or even or dark shirt and trousers. It is mostly a clothing style for business purpose.
4. Raymond Men's Black Regular Fit Blazer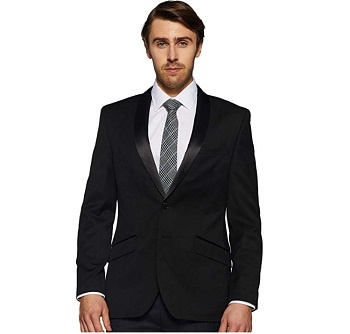 The stunning black regular fit blazer in black comes with long sleeves and notched collar. Made with polyester and wool, the single breasted blazer has two buttons and cut in a contemporary fit. The shawl collar makes it perfect for social events, parties and weddings. You can wear it with a classy pair of trousers and formal shoes. It is one of the best Raymond blazers for men.
5. Raymond Men's Notch Lapel Regular Fit Blazer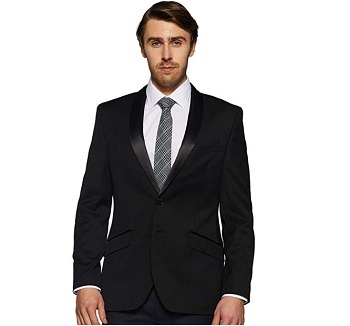 The dark navy blue notched lapel regular fit blazer from Raymond has three front pockets. The two flap pockets are functional and look stylish in this Raymond blazer for men. It looks pretty cool and worth flaunting. It can be paired with different types of shirts and bottom wear. The business suit is perfect for business meetings and even for the parties.
6. Raymond Men's Blue Regular Fit Blazer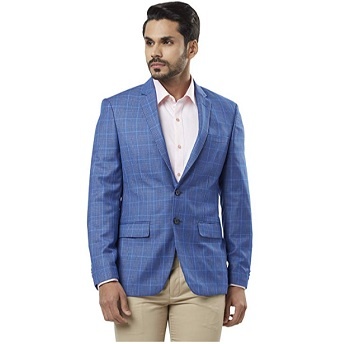 Raymond balck blazer for men in check pattern is entirely a formal wear clothing for men. It is made from synthetic material and with medium blue colour and regular fit. It is one of the best coloured bright Raymond blazer for men. It has a sleek notched label and single breasted design. The two structure button it's the look. It's made of 82 terylene and 18% rayon.
7. Raymond Men's Taupe Slim Fit Blazer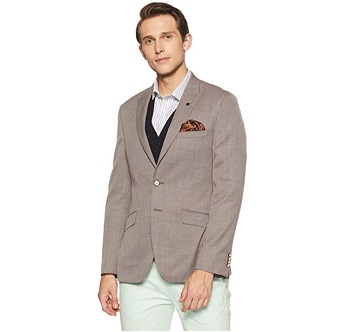 The Brown and beige colour slim fit blazer is made from synthetic material. It is dealt with a not label call and two button. The full sleeves jacket style blazer is it true value for money and gives you impressive looks in the first glance. Made from the polyester wool fabric it is very comfortable to wear even during the summers.
8. Raymond Men's Chequered Slim Fit Blazer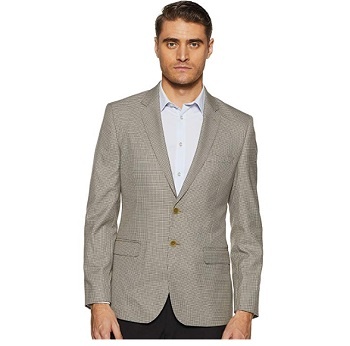 This one is yet another summer Raymond blazer for men suitable for parties, weddings and even for business events. You can go for a board room meeting, parties or weddings. It is available in different sizes and has a slim fit to flaunt the toned body.
9. Raymond Men's Brown Lapel Slim Fit Blazer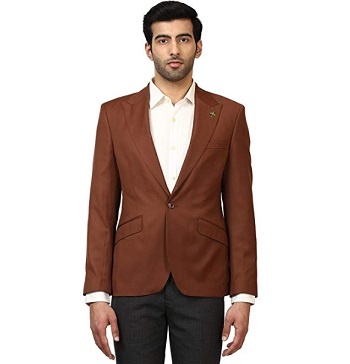 The brown blazer has a slanted flap front pocket with polyester and 35% wool fabric the long sleeves and peak lapel blazer has slim fit. It's also comfortable to wear all day long, even when it's summers. It can be teamed up with white shirt and blue trouser and with formal shoes for any formal event. For weddings, it can be paired with different types of bright shirts and trousers.
10. Raymond Men's Khaki Blazer for Men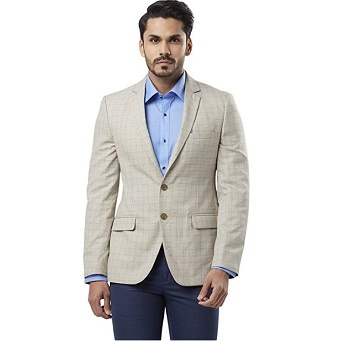 The medium Khaki coloured slim fit blazer is a summer light collection from Raymond. Crafted from the lush fabric, it has a soft feel that lasts all day long. Made for summer season, it gives you comfort with style. The check printed Khaki is created with notched lapel and multiple pockets.
11. Raymond Men's Stylish Colored Blazer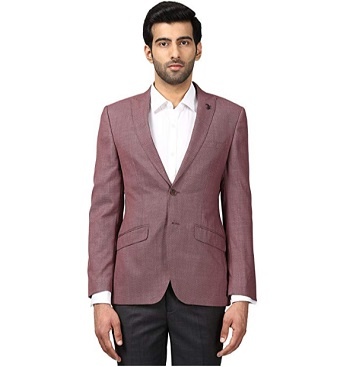 The bright pink color pink lapel regular fit Raymond blazer has fabric that makes you look the most stylish men for any wedding, prom, affair and other formal events. It features contemporary fit with two buttons and single breasted front.
So these are the best Raymond blazers for men. These stylish blazers are available online and we have also given you the links to purchase them. The best thing about these blazers is that you can wear them for your work, wedding and other events.  As the wedding and festive season is around the corner you must have a Raymond blazer for yourself.