Grooming and hygiene is an important thing that needs to be taken care of. No one of us would like to encounter bad odor. In today's article, we have listed the best body soaps to control body odor. At times, people who sweat a lot faces this common problem of bad odor. The first thing that you can do is to keep yourself squeaky clean. And for that, we need deodorizing or anti-bacterial soaps. Using an effective body cleanser to get rid of the body odor is the foremost step towards keeping yourself free of any unpleasant smell. Thereafter, you can use the odor control deodorants. Let's go ahead and check which are those antibacterial soaps or cleansers that are made to combat odor due to bacterial growth.
Top 10 Best Soaps for Body Odor for Indian Men To Get Rid of Foul Smell (2022)
1. Ustraa Ammunition Cologne Soap with Charcoal and Bay Leaf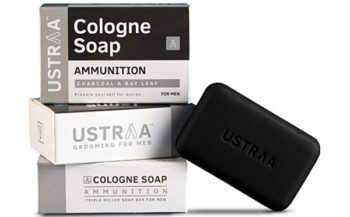 Ustraa cologne soap comes with the goodness of charcoal along with bay leaf. It also contains Witch Hazel extract to reduce the oiliness of your skin and body acne. It can be used on your body daily to detoxify it. The soap has a long lasting rich fragrance. Charcoal helps in detoxifying the skin and to get rid of the bacteria that can cause bad smell. Bay leaf also revives your dull tanned skin. It does not contain any harmful chemicals and is a paraben free deodorizing soap for men.
2. Chandrika Natural Handmade Aroma Therapy Soaps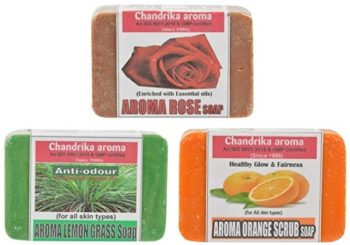 It's an assorted product that has three soaps for aromatherapy. Soaps are to control body odor and smell. They Contain 100% pure coconut oil, essential oils of lemongrass and other essential oils that help to decrease the body odor by killing the bacteria growing on the body especially armpits.
3. Cinthol Lime Soap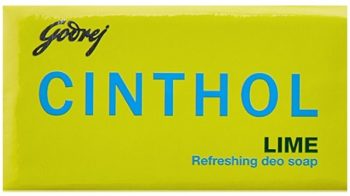 Cinthol lime fresh soap contains the freshness of lemons that give a boost of fresh feeling. It eliminates the odor and keeps you fresh all day long. The inexpensive soap also contains menthol for slight cooling sensation. This soap is also available in the Icy cool variant.
4. Khadi Tea Tree Handmade Premium Bathing Bar
This is a premium bathing bar from Khadi Herbals that has tea tree as the major ingredient. It's an antibacterial product that is widely used in skin care products to combat the acne, bacterial and fungal infection. The product helps to remove prickly heat, body odor and rashes from your skin. The soap is a gel glycerin based cleanser that is perfect to control body odor.
5. Ustraa Rebel Cologne Soap with Oak and Walnut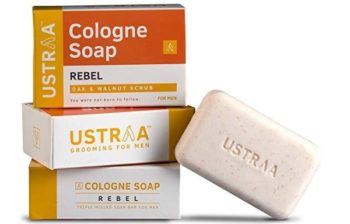 These are not just for eliminating body odor but they are also exfoliating soap. The walnut granules give exfoliating and scrubbing effect on your skin. It helps to get rid of the dead, debris and dead skin cells and also everyday pollution that get deep seated on the skin surface. The soap contains a long lasting formula and protects you from body odor.
6. Cinthol Deo Soap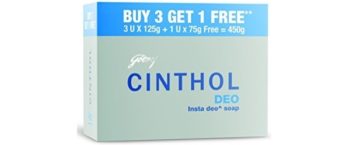 Cinthol Deo soap is one of the best deodorizing soap that has cologne like fragrance and protection from odor causing bacteria. The soap is suitable for sports people or who experience heavy body odor during summer season.
7. Park Avenue Good Morning Soap for Men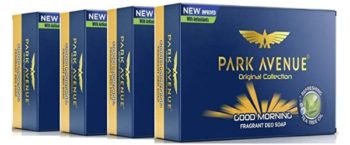 Park Avenue Good Morning Soap is a fragrant Deo soap and is one of the best deodorizing soap for men of all age groups that kills the bacteria and stop the body odor. It is rich in tea tree oil and excellent fragrance that helps to keep you refresh all day long. The soap is one of the best bathing soaps for men in India.
8. Cinthol Confidence Soap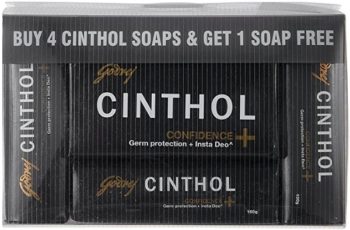 The Cinthol confidence is soap that comes in the black rapper. It has antibacterial properties and instantly gives you pleasant fragrance. It gives you 99.9% protection from the germs. On application, the soap lingers you with very subtle smell. It is a best soap for sports people and even kids. It eliminates body odor and keeps you fresh in summers. After a tired day or to start your morning, a soap like this is essential.
9. Rustic Art Patchouli

The organic deo and petroleum fragrant is soap is a bathing soap made to keep you fresh. It's an anti-septic and anti-bacterial soap that is suitable for all skin types. It's completely handmade with eco-friendly ingredients. Free of chemicals, this soap gives you odor control and perfect cleansing experience.
10. Nutriherbs Activated Charcoal Soap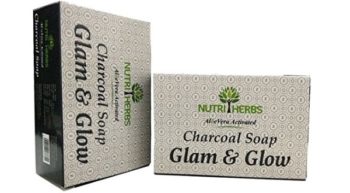 The charcoal soap is made to give you clear pores and dead skin cells free skin. It gently exfoliates and unblocks the clogged skin pores so that body bumps and acne can be prevented. It is a perfect deodorizing use soap for men and women. It controls the odor and gives you squeaky clean skin. The price maybe a little higher side but when buying in bulk you can save some extra money.
Do check out more of the charcoal soaps available in India, which helps to drain off all the harmful pollutants, toxins sticking on your body.
These are the best deodorizing soaps for men in India that you can try. Have you used any of these body odor control soaps.