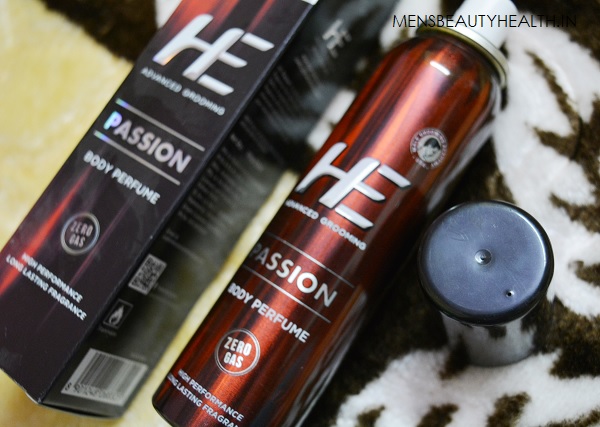 He Body Perfume Deodorant in Passion Review
Hi guys, I will share this He Body Perfume Deodorant in Passion. I like using different deodorants as one gets finished I would buy in a new variant. After watching Hrithik in these new deo ads, I thought of trying it. He is the new brand Ambassador for the He deodorants. There were couples of variant of this He Body Perfume Deodorant and I picked up this variant in Passion. The bottle is dark brown in color. So, if this is the one that I should recommend. Let's check out this He Body Perfume Deodorant review.
Price: 199 rupees for 122ml
Claims: A powerful and refreshing fragrance, HE Passion adds to your charismatic personality & keeps you at your interesting best all day long!
Drtails: He" Deodorant has a slew of interesting fragrances. It offers fragrances from the citrus, oriental, marine, fougere, woody & musk families
The fragrances are subtle, yet offer strong & long lasting effect on users, making them feel macho, energetic, confident and full of vitality. The anti-bacterial property of the deodorant will also help to keep them refreshed throughout the day.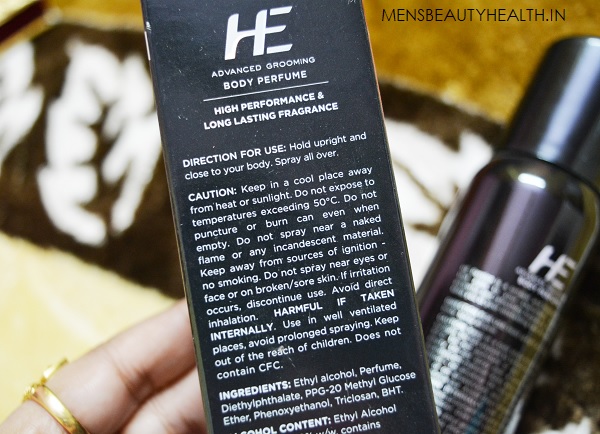 How to use this deodorant:
Well. Hold the can upright 15 cm away from body and spray.
Experience with He Body Perfume Deodorant with Passion
The deodorant is packed in a tin bottle which is slim and has the pump on it. This iS not the regular gas deodorant but has the perfumed spray kind of thing. Hence, I thought I should give it a try!
Fragrance description:
The smell is very oriental and woody in dominance. Honestly, I did not like this smell a lot. I am not a fan of fragrance that this deo have got. Moreover, I feel that this is too much for me, I mean too strong for my liking. It is a spray formula hence the strength of the fragrance appears a bit too much. Honestly, I have not used it much after 5-6 uses as it was hard for me to handle.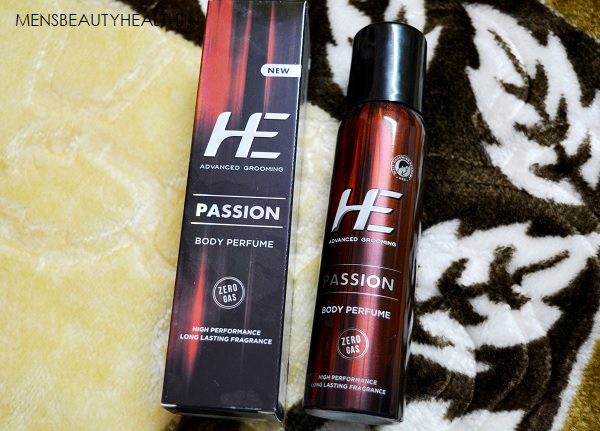 Staying Span:
Staying span is around 5-6 hours which is decent for me. It is rich in anti bacterial ingredient so this will kill the bacteria that are responsible for the body odor. The deo has a sleek and travel friendly packaging with a tight cap. The pump works fine but I feel that this gets stuck after few usage and you have to shake the bottle to make the pressure. This does not have alcohol and is not too irritating on the skin.
Pros of He Body Perfume Deodorant in Passion:
Pocket friendly body spray
Decent staying power
Travel friendly
Good packing but pump gets stuck at times
Has anti bacterial properties
Cons of He Body Perfume Deodorant in Passion
Guys with sensitive noses might not like it
Too much of fragrance and that too is not good
Rating: 3 out of 5
Honestly, I did not like this He Body Perfume Deodorant in the variant passion as this is too strong and even the scent is not good or pleasing. The staying span etc is good so, if you like such scent or smell then do try it for skip it.