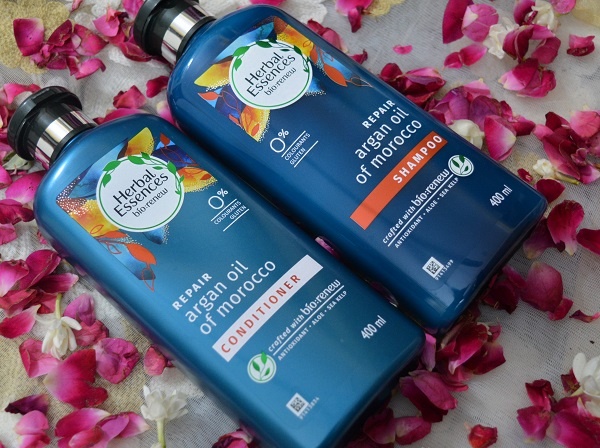 Hi everyone in this article, I am going to talk about this latest shampoo and conditioner, I have been trying. This is the Herbal Essences Argan Oil of Morocco Shampoo and Conditioner. This shampoo is made with Argan oil as a key ingredient, along with aloe and sea kelp. Herbal Essences is the first hair care brand to be endorsed by the Royal Botanic Gardens, Kew in London who are the world leaders in plant science. This means that the natural ingredients in this shampoo are verified by this leading body that studies plants.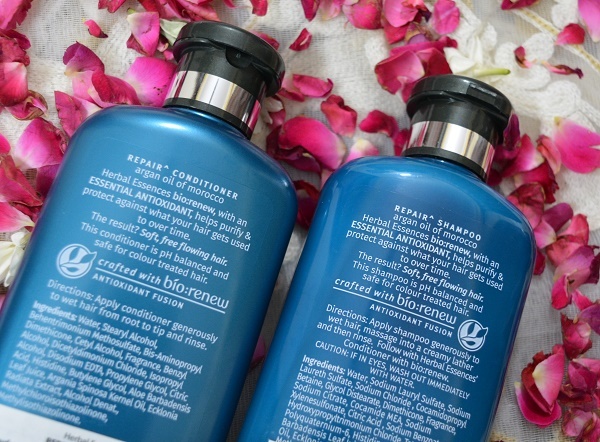 Recently, Herbal Essences has launched multiple variants of different shampoos and their corresponding conditioners. In this review post, I am going to talk about my experience with this particular product. Men with dry and damaged hair would really like it even though it is suitable for all hair types.
Price of Herbal Essences Argan Oil of Morocco Shampoo:  600 rupees for 400 ml
Price of Herbal Essences Argan Oil of Morocco Conditioner:  650 Rupees for 400 ml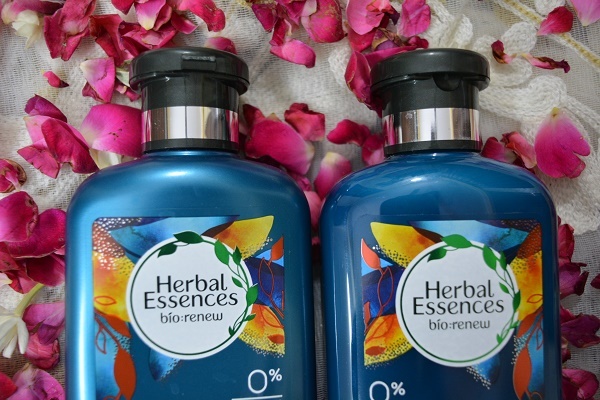 Review of Herbal Essences Argan Oil of Morocco Shampoo and Conditioner
Herbal Essences Argan Oil Shampoo and Conditioner are packaged in dark blue coloured bottles. Its packaging is really attractive and something that you would really like as a first impression. It is very sturdy and the flip top cap is moderately tight that won't give you any problems while using the shampoo in the shower. 
As this shampoo contains Argan oil of Morocco, it is bound to smell pleasant.  It has this sweet and fruity floral scent which I really like. While you are using these in your shower, it really helps to refresh you. I like nice smelling products.
Nowadays, most of us are aware about the importance of Argan oil. This oil is highly used for the hair and skin to make them softer.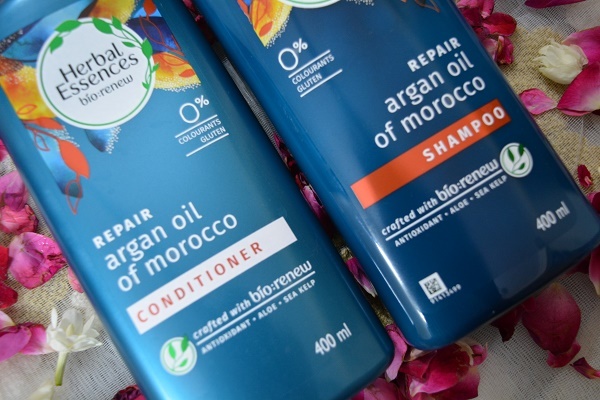 Argan oil is a highly beneficial essential oil that repairs damaged hair and make them smooth and soft like a charm. Along with that this shampoo also contains aloe and sea kelp. Sea kelp helps in stimulating hair growth according to some studies and researches. The natural shampoo is 90% derived from natural ingredients and has a colour safe formula. It is a pH balanced shampoo that doesn't contain paraben, gluten and colourants.
Its sweet smell with vanilla scent is sure to make you feel good while using the shampoo. While I used it for the first time, I noticed that the lather it gives is good for the quantity that we take. While washing the hair, the shampoo works well in clearing the scalp and hair. Post washing, the hair does not look greasy or over dried. Rather my hair looks glossy and shinier. Even my wife tried it and has the same thoughts. The conditioner also smells pleasant just like the shampoo.
It's suitable for men who stay outdoors for most of the day and have dry and brittle hair. The presence of argan oil ensures that your hair gets more bounce and softness.
Even for women who have damage on their hair due to hair styling, sun damage or any other type of chemical damage, can notice significant changes to their hair after using this argan oil rich shampoo and conditioner.
Since the time I have received this shampoo and conditioner, I've been using them regularly. I wash my hair daily with the shampoo and use the conditioner on alternate days.
So, if you are looking to add nourishment, shine and immense volume to your hair without the dryness then you must use Herbal Essences Argan Oil of Morocco Shampoo and Conditioner range.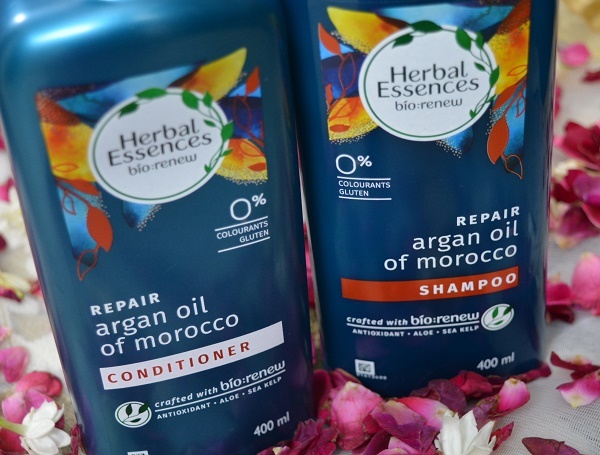 I like that after washing your hair with this shampoo, your hair does not get oily as frequently as it used to get. And lastly the best part is, these are free of paraben and colourants. There are some other variants available from this range, which you can try. I look forward to using the strawberry and mint shampoo and the whipped cocoa butter shampoo, these two are on my list and I'm going to get them soon.
You can buy the shampoo from here: Buy Now 
Conditioner here:Buy Now