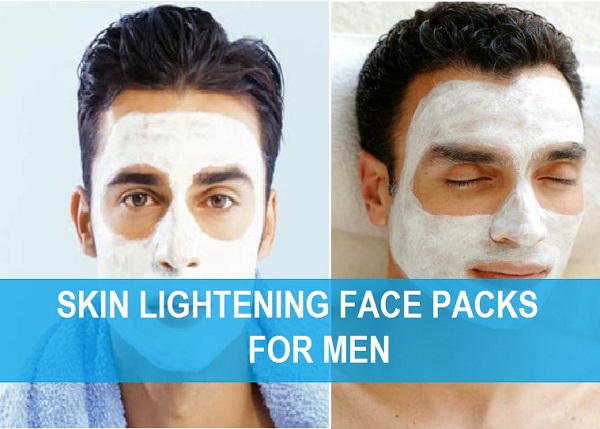 Homemade skin lightening facial packs for men. Every person should love their own skin and feel comfortable in it. But a clear and fair skin is desired by a lot of us and there is nothing wrong in that. Men also desire to look fair and flawless. It is not very easy to attain youthful skin forever, one has to make regular efforts to keep and maintain it for life. Skin lightening or fairness means making the skin tone lighter by few shades. This is possible when you try some home remedies or fairness products. But what is more important is that you keep the sun tanning away and take care of your skin from sun etc.
If your skin is dark then simple tips to whiten the face are perfect to get help and remove that darkening on your face. Though, I will also suggest that you put more emphasis on keeping the skin clean which reflects a healthy skin. A lot of you have asked me about some easy homemade skin whitening facials packs and tips. So, guys today, I have some really interesting skin lightening face packs especially for men's skin. 
Best Homemade Men's Skin Lightening Face Packs
Here are these easy face packs that you can make at home to give your skin boost of fairness. It's not that these fairness packs will just enhance only your skin color but they can also help in reducing those terrible looking dark spots and acne marks on your skin. Men who stay a lot in the sunlight get tanned skin, so these packs would also help to lighten the sun tan.
1. Sandalwood Powder with Honey and Turmeric Pack
Sandalwood is a skin lightening and brightening natural agent. In ancient times, women loved to use this natural ingredient to get fair and glowing skin. It makes the skin super soft and controls aging and dryness of the facial skin. It also reduces pigmentation and acne scars overnight. Honey is rich in moisturizing content that smoothens your skin and makes it super glowing and shining all the day. Turmeric heals skin burns and scars. This face pack also enhances the skin complexion and makes it lighter.
How to make it?
Take one teaspoon of sandalwood powder

Also mix a half tablespoon of honey in it

Now mix a pinch of turmeric in the same bowl

Add 1 spoon of rose water and mix it well

Apply this face pack onto the neck and face

Massage it slowly for a few minutes

Rinse it off with cold water after 20 minutes.
2. Raw Milk and Rose Petals Face Pack:
Apart from fresh sweet smell, roses also help in improving the dark skin tone and gives velvet like smooth skin. It removes scars and spots caused by burns and acne. It makes your skin clean and removes all the dust away. Raw milk is rich in proteins and essential fats, which whiten and brighten the shallow facial skin. It also makes the skin supple and touchably soft. It's the best skin lightening face pack for men with sensitive dark skin. While summers are here,you can also read about the best summer face packs for men.
How to make it?
Take 5 full spoons of raw milk

Now add 4-5 fresh rose petals in the bowl

Soak it overnight, which adds freshness to the face.

In the morning, apply this face mask onto the face and neck

Massage it slowly with your fingers in an upward motion

Keep it for 25 minutes or until it dries out

Now rinse it off with cold water
3. Almond Oil and Gram Flour Whitening Pack for Dry Skin
Gram flour is a good skin exfoliator which is rich in vitamins and fiber. It improves the skin elasticity and deeply cleanses it. Gram flour is potential enough in reducing the dark spots and aids in improvising the shallow skin complexion and skin pigmentation. You can also cure the skin pigmentation with the help you these anti pigmentation creams in India.
Almond oil, on the other hand, is a good source of vitamin-E which evens your skin color and induce fairness. It is helpful in reducing skin dryness and itchiness. It heals spots and premature ageing. Therefore, it's a good face pack for men's dry skin. Lemon juice is a vitamin-C which is good for removing acne and dirt. It prevents excessive oiliness of the skin and keeps bacteria at bay. Lemon contains citric acid which can be a nice scrubber or exfoliant.
How to make it?
Take one small bowl and add 3 spoons of gram flour powder

Add 1 spoon of almond oil

Also add 1 spoon of lemon juice

Also add 2 spoons of normal water

Mix all the ingredients well

Now wash your face, apply this face pack onto the face neck area

Massage it slowly on the face and do not rub

Be gentle on the skin and leave it for 20 minutes

Wash it off with cold water
4. Aloe Vera and Lemon Juice for Oily Skin
Aloe vera and lemon juice also makes for a good combination that lightens the skin and also treats multiple skin problems. This face pack is ideal for the men's oily face and acne prone face as this cures the oiliness and pimples overnight. You can also read about these: Best Products for Men's oily skin in India
How it make it?
Take 1/2 teaspoonful of lemon juice and 1/2 teaspoonful of aloe vera gel.

Mix them thoroughly as they can get lumpy in the beginning.

Apply evenly on the face and then leave for 60 minutes

wash the face after that with plain water.

Do this everyday.
5. Oatmeal and Milk for Skin Lightening
Oatmeal is a whole grain that is extremely healthy but do you know guys that this can also be a great natural product to make the skin glowing. Milk's lactic acid is suitable for all skin types and also decreases the blemishes and dark spots that are there on men's face. Boys who roam around in sun can see that their skin color gets dark and dull. So, this easy pack can also help to get back the original skin color for boys.
How to make it?
Take 2 teaspoonful of oatmeal and add 4-5 teaspoonful of milk in it

Make sure that the milk should be cream free so that there are no cream or fats in it.

Leave this mixture for 10 minutes so that the oats can get soften in the milk.

Once it does, you can apply this paste evenly on the skin.

Massage the skin with this paste and then leave this for 30 minutes

Wash with normal water.

Repeat 3 times in a week.
So guys, these are the best homemade skin lightening face packs for men's skin that are suitable for different skin types. You can try these at least 3-4 times in a week to fetch the best results.