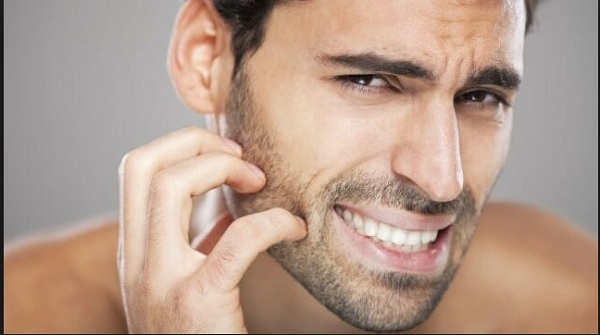 Finally you managed to grow the beard, that you have always dreamt of and everyone's complimenting it. A lot of men with beard experience itching and rashes on the skin underneath. So, if you are someone who would love to grow beard, but is struggling to deal with itching of beard then, this post has tips and remedies to surely help you. Growing a full beard is a complex task, which wants you to take proper care of your beard however due to itching you may get really annoyed. Keeping in mind the tips can help you maintain your beard in a way that there is no itching.
Before that don't to you want to know, why does your beard itch?
What causes beard itching?
The skin underneath tends to get flaky and dry at times. And due to constant shaving, the skin changes and gets flakier and sensitive. Also your beard tends to accumulate a lot of debris, dust, dirt and even the dead skin cells. And this attracts a lot of dust that causes the beard itching.
Now let's see how to deal with beard itch
Tips to Get rid of Beard Itch
1. Cleansing
Cleansing is the first and foremost thing that you can do to get rid of the beard itching. Itching is generally caused by dust and other impurities along with dead skin cells, as we have mentioned above. Therefore, cleansing is the first simple step that can be done to prevent itching and irritation in the first place.
So, how do you clean your beard? There are lots of popular and effective skin cleansers or beard washes available, that can help you get rid of the dead skin cells and flakes from the beard skin. Such beard washes are also helpful in keeping the skin moisturized as dryness causing products add more woes to your problems.
How do you use it?
Take the beard wash or the suitable wash and apply on your beard.

Massage gently without scratching the skin.

After 10 to 12 seconds, you can rinse off your skin and beard with normal water to get rid of the cleanser residue.

Make sure you never use water that is extremely hot or cold.

Warm water tends to open your skin pores that attract more dust and dirt.

Pat dry your beard with a soft towel after the wash.

This can be done twice in a day, i.e. in the morning and before going to bed at night.
2. Conditioning
Conditioning is the key step that can decrease the beard itching effectively. Conditioning actually prevents the dryness and soothes the skin underneath that is itchy or rash prone. Using suitable beard conditioning products, it can be done twice daily. This helps to reduce split ends and ease the irritation. Experts suggest that using conditioners specifically made for beard, not only keep the hair in place and manageable but also makes you smell good.
Beard conditioners can be used after the beard cleansing with a beard shampoo or a beard wash.
3. Moisturizing
All day hydration is must for your hair, skin, body and even facial hair. While a good beard conditioner may not be enough to give that excess moisturization therefore, use of a moisturizer afterwards is beneficial.
This is the step that is followed by a lot of people, who have thick and coarse beard hair. Beard oil or other essential oils like Argan oil, Eucalyptus oil, oil, Almond oil and some other. Additionally, it will make you smell great. 
Most importantly, moisturizing the beard, using suitable beard growth oil reduces the beard itching to a great extent. Beard oils are loaded with essential oils and other hydrating ingredients that can help you curb the itching and also prevent beard dandruff that is called as beardruff.
4. Beard Brushing
Maintaining your beard to enjoy a full grown facial hair, regular brushing is recommended. It helps to increase blood circulation and the tangles in the long beard hair strands. Furthermore, it also gets rid of the dead skin cell built up and itching. For brushing, there are suitable and specifically designed beard comb is available. Brushing your beard regularly also prevents the ingrown hairs.
Brushing also decreases the chances of split ends and it's a no brainer that after applying the beard oil, your beard will become Shiny and manageable. But, what's the best time to brush your beard hair? It is as simple as that, brushing your beard after the shower is the best time. Once more while going to bed is also recommended.
5. Diet
Do you know that a lot of skin issues are directly related to the diet that you have. Yes, in other words the nutrition that you have keeps your vital organs, skin and hair healthy. And healthy beard is not itchy.
So, what you need to eat to make sure beard grows tremendously and stay healthy. Include the natural beard hair growth supplements. And Biotin tops the list. You can also include biotin supplement in your diet or have food items rich in biotin. Vitamins means like Vitamin C and E are known to promote the natural oils, in your skin that also increases the hair growth.
Vitamin A is another hair growth vitamin that is required to promote effective and suitable growth. Vitamin B complex is the most important vitamin group that reduces the hair fall and hair loss. Omega 3 fatty acids are known as good fats, for optimal hair growth. This also prevents from strands from getting dry and brittle.
Remedies To Stop Beard Itching 
6. Scrubbing
It is a crucial step that can eliminate all the chances of dead skin built up area near the ear and also stop the beard itching. You can either use store bought or readymade exfoliating product to get rid of the dead skin cells and their teaching. However we would recommend that you try a natural and homemade Scrub. Just follow this simple recipe:
Take three spoon of brown sugar.

Add 2 spoons of honey.

Add half spoon of lemon juice.

Make this and rub over your beard and moustache.
Benefit:
This will help to get rid of the dead skin built up, pollutant residue and other everyday products that we use. And use it at least twice in a week to make sure that the beard skin underneath stays free of the dirt, dust and reduce. Exfoliating the beard is effective simple step to reduce the itching of your beard.
7. Amla Oil
Amla oil is one of the richest sources of vitamin C. Vitamin C is known to remove the dead skin built up and fight any fungal and bacterial infections. Do you know that, it also not just that came self but any bacterial and fungal infection on your skin can also cause itching. That it becomes really important that you fight all that infection. Apply the pure Amla oil not some adulterated. Apply the amla oil on your beard every night and let it work. This will surely help to eradicate the beard only when you have dry skin. It's not for oily skin. For oily skin, use aloe vera gel.
8. Coconut Oil
Coconut oil also work effectively to combat the beard itching and irritation. You can apply the extra virgin coconut oil every night on your beard by gently massaging.  Coconut oil application more than the skin and moisturizers it completely so that the itching can be reduced.
With this easy guide, it is really simple to deal with your beard itch. However, make sure that you brush, condition and wash your beard regularly.