Our Best Pick
Beardo Godfather Lite Beard Oil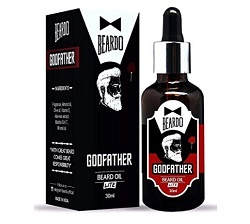 Top Best Beard Growth Oils in India for Men with Prices
Beard oil is especially designed oil or men's grooming product that is applied on the beard and skin underneath. It helps to make your beard hair manageable and a lot smoother. There are multiple benefits of applying beard product makes your course facial hair well tamed and also relieves the irritation and itching. In this article, we are going to talk about the best beard growth oils in India.
Choosing the best beard oil for you is quite a task, as there are so numerous brands with different formulations. But to make your job easier, here we have picked up some of the best beard oils in India. When you apply beard growth oil regularly, your beard hair appears thicker and a lot easier to manage. The best thing is that you can use beard oils in your everyday routine after the face cleansing to make your beard grow faster.
Benefits 
Taking enough of the beard care is important as they can get rough, lifeless, unruly and hard to manage. Not only this, itchiness can be a problem too which happens when you grow your facial hair. It gets rid of the beard itching effectively.
Just like the oils for your scalp, there are oils for the beard and moustache hair too. These beard oils are rich in the vitalizing essential oils that aid in the stimulation of the facial hair growth. Keeping a beard is easy but maintaining it can be tough and requires regular efforts.
The tiny bottle of beard oil helps to tame your beard and you can certainly give extra few minutes as a part of daily grooming every morning for your facial here. So whether your facial hair journey is just beginning or you have thick full-fledged beard, these facial hair products will extremely help you in combating the varied issues that each one of us experience.
Trust us by applying these products on your beard and skin every morning and evening, you will notice a lot of difference in the way your beard and overall hair looks. Now, the Indian market is filled with so many brands for men.
What to look in beard oils
Brands of Beard Oils
Gone are the days when you wish to see only a handful of men's product. But this is the time where you can pick the one that you like it spending on your budget and requirement. Now what is there are so many different men's grooming brands available that men get spoilt of the choices available. So, now that you have so many choices for best beard growth oils in India, you do not have to give excuses for your rough and unruly beard hair.
Not just that even if you are someone have just started growing your beard and have been facing this problem of patchy and less growth when a beard growth oil can definitely help you in that but choosing the best beard growth oil is the first and foremost requirement. We hope that this article will really help you as your best guide for choosing beard growth oils in India.
In this article we have also selected the various beard growth oils, but only the best 10 products, we have listed at first and then we have also given you other options that you can go for. These days, men like to flaunt their beard hair.
Now, let's check the features of the best beard oils to grow full beard.
Features of Best Beard Growth Oil
Ingredients
Ingredients in a product is the first thing that you have should look while purchasing the beardo oil. In most of such products, you'll see they include ingredients like the essential oils. Most of the beard oils are potential blend of essential oils like safflower oil, Jojoba oil, almond oil, Apricot oil, avocado oil and many others.
So if you are planning on getting a product for your facial hair management then the key ingredients in that product should be taken care of. Never go for face oil that contains lots of chemicals in them. We don't have to tell you, how bad chemicals and parabens can be for your skin. So, if you are using a product everyday on your face, it must be free of chemicals. Always go for ingredients which are organic and natural.
Carrier Oils in Beard Oil
As we mentioned that beard oil contains essential and carrier oils. Here are some of the oils which are commonly used in the best facial hair care products.
In fact, these are the natural oils and elements that increase the efficiency and usability of your product.
Eucalyptus oil: Eucalyptus oil is derived from eucalyptus plant and is highly used in the beard and other hair care products. It helps to fight the bacterial and fungal growth and keeps your hair soft and shiny .
Tea Tree Oil: Tea tree oil is one of the best antifungal and antibacterial oil. In case of acne and pimples as well, this oil has proven beneficial. You can apply this oil to combat the itchiness. Therefore, your beard growth oil rich in tea tree oil will help in eliminating the itching and beard pimples .
Jojoba Oil: The oil is known to smoothen the hair and to tame the unruly facial hair. It is also a great hair condition serum.
Avocado Oil: It is one of the best oils to increase the moisture and hydration. This oil makes your rough and extremely thick beard hair smooth and shinier. You should also look for this particular ingredient, if you have thick and very course facial hair.
Scented or Unscented Beard Oils
Whether you should choose scented or unscented beard oil. This is also a question that we got recently from a reader.
He asked whether he should use scented or unscented facial hair products. For this, we will tell them that most of these beard oils are prepared from the carrier and essential oils that have their own natural fragrance. So, scented ones are perfectly fine and there is no harm in it. Otherwise if you have a very sensitive nose that averse the strong smelling products, then we advise to try the unscented versions.
How to Apply Beard oils
Choosing the best beard growth oil is simple but proper application is required. We will tell you how!
Once you have cleansed and washed the beard then, comes the use of the beard oils.

Take few drops of the beard oil into your palms and then apply or massage that on your hair strands of the beard.

Application can be done at night to boost the nourishment to the hair.
When to start using them:
If you're still in your teen and wish to grow beard or maintain it, then after 18 years of age, it will be good as most of these oils have essential and carrier oils in them, which are considered safe for all age groups and skin types.
How Much Beard Oil To Use?
Now, this is a tricky question but a lot of readers have asked us this query. First of all, the requirement of the amount of the beard oil, depends on the thickness and length of your facial hair.
On an average, 3-4 drops would be fine for the medium sized beard. If you have just started to grow your beard, then one to two drops of your beard oil should be sufficient. While if you are someone who has become a pro in growing your manly facial hair then, 5-6 drops would do the job better.
In case you have extremely course thick and rough hair, take some more oil and massage properly. In such cases application at night is highly beneficial. Application at night makes the hair smoother then next morning.
Additionally, if you've patchy beard and you're dealing with scanty growth of facial hair, a suitable beard growth oil can help initiate new hair growth.
How often should you use Beard Oils
You can use them everyday twice. Applying your facial hair products before going to bed and after the shower in the morning is the best thing that almost every expert will suggest you to do. 
10 Best Beard Growth Oils available in India: 2019
Here are the best beard oil products in India for men that we have clubbed in this list.
1. Satthwa Beard Oil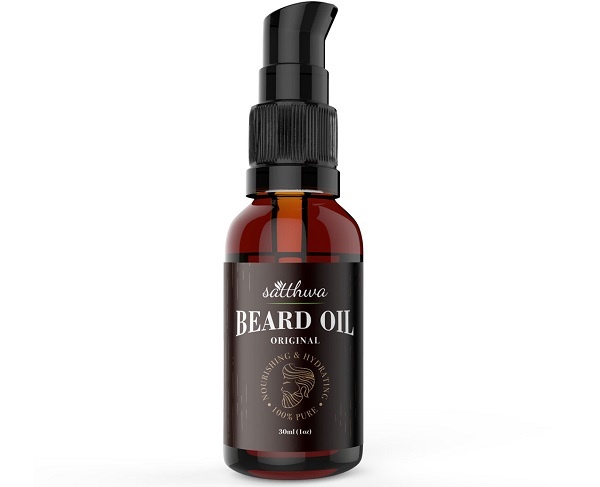 Satthwa Beard Oil Original is specially formulated for men who struggle to keep their beard hair in place. Consistent application of this oil keeps your beard and mustache hydrated and your skin moisturized. Growing a beard is not a  task when this is there. This also leaves your beard smelling awesome with a  subtle whiff of pleasant fragrance. It is made from all natural and 100% pure ingredients such as Almond Oil, Grapeseed Oil, Jojoba Oil & Oud Essential Oil. In fact, these ingredients are also useful in promoting growth.
You buy it Here from their website.
2. Beardo Beard and Hair Growth Oil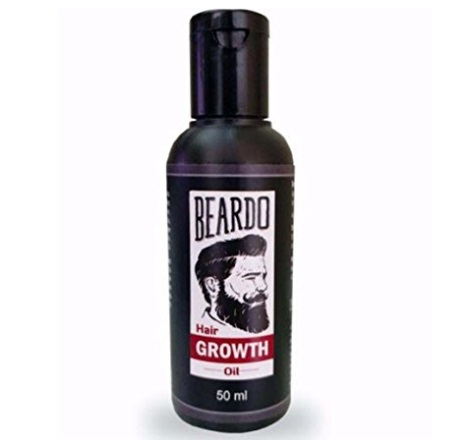 Beardo is a brand that makes men's skin care and hair care products especially the beard and moustache products. Beardo Beard and Hair Growth Oil is formulated to increase the length of the beard and to enhance the texture and thickness. The oil seeps deeper into the root and makes the hair look shinier and stimulate beard growth.
Features
The beard care product is light oil that conditions and moisturizes the beard and mustache hair to make them shinier as well. While it also prevents itching by conditioning the hair strands, it aids in the growth and manages the frizzy hair.

Gives mild scent to the beard hair

It has the blend of some of the highly beneficial oils like sesame oil, rose, hibiscus oil and pro vitamin B6.

It is even mentioned on quora as the best beard growth oil.
3. Trumen Beard Growth Oil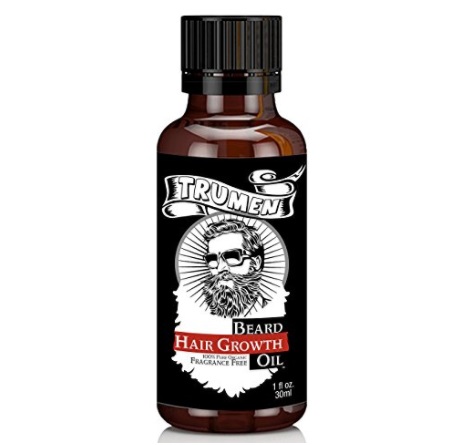 TruMen Beard Hair Growth Oil is a concoction of the natural herbal products which make the beard hair soft and silky. You need to take enough care of the beard, else the rough hair can look terrible. Moreover, the itching that takes place once the beard grows can be a problem later on. So, to combat that, best beard growth oil that is moisturizing should be chosen.
Features:
The oil is specially formulated for the growth of beard and moustache

Provide soft, silky texture to the beard

Keeps the hair strands moisturized all day long
4. Beardo Godfather Lite Beard and Moustache Oil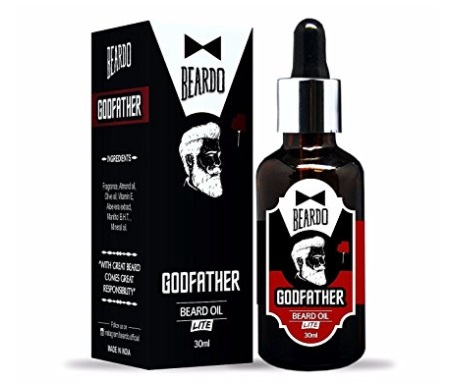 The Beardo Godfather Beard lite oil is made for the deep nourishment to the beard. Made from the amazing ingredients and oils like castor oil, almond oil and vitamin E oil, this also has aloe vera extracts and olive oil. These help in maintaining shiny and nourished beard with no itching. Surely, we men do not want itching in the beard. Therefore, application of a beard oil is MUST to keep the beard related problems away.
Just take few drops of the beard oil on your palms and apply that on the beard. Massage well and then leave on.
Features:
This beard grooming product has ingredients like almond oil, aloe vera, castor oil, olive oil, vitamin E, mineral oil that nourishes the dry and itching beard.

Helps gets shine to the beard

Gives mild fragrance to the beard to make you feel fresh throughout the day
5. Wolf Rejuvenating Beard Growth Oil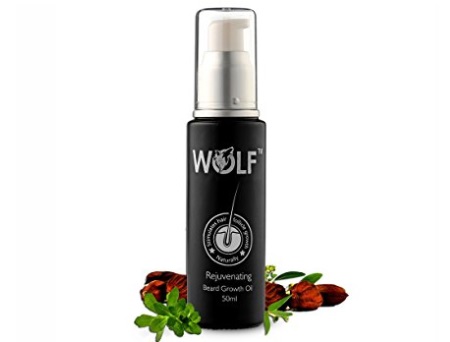 Wolf Rejuvenating Beard Growth Oil is 100% natural oil that is made from those naturally occurring oils. It aids in the stimulation of the growth of the facial hair for men like their moustache and beard hair.
The oils in this product also help to decrease the infections like the bacterial and fungal growth. It keeps the beard's hair clean by killing all those germs.
Features:
Gives proper nourishment and vitality to the hair follicles

Decrease the breakage of the hair so that the beard and moustache look thicker

It contains Redensyl which is a natural ingredient that is known to promote the growth of the follicles.

Price is a bit high though but, if you can afford that, then you can try it once.
One more thing here, at times a product is extremely  wonderful for one person may not guarantee that it is going to show the exact same result for the others, but yes, if a product is good then chances get higher that it performs well for most of the people. Read on about the best Ayurvedic fairness creams in India
6. Urban Gabru Beard Oil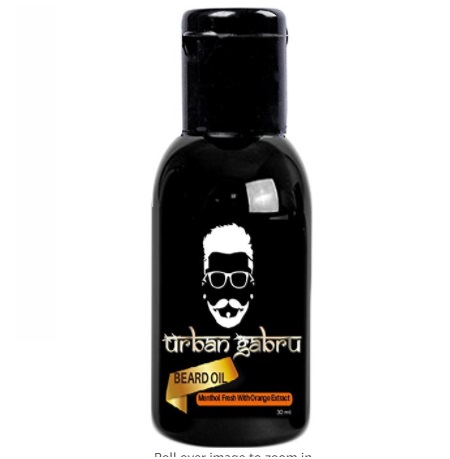 "UrbanGabru beard oil" the name itself is quite quirky. It claims to give you mess-free manly beard and moustache hair that girls and peers would admire. Interesting!! So, what this oil does? This is one of the best beard growth oil that aids in getting smooth and shinier beard hair. 
The beard oil is made with the natural ingredients including argon oil, jojoba oil, sunflower oil, almond oil, orange oil and menthol. Argan oil is a wonderful oil for facial skin and hair hence, the oil promotes faster growth and shine. Know about the best skin care products for men in India
Features
Has some of the excellent oils concoction that aids in growth and nourishment of the beard.

Keep the beard and skin under the beard feel comfortable and no itching.

Keeps the itching at bay and beard in it full glory.

Supports an overall good health of the facial hair and the beard in general
7. Viking's Classic Beard Growth Oil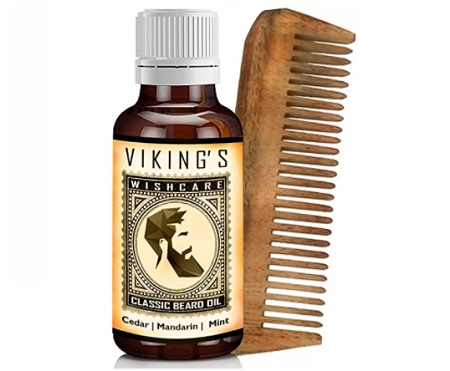 VIKING's classic beard oil helps to tame your unruly and manly facial hair. It provides the nourishment of the beard hair to make them appear well managed and style. Rough and hard beard hair too gets softer and smoother by the regular application of a beard product.
Features:
It strengthens the hair and gives a natural shine on the hair.

Contains ingredients like: Argan Oil, Jojoba Oil, Sweet Almond Oil, Grape Seed Oil, CedarWood Oil, Mandarin Oil, Peppermint Oil

It softens the beard and moustache hair

Gives itch-free and hydrated skin

Gets rid of the dandruff and any other infection
8. The Real Man Beard & Mustache Oil Maple Mint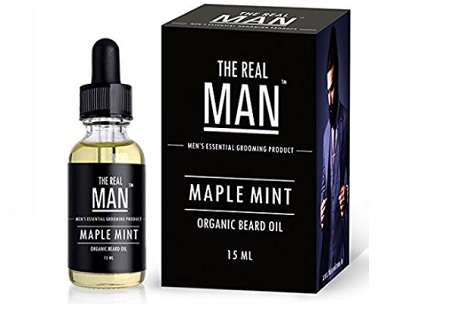 The Real Man Beard & Mustache Oil offers cooling effect and that is due to the ingredients like Maple mint. Maple mint is known to stimulate the follicles of the hair for an increased rate of growth. Your beard hair grow faster and thicker. The hair growth stimulant oil is also has antiseptic, astringent and hair growth properties. Think about this, if you are still thinking, which is the best beard growth oil available here?
Features:
The beard oil is free of sulphates and paraben

Maintain the pH balance of the skin

Has cooling effect on the skin and beard post application. You will surely like the feeling!

Ingredients of this oil includes the oils like Olive Oil, sunflower oil, Vitamin E, Castor Oil, Tea tree Oil, Cedar wood Oil, Jojoba Oil, Almond Oil, Sandalwood Oil, Sesame Oil
9. Ustraa Mooch and Beard Oil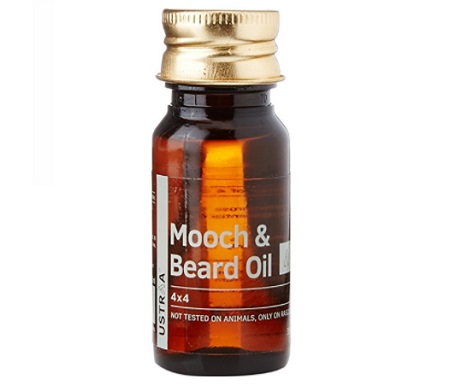 Ustraa beard and mooch oil is a mixture of 4 natural oils, sunflower oil, controls frizz, tackles dryness, gives lustre and texture to the beard. Evening primrose oil, prevents fungi, yeast, dandruff, it also cures hair follicles. Argan oil, makes hair softer, silkier and shinier. An ideal hair conditioner.
Features:
Gives a shine to your hair and keeps it nourished

Our beard and mooch oil is SLS and parabens free

Assists in keeping the beard dandruff free and soft

The effect will last up-to 12 hours unless you wash your beard
10. Saint Beard Beard Growth Oil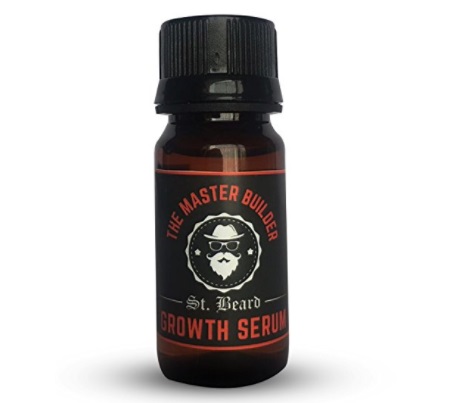 Saint Beard Beard Growth Oil has the goodness of Redensyl, Vitamin E, Organic Walnut Oil, Jojoba and Argan Oil. It rejuvenates the facial hair like your beard hair and moustache hair. The essential and nourishing oils heal the dryness of the hair and make them look shinier and vitalized.
Features:
Redensyl stimulates the hair stem cell activity and thus promotes beard hair growth.

It maximizes the volume and strengthens the hair.

It is also formulated with red onion extracts that increase the blood circulation in the hair follicles. Thus, stimulates the growth of the beard.
Some More Best Rated Beard Oils
11. Bombay Shaving Company Beard Growth Oil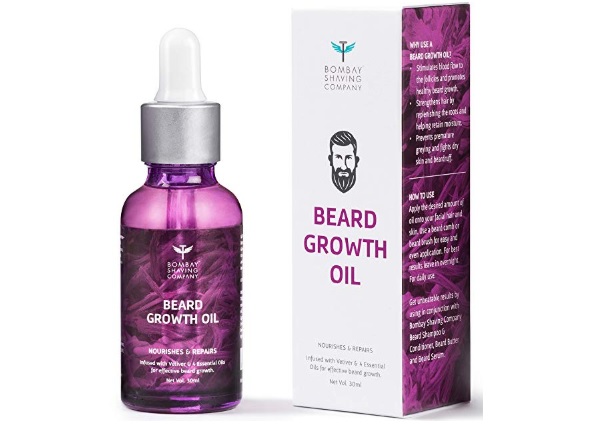 The beard oil for men aids in promoting the healthy growth of your beard and moustache. It is a rich fusion of five essential oils that works to solve the patchy beard problem and the occurrence of pimples and acne. It is the best beard oil for both boys and men.
How to apply:
For best results, leave it overnight and rinse in the morning. While applying, use gentle massaging on your beard and mustache.
12. Qraa 24K Gold Face and Beard Oil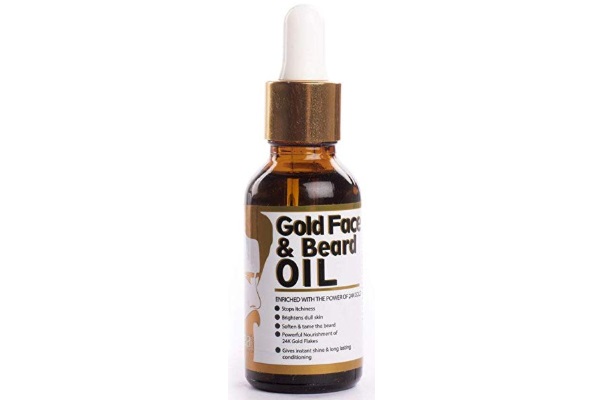 It has the power of 24 carat gold particles. It stop the itching and treats the unruly beard. The product also helps in managing the beard on your patchy skin.
13. Brylcreem Beard Oil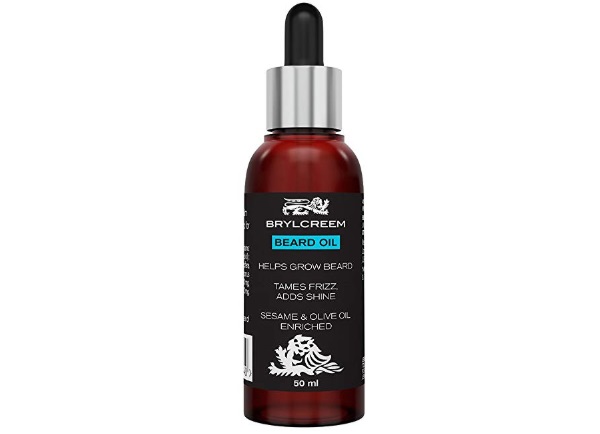 The beard oil really helps to grow the hair follicles faster. It adds shine and softness. It is specially designed to spread through your course beard hair. It is a fusion of 3 special oils like sesame oil, almond oil and olive oil.
How to apply:
It can be applied everyday at night for good results.
14. Gangs of Beard Beard Oil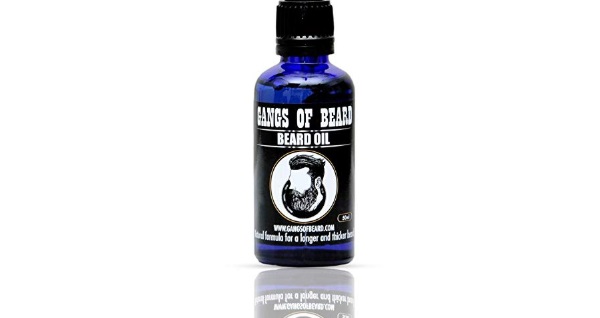 The oil makes your beard smooth and Shiny. The light texture helps to give you a longer and thicker beard. It nourishes the hair strands from roots and promotes the thickness. It also minimizes the itching and irritation. If you are a teenager, you can start using it from 18 plus years.
15. Grandeur Beard Oil For Beard Growth
Rich in Argan oil and jojoba oil this beard growth oil comes with a dropper. It helps in keeping your beard healthy and smooth. With pleasant masculine fragrance it's free from paraben and SLS. It is one of the best beard oil to tame the unruly and frizzy hair. Moreover, it is also suitable to fill the patches.
16. Mountainor Beard Mustache and Hair Growth Oil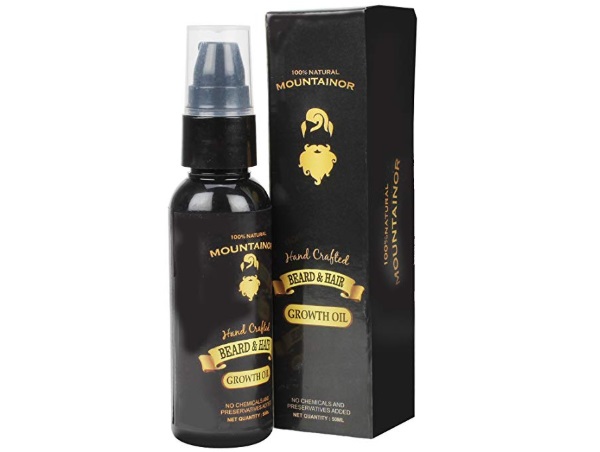 It gives the patches and non hairy areas in your beard, the needed density. It gives you thick and long beard so that you look so of unsophisticated. It is rich in the powerful Redensyl that is known as a hair growth ingredient. It does not have any artificial fillers, parabens, sulphates or additives.
How to use:
Every night apply the unlikely on your beard and moustache and gently massage with your fingertips. Leave it for the entire night and wash in the morning.
17. PEECURE Mustache (Mooch) Growth & Beard Growth Oil for Men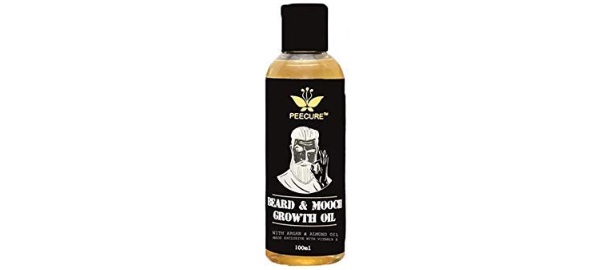 The light oil is a blend of essential oils like Organic Argan Oil, Almond Oil, Castor Oil, Sesame Oil, and Sunflower Oil to make best beard oil give you the badass beard you deserve. It is one of the best beard oils for thin beard. 
How to use:
Just place a few drops of this oil and in the palm of your hand and massage into your skin at the roots of your beard. One application lasts all day and your beard will feel excellent as well as look great.
18. Barber's Club Beard Oil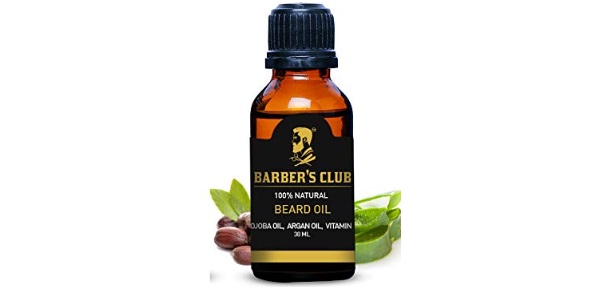 It is 100% natural and organic oil that helps to protect the skin underneath your beard. It revitalizes and strengthens the beard. Upon application, it vanishes dryness and irritation. Its softnes the hard hair strands without the greasy residue. It is one of the best oils to tame the frizzy hair.
19. Rileys Beard Growth Oil For Men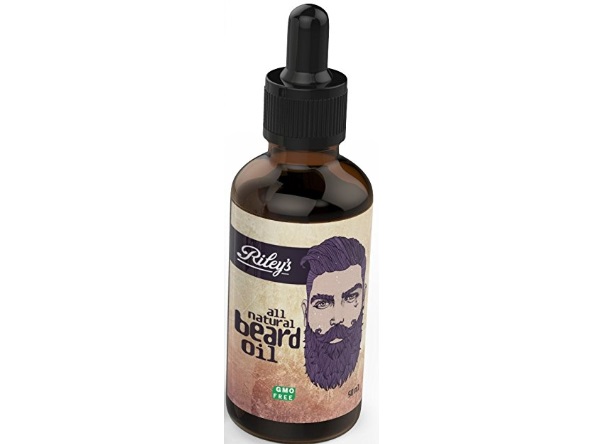 The beard oil is moisturizing and cleansing oil suitable for frizzy and dry beard hair. It boosts the natural growth by deep penetrating into the hair follicles. The light oil is rich in organelle and jojoba oil that gives the shiniest beard. It is a paraben free product that is free of fragrances and sulphates.
20. Captain Thug Old World Beard Growth Oil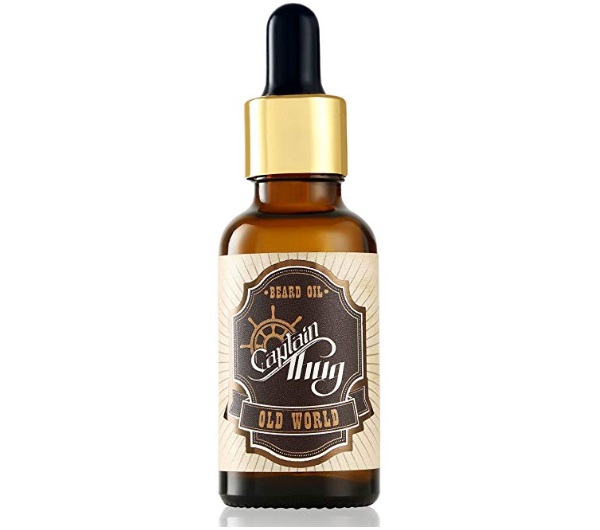 Rich in the 6 Essential oil this promotes the growth of your facial hair and revitalizes the roots. The hydrating oils are cold pressed and pure in nature. It gives full and thicker beard and also suits the flaky skin underneath during winter season. It does not give you residue or stickiness after the application.
We have also got few premium beard growth oil for you that you can try, but these are a bit expensive.
21. Seven Potions Beard Oil & Leave-in Conditioner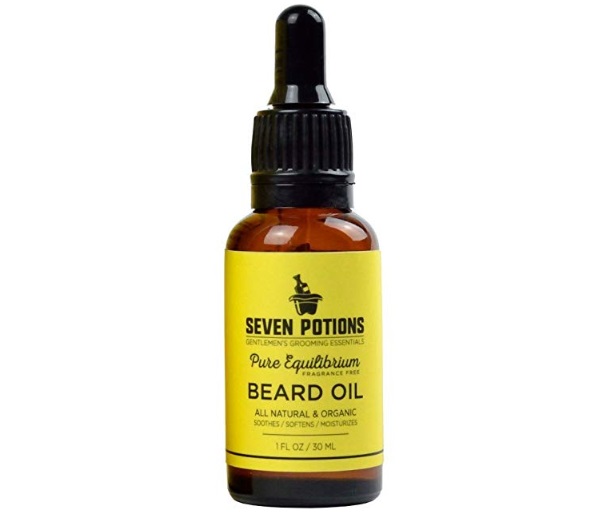 It's leave in conditioner growth oil that is a blend of organic carrier oils. It is hundred percent natural and conditions the hair with the organic formula.
22. Honest Amish Classic Beard Oil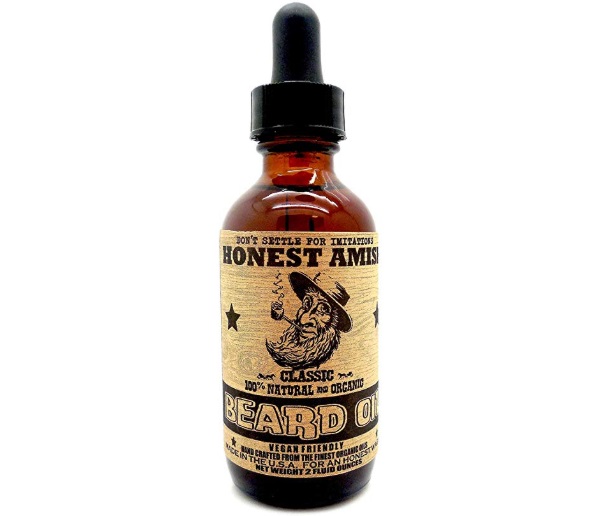 The 100% natural and organic oil is a vegan friendly and hand crafted from the finest organic oils. It is made in USA and is one of the popular brands over there.
23. The Man Company Growth Beard Oil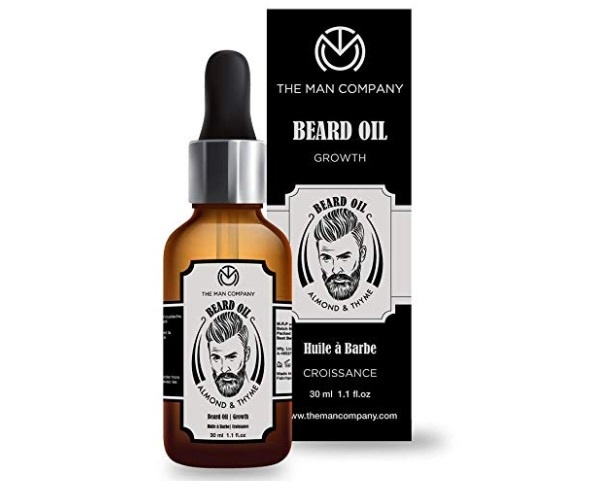 The beard growth oil is excessively popular and is one of the best beard oils that is free of SLS and paraben. It is 100% natural and removes the dryness away from your beard and also treats the bearduff. Just like your scalp gets dandruff your beard can also gets prone to dryness and flakiness.
 It gives necessary nutrients to the skin underneath the facial hair from getting dry. It promotes the beard growth by stimulating the growth of facial hair. The product comes in a dark Amber coloured bottle and a dropper is there at the top. The dropper helps Easy Application. You just need to apply 3 to 5 drops of this product twice a day. The amount can depend from the thickness and length of your beard.
24. Man Arden 7X Beard Oil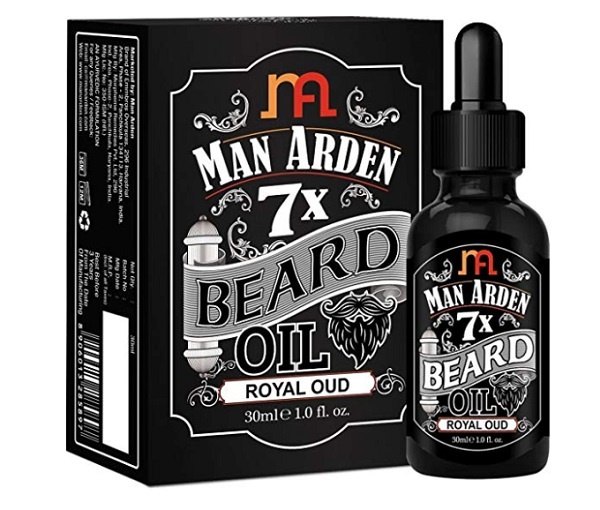 The premium product is from Man Arden. It is a blend of 7 essential and premium oil. The variant Royal Oudh has excellent smell which also helps to initiating the thickness of your beard. It is available in other variants as well like lavender, unscented version, Sandalwood, tea tree, musk and many others. You should definitely check this out.
It is lightly scented beard growth oil which is suitable to moisturize your facial hair and condition them. It can be applied twice in a day and before going to bed at night is the best time that you can use this product. It contains castor oil, grapeseed oil jojoba oil, almond oil which are rich in vitamin E and Omega 3 fatty acids. This oil bottle has a dropper and the top that makes it extremely easy to use it and hassle-free. It also prevents the wastage of the oil because the dropper is there.
25. Farmérz Moustache & Beard Oil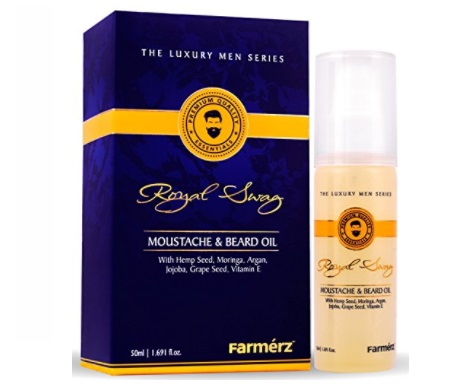 Farmérz Moustache & Beard Oil has the power of the oils like Hemp Seed Oil, Moringa Oil, Argan Oil, Jojoba Oil, Grape Seed Oil, Sweet Almond Oil, Cedar Wood Oil, Sunflower Oil, Coconut Oil, Sesame Oil. The oils are excellent to take care of the beard needs. In anyways, the oils are good for the growth of the hair strands in the beard and your scalp hair in general. You must have realized that using oils regularly aids in the making the hair manageable and faster growth.
Features:
The oil promotes a fast and healthy growth of beard hair and moustache hair

Enriched with 10 miraculous oils like hemp seed oil, moringa oil, argan oil, jojoba oil, grape seed oil, sweet almond oil, cedar wood oil, sunflower oil, coconut oil, sesame oil

Mineral oil Free, Paraben Free

Non sticky oil for beard and moustache hair

Cures the rough beard hair, itching in the beard, acne and pustules in the beard

Prevents all the beard related problems
Best Homemade Recipes for beard oils
We have got some homemade beard oil recipes for you, in case if you would like to make this. These are the tried and tested recipes that men across the globe have used. This beard oil recipe is for shine and freshness.
Pour 20 ml of jojoba oil and 10 ml of grapeseed carrier oil in a small bottle.

Add 5 drops of sandalwood oil and 6 drops of almond oil.

Keep this recipe in a dark coloured glass bottle to maintain the quality.

Shake and use it every night on the beard to keep it shiny and healthy looking.
The next recipe is for growth and treating patchy beard.
Take a dark coloured 30 ml bottle with dropper.

Add 10 ml of jojoba oil and 5 ml of sunflower seed oil.

Add 5 ml of apricot kernel oil and 10 ml of Argan oil.

Shake it and your beard growth oil is ready to use.
Best natural oils to growth thick beard (Cure for patchy beard)
You can also apply individual oils on the bed every night to make it grow thicker and to fill in the bald areas. And these oils are:
Cold pressed organic almond oil

Cold pressed organic almond oil

Organic sweet Orange oil

Organic castor oil

Cold pressed jojoba oil

Cold pressed avocado oil
Effective Beard Growth Tips
Let's have a look at some quick tips to grow your beard pretty fast.
Washing your skin with lukewarm water with a suitable skin cleanser twice in a day increases the growth by removing the dirt and dust.

Exfoliate your face twice in a week, so that the dead skin cells are removed and the blood circulation increases. It also stimulates the growth of your hair.

Getting good sleep of at least eight hours in a day helps to keep your beard in good health.

Taking certain vitamins and minerals also helps to grow your facial hair better. Vitamins Like A, B complex, C and E are extremely important.

Taking biotin supplements (2.5 to 5mg) everyday also helps to get thicker beard within no time.

Stress takes a toll on your health and many experts recommends that you manage your stress levels and try to meditate to keep your facial hair thicker.

Intake of proteins in your diet also helps to grow facial hair thicker. You can include meat, eggs and soybean or even fish in your diet.

Regular facial massage also improves the new hair growth.

Beard growth oils can be applied every night to make the beard hair thick and longer.
Onion for beard growth
Other than that you can also use some home remedies to get good hair growth for your facial hair. Like onions. Onion juice is one of the best remedies that heals the bald patches and make the beard thicker.
Take a medium sized onion. 

Put it in the grinder and blender it.

Taking a muslin cloth or sieve, extract the juice from the pulp of onion. 

Taking the onion juice apply that on the beard hair. 

Keep it overnight and wash it in the morning.

Do this two times in a week to cure issues like thinning, patches, roughness and dryness.
These were the best beard growth oils in India that Indian men can try to make their beard hair look smooth and grow well. These oils also work on the patchy beard to make it thick and well grown.