Beard styles for men have achieved important position, when it comes to men's style and fashion. In this post, we've compiled the latest beard styles for Indian men out of which you can choose the one that would suit you the most. You would see a lot of men growing and styling their beard. Not just that, trendy Indian beard styles can boost your personality and also enhances the facial features. Other than that beard also gives you that sense of confidence and style. Having said that, one must take care of your beard and keep it in good state. It has been established that beard have been associated with the sign of good health, wealth and even manliness.
The beard trend is quite popular currently and not just in the Western countries but also in the Indian subcontinent. While you would see a lot of Bollywood celebrities are also going crazy with the latest beard cuts and styles. Even in movies you would see celebrities sporting different styles and types of beard. Considering that we created this post where you will check out the latest beard styles for Indian men currently in Trend. Additionally even the sports people are into beard grooming. Let's check the various fashionable beard styles for Indian guys.
List of Latest Indian Beard Style for Men
1. Virat Kohli Style Stubble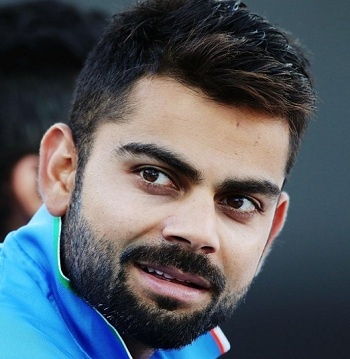 Virat Kohli is known for his beard and fashion apart from his cricketing skills. He loves to sport a thick stubble that looks extremely attractive on him. A thick and full grown beard with trim suits majority of the Indian men. If your face shape is square, this style would be best for you. In fact, we realised that, it's a cool beard style for bald head as well.
2. Long Full Beard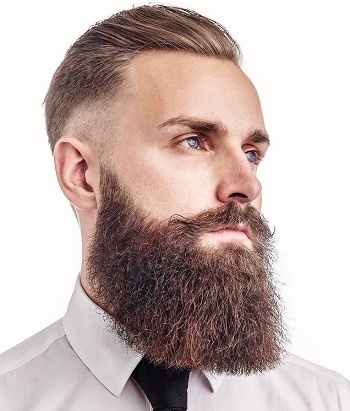 Long full Indian beard is for those who like to keep their beard groomed and maintained. Such Indian style of beard helps a square face cut to get softer. It gives you confidence and style however requires a lot of maintenance. Growing a full beard is hard for a lot of men as it's about proper grooming and care. To grow a long full beard you must not trim it at least for an year or so and then one you reach the desired length go for a styling. Beard growth products helps a lot in making the beard hair grow faster.
3. V Shaped Beard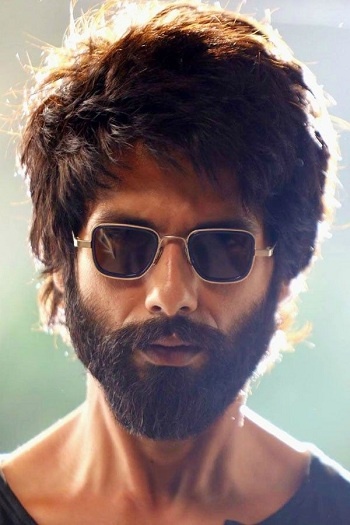 V shape beard is getting popular and it's Ranveer Singh, who apparently loves this Indian beard style a lot. This shaving style is quite popular amongst those Bollywood celebrities who'd love to keep beard when they are not shooting. In fact,  this v shape beard is a perfect beard type for Indian men with round faces.  Moreover, it's actually the latest Indian beard style with lots of men experimenting with it.
4. Maharaja Style Beard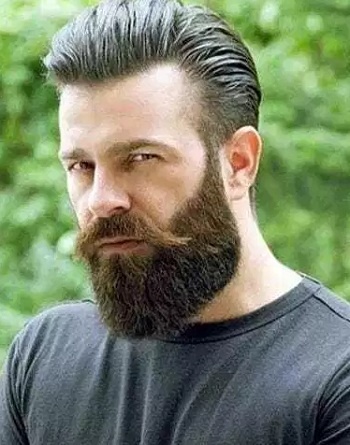 Royal Indian Maharaja style beard actually gives your jaw line a square cut. Therefore, if you have an oblong or round face, then a Maharaja style or Indian royal style beard would look the best on you. The good thing is that on the sides of your jaw line there is a square-ish trimming that is quite evident and gives that nice square edges. Such beard is also good beard styles for Indian wedding, if you would like to have facial hair for your wedding.
5. Anchor Beard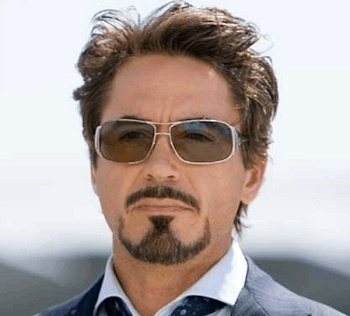 Anchor beard style is clearly one the most stylish looking from the past couple of years. It's perfectly ideal for Indian men with heart shape and round face. It's very easy to maintain and is actually a blend of the chin strap, goatee and soul patch beard. You can keep this style in both sparsely populated and very thick facial hair. This type of beard tend to lengthen your face hence, if you already have long face then you must keep this fact in mind. This saving type and design was popularized by Downey Junior of Iron Man.
6. Short Beard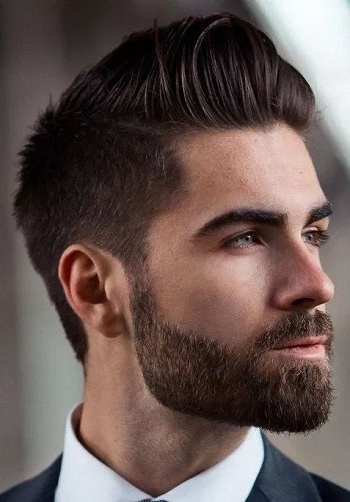 Short beard shaving style is stubble that is crisp and clear. With that it means it's a well trimmed. You can also go for your corporate looks like this beard. While the beard is perfect for a professional man, it also suits most of the middle aged men as well. 
7. Circle Beard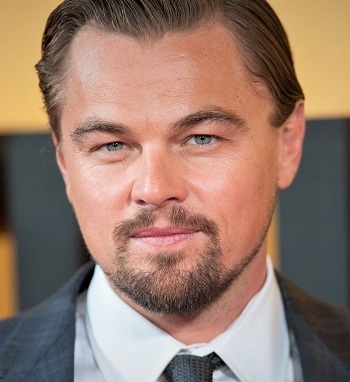 Circle Indian beard looks extremely ravishing on men of all age groups as well as type. This beard styling has a round circle made from the hair on the moustache and chin. It also is a combination of the regular French cut and round goatee Style. It's extremely easy to maintain though requires the trimming on alternate days to maintain the needed crisp look. It's the latest beard style for Indian youth.
8. Short Full Beard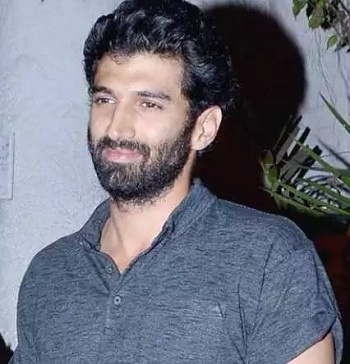 When we say short full beard it means that the beard is sick and densely populated but is short in the length. This beard is very popular in Tollywood and Indian men who would like to keep their full beard but not be extremely long hair strands which can be difficult to manage for them this beard type is perfect. 
9. Indian Trimmed Beard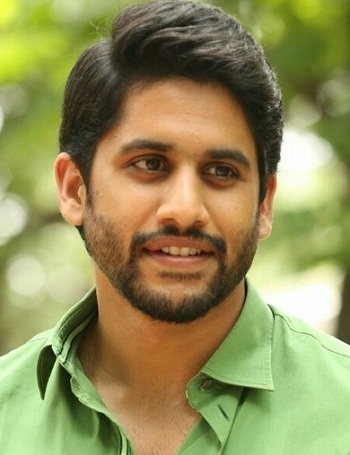 The style is every Indian man's favourite shaving style. It's a clear and trimmed beard for a corporate or professional look. Comparatively, it's very easy to maintain as compared with the full long beard. The moustache and the beard hair are of same length and it gives you a clean look. To maintain it you have to trim it every day or at least every alternate day. The style will also suit the soon to be Indian grooms.
10. Short Patchy Beard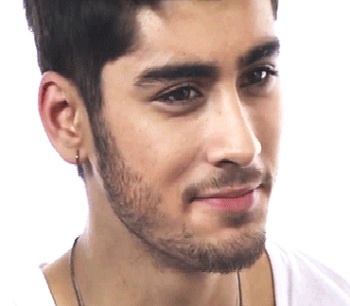 On teenagers, you would have seen the short patchy beard style a lot. The patchy beard actually is the first growth of hair. So this kind of beard style is actually very much in trend these days. It has this charm that makes you look highly attractive. One of the best examples of this beard used to be Imran Khan and in Hollywood Zayn Malik is a best example.
11. V shape Goatee Beard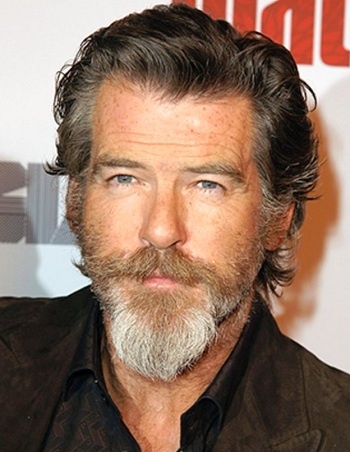 V shape goatee style beard is actually new style of beard where the chin hair is of extra length. It's actually an extension of the regular goatee where the chin hair strands are longer than rest of the beard styling. It gives you a casual look, though for professional environment it may not be the best thing to have.
12. Mutton Chops Beard Style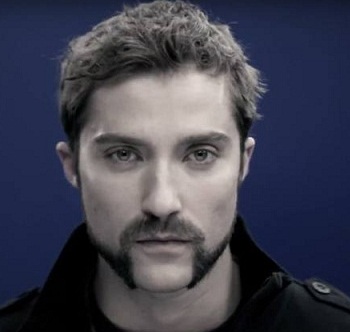 The mutton chops style of beard is extremely popular amongst Indian men. It will highlight your crisp and sharp jawline. Actually the shave style can suit men of all face shapes and age group. Inspired by the Royal men, it surely adds more personality to change your looks. In this type of beard, you have beard hair on the sides of your face while the chin area is kept clean. Therefore, the shape is such that you have two precisely trim and shave it regularly.  In Indian states like Rajasthan this hairstyle is very popular because of the high influence of the royals and Rajputs.  
13. Bandholz Cut Beard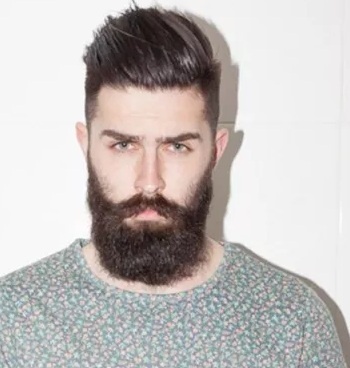 It's a naturally attractive beard style would give you a lot of looks from the females. It's characterized by a full grown beard with long handlebar moustache. The long moustache is actually that defines your facial features and is the key highlight of this facial hair style. It's suitable for men with longer face shapes.
14. Soulpatch Beard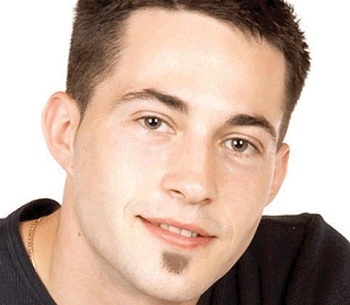 Soul patch beard style is suitable for Indian men who like to keep things simple and classy. It isn't difficult to style as there is just a patch under your lower lip and over the chin. It needs a regular cleaning up of the other face areas. A lot of teenagers would like to have a soul patch beard.
15. Moustache Beard Style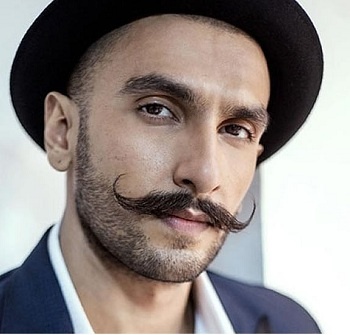 The most popular is the beard and moustache beard type of Indian men. It's extremely popular these days and thanks to multiple Bollywood celebrities who have been spotted flaunting it. In this you have beard with moustaches.
16. Office Style Beard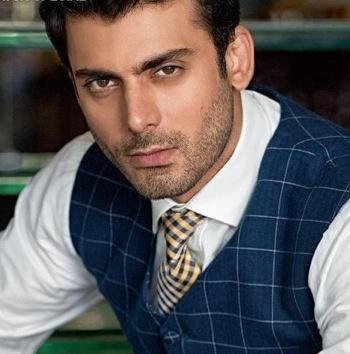 In a corporate or for any office you would like to have a clean and crisp well groomed personality. This is a style that give you best of the both the worlds. It's very thin and lead trimmed stubble that looks good on men of all age groups and face skin colour.
17. Clean Cut Beard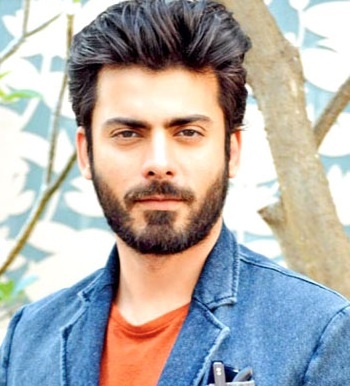 If you would like to go for a little length in your beard yet would like to keep it clean then the Clean Cut Indian beard style is the best for you. Indian man would love it for their office look. It's a professional beard styling that is liked by a lot of a man.
18. Horseshoe Beard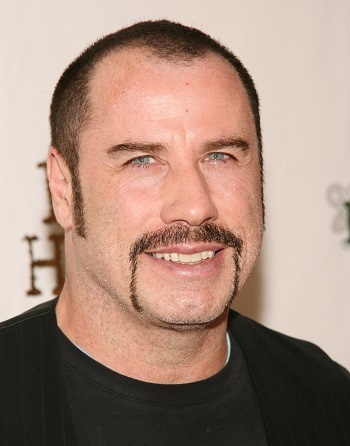 Horseshoe beard is known by a moustache. So you have the beard on your sides while the moustache is long and downsides. This is why, it's known as a horseshoe because it looks like one. It's extremely easy to carry and grow. Maintaining it requires some of efforts. It's suitable for both your casual and office looks. 
19. Zappa Style Beard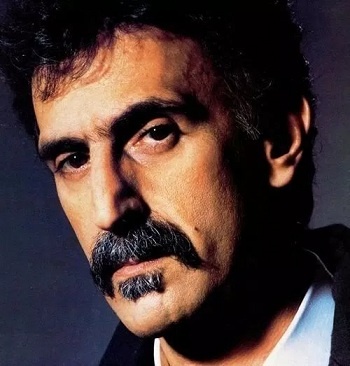 This really popular beard style is inspired by a popular musician Frank Zappa. And you must have seen the same style supported by a lot of Indian celebrities as well. It's very similar to a soul patch. With or without a moustache, it would be the trendiest Indian beard styles for round face.
20. Tapered Beard For Indian Men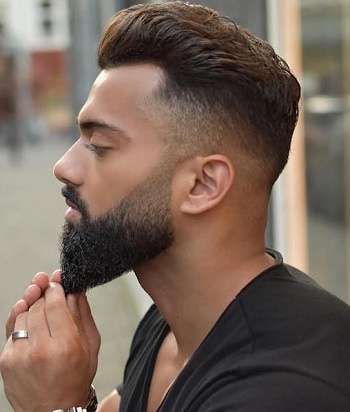 The newest Indian beard style is characterized by short hair with tapered size. Actually it's a combination of goatee, chinstrap and short moustache style of beard. It's ideal for men who like to have this rugged and masculine look without having to maintain exclusively.
So these were the trendy facial hairstyles for Indian men. These are the different kinds of beard cuts and trim that would let you know how to style the men's facial hair. We hope this post helped you in knowing the facial beard styles and picking up the best. Please make sure that you must maintain your beard hair, else dandruff in the beard and itchiness can trouble you. And for that the best thing to do is to apply good beard formulated oil.