How to Increase Fairness for Men with Natural Remedies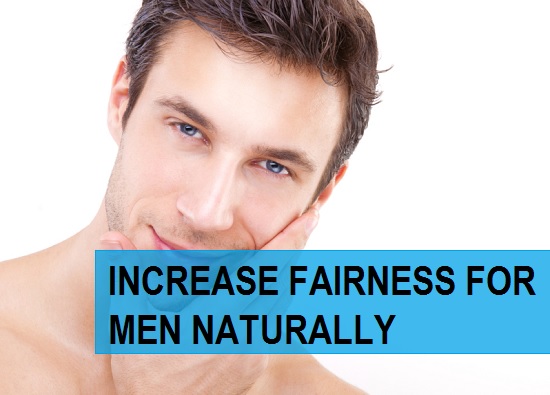 Men and women with dark and brownish skin complexion wish to get fairer skin complexion. Fair skin is a desire that most of the Asian men with wish. In fact, people would use a lot of skin care products like fairness creams, bleach cream etc that will enhance their fairness but there are home remedies as will that can help you to increase the fairness. Fairness should also be improved with natural tips so that we are safe and sound. To achieve skin whitening you should be regular with home remedies else the effects will not be long lasting. We will give you tips and remedies that you can use for skin whitening.
Increase the skin fairness for men with these tips naturally
Skin cleansing
Your skin's first and foremost requirement is the proper cleansing. When your skin is dry try a facial cleanser that keeps the skin hydrated. When the skin is oily or combination then try using face wash that can control the oils and squeeze out the excessive oils from the pores.
You can also try these homemade skin cleansers
Gram flour cleanser for oily skin: Wet your face with water. Then take some gram flour and apply that on the face. Rub little bit so that besan can cleanse the skin pores.
Honey: Take some honey and apply on the face. Rub this all over and then rinse the face with clear water.
Face packs to increase the fairness
Lemon honey face mask
This is one of the best remedies for men to get fair skin tone within a short period of time rather this also very effective for men and women. This remedy includes lemon juice and honey. Lemon juice is a well known citrus fruit that is rich in minerals and vitamin C. Vitamin C is known to whiten the skin and brighten it. Actually vitamin C will help to eliminate the dead skin layer and increases the cell turnover.
This in turn gives easy to a new skin which is much whiter as compared with the old skin with high melanin levels. This also decreases the melanin levels significantly. But as a precautionary measure you should not face the sun without sunscreen when you are using the vitamin C rich fruit face packs.
To prepare this face pack, take 1 teaspoonful of lemon juice and 1 teaspoonful of honey.

Mix them suing a spoon and apply this lotion like pack on the face. Keep this for 20 minutes.

Mild tingling is normal hence you should not worry about that especially when your have acne and pimples on the face.
Yes, men with pimples can also use this face pack to eliminate and lighten the dark posts, pimple marks on the face and to increase fairness. This is one of the best summer face packs for men.

Orange Juice and Aloe Vera Juice
This face pack too is ideal for the men who have dry skin, oily skin and normal skin type. This home remedy for increasing fairness has the ingredients like the orange juice and aloe vera juice. Orange juice too is rich in the vitamin C. Vitamin C is potential enough to lighten the skin manifolds. Aloe vera gel is good for curing the skin against many mild skin infections and rashes. This is also an oil controlling beauty tip for men.

Aloe vera also lightens the skin since aloe vera too is rich in minerals and vitamins. This cooling gel is good for men with all the skin types. If aloe vera gel is not available then aloe vera juice too can be used to prepare this skin lightening home remedy. Take orange juice and aloe vera in equal amount and then mix them. Apply this on the face and keep for 20 minutes. Then wash the face using mild water and pat dry the face.
Curd and Banana Pack
Curd which is also known as yogurt is a potential skin lightening agent that is for both oily and dry skinned people. People with very oily skin should use the yogurt which is free from the fatty acids like the cream that comes on the top of the yogurt. Banana is rich in vitamin like vitamin A, B, C, E and minerals like phosphorus, selenium, copper, zinc, manganese etc.
Take a small piece of banana and mash it either using a spoon or with the fingers.

Now, add 1 teaspoonful of curd in this banana pulp and mix it thoroughly to make a banana smoothie.

This banana smoothie is your face pack that you will be using on the face.

Apply this on the face and wait for this to get dry for at least 15 minutes post which you can wipe off the face using some plain water or with a damp cotton first then with water.

You have to use this face pack once in a week for the best possible results so that the skin whitening is seen effectively.
Potato juice for increasing fairness
Potato and potato juice is well known for the dark circles potato juice in great skin lightening agent that cures the dark circles by fading the darkness within weeks. Potato juice is also used in a lot of different home remedies to treat the acne pimple marks, scars, marks on the face. This potato juice is the best juice to cure the pigmentation and darkness. Hence, potato is one of the best homemade fairness beauty tips to increase fairness for men and women.
Take a medium sized potato and take off the skin of this now cut thin slices of this potato.

Use these slices to rub on the face so that the skin gets wet with the potato juices.
Exfoliation Packs for Fairness
When you are trying to increase fairness and skin lightening then you should not depends on a single procedure or step. Like for example, if you are doing the face pack recipes for fairness the also try to do the fairness face scrub steps in your skin regimen, So that the fairness is achieved easily and is long lasting. Here, we have share the fairness inducing facial scrubs that will help the men to get the maximum fairness results.
Sugar and honey facial scrub
This is a great home remedy to keep the skin in best possible state and improve the fairness. You can mix some sugar with honey and make a mixture of these 2 ingredients. Use this to exfoliate the face to get fairer looking complexion. In fact, this will be great for all the skin type for men and will also help in curing the comeodones problems like blackheads, whiteheads etc. Men can have blackheads on the nose when the sebum is secreted in too much amount.
Milk and lemon face scrub plus pack
This face scrub for the fairness enhancement is ideal for oily skin. Take some milk and mix that with some lemon juice. Then add little bit of rice flour in this. Then use this on the face to exfoliate the skin and wash with clean water.
Some Natural ingredients to increase fairness for men

Aloe vera for skin fairness
Not only for increasing the fairness but aloe vera is also considered as one of the best remedies to improvise the skin texture and to get rid of the sun tanning. Moreover, aloe vera also helps to heal the minor cuts and injurious on the men's face that happens while shaving. Just applying pure aloe vera gel is one of the easiest ways to lighten and whiten the skin.
If you have aloe vera plant at home then take a small section of that leaf and cut it open.

Using a spoon squeeze out some gel from this and take that in a bowl.

Now, you can either apply that directly on the face at night and leave that overnight, then wash in the morning.

Or you can also mix some lemon juice in it and apply on the face.

Keep this too overnight and wash the face the next morning.
Amla juice for fairness
Amla or Indian Gooseberry is rich source of vitamin C. This makes Indian Gooseberry is a great natural ingredients to help combat the skin aging and also for the hair acre benefits. Amla is beneficial in lightening the skin tones by a couple of shades within short period of time. Moreover, drinking amla juice will also slow down the cell aging process therefore you will stay younger and beautiful. Amla contain several anti oxidants that help to keep the skin in a healthy state. To use amla for fairness is a simple procedure.
Just apply amla juice at night while going to bed to fetch its skin lightening benefits.

Wash the face in the morning.

You can also use amla juice by mixing this with little bit of honey.

Honey will further whiten the skin complexion moreover, if your skin gets irritated while using amla juice alone, then too honey will be a good ingredient to minimize the acidity of amla juice.
Lemon Juice for skin whitening
After amla lemon is considered to be another easily available rich source of vitamin C. Just like amla lemon too have great benefits in making the skin tone lighter, brighter and to increase fairness for men. You can attain a healthy blemish free clear complexion by applying lemon juice every night. Wash your face with tepid water the next day. Lemon will also make sure that if the skin is oily then it will help the skin to minimize the secretion of sebum and also declogs the skin pores which get clogged due to dirt and sebum etc.
Curd for skin whitening
Curd is ideal for getting fairness at home naturally for men as well but curd packs should be used by people with combination, dry and normal skin. Curd at times has fatty acids which can be a little greasy for the oily skin.
To use curd for the making your skin fair, you can take 1 teaspoonful of curd in small bowl then add little bit of turmeric powder in it.

Just a pinch should be fine for that. Mix and apply.

Allow it to get dry for 20 minutes then wash it.

Curd facial packs and mask are best to get fair skin faster.
Cucumber for increasing fairness
When someone has dark circles then cucumber is used as a natural remedy to get rid of the darkness but does that work only on the dark circles? No! Cucumber is an excellent toner for oily to combination skin. This has properties to whiten the skin as well. Cucumber home remedies work well to increase the fairness for men and women with oily skin types.
Just use cucumber juice on the face and wash in the morning.

If the skin is dry to normal then add equal amount of rose water in the cucumber juice and then apply that on the face.

This will surely increase your fairness.
Other Tips to increase the skin fairness for men
Drinking water: Drink a lot of water to keep yourself hydrated so that the skin looks moisturized and glowing. In fact, if you have cane and pimples then too drinking sufficient water will help you to get rid of pimples.
Exfoliation: Exfoliate your face 2 times in a week so that the uppermost dead dark skin layer is removed. This process will keep the skin clear and removes the dark skin.
Face packs: Application of face packs will enhance the fairness further since face packs are good to expedite the fairness process. Face packs have natural ingredients which gives the skin a push to improvise the skin tone by bringing the melanin levels down.
Diet: What you eat is also an important factor in the skin's beauty. To enhance the beauty of your skin and hair, take adequate vitamins and proteins in your diet.
Smoking: Smoking plays havoc with your skin and health. Hence, try to cut down on smoking or stop it altogether.
Alcohol: Same goes for the alcohol, drinking too much alcohol will make the skin dry and wrinkly. Other than that this also has many health issues.
Sunscreens: Just imagine when you take all the measures for increasing the fairness of the skin but that fairness does not last long. Exactly! You should never skip the sunscreen which will protect the skin's fairness and also shields the skin from getting damaged. Sunscreens are crucial for men who go for bike rides during the day time.
Moisturizing: Moisturize the skin everyday and night. The moisturisers that you choose should be suitable for your oily or dry skin type.