Indowestern kurtas for men are amongst those stylish looking ethnic attire for men who likes to get traditional while maintaining the uber cool avatar. With different styles, cuts and fabrics used, these kurtas are perfect for the modern man. In fact, the grooms are also getting decked up in these modern looking designer indo western kurtas.
Latest 15 Best Indo-Western Kurtas For Men
1. Maroon Indo Western Kurta Style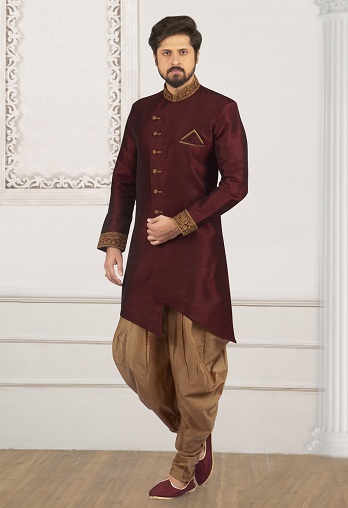 Enticing for men of all age groups and the beauty of this design is the color combination. The raw silk kurta is designed for wedding and is paired with light brown dhoties. It is a very festive kind of attire that men would really love. The embroidery on the cuffs makes it really elegant and opulent looking. Such kurta pajama styles can be designed for Diwali, Raksha Bandhan and even weddings at your family.
2. Black Pathani Kurta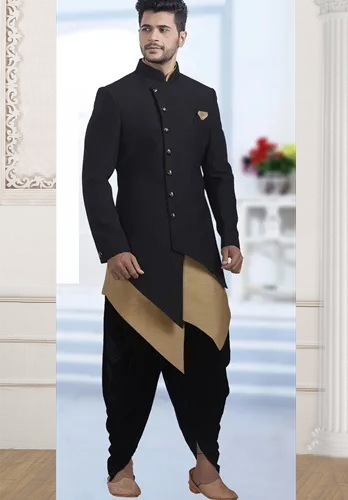 Pathani Indo Western style sherwani kurta is surely a watch. Men loves Pathani style kurta with some twist would surely Love. It has a double jacket style with an asymmetrical hemline. And this holds true for full sleeves Jodhpuri style jacket as well. This entire attire has been prepped with black dhoti pants. It's surely festive and wedding appropriate clothing for men.
3. Beige And White Western Style Kurta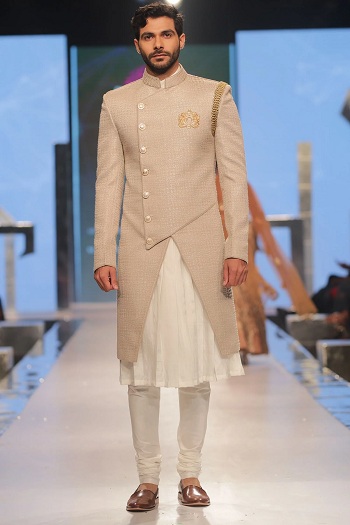 The beige and white Indo Western kurta has a nicely cut long full sleeve jacket. It is also appropriate for groom, it's just that you can replace the white kurta and pyjama with some other color which are Indian and traditional. On the shoulders, the embroidery is eye catching. The elegant and luxurious pattern of kurtas for men like this is sure to get your compliments at any event.
4. Black And White Printed Indo Western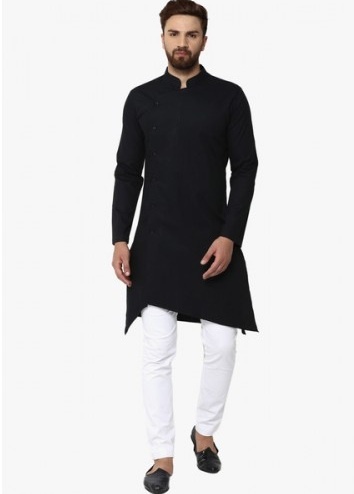 Design here is the stylish side open button placket with metal buttons. It is a perfect Jodhpuri dress for men with a modern twist. The white Pajama and black sandals are perfect to wear with such attire. You can attend any formal event or festival wearing this.
5. Indo Western Black Pathani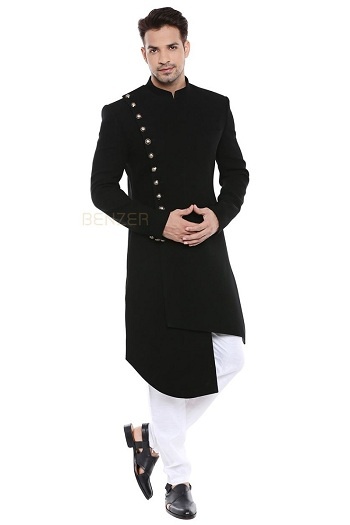 The extremely modern looking Indo Western sherwani for men is perfect, whenever you would like to be the highlight of any party on wedding. Wear it with Derby formal shoes and this black attire is sure to get you compliments from the opposite gender. It is very stylish and modern that a lot of women will be impressed by the way you dress up.
6. Black Indo Western Sherwani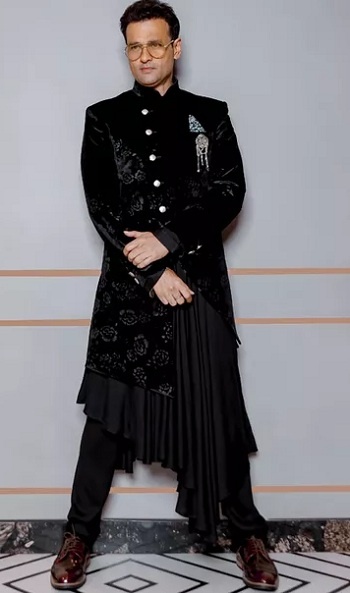 When black is your favorite color, you would love to have a design like this. With minimalistic design, it's one of the classiest color.
7. Indo Western Double Jacket Style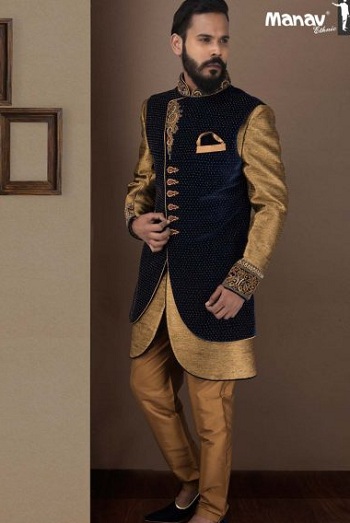 A double jacket style sherwani is very much in trend currently. The sherwani style kurta has half sleeves. It has a very royal and elegant look to it. One compared with regular Juti for sandals. As the indo-western design is such that it will make you look overdressed for any other normal location therefore, it's best for weddings.
8. Side Pleated Designer Kurta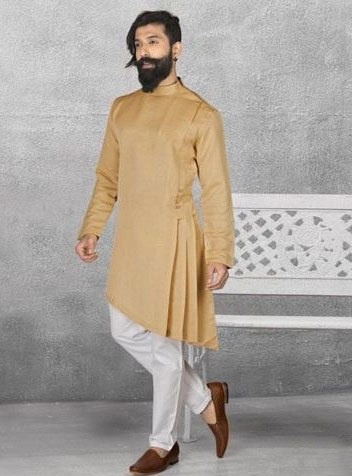 Indo Western side printed designer kurta can be paired with multiple types of bottom wears. It is a Khadi kurta which is not festive looking because of the color and fabric chosen. But, it doesn't mean it will not make you look smart. In fact, the kurta has a semi casual and casual feel. Therefore, if not for the lavish events, you can surely wear it for the festivals like Eid,  Diwali, Karva Chauth or even the small functions at your home.
9. Diagonal Placket Jodhpuri Kurta For Men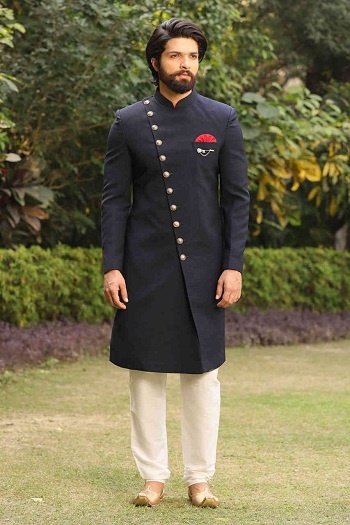 The diagonal button placket with metal buttons is the enticing feature which gives this kurta royal and elegant look. It's been paired with white Pajama however, you can also style black dhoti Pants or churidar. It has a very Jodhpuri Pathani style of look which makes you look like a prince.
10. Indo Western Pleated Kurta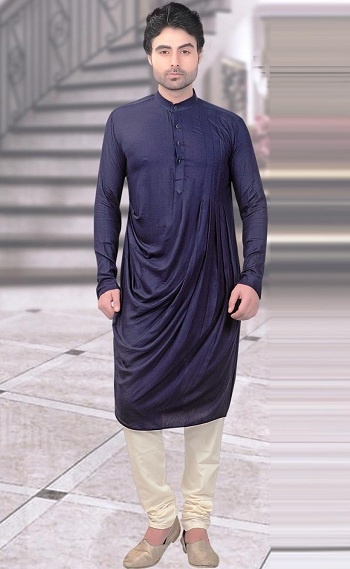 Indo Western kurta like these are appropriate for youngsters. If you would like to do something different with your basic kurtas then try a style like this. You will surely look your best and very urban and modern.
11. Indo Western Sherwani For Men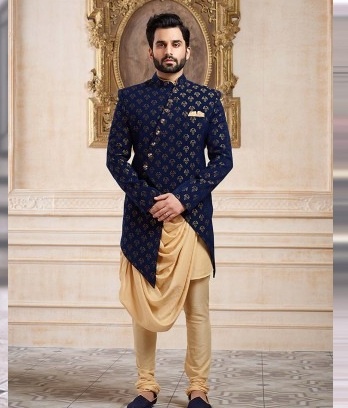 The cut and fabric chosen is the highlight of this ensemble. The jacket is so nicely crafted with the elegant brocade fabric that it will definitely make you one of the well dressed man in any party or the family wedding you go for. The kurta is also not a regular style kurta but has cowls. It's been paired with churidar however, you can also wear with dhoti pants. Suitable for grooms, it's just that you can choose some other colors of your choice.
12. Royal Blue Men's Sherwani For Wedding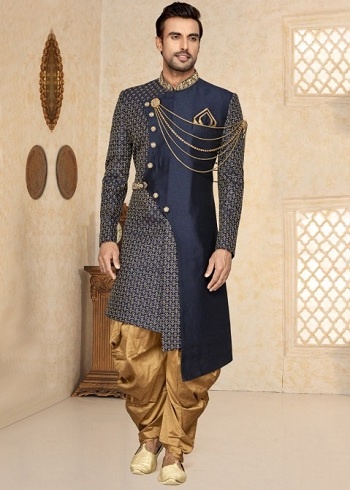 The very stylish sherwani is for men who would like to look modern. It's also a beautiful elaborately made sherwani style for men. You can wear it for your own wedding or your brother's wedding.
13. Floral Printed Sherwani Kurta For Men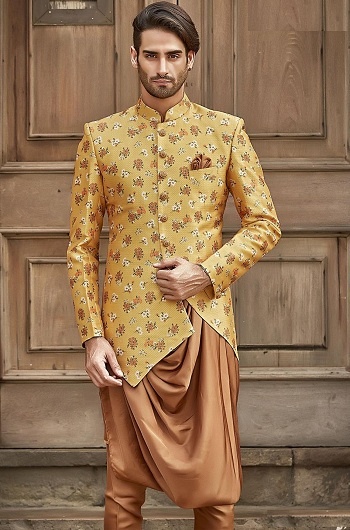 Worn with almond color jacket is short modern attire for the new Indian men. Not only you will receive compliments from the females, you'll also be remembered for your dressing sense. The Indo Western kurta is one of the best things that we have seen out of this collection.
14. Jacket Style Sherwani Kurta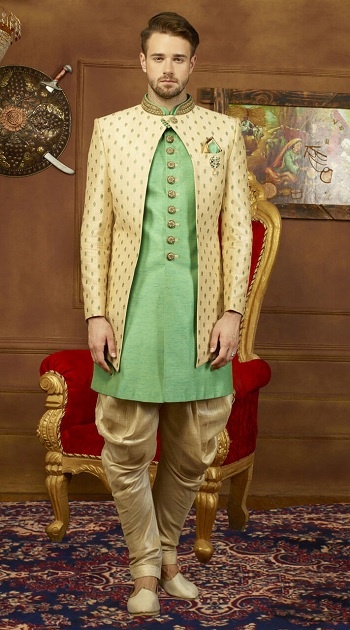 The jacket style Indo Western kurta is for men who like to experiment. The basic kurta has a full sleeves jacket with a deep centre slit.
15. Feather Printed Indo Western Kurta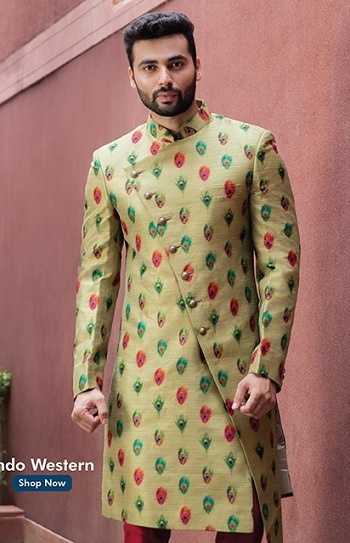 The Westernised pattern of this jacket has feather print all over with angrakha style with diagonal button placket. It is teamed up with red churidar pants, where it can also be paired with juties and the regular pyjama. You are sure to get attention, if you wear it for any occasion festivals and events at your home.
These are the best Indo Western looking Kurtas for men that you can try. While wearing these styles, you not only feel confident but would also be regarded as a best dressed Man.