Kurtas for men can also be paired with the ethnic jackets. A modern and stylish men's jacket makes your kurta apt for wedding, festivals and other grand events. These latest ethnic jackets for men are crafted in different types of colors, fabrics and detailing like embroidery and sequin work. This is why when you are going for an important occasion where you have to look smart, pairing your regular kurta with jackets is a good idea. In fact, kurta pajama with Nehru jacket for wedding is an interesting dressing idea. It will help you mark an impression and other people will surely appreciate your dressing style. Jackets have been an integral part of Indian traditional wear since ages and they have got their own history. Even the royal families would use to pair embellished jackets with their traditional outfits. We have compiled this collection of the latest kurta pajama designs with jackets for men.
Designer Kurta Pajama with Jacket For Men
The men's kurta is perfect to pair with the jackets made from raw Silk brocade, Chanderi, printed silk and even velvet or jute Silk. This is why this image collection will give you enough of the inspiration so that you can also replicate or get one for yourself. These jacket style attire are available online to buy.
1. Kurta with Jacket For Wedding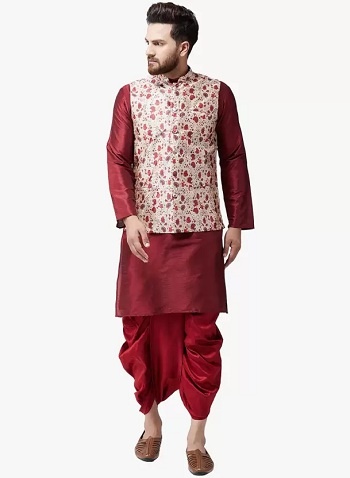 Regular dhoti kurta with nicely crafted printed jacket is a classy combination. It's surely classy make you get loads of complements. With the intricate floral pattern, the jacket is appropriate for all the summer occasions and festivals. You can pair any type of kurta pajama with a stylish jacket like this to achieve modern look.
2. Party Wear Jacket Kurta Style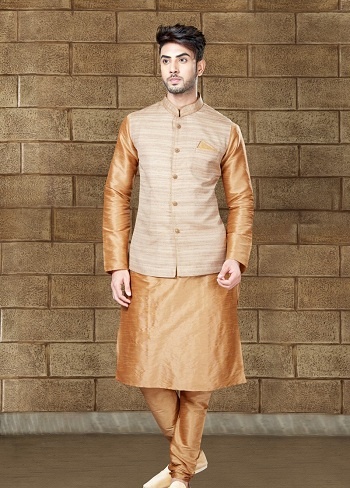 Taking help from this look, you can surely accentuate a medium gold basic kurta pajama to another level by wearing a nice jacket in Khadi. It looks more like a stylish Nehru jacket. It completes your kurta look and can be teamed up with any type of footwear. It is an appropriate outfit for small and grand events.
3. Kurta Pajama with Nehru Jacket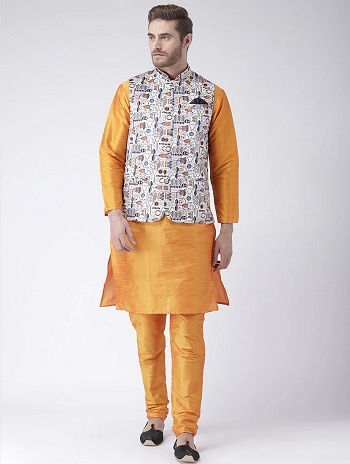 Yellow gold color is surely suitable for Indian festivals and weddings. Even for family functions, the color is suitable. The major highlight of the attire is the quirky printed jacket. The Nehru styled jacket is in contrasting color adds more elegance to your basic kurta style. You can pair different types of footwear with this men's clothing style.
4. Kurta Pajama with Punjabi Style Jacket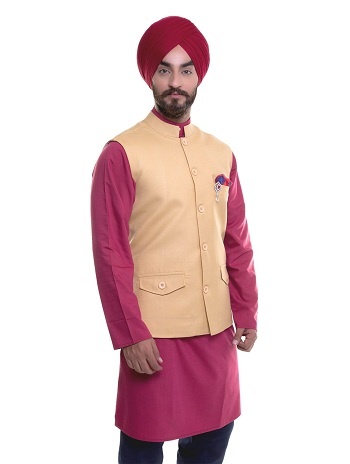 Punjabi style jackets can be worn with any type of kurtas. Here it is a simple jacket that gives you a formal look. For all the events where you have to appear elegant and classy, a jacket style like this would definitely work in your favour. It would add classiness to your look.
5. White Kurta Pajama with Blue Jacket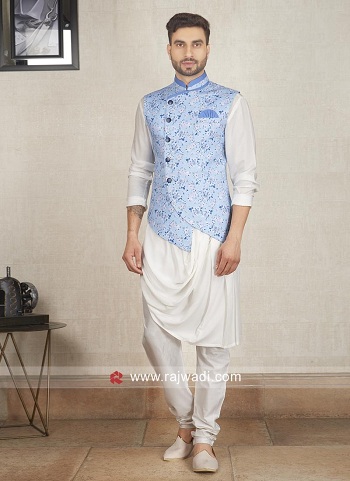 This extremely modern looking light blue jacket has asymmetric hemline and so does the kurta. Indo Western type of kurtas are extremely popular currently. In India and Pakistan, these kurta styles are clearly gaining attention because of their ultra modern look. The flamboyant light blue color is suitable for wheatish to dark skin as well. It can also be paired with a nice dhoti pants or with footwear or Oxford shoes.
6. Black Kurta Pajama with Jacket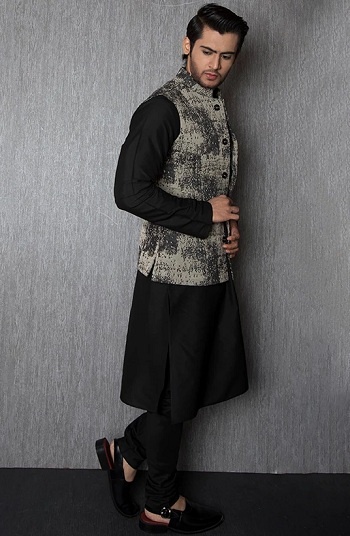 If black is your color then you must pair your regular all black kurta pajama with a grey Nehru jacket. The jacket has got contrasting colors buttons in black. It is made with complimenting kurta color. You would definitely look suave and polished for any occasion.
7. Kurta Pajama with Coat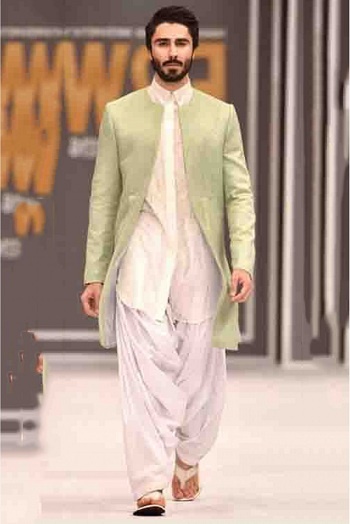 Men who do not want to stick to the old style of men's kurta designs, you should surely go for this pattern. The long jacket in contrasting color isn't just elegant but attractive as well. Definitely try a dress like this for a wedding function in your family.
8. Men's Pink Kurta with Jacket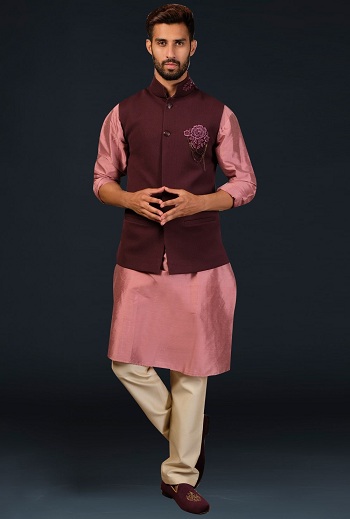 Pink is not just for girls but men can also carry such colors brilliantly. With Maroon Punjabi jacket there is an embroidery patch on the front. Embroidery has been an integral part of Indian-Pakistani culture when it comes to clothing. This is why the, otherwise plain outfit can look really modern and rich. Keeping in mind the occasion you can styles of bottom wear and footwear. 
9. White Kurta Pajama with Black Jacket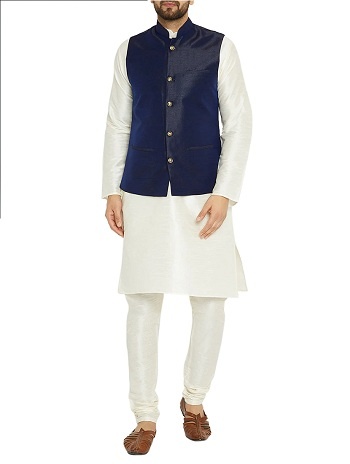 White kurta pajama for men is loved by men of all age groups and skin types. The Silk kurta in white is quite enticing with black blue jacket. The Nehru style jacket gives it a very formal look. With an embroidered jacket it would also look vivacious and expensive. Choose fabrics like plain raw Silk or other brocade material.
10. Manyavar Kurta Pajama with Jacket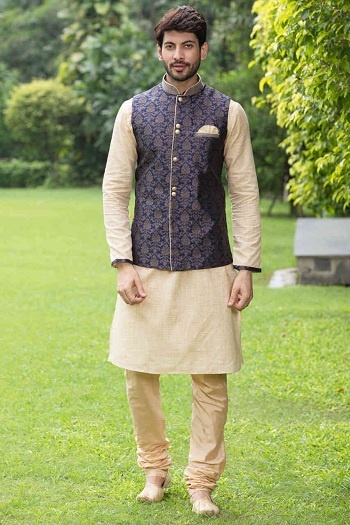 This beautiful kurta is from popular brand Manyavar. The brocade Silk jacket is a simple outfit for men. The jacket alone has made this outfit luxurious and classy that you will be able to attend any wedding function. Moreover, the color of the jacket is suitable for men of all age groups.
11. Golden Kurta Pajama with Jacket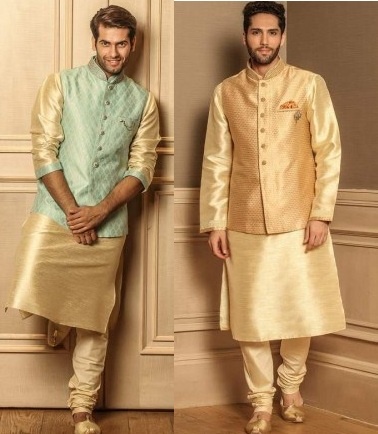 A light gold kurta pajama is suitable for almost all the Indian complexion and skin tone. The wedding appropriate dress is also suitable for grooms. In the pictures, you will see the same kurta has been styled with two different types of jackets. For getting a couple of different styles, a jacket would surely make you look different from few pieces.
12. Kurta Pajama with Modi Jacket
The Modi style jacket is paired with a white kurta pajama. It is suitable for Indian ethnic functions and rituals.
13. Blue Kurta with Jacket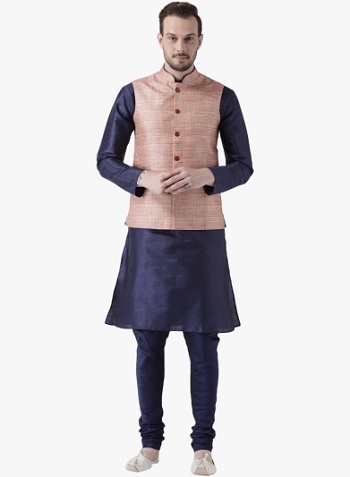 The smart jacket in light color is paired with the dark navy blue kurta in silk. The royal looking kurta jacket design and the intricate woven pattern is sure to make you appear smart and dashing. It can also be paired with light colored kurta pajama. It doesn't mean that you have to pair the jacket and kurta with the same style but you may also experiment with different styles like blazers and coat.
14. Kurta Pajama with Half Jacket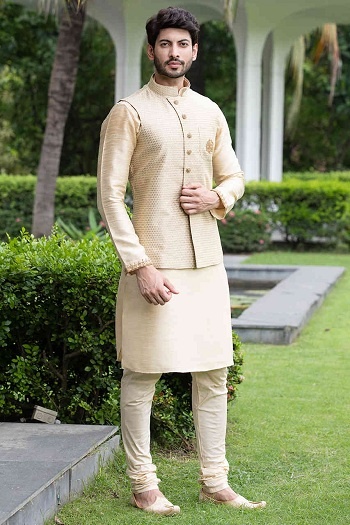 This rich looking cream beige kurta with the same color jacket is yet another styling pattern that men can go for. This design looks better on men with fair to medium skin type. And it is also appropriate for wedding functions and party wear.
15. Indo Western Kurta Pajama with Jacket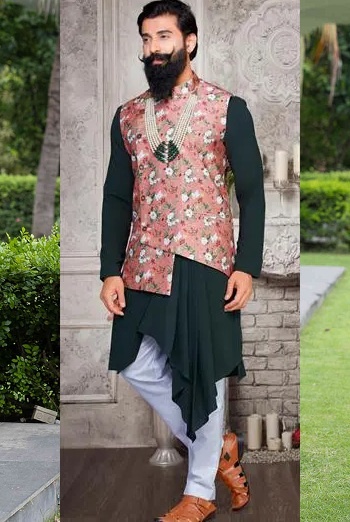 Men who like to deck up in ethnic wear but do not want to be too traditional shall try design like this. The classy beaded necklace, gives it a very royal and elegant look. The jacket alone is the piece of clothing that's making it extremely modern. The pleated asymmetric kurta can also be worn without the jacket.
16. Navy Blue Kurta Pajama with Jacket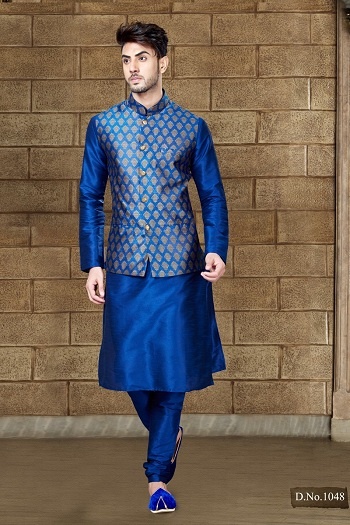 If you are going to a friend's wedding or a wedding at your family, you must try a navy blue combination. The Silk navy blue kurta is shiny and giving the rich luxurious feel. The jacket is also in the same color but the fabric is different. Even boys can also go for such designer kurta styles. You can experiment a bit with this pattern by pairing it with black or red silk dhoti pants.
17. Silk Kurta Pajama with Jacket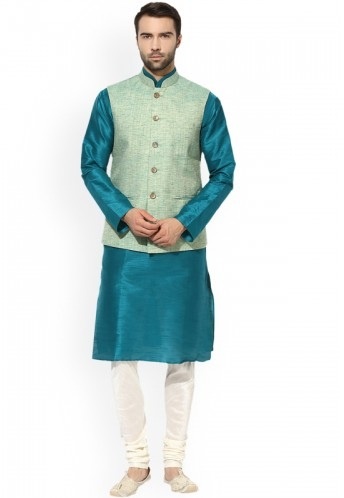 Khadi jackets are also popular amongst men of all age groups especially older man. It has a very classy and elegant look and is worn by a lot of Bollywood celebrities for parties, festivals, screening and functions. The Classic kurta is with traditional Jacket which is made out of lush fabric, suitable for festive season.
18. White Kurta Pajama with Yellow Jacket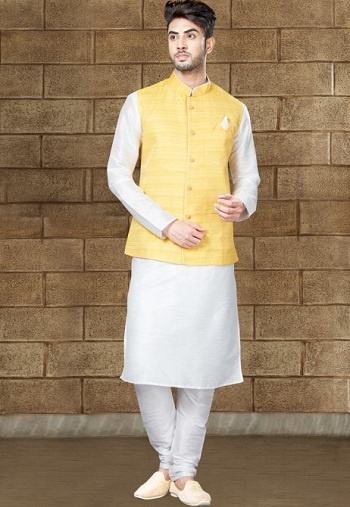 Yellow on white is one of the most eye catching and alluring color combination. The jacket has light texture which is subtle yet ornate. You can enhance your look by wearing such a semi-casual kurta look for festivals like Diwali, Eid, Raksha Bandhan and other types of Pujas at your family.
19. Red Kurta Pajama with Black Jacket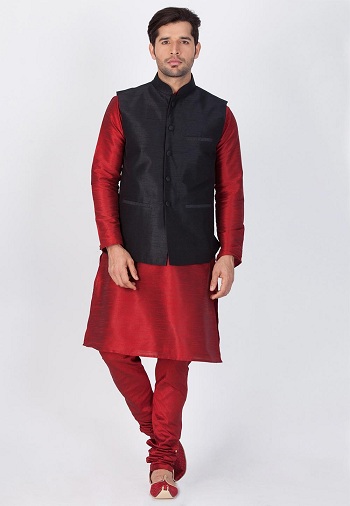 Black and red is yet another combination that many men would go for lavish parties. So if you are in doubt regarding your ethnic outfit, you must try a combination like this to look your best. Men of all age groups can try this excellent opulent combination of traditional wear. You can wear it with any footwear that you feel like however, Punjabi juti and men's sandals look the best.
20. White Kurta with Blue Jacket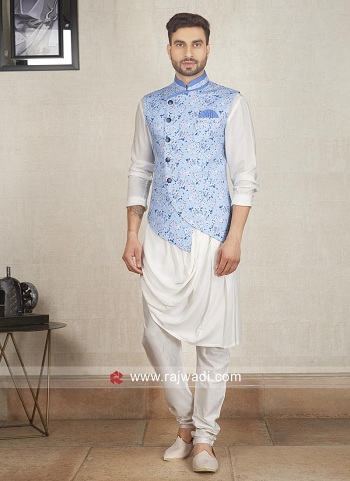 The white combination is for those who like to keep things simply stick at look stylish and vibrant. The vibrant jacket in urban design is an absolute pleasure to wear for any festival occasion. 
21. Linen Kurta Pajama with Jacket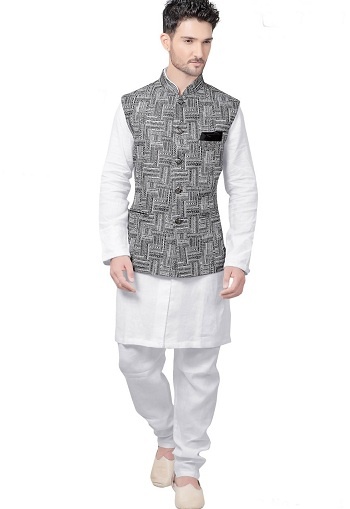 Lining kurta or trousers with jacket is yet another powerful combination that gives you formal look you can impress any festival, functions, paintings only give you that extra edge that you look stylish and modern with sophistication.
22. Kurta Pajama with Floral Jacket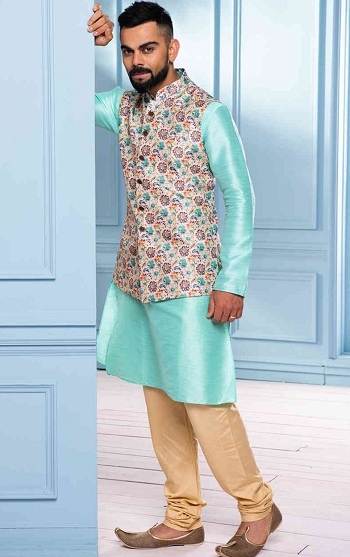 The Manyavar kurta is absolutely a pleasure to wear and look at. You would surely love wearing this style. The light floral printed jacket is not overpowering yet extravagant. Whether it's a distant relative's wedding, festival or a roka at home, you would surely stand out of the crowd. And don't forget that people would surely compliment you.
23. Orange Kurta Pajama with Jacket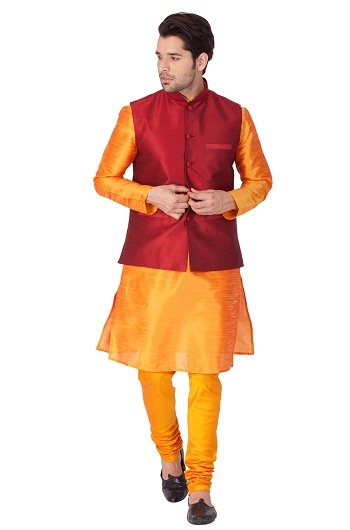 Orange color is for those men who like vibrant colors. In this image, it is being prepared with Maroon jacket, however you can pair your Orange kurta pajama with any type of jacket that you feel like. The best combination that goes with orange kurtas for men, are black, Red, White and even a pista green work. Make sure that you go for embroidery and brocade work jackets while going for weddings and grand occasions.
24. Kurta Pajama with Printed Jacket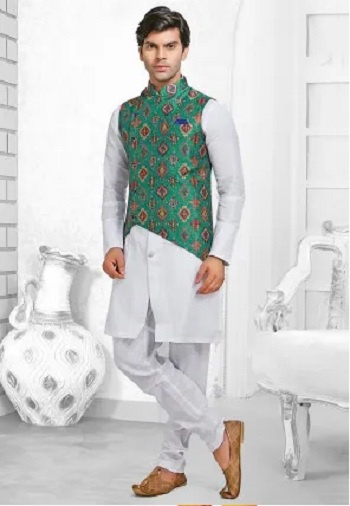 This is simply majestic looking ethnic attire for men. The jacket has an irregular or asymmetric pattern with green print all over. It is a contrasting color that adds more beauty to this clothing. One can style it with Derby shoes and also with strappy sandals. This style is perfect to be worn for Indian festivals and family gatherings.
25. Red Kurta Pajama with Jacket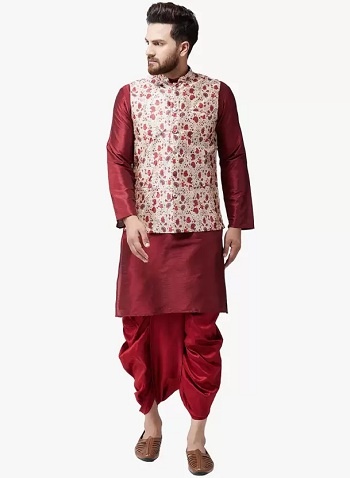 The red men's kurta pajama is paired with floral white and red jacket. Red is a color that is meant for festivals and weddings in India and neighbouring countries. This is why for men who like this color should definitely go for this pattern.
26. Kurta Pajama And Nehru Jacket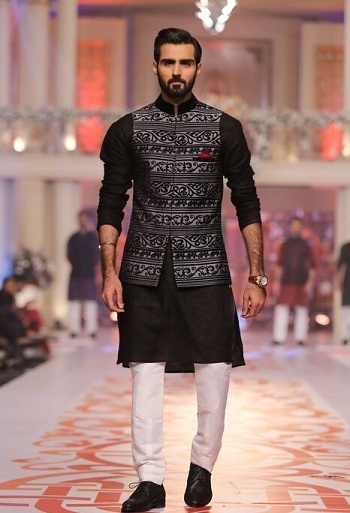 Nehru jacket has this ability to instantly elevate your look for any type of occasion. The geometric printed jacket is nicely made and gives an elegant personality to the person who cares it. The best thing is that even though it is simple, yet you get modern and western vibes.
27. Green Kurta Pajama with Jacket
Green and blue are the colors from the same color family. This is why they blend with each other nicely. Here, you can see this Manyavar Kurta in sea green is styled with Navy blue jacket. It is not just classy but also something that can enrich and enhance your style. You can pick up a design like this for your next family wedding ceremony or family function.
28. Stylish Mens Kurta Pyjama with Jacket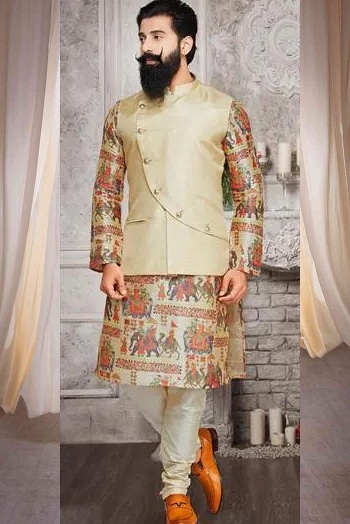 How about an Indo Western looking printed kurta? The kurta is filled with traditional Rajasthan inspired motifs on the solid colored jacket. The jacket is styled very differently than the regular Nehru or Punjabi jackets. In fact, this is the major style factor that makes this dress luxurious and grand.
29. Maroon Kurta Pajama with Jacket
Maroon is an ever green color that is worn for most of the Indian ethnic festivals and functions. Keeping that in mind, you too can try a raw silk maroon short kurta pajama with white floral printed jacket. The jacket has a asymmetrical cut with diagonal hemline. We've seen this style a lot in the Indo-western and modern kurtas for men. Not just with this kurta pajama, you can also try a similar jacket with your other Indian wears. You must have a piece like this yourself look not just elegant but stylish as well.
30. Yellow Kurta with Jacket
Yellow jacket will work in your favour and makes you look fresh and lively. It is not as rich and luxurious but is quite simple and elegant. It is an irresistible statement piece which is suitable for small get together and functions.
31. Blazer with Kurta Pajama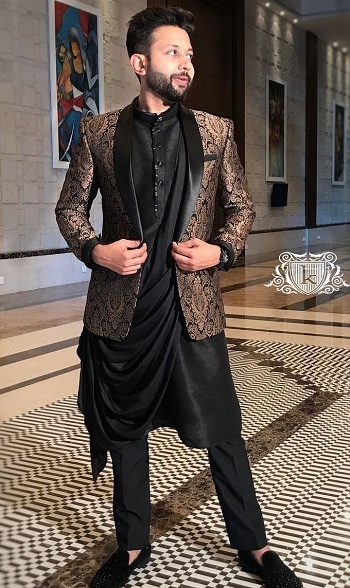 Men who like extremely urban looking ethnic wear, shall try something like this. A blazer made out of plain brocade and velvet fabric is prepared with stylish pleated kurta This styling would surely get you female attention, in case you need.
32. Pathani Kurta Pajama and Jacket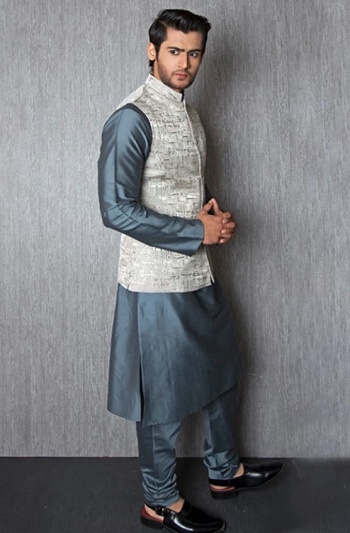 Grey kurta is extremely beautiful and very sombre, subtle and elegant. For most of your traditional gatherings and festivals, you would be able to rock a simplistic design like this.
33. Long Coat with Kurta Pajama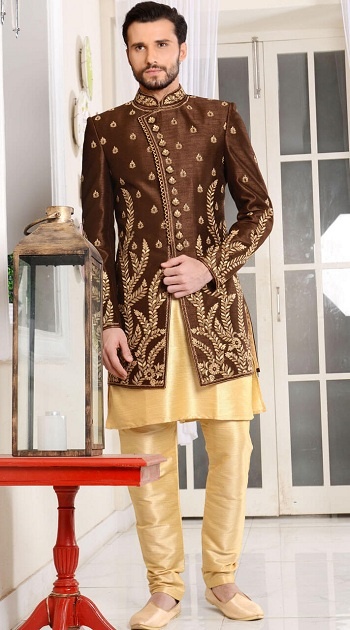 The long coat style kurta is a blend between the regular sherwani and jacket. Golden kurta pajama in Raw Silk with gold thread heavy embroidery is very wedding appropriated. The affluent and rich style is suitable sherwani style for grooms. You can have it replicated in the red or maroon color as well.
34. Pink Kurta and Floral Jacket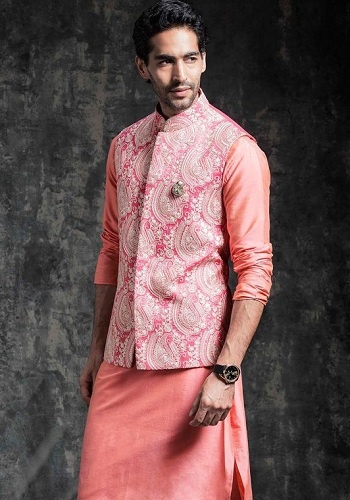 This Paisley printed jacket would surely impress the opposite gender. You can even add a silk brocade Nehru jacket to make it more elegant and stylish. Kurtas are best to be worn with pyjama and churidar, rather than the basic dhoti style and pants. On wedding ceremonies and ring function you can wear this. 
35. Short Kurta with Jacket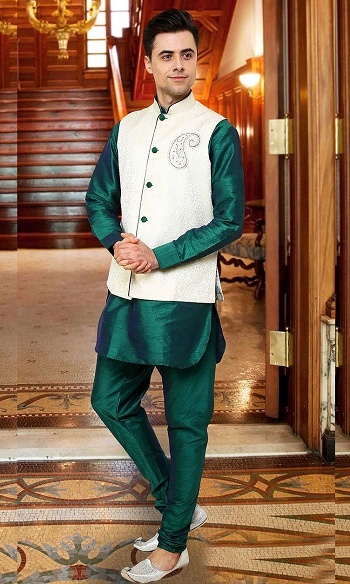 Green is also an evergreen color for men. Short kurta is paired with an Ivory white Silk jacket making it apt for grand to small occasions. With Paisley embroidery on one of the sides and contrasting buttons on this jacket are eye catching. 
So this is how you can style a jacket with your kurta pyjamas and kurta dhoti dress. Styling jacket is majorly dependent on the occasion and event you will be wearing it for. For small events, you can definitely go for solids and printed jackets, while for Grand events like weddings, where you have to dress up lavishly and opulently, you can try jackets made out of rich and expensive fabrics like brocade, Silk, velvet with embroidery and sequin work. Hope you have got ideas to style yourself for the next wedding season and festivals.