Latest Short Kurtas for Men
Men's short kurtas are one of the most popular ethnic wear for men.  With different style and cuts they are sure to make men look dapper and fashionable. Some of these kurtas are long but short men's kurtas are equally in trend. Here, we have compiled an image list of the latest short kurta design for men. Out of the various designs and patterns, shorter ones are preferred for casual wear. They are good to go with jeans and a nice pair of trousers. In fact, these short length kurta for man have been experimented a lot with different hemlines, neckline, fabrics and many other features. Let's take a look at modern men's short kurta designs.
Best 20 Latest and Stylish Short Kurta for Men
To complete your wardrobe, you must have kurtas and out of that shorter kurtas for men is a must have garment for men. You will be surely inspired by the images and would love to have as many of these.
1. Chinese Collar Short Kurta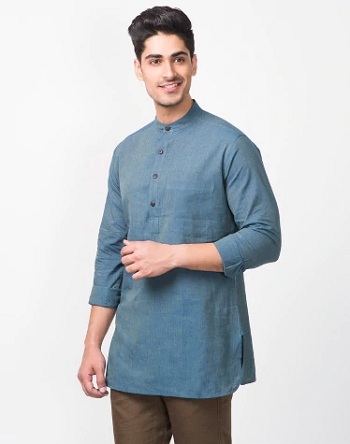 The simple looking Chinese kurta is extra comfortable and stylish looking. When paired with these with a pair of trousers or even jeans. The centre button placket makes them look nice. The full sleeves design is suitable for summers and winters. 
2. White Short Kurta for Men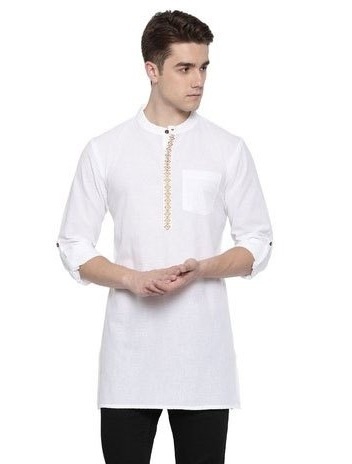 Nothing can beat the beauty of a crisp white kurta. This white kurta has Chinese collar with some light embroidery on the centre button placket. It has a pocket on the left hand side and comes with foldable button tab sleeves. It's a short but has above the knees length. Compare these with the regular Pajama or the jeans as well.
3. Short Kurta with Jacket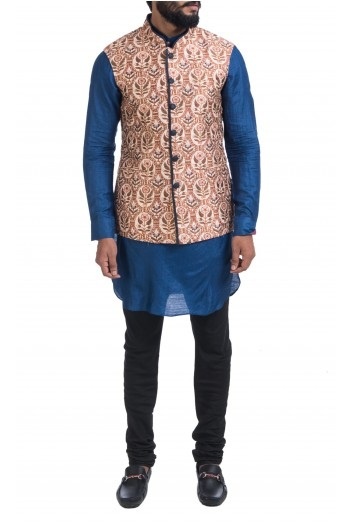 Short kurtas with different types of bracket is very much interested currently. It comes with full sleeve kurta with a jacket. The fabric for jackets can be brocade, Chanderi or other such luxurious and classy looking fabrics. This is why this overall design is perfect for parties and other traditional ceremonies like small religious rituals or gatherings.
4. Short Kurta For Men With Half Sleeves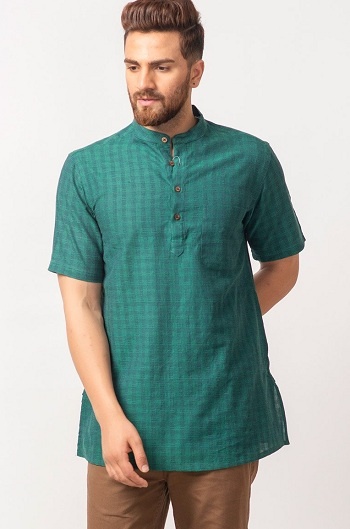 Men's regular kurta also available in half sleeves that gives a comfortable and everyday kind of look. This kurta has a light green chequered design with Centre button placket with a Chinese collar. It is very casual and comfortable for everyday college and otherwise. You can pair it with trousers and other types of bottom wear.
5. Short Pathani Kurta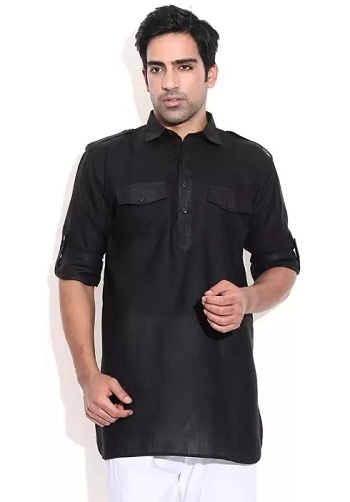 Pathani kurtas have been very popular amongst Bollywood celebrities. A lot of Actors have sported them for various movies and otherwise. It has got a regular shirt collar with the centre button placket that finishes in the midway. The key highlight of the Pathani kurta is that they have to flapped pockets on each side. The button tab sleeves are foldable and can also be rolled down. The best way to pair these Pathani style kurtas would be with jeans or the regular trouser for stopping paragraph
6. Manyavar Men Short Kurta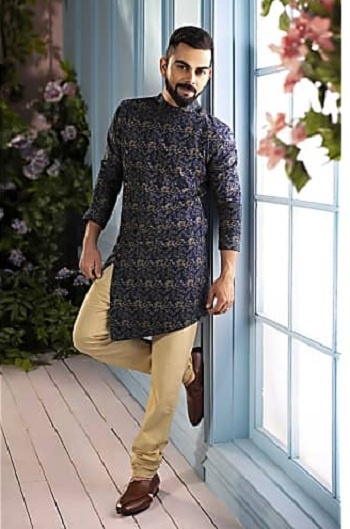 Manyavar is highly popular men's kurta and ethnic wear brand. It is currently endorsed by none other than Virat Kohli and this particular design is a diagonal side slit kurta. With Manyavar you can do so much with your casual, party wear and wedding wear kurtas. In spite of these being little expensive about hiring they are worth trying.
7. Short Cotton Kurta For Men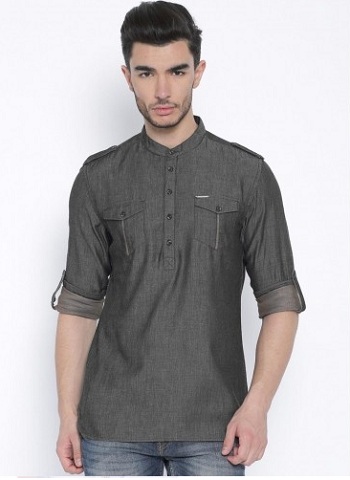 The short kurta for men in cotton fabric is comfortable for the summer season. The flapped pockets on each side have buttons. With a simple centre button placket with Chinese collar, it looks stylish. It also has a Pathani kurta type of feel just that the hemline is straight or not rounded.
8. Short Kurta with Jeans for Men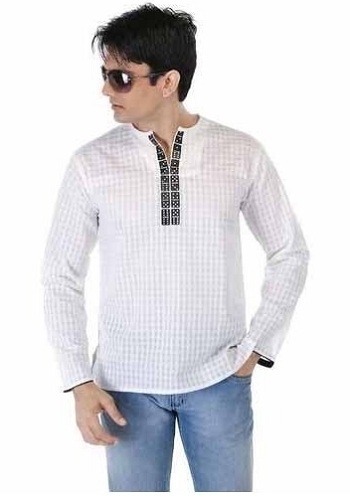 It's a designer short kurta pair with a pair of jeans. It has a centre slit with full sleeves. The modern looking kurta, that will definitely make you look dashing. Such designs are appropriate for all the casual and traditional ceremonies and events.
9. Orange Short Kurta for Men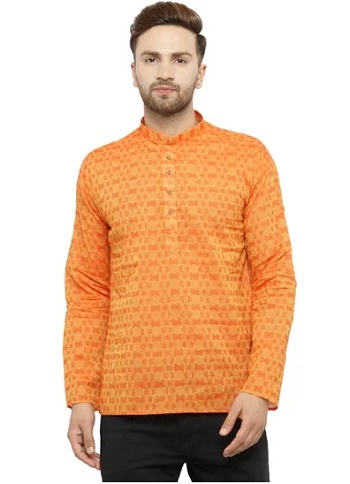 If you like orange color than you must try an orange short kurta for men. Orange is the New Black this season and this is why the Chinese collar kurta with full sleeves looks really appealing and dashing. It would keep you cool and you will not feel hot during summer season. Make sure that the kurtas for summers should be of light and cotton fabrics.
10. Short Kurta with Waistcoat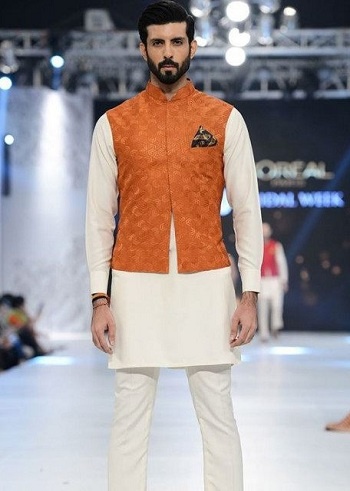 A waist coat is not used for just your blazers and formal suits however; kurta also can be paired with a waist coat or jacket. This designer short kurta with a dashing waistcoat looks really outstanding. The contrasting colour men's waistcoat or a jacket gives this men's party wear attire a very wedding or party wear kind of feel. You can try such a design for all the grand Indian ceremonies, where you would like to be the centre of attention.
11. Wedding Short Kurta for Men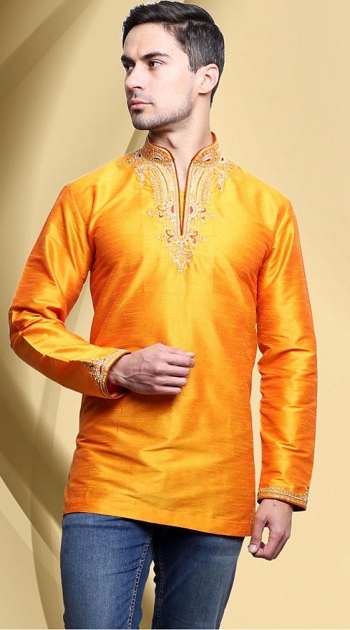 This wedding short kurta has exclusive embroidery on the neckline and cuffs. Silk fabric makes it look classy and elegant and very festive. Not dress for wedding search kurta can also be used for Indian traditional ceremonies and rituals.
12. Men's Silk Short Kurta for Party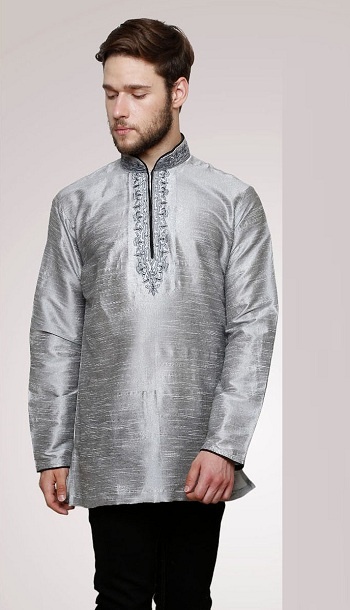 The party wear short kurta has a Mandarin Chinese neckline with exclusive and contrasting coloured white embroidery on the centre area.
13. Party Wear Short Kurta for Men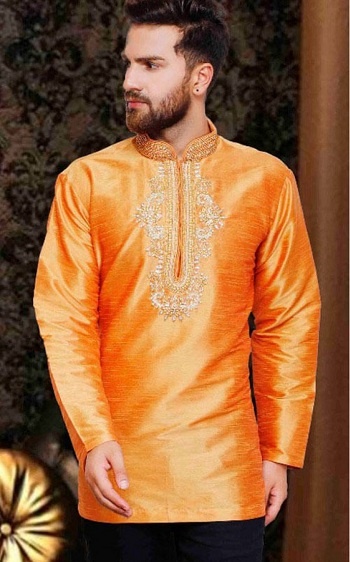 This shimmery and beautiful gents short kurta design is apt for parties. You can pair this with dhoti pants or trousers. A lot of men also like to go for the regular churidar available for males.
14. Short Kurta with Nehru Jacket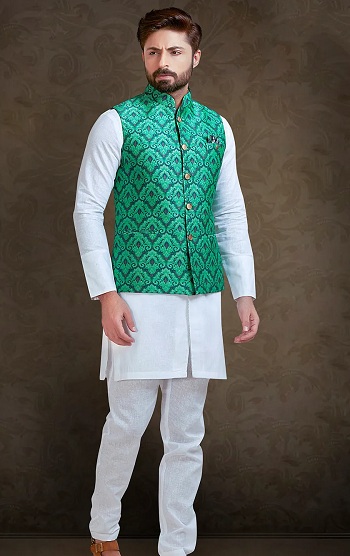 You can team up a Nehru jacket with a crisp white kurta looks really sophisticated and elegant. In fact, a lot of men would like to go for ethnic ceremonies with such style of dressing. This style is good for the upcoming Eid, wedding, Puja as at your home or even for a friend's wedding. It gives you a traditional and super look.
15. White Linen Short Kurta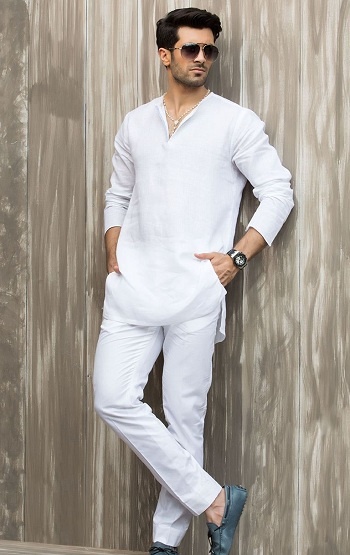 A pure white line in in short length looks really nice on men with all the body types of. Payment with the long sleeves over button tab sleeves. The neckline is Centre slit with two side pockets few school in hot months during summers. And the breathable fabric gives you that much needed comfort for the humid and warm weather.
16. Green Short Kurta for Gents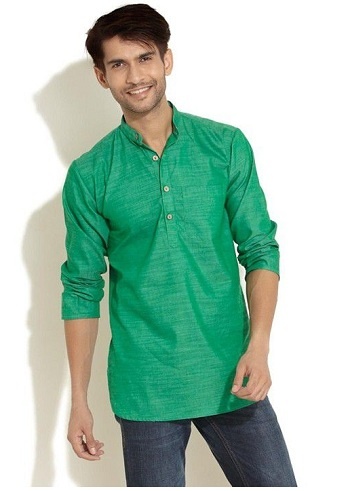 Green short kurta with Chinese neckline and full sleeves can look really dapper. The neckline gives it a semi casual look that makes it wearable for daily use for all round the year. This type of pattern is also available in the side open or side slit kurta. 
17. Printed Short Kurta or Males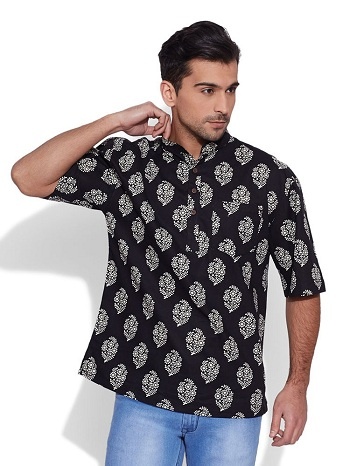 Prints can never go out of Trend. And when it comes to kurtas, printed kurtas looks really interesting on men with all the body types and skin complexions. This black printed kurta with a short Chinese collar has short sleeves. You can have a similar designer kurta in full sleeves as well. However printed kurta are best to be paired with jeans.
18. Indo Western Short Kurta for Men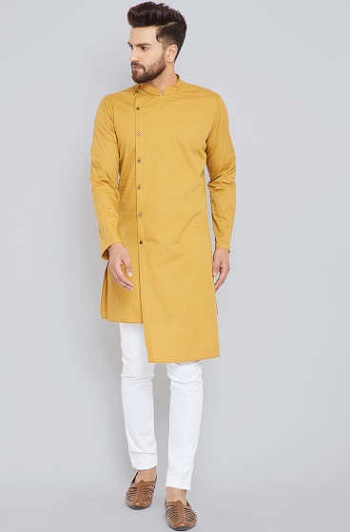 The Indo Western side open short kurta for males is sure to catch attraction and attention. It has a side open button placket with a regular line. This is what makes it really interesting and unique. It has a chinese collar with full sleeves. You can experiment a design like this with different fabrics like cotton Chanderi silk and most importantly brocade.
19. Dhoti With Short Kurta For Men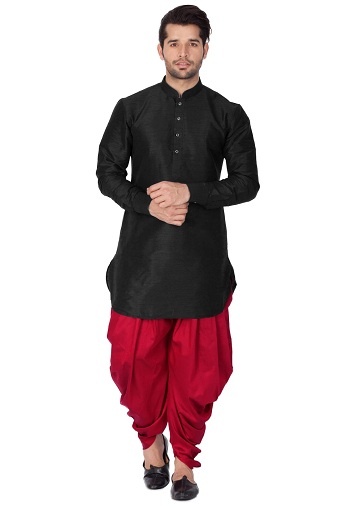 Dhoti is a traditional attire for men which is popular even today as well. In fact, stylish and trendy dhoti pattern is seen a lot during Indian festive and wedding wear. You can team it up with a beautiful nice short kurta with dhoti pants or readymade dhotis. It is very comfortable where that will keep you the weddings and festivals that happen during hot weather.
20. Om Short Kurta for Men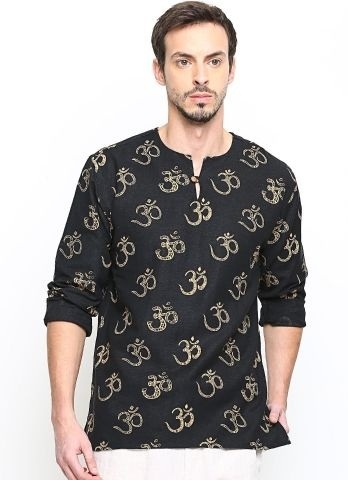 Om printed kurta are in trend currently. Not just the regular Saffron orange colour but these Om kurtas could have been invented with the same motif. Here you see a black kurta with a grey white print all over. There is so much to experiment with this particular design and Fabric.
21. Shirt Type Short Male Kurta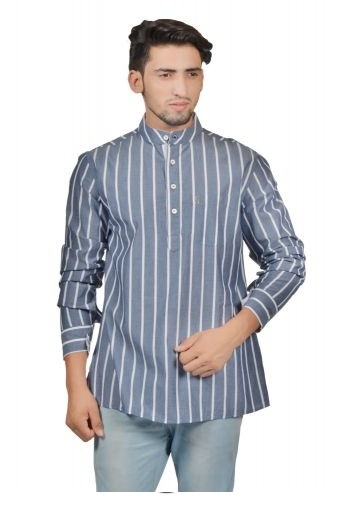 A lot of men prefer the shirt type kurta. It's because they are not just comfortable but also gives you casual and formal look. This shirt look like kurta has white straps on light grey blue base. In fact it has got cuffs instead of the regular long sleeves. Centre button placket is till the mid chest. The most comfortable type of semi formal clothing for men.
22. Blue Men's Short Kurta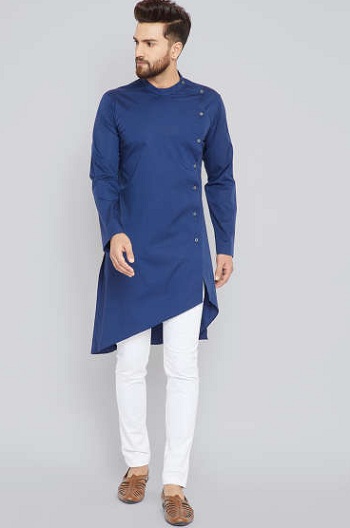 This blue short kurta has Chinese neckline with side open placket. It also gives that angrakha style of look and the diagonal hemline or you can call it as a regular helpline as well. This makes it very unique. In fact, these designs are very trendy currently and you will see that a lot of models have displayed such designs on the runaways. These are perfect for weddings and festivals where you would like to look smart and elegant.
23. Shatranj Print Kurta For Men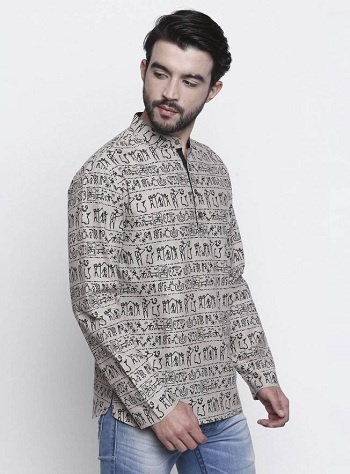 The shatranj print kurta is the latest trend. The highly fashionable printed men's kurta design is unique in its own. It has full sleeves however it can also be replicated in short sleeves as well. You can pair these with jeans or a pair of nice white linen trousers.
24. Party Wear Men's Short Kurta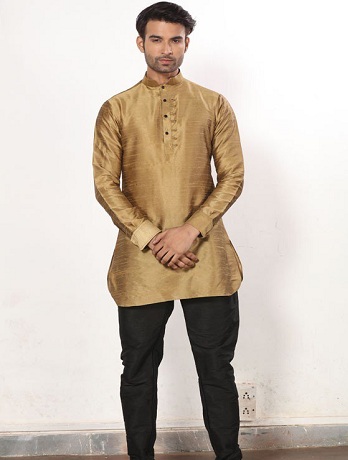 A party wear mens short Kurta in Golden beige colour would look good on men with all the skin complexion. Just like that we feel it could have been paired with a white or Maroon trousers or dhoti pants. Then it would have looked really complimenting.
25. Maroon Short Men's Kurta
The rich looking Maroon kurta has some pretty embroidery. It is suitable for all the festivities and wedding season. Man of all complexions can try a Maroon kurta. In fact, Maroon is a colour that is very Indian and suitable for the traditional rituals and ceremonies.
Hope these images of short men's kurtas will inspire you to get one for yourself. You can team up these with different styles of bottom wear that would suit your body type the best. As we have given you ample amount of choices and inspiration, we are sure that you would rock this wedding and festival season. Stay tuned for more.
Kurta is an Indian attire is never going to go out of fashion and undoubtedly, you can look stylish and fashionable with these styles of kurtas for men. No matter what your body type is you can still rock a kurta for this festival and wedding season. However, the best thing to do is to pair your short kurta for jeans for casual outings and hangouts.