Silk kurtas for men is not just a style statement but this piece of clothing can also make you look royal. Yes, silk has that aura and charm that makes your personality distinct and gives you loads of elegance. Men with all the age groups can wear silk kurtas with ease and they just do the right thing for you. You just have the pick the right well fitted and designed kurta for you. A tailored kurta pajama set can give you extra points in styling and you look suave.
Latest Designer Silk Kurtas for Men
Here are the images and ideas of the latest silk designer kurtas for men that can be worn for weddings, events, ceremonies and Indian functions.
Mustard kurta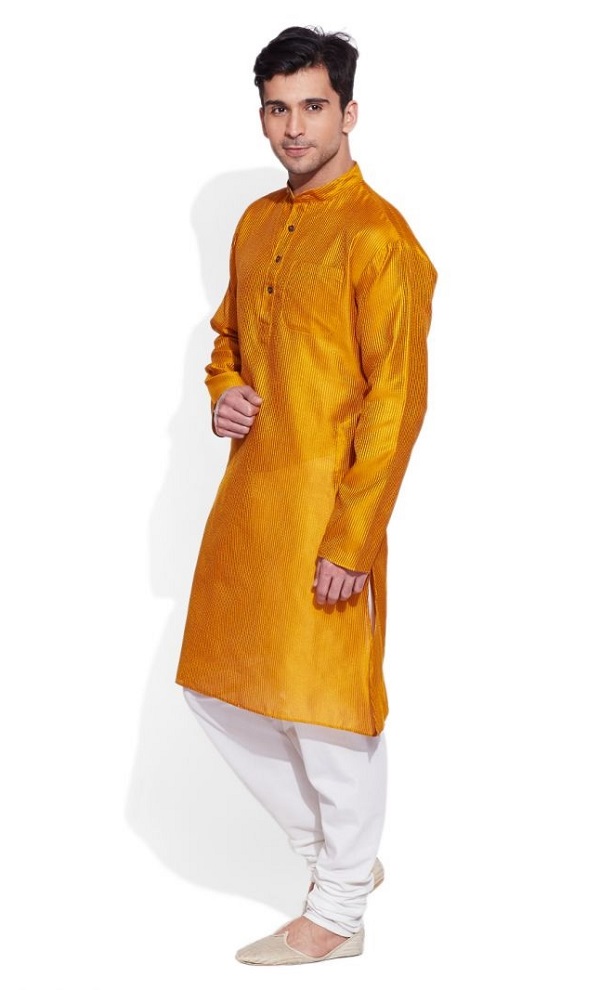 If you like to keep things that till yet quite attractive then kurta pajama like this is just perfect for you. The mustard yellow textured Silk kurta is paired with white pajama. It is highly attractive to look at. I'll suit men with fair to dark skin tone like. You can share this with any type of duties but make sure they are light in colour.
Embroidered Pink Kurta in Silk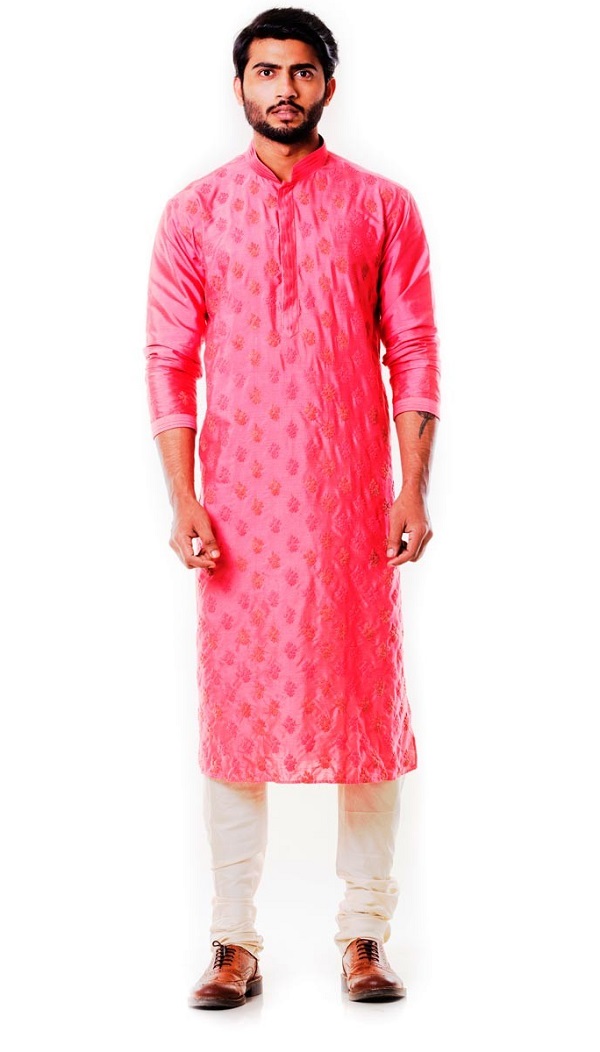 Pink color is not only for women. Textured and embroidered pink silk kurta pajama is just perfect for the next Diwali that you are going to attend at a friend's place. The detailing at the button placket is pretty and it can be paired with silk pajama or even the silk white dhotis.
Simplistic Kurta for Men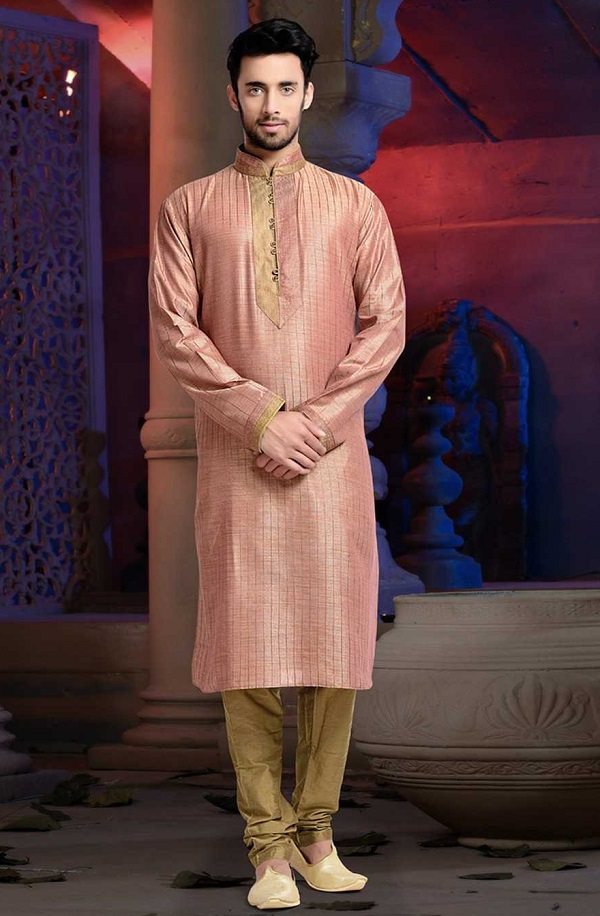 This next kurta pajama is a silk kurta pajama for men. It is teamed up with gold churidar pajama. The button placket is adorned with the potli buttons. This kurta is perfect for the festive season.
Ombre Kurta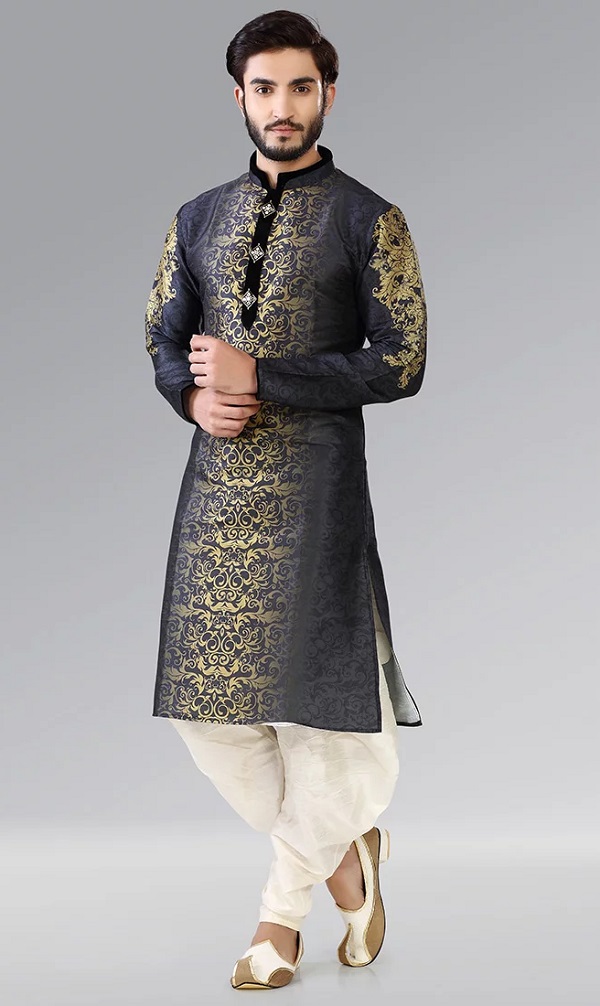 If you want something that should attract people's attention, you should go for a design like this. It's a textured ombre sort of design which is suitable for all the Indian occasions. The design at the arms and on the centre part of the kurta is extremely beautiful. The button placket is adorned with stylish buttons. Silk kurta can be paired with white or black dhoti. Sharing it with black dhoti would definitely make you stand out of the crowd.
Stunning Brown Kurta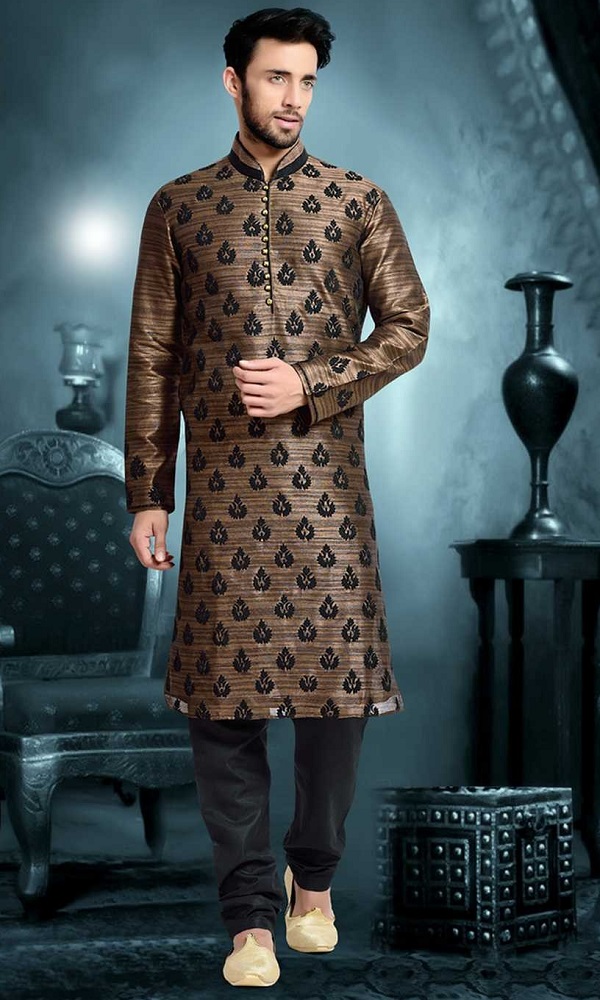 This next silk kurta is an embroidered one. It's a combination of pretty brown and black. Motives are spread all over the kurta and the buttons on the placket enhances the look. Red with black churidar Silk pajami. You can pair it with black dhoti or brown dhoti or even pajami.
Subtle silk kurta for men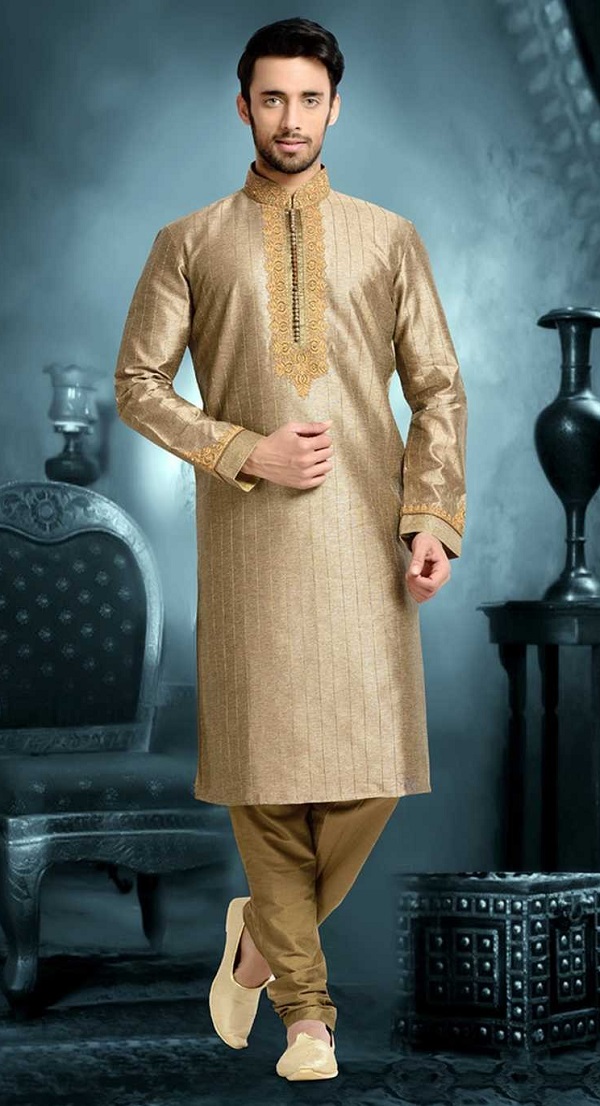 If you have got a wedding at a relative's place or you are invited for a friend's eid party, then a piece like this can be perfect option for you. It is enhanced with the beautiful embroidery at the front and on the cuff. The subtle yet highly attractive color is going to suit men with all skin colors.
Silk Silver and Black Kurta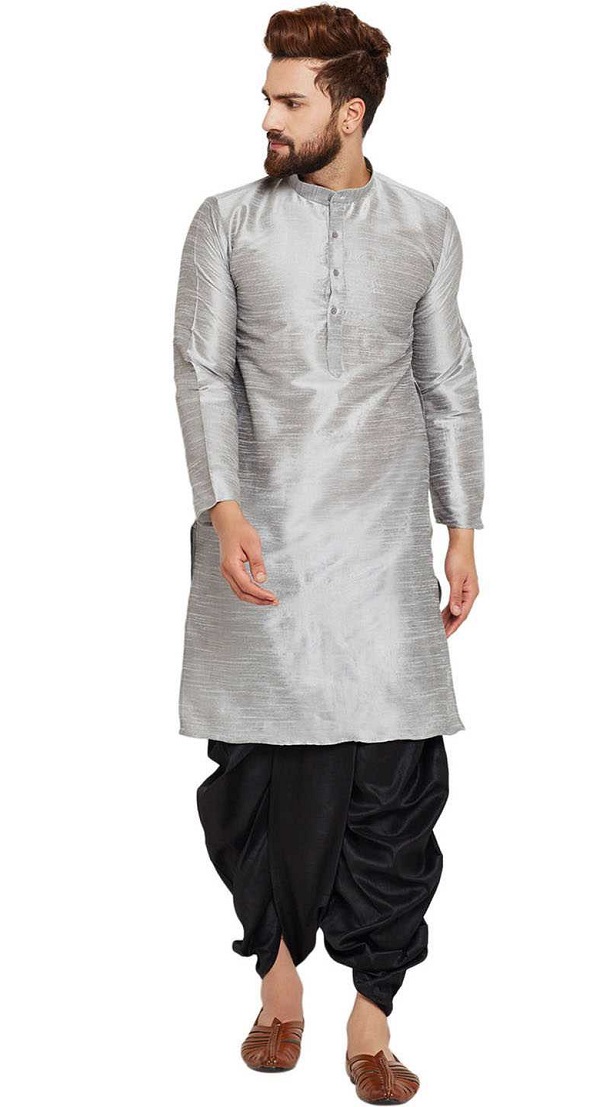 If you are someone who would like to keep things, that is at the centre of attention, this option can also be tried. This silver coloured kurta is paired with black silk dhoti. The silk kurta has this gorgeous silk design. Which is so simple that it will not make you over the top yet will give you the attention that you need. Combination of silver and black is just amazing. With this pair you can try Kolhapuri chappals juthis etc.
Silk Pathani Kurta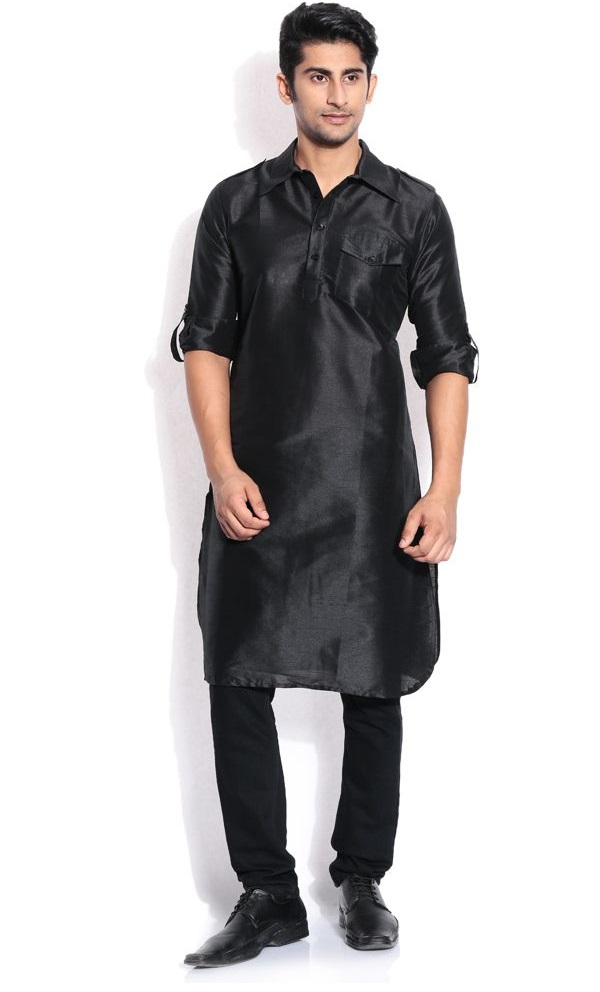 This next option is for a Pathani kurta the silk kurta has a Pathani design. The black silk kurta has pocket on one of the sides and is paired with the basic black pajama.
Magenta Kurta
Now this next option is for those who are going for a friend's wedding or a relative's wedding. Light Magenta colored Silk kurta is teamed up with Peachy gold colored pajami it also has a stole which is Ivory in color. You can skip the stole part and just go for the kurta and pyjama.
Dotted Orange Silk Kurta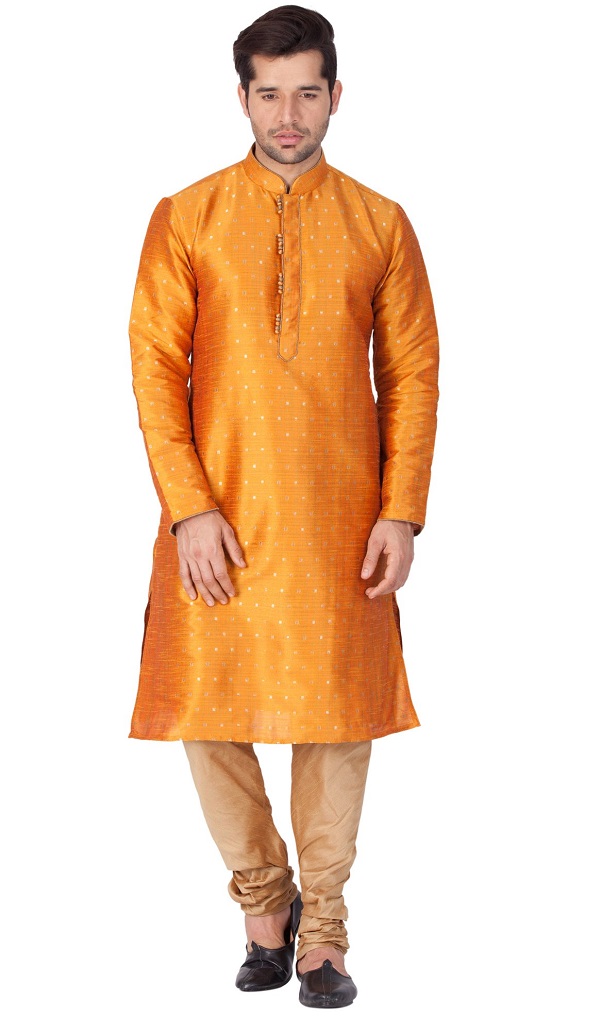 The pair of beige pajama with a bright orange dotted silk kurta is awesome. Good with those buttons on the placket and little beads at the edge off the cuff area. By far this is the best silk kurta in orange color for men. The design and the color of this kurta is like that it can be worn for almost every traditional Indian location without being too glossy or to subtle.
Silver and Gold Kurta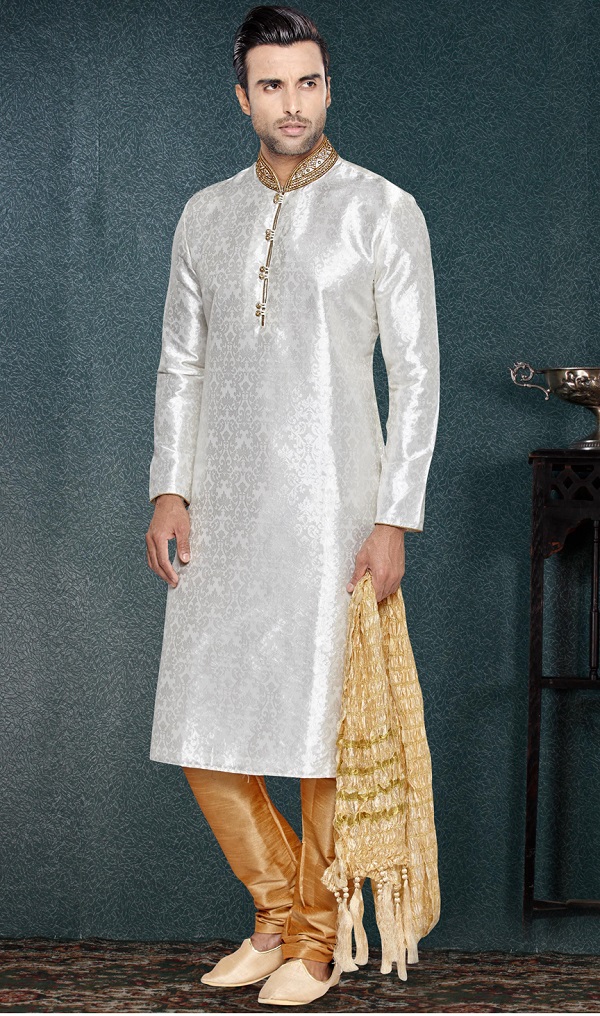 This next option is a textured silver colored kurta with a golden pajama it's not really a silver color but more like bright Ivory color. Men with fair complexion will be able to carry such colors extremely well. This color can also be worn for weddings and traditional events.
Luxurious Kurta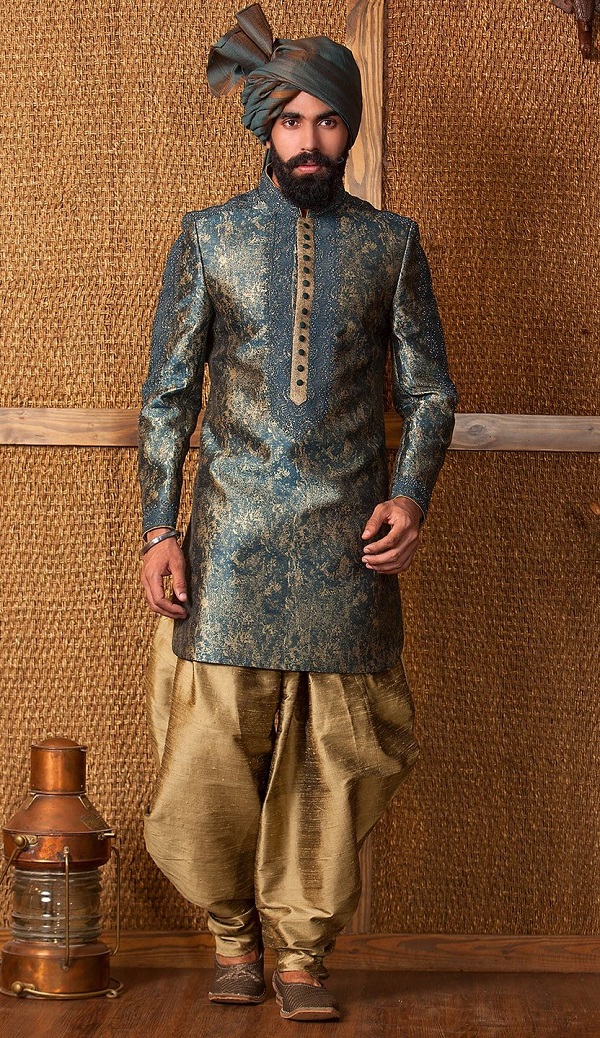 The Turquoise blue Silk kurta has Golden print over it is a bit over the top but when we own it would just make the heads turn. Here, the model has paid it with a Pagdi you can also do so if you are going for a wedding of a closed one. Adjust the kurta and dhoti pants will do the magic. It can also be paired with basic black dhoti or black Pajama.
Blue Embroidered Designer Kurta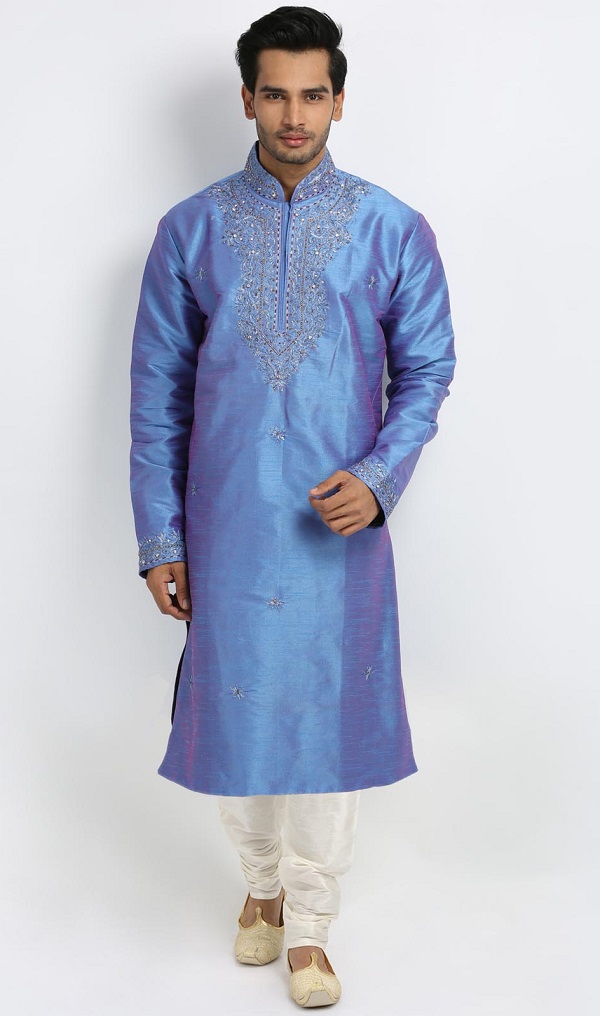 If you love blue then this blue colored embroidered silk kurta with white Pajama is a must try. This color looks good on men with old complexions. The dark complexion skin also try colors like this.
Contrasting Embroidery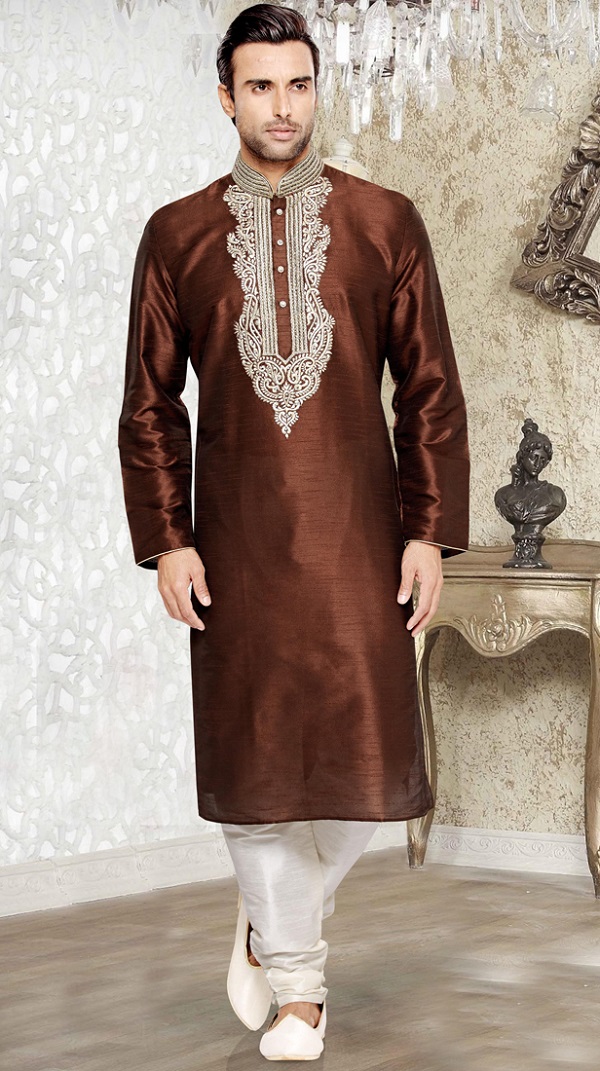 Now this next option is this reddish brown kurta pajama in silk with embroidery at the front neck part. You can pair this with brown black and white Pajama. The color is going to look good on men with fair skin complexions.
Silk Red Kurta Pajama for Men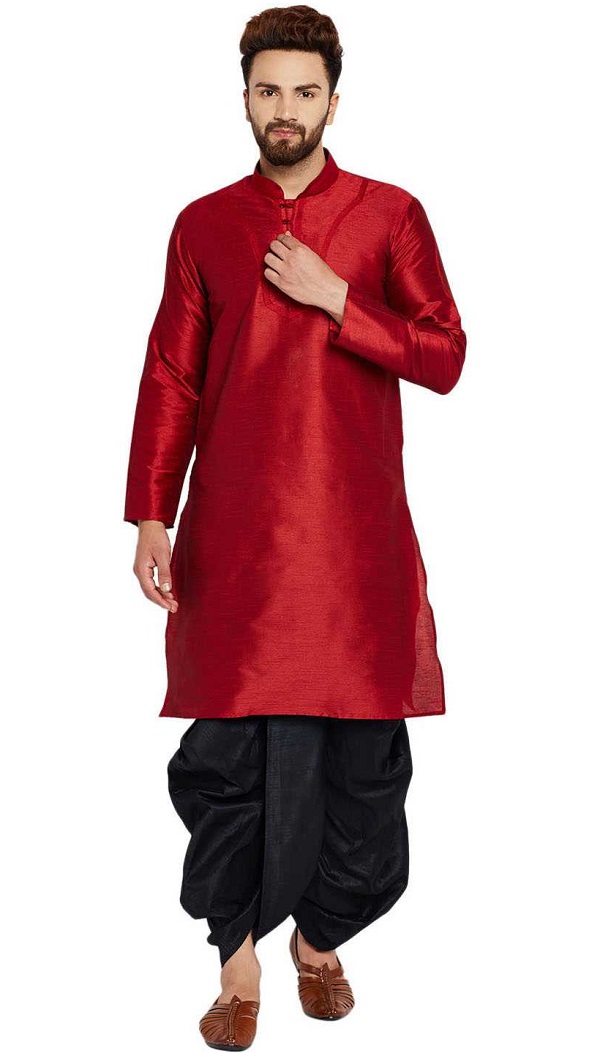 This is an absolutely beautiful combination of silk kurta. The silk red kurta is paired with Silk black dhoti. Kurtas like these are perfect for Diwali, Raksha Bandhan, for Eid and the other Indian festivals. Are the basic duties or Kolhapuri chappals with kurta as like this.
These are the best Silk kurta pajama for men that we have listed here. Which is that you like? Do you like darker colors or brighter colors in your kurta pajama?