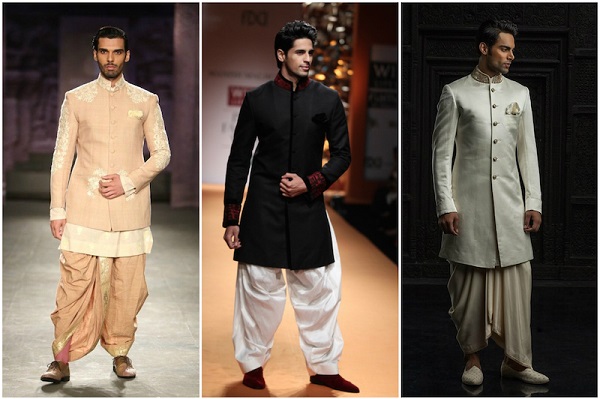 Dhoti kurta is an ethnic wear for men and these days even women are going after this traditional Indian clothing. It's an ethnic pattern of clothing that is very much in trend during the festive season. When the festive season is in you would like to get that choice in your Indian traditional wear. Many men prefer going the traditional route when the festive occasions and parties for weddings are nearby. Ethnic Men's wear include kurta pyjama and sherwani. Here, we have compiled this image list of the latest dhoti kurta designs for men. As the festive season is nearby around the corner you must try one of these designs.
Latest designs of dhoti kurta for Indian men
1. Silk dhoti kurta with jacket
The base and red silk dhoti kurta looks awesome. This color combination is one of the best and most popular for men and women. You can try it even if you have dark and tanned skin complexion. The gold page kurta has is paired with a red jacket with Mandarin collar. The Dhoti also has the border of the base gold fabric which makes it more defined.
2. Turquoise dhoti kurta for men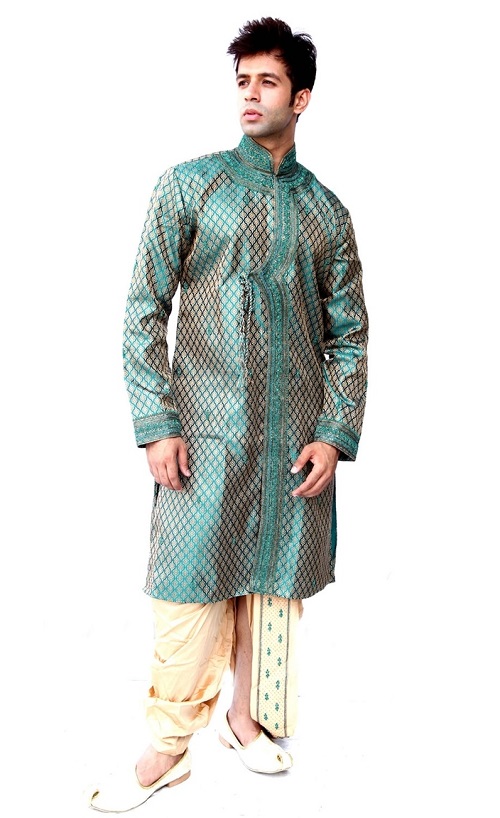 The design of the fabric is quite different than the regular fabrics that we have seen. The high Mandarin collar has long design that runs till the bottom of the kurta. The Silk brocade fabric is perfect for festivals and traditional ceremonies and occasions. This design is paired with beige colored dhoti with print on the border. You must try a design like this if you would like to go for something different than the usual.
3. Silk blue and red dhoti kurta for men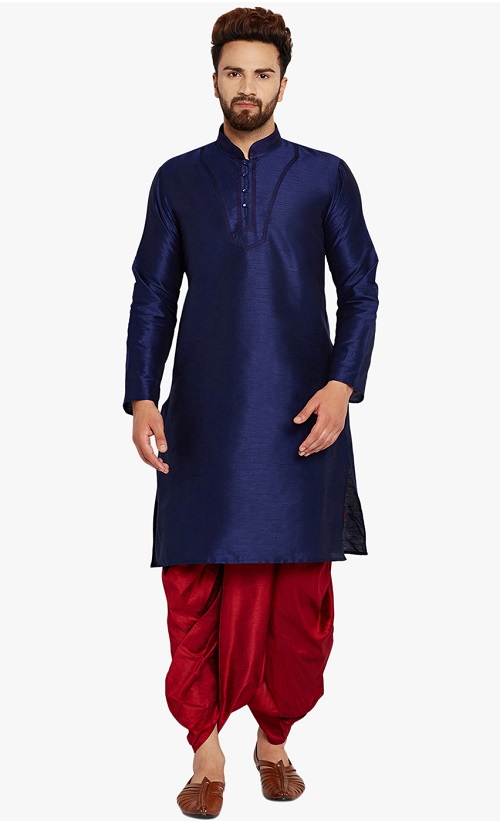 This is such a beautiful combination that it will definitely make the girls go weak in the knees. The silk dhoti in red and blue kurta is a combination that looks perfect on men with all skin complexions. Machine on the Silk kurta and dhoti is something to look for. The simple kurta and the simple dhoti looks classy and luxurious. Next time if you are wondering what to wear for traditional ceremonies then you must go for a peace like this.
4. Embroidered Dhoti kurta
Beautiful contrast in embroidery in beige color on this blue kurta looks highly attractive. The entire neckline has been kept beautiful with this neat embroidery. The best silk dhoti has the same embroidery pattern on its border so, when you where the dhoti the border shows up on one of the legs.
5. Red and beige dhoti kurta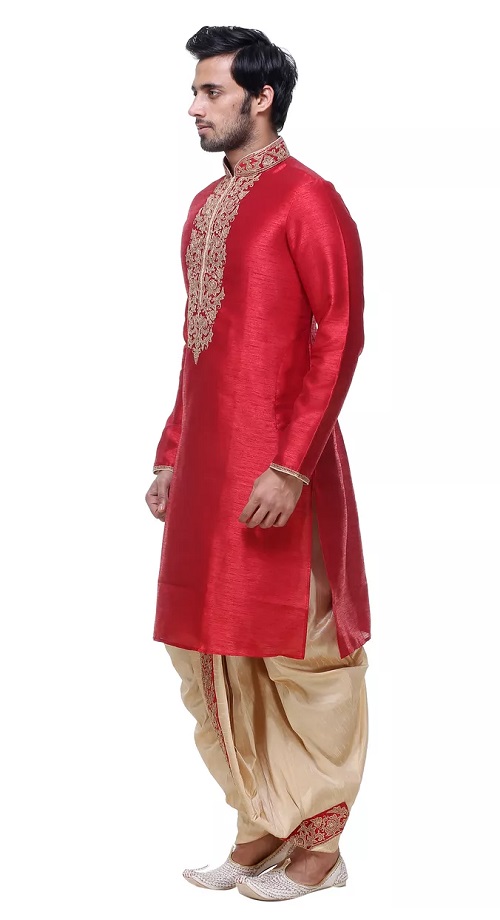 This exact design in blue has been replicated in red and beige color. So if red is your favorite color, then you must go for this color combination and design. The impeccable embroidery on the neckline makes this a very attractive dhoti kurta.
6. Yellow and silver dhoti kurta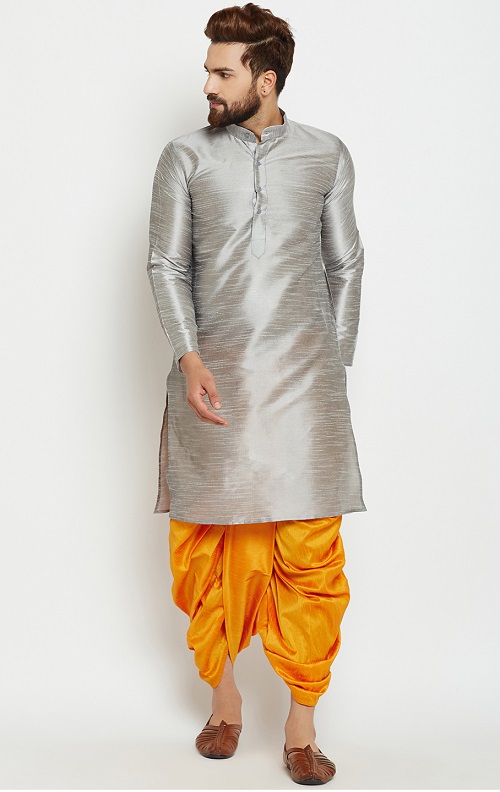 By far, this is one of the best and unique color combination. You must have seen kurtas of all the different colors. But, this is of silk silver color that gives it a very beautiful and head turning look. The Silver Silk kurta is paired with Silk yellow dhoti which makes it a powerful combination of colors that will attract attention. If you would like to be a bit different than rest of the guys then you must try this color combination for sure.
7. Simple yellow gold dhoti kurta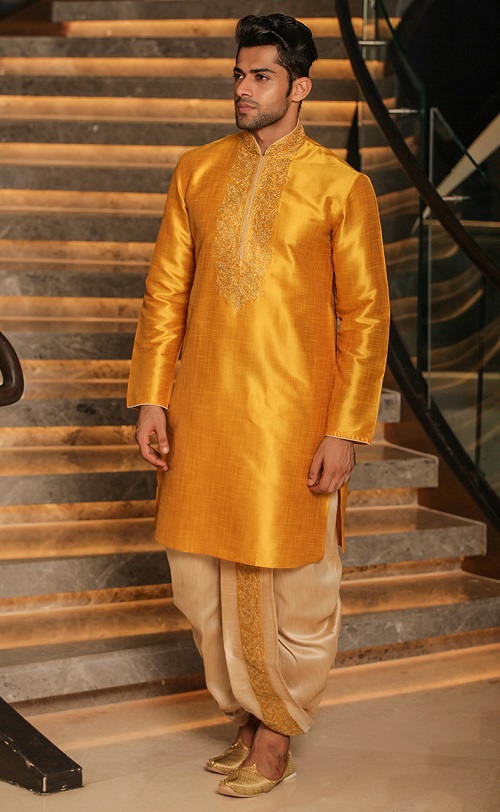 For men who would like to keep things simple this design is the best. The design is such that has that classy and elegant will do it. The yellow color is paired with beige gold color. As both the colors are very complimenting they would look good on all the skin tones. Not just that, this combination of colors also looks good on men in the middle ages.
8. Pristine white dhoti kurta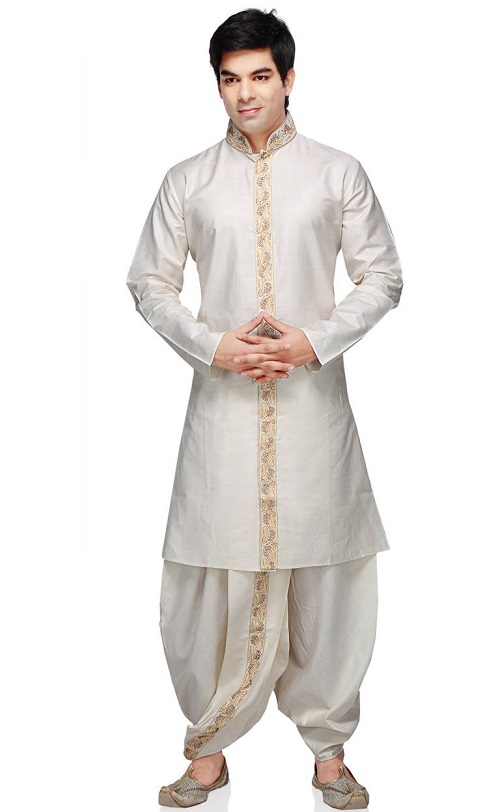 If white is your choice maybe for Eid or this Diwali then you must go for a white dhoti kurta. Men love simple white kurta as a lot, this is why this white kurta and dhoti is perfect for men with simple preference. The Subtle embroidery in the centre makes it alluring.
9. Textured silver black dhoti kurta for men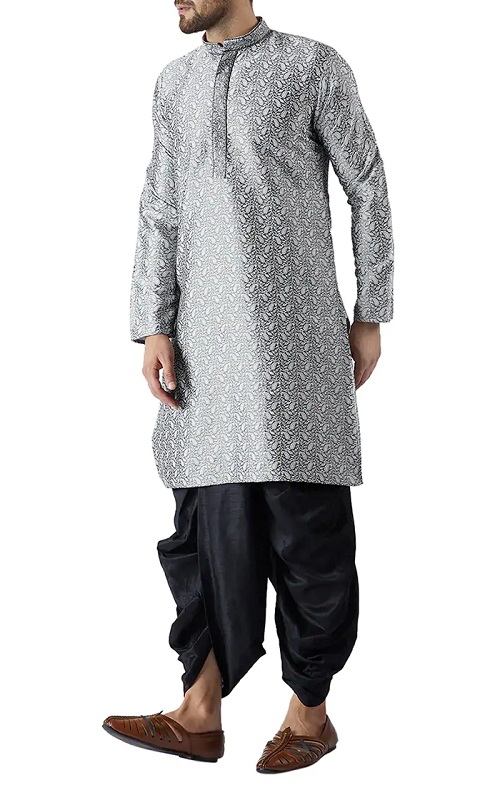 Now we have got another color combination for you that looks satellite is very powerful. This textured Chanderi Silk kurta is gorgeous and striking. The woven design on the brocade Chanderi fabric is beautiful and looks smart. It is paired with silk black dhoti which keeps it simple yet very I getting.
10. Simple dhoti kurta with jacket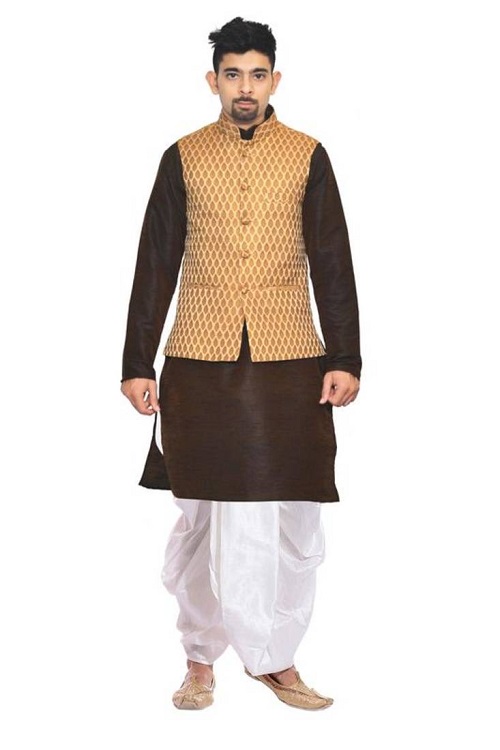 If your choice is pretty simple and the color combination that you love belongs to the earth tones then this design and combination is for you. The white silk dhoti is paired with an art Silk dark brown kurta. This combination is teamed up with brocade gold bleach jacket. It is suitable for men with older age as when you are young then you must try striking colors. This is what we feel, else that we all your choice.
11. Unique dhoti kurta for men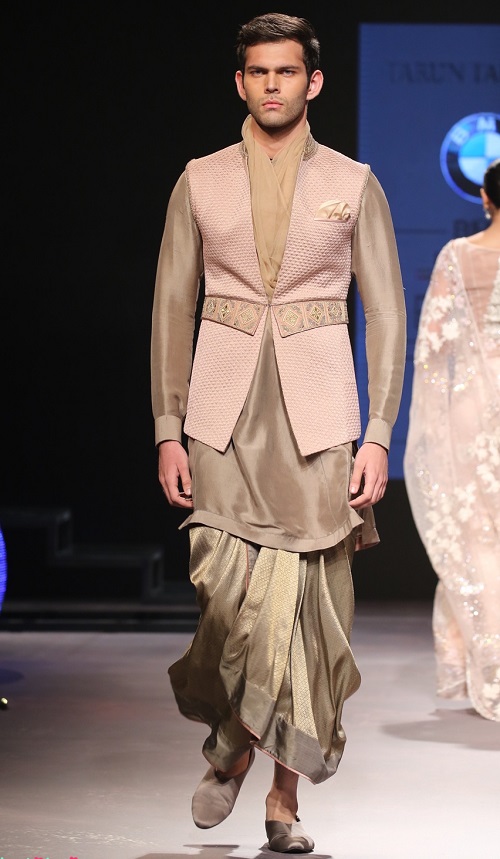 This is not just the regular dhoti kurta that you have seen in stores and online but it is straight from the Runway. The color with draping in this kurta is striking. The jacket is different than the regular Nehru jacket and the body has also been drapped in a bit different way.
12. Sequined black dhoti kurta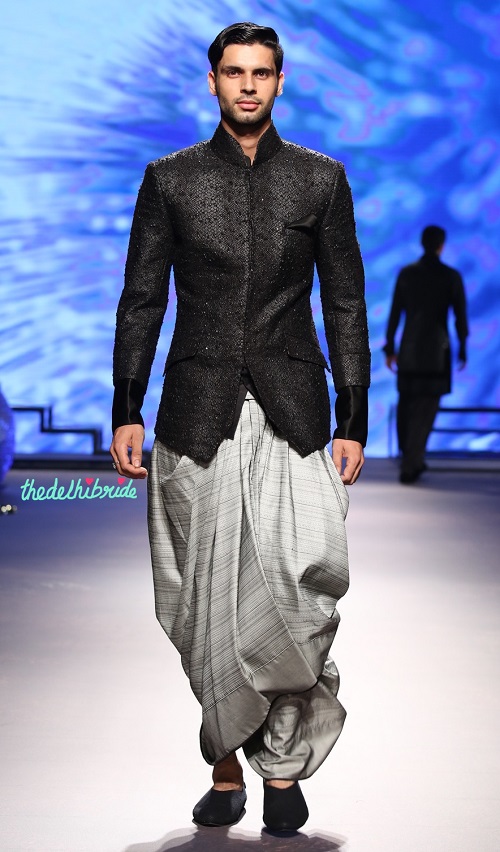 The impeccable design of this dhoti kurta is appealing and pleasant to look at. The grey colored dhoti with stripes is paired with a good thought that is perfectly straight. It's a short sherwani kurta with Mandarin collar and sequins and beads all over. It is a perfect dhoti kurta for parties and ceremonies.
These were the images of dhoti kurta for men that are in trend and are latest. Do you like wearing dhoti kurta? Which is the favorite color combination that you'll love for your kurta and dhoties?