Manyavar is a really popular men's kurta brand that was founded in the year 1999. Manyavar offers various stylish kurtas, jackets and Sherwanis for men. As a brand, it's one of the best men's ethnic wear brands in India. We've put together this amazing collection from Manyavar for men. The Manyavar kurta and churidar set would definitely give you comfort while you wear them and make you look ravishing. You can even expect a Manyavar kurta under 1999 rupees, while most of them are over that. The Manyavar kurta pajama set is around 2999 Rupees and with jacket it can go over 3999 rupees. Manyavar kurta price is a bit heavy on the pockets but if budget is not a constraint, we'd definitely recommend laying your hands on at least one of their designs to look classy and super stylish.
Latest Manyavar Kurta Sets for Ethnic Wear (2020)
1. Manyavar Black Kurta and Churidar Set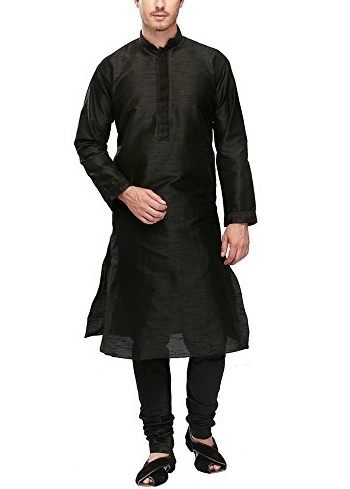 The black churidar kurta from Manyavar is made from a high quality blended fabric. It has a fashionable banded collar which gives it a semi formal look. It's suitable for festive and celebration wear. While the attire is comfortable to wear, it's also very easy to maintain. It's tailored from a fine quality fabric in which you would surely look smart and elegant.
2. Manyavar Blended Blue Kurta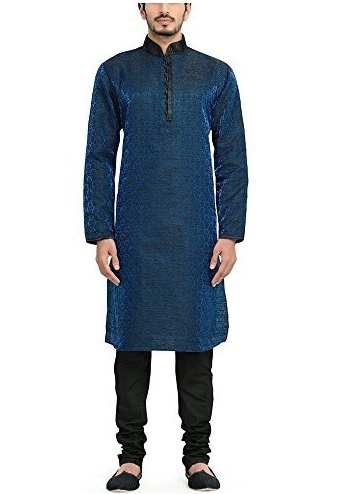 The full sleeves Kurta in women black and blue fabric is comfortable to wear all day long. It looks extra stylish and comfortable kurta that is patterned keeping in mind the latest trend. You can wear it with other types of bottom wear and footwear as well. However you are sure to win compliments in a opulent looking kurta.
3. Manyavar Blue Pathani Kurta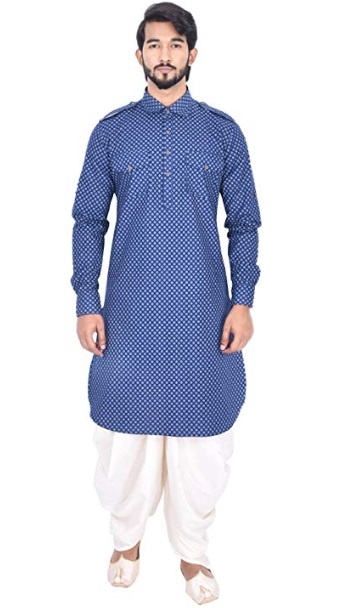 The Pathani kurta has a collar with two side pockets.  The blue and white kurta has a medium length and it can be tried with different types of bottom wear. It's perfect for the celebrations and festivals like Eid Diwali and Raksha Bandhan. It has a collar style that is suitable all age groups.
4. Manyavar Designer Yellow Kurta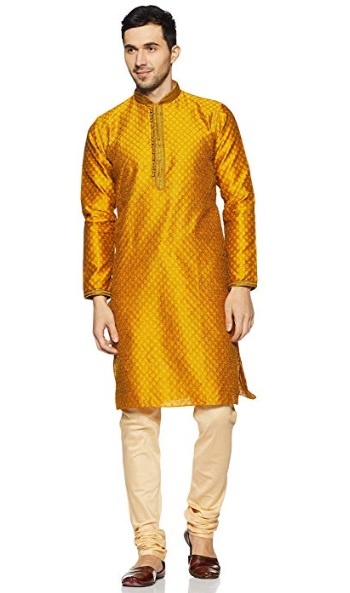 The designer mustard yellow color kurta has a woven Silk fabric. The silk and gold combination is royal, lavish and is suitable for festivals and wedding ceremonies. Here it's being paired with cream colored churidar. This kurta and churidar set is quite affordable and will definitely make you comfortable. 
5. Manyavar Kurta Set For Wedding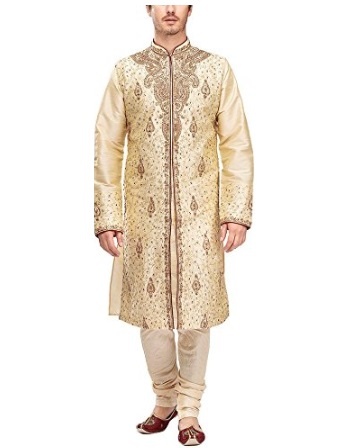 The sherwani style kurta and churidar set is appropriate for grooms. It's made with a fine quality silk fabric with heavy embroidery and stone work. The cream colored sherwani kurta is surely suitable for grooms for their roka ceremony, ring ceremony and wedding. It will surely augment your look to make your attractive for the occasion.
6. Manyavar Stylish White Kurta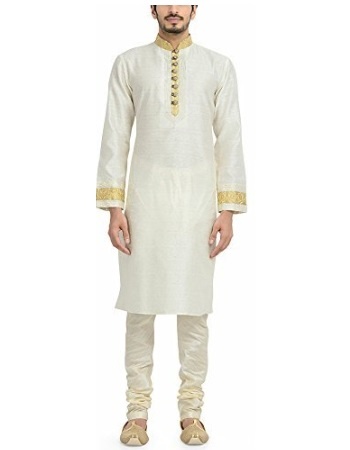 A beautifully crafted white kurta with gold detailing and buttons is one of the most beautiful white kurta for men that we have seen. The button placket has golden buttons with collar and cuffs with gold detailing. It's a raw silk churidar kurta set for men which is suitable for the Indian occasions where you wish to look stylish and smart.
7. Manyavar Asymmetric Short Kurta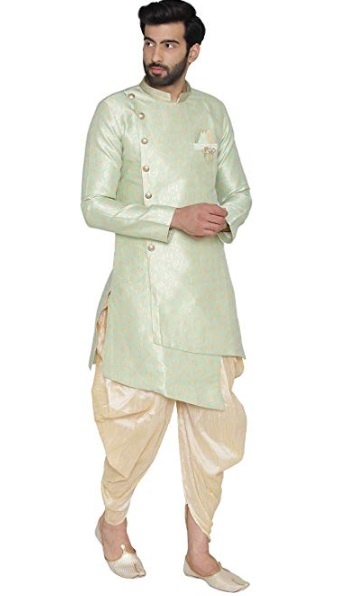 The Indo Western style of kurta is surely that will add to your style factor. The asymmetric jacket with full sleeves style is impeccable. It has a metal buttons on the side open placket. The Mandarin collar gives it a formal appeal. It comes with Silk colored dhoti pants. It's one of the most attractive looking kurtas.
8. Manyavar Latest Red Kurta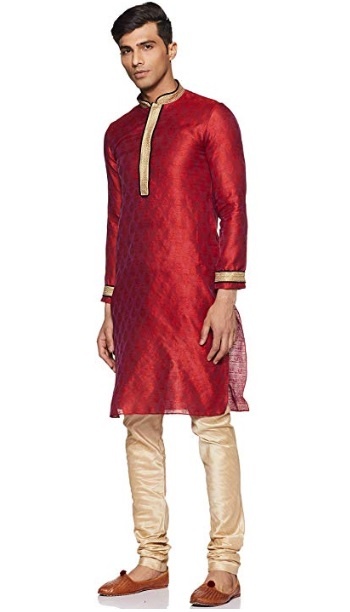 The good quality fabric and tailoring makes the kurta looks really nice. It has woven design and gold detailing on the button placket and cuffs. The kurta is suitable for night time festivals and weddings. It's really a nice kurta for grooms which can be used for occasions like roka, parties, relative's wedding and for your engagement as well.
9. Manyavar Cotton Kurta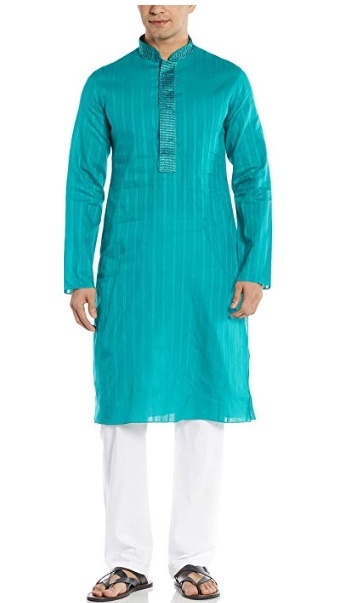 Cotton is a very breathable fabric which is why this Turquoise cotton kurta is a popular and best seller. This kurta has full sleeves and has medium length. With its impeccable styling, it can be paired with bottom wears like trousers for formals and dhoti pants for grand occasions. The easy to maintain fabric would keep you comfortable all day long.
10. Manyavar Kurta With Nehru Jacket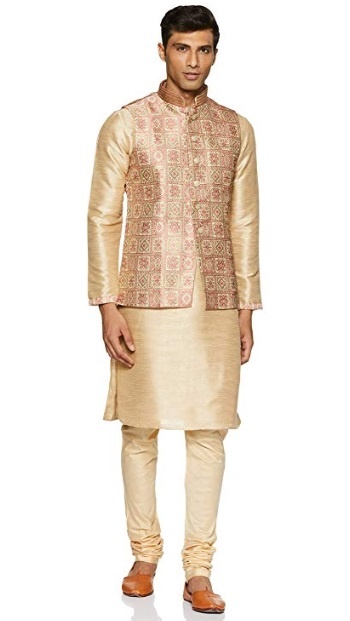 The Manyavar designer kurta in white is paired with light pink jacket. The entire setoff traditional wear from Manyavar is suitable for grooms and for close family male members. The jacket is in fact is the key highlight of this traditional attire for men from Manyavar. It would make you look elegant and lavish. For all the Grand events, classy outfits like this would surely emit class and tradition. It's tailored from the fine fabric which is comfortable and gives you compliments. Light pink jacket is well crafted and you can also wear it with other colors of kurta from other brands.
11. Manyavar Green Kurta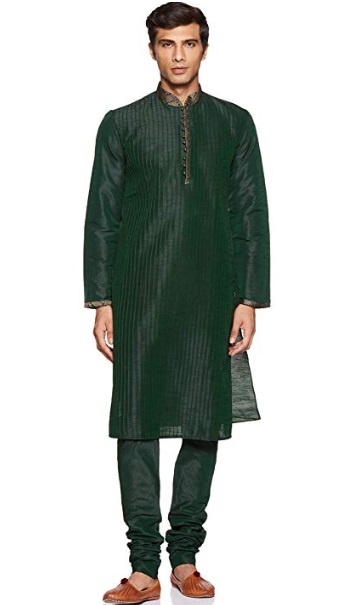 The dark green Kurta in pinstripes has black ascent. With black colored buttons, the pattern and styling of the kurta is amazing. The pin-striped fabric in dark green color is suitable for all the skin complexions, in fact this is a beautiful kurta which is simple elegant and super classy.
12. Manyavar Punjabi Kurta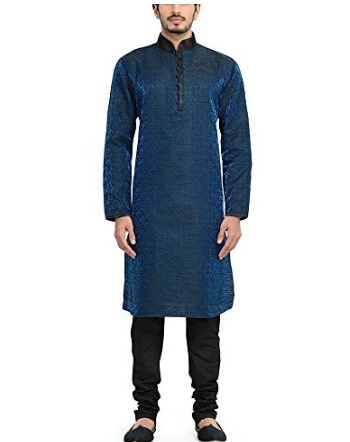 If you like woven design in blue and black, then definitely go for this design. This kurta is attractive and can be prepped for your Diwali ceremonies and festival. It's a blue and black kurta that is teamed up with black churidar salwar. To style it differently, you can also pair dhoti Pants or trousers from other brands and other colors.
13. Manyavar Silk Kurta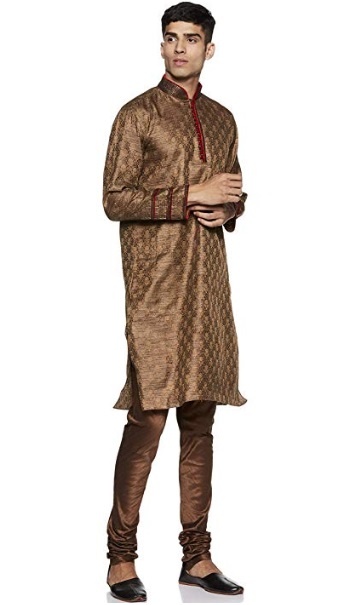 The copper brown kurta with woven fabric comes with the same color churidars. The long sleeves has a banded collar. It's not a long kurta but has long length design. The kurta is suitable for weddings and for small to medium occasions. In fact, if you pair a nice Nehru jacket, it will become a festival and wedding wear apt attire for men.
14. Manyavar Kurta For Groom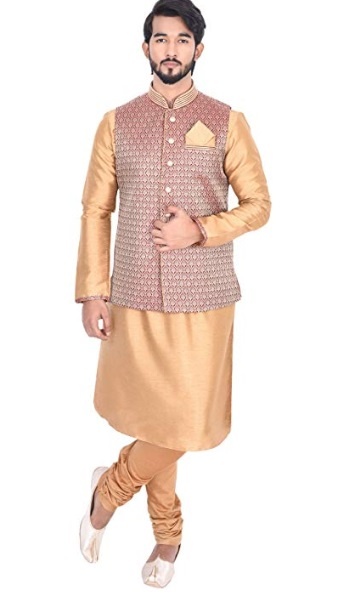 Seamlessly craft kurta churidar set is paired with a designer Nehru jacket. It's expensive but it's made with keeping in mind the latest designs and patterns. The material is of breathable quality and is apt or summer season as well. Wear it for a wedding, party and for your own functions.
15. Manyavar Maroon Kurta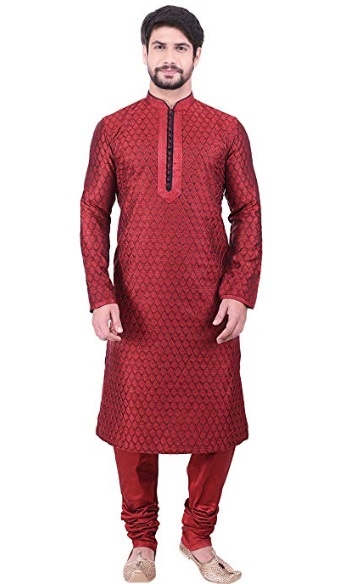 The textured red kurta churidar set has a regular fit. With a band Chinese collar, it's crafted from the finest fabric. It would be surely a great addition to your wardrobe for ethnic wear. The black colored button placket comes in a complementing color.
16. Manyavar Kurta For Engagement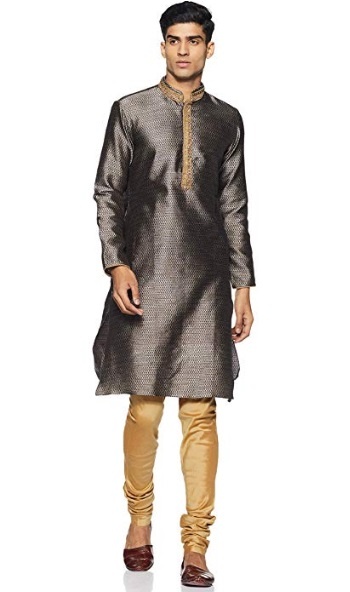 This silk Steel grey kurta is paired with fawn golden churidar salwar. The attire surely has opulent and lavish look and feel. It would surely add a classy touch to your ethnic look. Be it a friend's wedding or any other traditional affair, where you wish to get decked up in ethnic wear, then this style is a must. It works on most of the skin complexions and is very modern looking design for men. 
17. Manyavar Party Wear Kurta
The white dotted kurta is designed with a Silk Golden printed yellow jacket. You can look your best in any event or ceremony, when you go for this design of kurta yourself. The Nehru jacket makes it more elegant and suave. Men of all age groups can wear such a kurta and in fact even if you have darker skin complexion, then also you would be able to carry such color combination.
18. Manyavar Orange Kurta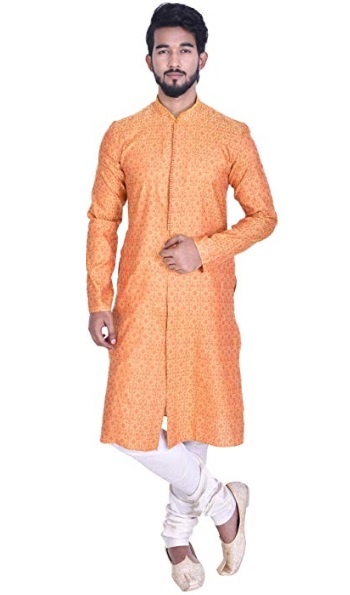 The vibrant orange colored kurta has only button that runs. Before double kurta is very beautiful looking and is comfortable to wear all day long. The color of the kurta is very soothing and is appropriate for summer season. You can clad in different type of bottom wear and in fact for the daytime affairs and ceremonies.
19. Manyavar Sherwani Kurta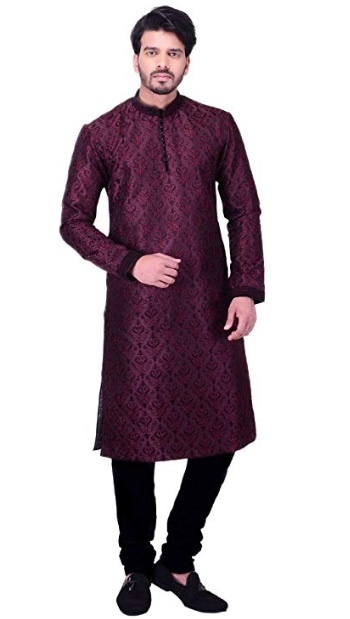 Manyavar Kurta in dark purple and black is a classic combination. We should always try a color like this to make our skin complexion look brighter. It's paired up with black churidar salwar. The material is comfortable and it adds a touch of sophistication to your ethnic look. This is perfect to be sported for wedding ceremonies and parties.
20. Manyavar Printed Kurta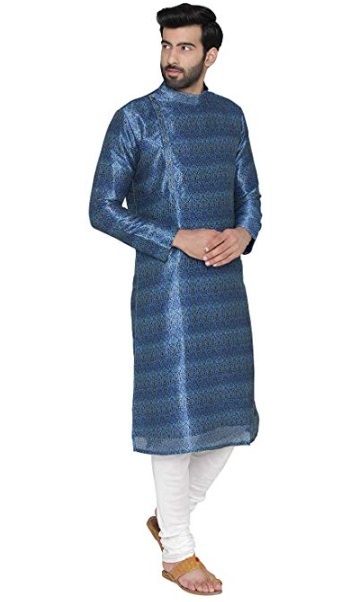 The bright shiny brown kurta has side button placket that runs halfway till the chest. It's there to give you formal look. It comes with white churidar and can also be played with black and red as well. One can wear the basic Kolhapuri chappals or sandal with this design. Such kurtas are suitable for day and evening type ceremonies. In fact, if you are going for a friend's wedding or engagement this would be an appropriate piece of ethnic clothing for men.
21. Manyavar Pink Kurta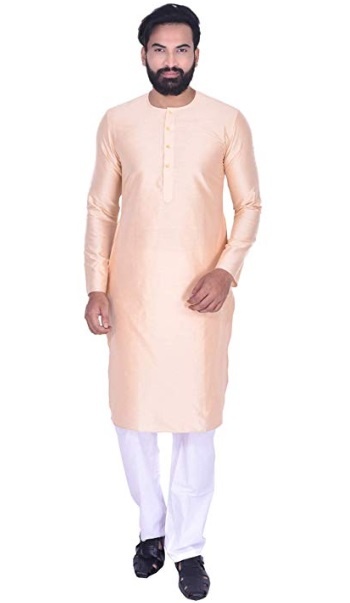 The light pink kurta is in raw silk fabric and does not have any collar band to it. It's a long kurta which is very soothing in its color. You can wear this for all the daytime festivals and occasions, where you need to have an understated look. Such designs are perfect when you do not want to go overboard with your clothing.
22. Manyavar Golden Kurta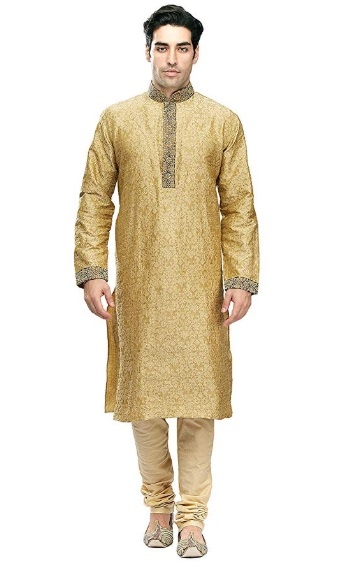 Beige textured for ring ceremony of roka ceremony. It has a Banded collar in different fabric that makes it striking and attractive. The churidar and kurta has a subtle color and affordable price. We can wear it for festival celebration and for small events at your family.
23. Manyavar Casual Kurta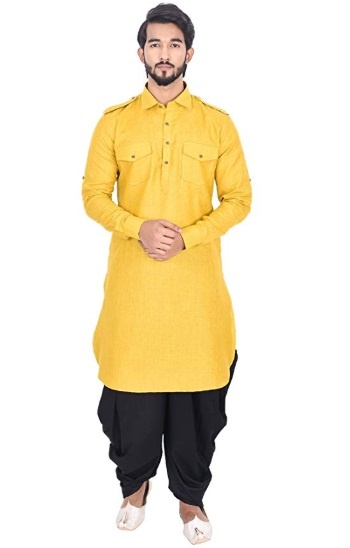 The Pathani style kurta has a canary yellow color. It has collar and flaps on the shoulder. The kurta comes with two side pockets on the chest that has strips over it. It has short length with a round hemline. The Punjabi pathani Manyavar kurta is surely very attractive looking and it can be styled with jeans and other types of trousers.
24. Manyavar Plain Orange Kurta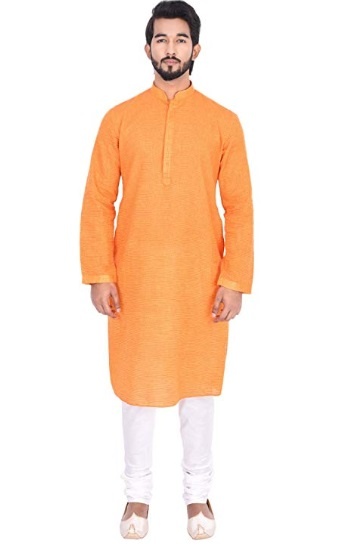 It's a different kurta in simple cotton fabric. It's comfortable to wear and is also appropriate for summer season. It's made with a good quality material and styled in a simplistic manner. One can wear such a designed kurta for casual and day time events.
25. Manyavar Kurta for Parties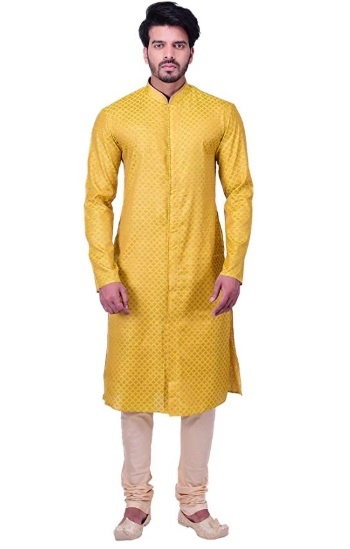 The textured Orange Yellow kurta is the best attire for your haldi or Mehendi ceremony. It's fashionable attire with a banded collar and is easy to wear and maintain. The fabric quality is high class and comes with a churidar salwar.
26. Manyavar Latest Kurta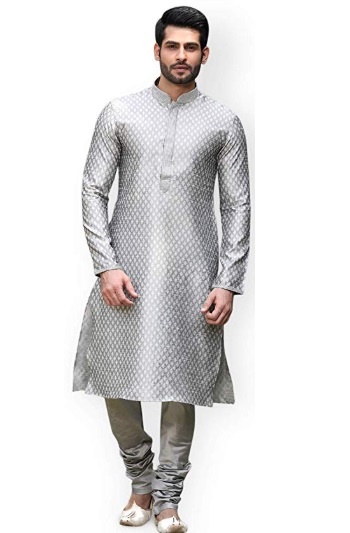 It's last but not the least. The grey and silver combination of this kurta is surely eye catching. The striking print in silver grey and white is sure to get you lots of compliment once you wear it for a wedding ceremony. The color and texture is such that it can be used for Eid or any other Puja at your home. In fact, this is a very festival and party wear kind of Manyavar men's kurta. This is one of the best Manyavar kurta designs at affordable prices.
You can buy Manyavar kurtas for men online from popular sites like Amazon. These are the best Manyavar kurta that comes with different styling and affordable prices. You can pick the one that suits your preference and the event. For night time and grand events, we would suggest that you choose the colors which are bright and a bit of shine to them. Embroidered and textured fabrics are better like brocade for weddings. While for the day time and simple occasions, you must use kurtas with cotton or solid fabrics.