Park Avenue Deodorants Review In Storm, Good Morning and Cool Blue: Hi everyone!! Deodorants are must in summers, I still remember when I used into outdoor sports activity I would apply does at least 2-3 times in a day since the sweat and hot weather make can you smell. Body odor is something which we all should keep off. Smelling good is an essential part of men's grooming, this is why I like to use deodorants regularly every day. Not only will that it make you feel fresh and energetic all day long. So, in this post I will review a set of 3 deodorants by Park Avenue. In this combo pack, I got Park Avenue deodorant in Storm, Cool Blue and Good Morning. Park Avenue is a very popular brand of men's deodorant in India. I got this set of three. When we buy a set then the discount is also there so, I will advise if you use deodorants every day, then go for a set like this. Even other brands too are selling combos or multiple packs.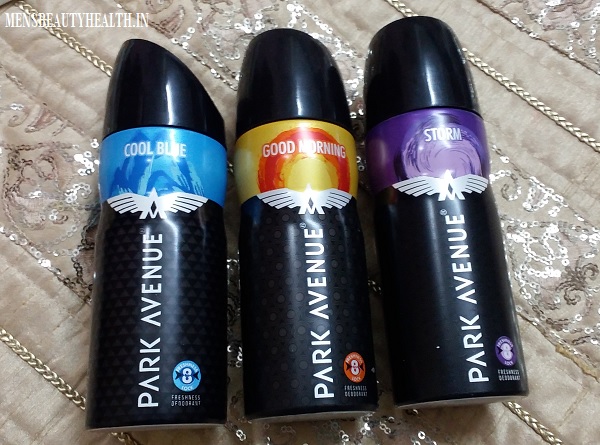 Price: Each one of these deodorant is priced at 150 ml pack. Though as I have bought this multiple set, I paid somewhere around 450 rupees. So, it's beneficial that way!
Park Avenue Deodorant in Storm, Cool Blue and Good Morning
Now let me tell you about these in detail. The packaging as you can see has a spray pump at the top and slanted sturdy black cap.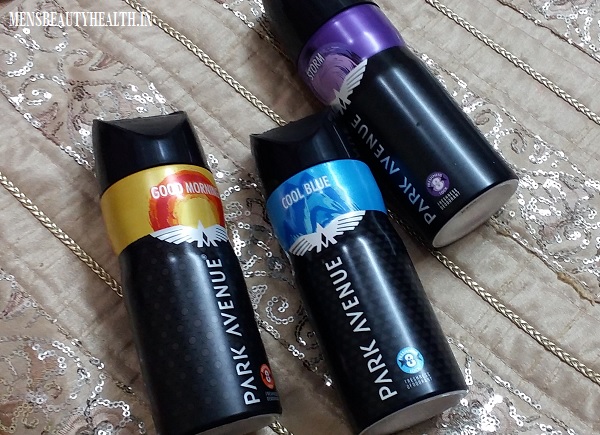 Park Avenue Deodorant in Storm Review
Storm is the one that is in the purple color. A lot of time you will forget the variant name so the color can help you pick the one you like. For instance, I was using Park Avenue deodorant in a maroon colored can and did not remember the name of that variant. So, the color can help you let you know the shop keeper or pick the one from a super market easily.
Storm is a very refreshing fragrance that is very energetic and sweet. Yes, it has slightly sweet and musky notes along with the fruit ones. All these are combined with the familiar masculine fragrance. Therefore this is ideal for all the season and all days. This is my most favorite from the 3 deodorants and I liked it a lot. The reason is that the fragrance is citrusy and hence will stay a lot longer. You may have not noticed, but our body reacts with the scent of the perfumes and the deodorants. This is why some of them will stay longer and some gets faded easily. So, on me this last all day long. Even at the end of the day, My wife can detect this. I am saying this as the one who has applied the deodorant get adapted to the fragrance and at the end of the day, cannot detect if the deodorant is still there.
Park Avenue Deodorant in Cool Blue
Park Avenue deodorant in Cool blue is another good deodorant for the boys who like masculine scent. It is packaging in the blue colored spray can. You may have come across scents that smell aromatic but not citrusy, sweat etc. Such fragrances are very dry and the only thing they will do is to make you feel refreshed since the scent part is low. This is the same. This is an energetic deodorant that is ideal for summers. Moreover, there are men who do not like perfume like scents coming from their bodies so, this Cool Blue is the deodorant that has mild scent but works more t control the odour. So, it will control your odor but will not give too much to the scent.
Lasting span of this too is good it too lasts for all day long. But I will be honest that it also depends from person to person. Like if you sweat more naturally or are in an outdoor or field job that likely the deodorant will not last for more than 4-5 hours. So, do consider that.
Park Avenue deodorant in Good Morning
Good morning from Park Avenue comes in a yellow spray can. I liked this too and will this and cool blue both sometimes. Yes, we can also do that. We can mix 2 deos to make a new fragrance like a spray of both on the underarms can give completely new scent. Anyways, this has a mild woody notes in it along with the warmth of spiciness.  I like t use it during winters as this fares well at that time.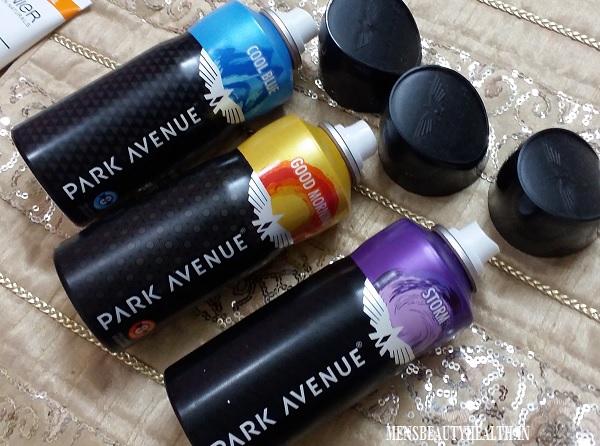 Good morning too stays for all day but I feel at times it fades too soon. So, I find this to be low on staying span as compared with the rest of the two. But that does not mean this is not good but it's just that at times, it gets faded after 5-6 hours while the other will be till I go to bed.
Pros of Park Avenue deodorants
The packaging of the deodorants is good
The can works well and spray well. At times I have come across products which will stop spraying after the can gets half
These are not perfumes liquid so, you can try them to give fragrance and body odor control both.
All three last decently long and prevents the body odor and sweat.
There are no rashes or itching while using them.
Cons of Park Avenue deodorants
There are no drawbacks as such, it's just that the price could have been a little lesser like 150 bucks. That's it!!
Rating: I will give a 4 on 5 for each one of them as I liked them for their scent and the staying power.