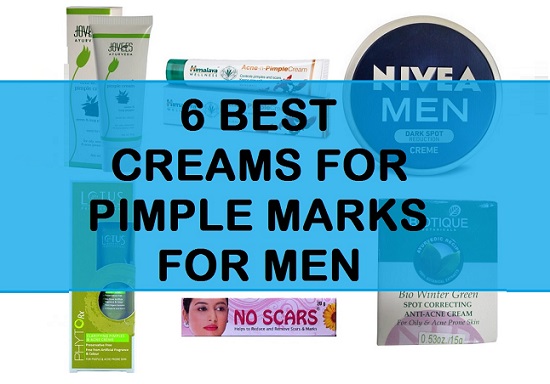 6 Best Cream to Remove Pimple Marks for Men in India
Hi guys, When we face pimples and acne, we also experience the dark spots, black marks and blemishes on the face. Therefore, we spend a lot of money on dealing with the spots. So, guys there are skin creams in the market which are suitable to reduce the acne marks and spots. Like the pimples marks and acne scars that we see on the face, we can minimize the spots successfully. But this is also true that you have to be regular in that. Moreover, I will also suggest you to try lemon juice for 15 minutes on the face for 2 times in a week for best results. Let's see which are the best creams for men to remove the pimple marks in our Indian market. See: Turmeric facial packs for fair and glow
Best Pimple Marks Removal Skin Creams for Men in India
Nivea Dark Spot Reduction Creme
This is a product that Nivea makes exclusively for men only. This Nivea dark spot reduction skin cream is loaded with active ingredients that will help reduce the marks. The texture of the cream is not oily hence can be used by the men with oily skin worry free. This men's cream for pimple marks removal is for 180 rupees. You can also use homemade face packs for dark spots

Jovees Anti Acne Cream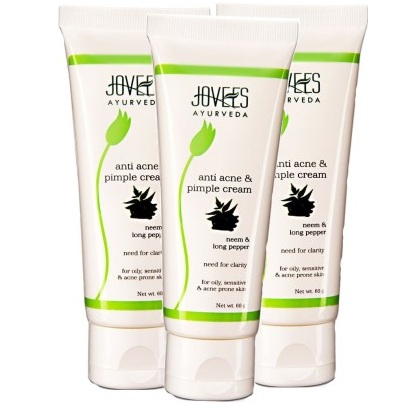 It is also an effective product from Jovees. You can use it daily night before bed only on the acne marks. As a result of this anti acne and anti marks cream you will not only cure the acne but their marks as well. This will remove and lighten the pimples marks and the skin becomes clear. This pimple care cream is priced at 180 rupees.
No Scars Cream 

No Scars cream is formulated with the natural active ingredients which will help heal the scars, marks, blemishes, dark spots etc on the skin. This also has the Mometasone, Tretinoin, Hydrquinone which will successfully remove the scars, marks, blemishes and burn marks. You can get this cream for 90 rupees.
Himalaya Acne and Pimple Cream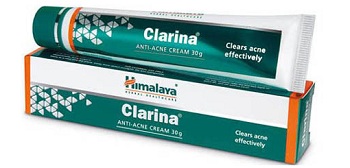 Himalaya acne and pimple cream will heal you acne guys but at the same time this cream will also eradicate the marks, spots that are left by the eruptions of the acne. Acne is easier to heal but marks stays a lot longer on the skin; hence the natural ingredients loaded cream is suitable for all skin types. This can be tried by even the men with very sensitive skin. This cream has the Alum and Silk Cotton Tree that possess the astringent and cooling property. Moreover, this also has Five Leaved Chaste Tree that reduces the skin inflammation and Aloe vera that heals and softens the skin. This Himalaya healing skin cream is for 60 rupees. See: Dark spots face wash for men in India

Lotus Phytorx Clarifying Pimples & Acne Cream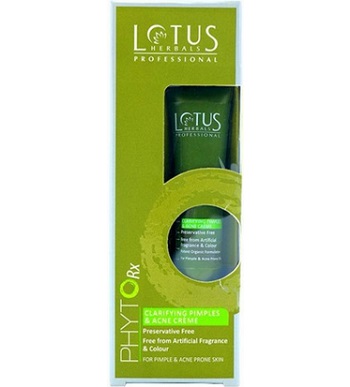 This Lotus Phytorx Clarifying Pimples & Acne Cream that has the unique formulation that has the precious herbal and botanical extracts that help to remove the blemishes and acne scars. Furthermore, it will lighten the marks and the pigmentation. This pimple marks removal skin creme with blemish fighting ingredients is also ideal and suitable for the sensitive skin. It will also clear blemishes and also reduces the future skin discoloration. You can get this cream for the 395 rupees. See: Patanjali products for acne and pimples in India

Biotique Bio Winter Green Spot Correcting Anti-Acne Cream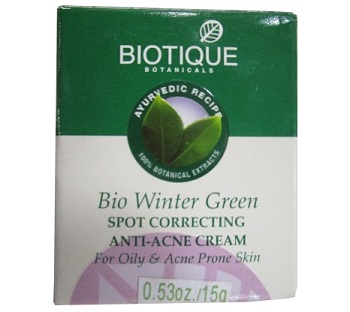 Biotique Bio Winter Green Spot Correcting Anti-Acne Cream is a unisex cream which is suitable for the combination and the oily skin. Moreover, the pimple marks removal skin cream by Biotique is a natural blend of Ayurvedic ingredients such as Choti Dudhi, Daru Haldi, Gandhpura and Margosa or Neem which fight acne and make your skin clearer. The wintergreen plant oil is anti-bacterial that heals the acne and pimple and their marks. This is for 175 rupees.