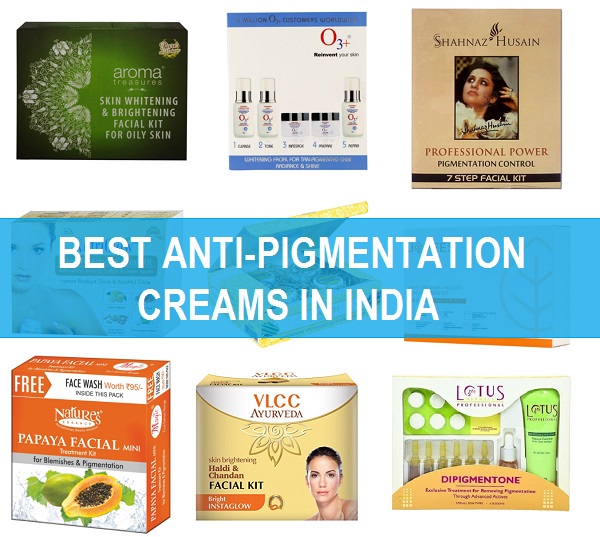 Anti-Pigmentation Facial Kits in India for Men and Women
Pigmentation on the skin can be characterized by the skin discoloration and skin gets dark in patches. It is also known as hyper-pigmentation, is a condition that darkens patches of your skin. These dark patches can be on anywhere like forehead, cheeks and chin. Pigmentation on the chin is the most common area. It is not harmful when you have pigmentation but certainly, it can make you conscious and is a beauty concern for many. Above all, it makes the skin appear unhealthy and lifeless. Glow is far away when our skin is patchy and pigmented. Not only can that it also make you lose the self confidence.
Factors responsible for Hyper-pigmentation
Melanin is produced from the melanocytes which gives color to the skin. Over production or irregular production of melanin by the melanocytes is responsible for this problem of hyper-pigmentation.
The factors that make the skin get pigmented are:
Over-exposure to the sun and UV rays

Hormonal changes

Genetics

Allergies and other reactions

Use of certain skin products that are unsuitable

Medications
Top 10 Best Anti-Pigmentation Facial Kits in India: (2021)
Here's the list of the best facial kits for pigmentation and dark spots in Indian market. These are not just for women but men too can use these. The facial kits have herbal ingredients that aid in the lightening marks and other skin issues.
1. Lotus Professional Di-Pigmentone Exclusive Treatment for Removing Pigmentation
Lotus Professional Dipigmentone facial kit is made exclusively for the pigmentation on the face. If you need a good quality facial kit from a good brand, then definitely try Lotus Herbals. The brand offers really good products which are suitable for all skin types and are safe as well. The steps in this facial removes skin discoloration, marks, blemishes, dark spots on the face but makes sure you've to be regular with it.
Features and Review:
The anti-pigmentation facial kit lightens the hyper-pigmentation by removing the dead skin cells

Enriched with papaya enzymes that whitens and brightens the skin tone

It controls the melanin production 
The facial kit comprises of the following things:
Dipigmentone Control Complex: Gives high percentage of actives for lightening the marks, spots and pigmentation
Papaya Enzyme Even Tone Mask: Papaya Enzyme Even Tone Masque improves the texture of your skin by evening out the skin color
Dipigmentone Pigmentation Control Concentrate: Provides high level of actives for controlling and reducing pigmentation.
Price: 1895 Rupees
2. Olivia De-Pigmentation Facial Kit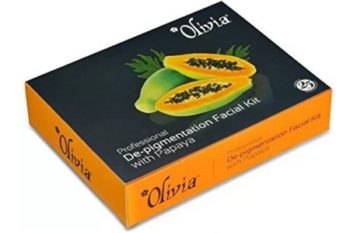 Olivia De Pigmentation Facial Kit is a specially formulated facial kit that has the power of active botanicals. Do you like using fruit loaded facial kits? This would be really good. The facial kit has the benefits of facials along with the skin benefits.
Olivia De Pigmentation Facial Kit comprises of:
Cleansing gel

Scrub

Massage cream

Face Pack

Serum
How to Use:
Cleansing gel contains the papaya extracts that are rich in Alpha Hydroxy Acids. It is able to eliminate those impurities that give way to blackheads, whiteheads and acne. The next step is face scrub that contains papaya extracts as well. It reduces the pigmentation spots and dark spots. The vitamin E richness can definitely improves the skin dryness and pigmentation. As an added product, it also has serum that further lightens those dark patches that concerns you the most.
Price: 175 Rupees
3. Nature's Essence Papaya Kit For Pigmentation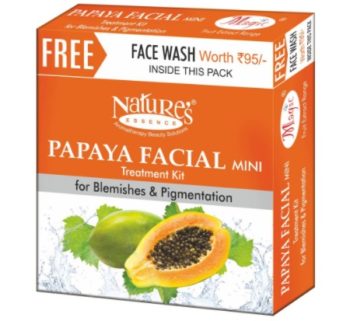 Nature's Essence Papaya Facial Kit has fruit extracts of papaya. You may have by now realized, that a lot of facial kits and other pigmentation removal creams and products contain papaya. What's the reason for it? Actually papain present in papaya cures dark spots and reduces the darkness in the form of pigmentation. Papain is also highly beneficial in lightening the age spots. This papaya extracts based facial kit is suitable for dark, patchy, pigmented and blemished skin. It also contains bakuchi herb, coconut oil and carrot stem extracts. After using a facial kit like this continuously, you can definitely expect even tone skin and glow.
Nature's Essence Papaya Facial Kit comprises of:
Papaya Milk Cleansing Cream

Papaya Pulp Scrub Powder

Papaya Cream

Papaya Pack
Price: 910 Rupees
4. Shahnaz Husain 7 Step Pigmentation Control Facial Kit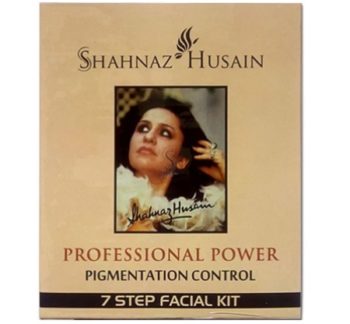 This pigmentation control facial kit by Shahnaz Husain, is one of the best facial kits for pigmentation and dark spots. The kit has 7 steps of facials as mentioned. All the seven steps of this facial ensure blemish free and healthy looking skin. Honestly, you should never expect to see results in 1-2 usage as pigmentation takes time.
Shahnaz Husain Professional Power Pigmentation Control 7 Step Facial Kit Contains:
Professional Power Bio-Hydrating Cleanser

Exfoliating Scrub

Professional Power Nourishing Cream

Professional Power Skin

Veg Peel

Anti-Pigmentation Gel  Net

Covering Cream
Features and Review
Has 7 steps of facial

Easy to use at home

Very affordable facial kit considering it has 7 steps

Can be tried twice in a month like at a gap of 2 weeks

Gives reduction in the age spots, marks and dark spots

Gives smoother and fairer looking complexion
Price: 345 Rupees
5. Vaadi Herbals Lemongrass Anti Pigmentation Spa Facial Kit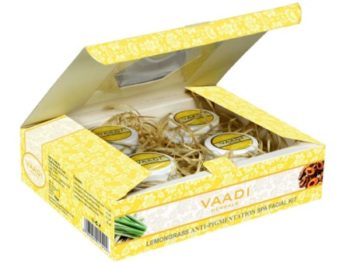 Vaadi Herbals Lemongrass Anti Pigmentation Spa Facial Kit is made to lighten pigmentation and uneven skin tone. Too much sun exposure or staying in the sun can also make your skin appear dark.The pigmentation removal facial kit has the ingredient like Lemongrass, which lightens dark spots and pigmentation. Besides lemongrass, it has cedarwood which is loaded with anti-oxidants to heal and treat the dark patches on your face. By improvising the micro blood circulation, a facial kit rich in herbal actives can aid in skin lightening and boosting the glow and radiance.
Vaadi Herbals Lemongrass Anti Pigmentation Spa Facial Kit comprises of the following facial steps:
Lemongrass Cleaning Cream

Lemongrass Face Scrub

Lemongrass Massage cream

Lemongrass Massage Gel

Lemongrass Face Pack
Lemongrass is an effective skin toner and powerful astringent that seeps into the skin layers and controls the excessive secretion of the sebum. It opens and unclogs pores that in turn prevents breakouts on the skin. Cedarwood Oil is a powerful and skin whitening essential oil that is known since ages to treat the acne and scars.
Features and Review:
Has lemongrass and cederwood

Treats the acne and marks

Regulates the oil production

Decreases the oiliness and pigmentation
Recommended For: Acne prone skin, oily skin and normal skin
Price: 860 Rupees
6. VLCC Ayurveda Skin Brightening Haldi & Chandan Facial Kit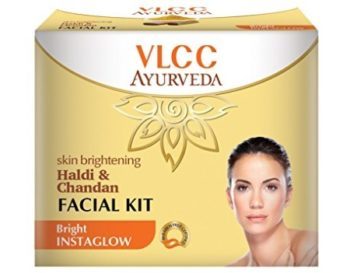 VLCC Skin Brightening Haldi & Chandan Facial Kit is made with the goodness of Ayurvedic herbs like the turmeric and sandalwood. It brightens complexion, reduces fine lines and stimulates the production of new cells. As a results, your skin gets clear.
The facial kit contains:
VLCC Skin Brightening Haldi & Chandan Face wash

VLCC Skin Brightening Haldi & Chandan Scrub

VLCC Skin Brightening Haldi & Chandan Gel

VLCC Skin Brightening Haldi & Chandan Cream

VLCC Skin Brightening Haldi & Chandan Pack
Features and Review:
Jojoba beads and cellulose beads in the scrub remove the dead skin cells and deep rooted impurities 

Liquorice and Aloe extract in it nourishes the skin

Haldi and Chandan gel get absorbed and brighten the skin imparting a youthful glow

Haldi and Chandan Massaging Cream has Vitamin B3 and E 

VLCC Skin Brightening Haldi and& Chandan Pack has Liquorice extract, Rose oil and Multani Mitti
Ingredients
Olive oil extra virgin, Almond Oil, Sunflower Oil, Wheat Germ Oil, Aloe extract, Draksha extract, Haridra Extract, Chamomile Oil
Price: 170 Rupees
7. Jovees Anti Pigmentation and Blemishes Kit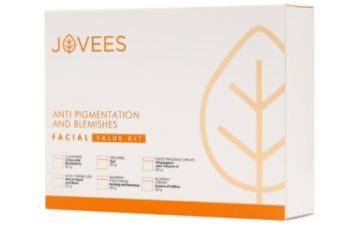 Jovees Anti pigmentation and Blemishes facial kit aids in the minimization of your acne marks, blemishes and even the dark spots other than the skin pigmentation. You may have used several facial kit,s but this is really easy to use at the convenience of your home. The kit is also amongst the effective facial kits that you can try for the pigmentation cure.
Jovees Anti Pigmentation and Blemishes Kit comprise of the following products:
Citrus and Blackberry Cleanser

Oat Veg Peel

Wheatgerm with Vitamin-E Face Massage Cream

Witch Hazel and Basil Skin Toning Gel

Nutmeg and Rosemary Anti Pigmentation Blemish Face Mask

Saffron Anti Pigmentation Blemish Cream
How to apply:
Apply the Citrus and Blackberry Cleanser that deeply cleanse and removes the residues of makeup, dirt, grease etc. Coming with the second step is, Oat Veg peel. Veg peels are good as they can cure those dryness patches and also gets rid of the dull skin, Dull skin is really not in!! One should definitely do something to remove the dullness. Therefore, the veg peel is suitable to get skin's natural moisture balance get going.
As a third step in this facial kit, we've Wheat germ with Vitamin-E Face Massage Cream. These two are extremely high in retaining the moisture of the skin. Witch Hazel and Basil Skin Toning Gel tones the skin and shrinks the open pores on the face. Nutmeg and Rosemary Anti Pigmentation Blemish Face Mask is a unique formulation is a good potential natural product to lighten the skin and blemishes naturally. To wrap up the facial at home, this facial kit has the Saffron Anti Pigmentation Blemish Cream to refine skin tone and minimize pigmentation marks.
Price: 600 Rupees
8. O3+ Whitening Facial Kit for Tan-Pigmented skin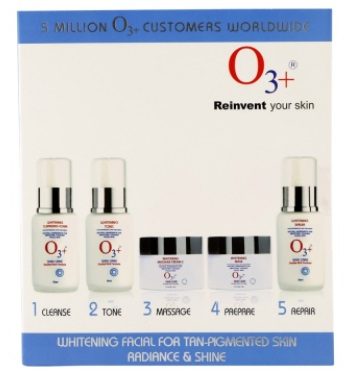 O3+ Whitening Facial Kit is not just a whitening kit that improves the skin complexion, rather the facial also lessens the appearance of darkness or the hyper-pigmentation. The easy to use facial, is wonderful for home usage and is very convenient. The kit is useful in the pigmentation control and decreasing the melanin.
Recommended For: Normal to Dry skin types
The O3+ whitening kit comprises of:
Whitening cleansing foam

Whitening tonic

Whitening serum

Whitening cream

Whitening mask
Price: 4370 Rupees
9. Aroma Treasures Whitening & Brightening Facial Kit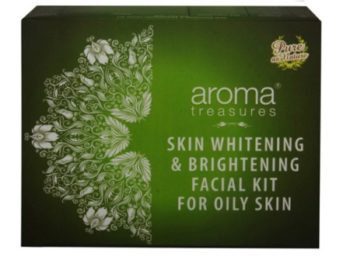 Aroma Treasures Whitening & Brightening Facial Kit is designed for oily and acne prone skin. It is made from the 100% Pure And Natural Essential Oils. The essential oils in this kit aids in lessening of dark posts and pigmentation. Skin patches that appears pigmented can also be effectively lightened with the use of an anti-pigmentation facial kit. The kit has 5 steps of facial that can be used at home.
Price: 200 Rupees
10. NutriGlow Skin Polisher Facial Kit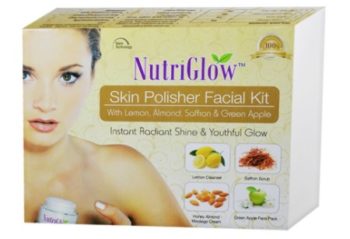 NutriGlow Skin Polisher Facial Kit has the combination of skin brightening peptide, melanin inhibitors and botanical extracts and actives. It reduces the skin's darkness caused because of harsh sun and UV rays. So, if your major concern is  pigmentation and dullness of skin, then a facial kit like this can be definitely tried.
NutriGlow Skin Polisher Facial Kit comprises of:
Lemon Cleanser

Saffron Scrub

Honey & Almond cream

Green Apple Pack
Features and Review:
Preserves the skin's natural luminosity and radiance

Has anti-aging benefits

Improves the skin colour and texture

Lessens the skin's dullness and roughness
Recommended for: All skin types for pigmentation and darkness cure
Price: 700 Rupees
How to Use Facial Kits to Remove Pigmentation 
Using the facial kit is extremely important. There are several facials available in the market that you can try at home. These are easy and basically majority of the facial kits have the basic 4-5 steps like a skin cleanser, face scrub, massage gel, massage cream and a face pack or mask.
You should always tie the hair so, that your hair does not come on the face while doing the facial.

To start with the cleansing is the first step.

Cleansing is primary as the skin is thoroughly cleansed which makes the scrubs and creams work the best.

After the cleansing, you should scrub the face. Scrubbing the face is important as the residues, dead skin cells etc can be culprit in getting zits and breakouts on the face. Exfoliation removes the dead skin and skin is able to breath.

Next step in facial is massaging. Massage cream makes the skin look radiant. This cream is able to give the skin cells more oxygen and radiance.

Massaging is crucial as it boosts the micro circulation and skin looks glowing. The cream when seeps in the skin cells give them proper moisture.

Facials can be done once in 15 days to get rid of the dullness and pigmentation.
Benefits of Facials for the Pigmentation and Blemishes
Regular use of facial kit helps the reduction of the darkening and dark patches.

The active botanical and plant extracts in the facial kits delay the aging and also the age spots.

Moreover, when the facials are done regularly, it makes the sagging skin tighter as skin cells renew at a faster rate. Faster rate of renewal makes the skin feel alive by the tightening of the tissues.

Apart from the glow that facials can give you, facials also help in the lightening of the darkness and hyper-pigmentation.

Face masks and packs in the facials are important to tighten the skin cells. Your skin is tighter when the skin cells are renewed regularly.

Tanning, dullness and skin loosening can also be treated when regular facials are done.

With the facials you can expect that the skin looks visibly bright.

Facials lighten the blemishes, pigmentation patches and dark circles, its enzymes also offer peeling action and restore natural complexion. 
So, have you done facials for the improving of the skin color and the pigmentation cure? Which is your most relied anti pigmentation facial kit?