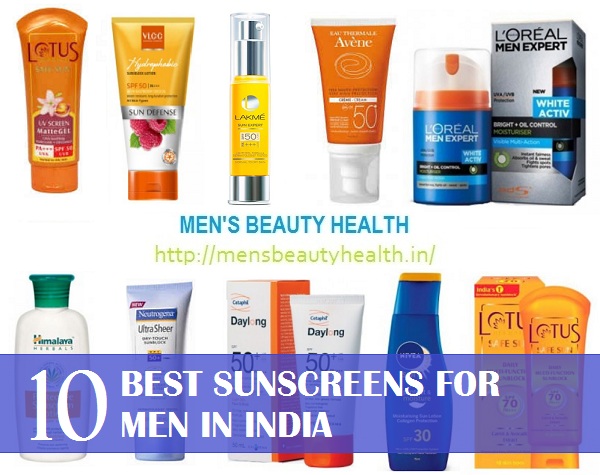 15 Best Sunscreens for Men in India: 2022 Oily, Dry, and Acne Prone Skin
Men's skin maybe a little thicker than women in comparison, but that should never mean that they don't need the same care. Men too should use sunscreens and sun protective products when they step out in the sunlight. Read the points below to know why choosing the best sunscreen for men is important.
Why use sunscreens?
Sun lotions ensure that your skin stays shielded against the harmful rays of sun. These sun rays may be good for overall health (think Vitamin D) but excessive exposure to sun rays may cause aging of the skin and photo damage. Therefore, men should use sunscreen lotions religiously. If you confused which sunscreen gel or lotion you should try, we will help you sort that out. Sunscreens too like skin creams are formulated for different skin types like sunscreen for oily skin, sunscreens for dry face, sensitive skin etc. When men have sensitive skin then they should use products with care.
The article is divided into sections, where I have listed the men's sunscreens for oily and acne prone skin, then for dry, normal and combination skin. Do read that accordingly and feel free to share queries in the comments, if you have. 🙂

Sunscreen For Men in India with Oily Skin
In this post at Men's Beauty Health, First let's check out the sunscreens which are appropriate for combination to oily skin in India.
1. RE'EQUIL Sunscreen with SPF 50 PA+++ for Oily, Sensitive and Acne Prone Skin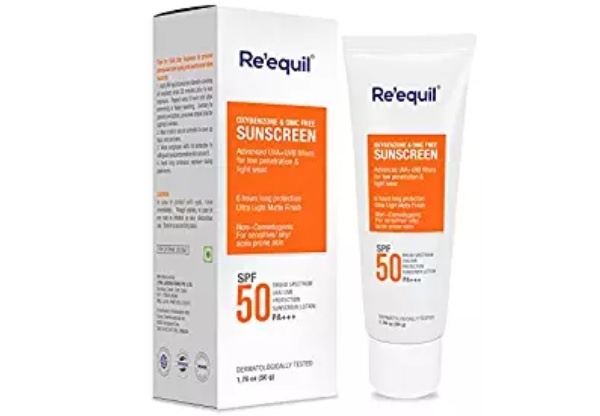 This brand is extremely good and has several products for oily and acne prone skin. The best thing is that all of their products have received high rating from the users. Formulated in a non comedogenic formula, this is the best sunscreen lotion for oily acne prone and sensitive skin. The dermatologically tested product has clinically proven ingredients which are safe for extremely sensitive skin. You can apply it once in a day and it keeps you protected from the UV damage all day long. The paraben free sunscreen product is safe for those who have this problem of redness and skin inflammation. This is free of oxybenzone and gives you broad spectrum protection with SPF 50. It spreads on your skin like a thin lotion and feels like a matte product. There is no white cast with this product therefore; there is no situation wherein, your beard or moustache hair are getting coated with white residue of the lotion. Fragrance is and not artificially enhanced. I will highly recommend this sunscreen for men.
2. Lotus Herbals Safe Sun UV Screen Matte Gel Pa+++ SPF 50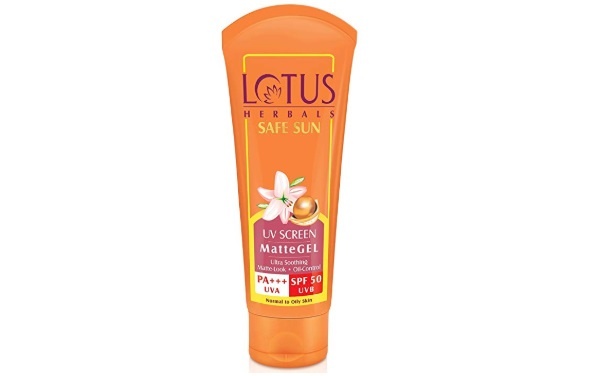 Men with oily skin should use sunscreen which is either light weight or has a gel like texture. Such gel sunscreens are great to get sun protection and will also not accentuate the oiliness of the skin. This Lotus Herbals Matte gel sunscreen for men is with SPF 50. This sunscreen contains vanilla, comfrey and horse chestnut. It shields the skin against the sun damage like the aging and sun tanning along with sun burns. Men and women with normal to oily skin can use this sun protective gel lotion. It is appropriate for the acne prone skin as well and even sensitive skin.
If you've sun tan then do read about these Home Remedies for Men's sun tan removal
3. L'Oreal Paris Men Expert White Active Oil Control Moisturizing Fluid 
This is not a sunscreen solely but is also a moisturizing lotion specially formulated for men. This has oil controlling features and will help the oily skin to stay matte a lot longer by controlling the sebum production. This helps in reinstating the skin's natural balance and resistance. It's whitening action makes the skin tone lighter and safeguards the skin from sun damage as well. This best men's sunscreen with SPF 28, is non-sticky and non-greasy in texture therefore, the sweaty and greasy feel that we get after using sun lotion will not be there. Though, when the weather gets humid, you may experience some sought of stickiness. It is quite common with most of the sun lotion products.
You can also know about How you can remove Sun tan from face
4. The Man Company Water Resistant Sunscreen Lotion SPF 40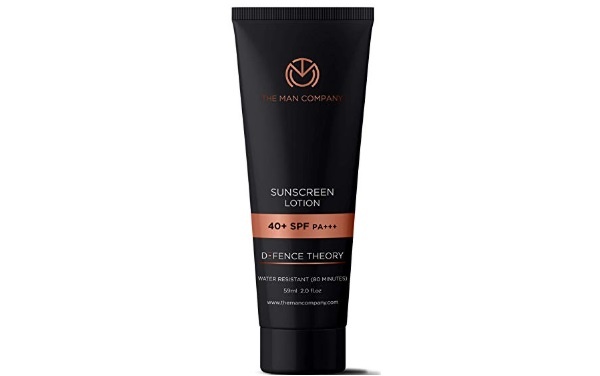 The Man Company sunscreen lotion is especially made for men's skin. It has an oil-free and water resistant formula that has nourishing properties. The paraben free sunscreen has active ingredients like Allantoin and Wheat Germ Oil. It protects your skin from getting tanned during heavy summer season. You need to blend the product really nicely, as this can leave mild white layer on the skin. Therefore, massaging the product well on your skin should be the key with this. I would suggest a sunscreen for combination skin rather than acne prone and oily face.
5. Neutrogena Ultra Sheer Dry Touch Sunblock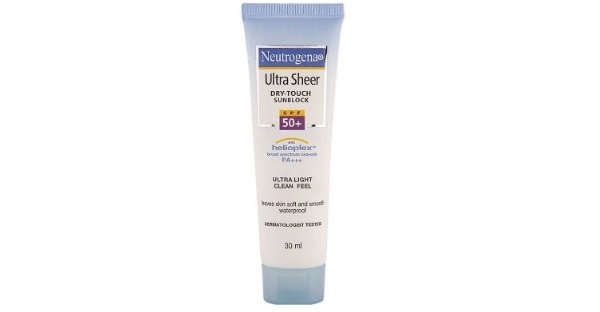 A dry touch sun block too is ideal for the men with oily to combination skin, This daily use sun block will not only prevent the uppermost skin layer from the UVA and UVB rays but will also keeps the skin matte. This also has features to safeguard the skin from skin darkening, sun burning, age spots etc. This has Helioplex technology and is perfect for all skin types especially the oily skinned people. The oil free and non sticky creamy formulation is with SPF 50 and is also waterproof. Hence, men who need to go swimming can use this sunscreen to get sun protection.
6. O3+ Mattifying Gel Cream SPF 50 for Preventing Sun Tan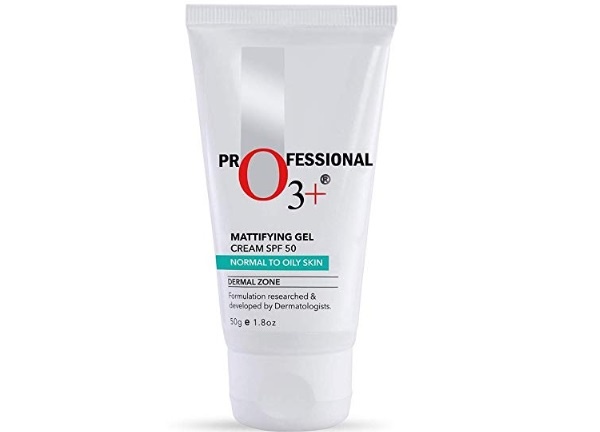 O3+ Mattifying sunscreen gel has SPF 50. It is made for normal to oily skin. I would really advise it to the men, who've oily and acne prone skin, because it has a non-greasy and whitening formula. The light gel gets applied on your skin properly and won't leave slimy finish. It also prevents the acne and is a dermatologically tested product. Even in extreme summers, it works to safeguard your skin from sun burn, damage and tanning.
Also check out our 15 Best Men's Fairness Creams whitening Creams in India
Best Men's Sunscreen in India: For Dry to Normal Skin 
In this next section, we have created this list of the sunscreen for men with dry skin to normal skin. Dry skin needs hydration along with the sun protection hence, these sunscreens are lotions and fluid like in texture. They give deep moisture and UV protection which protects from sun damage.
7. WOW Anti Pollution SPF40 Water Resistant Sunscreen Lotion
To fight the pollution particles, smoke, smog, and the damage due to sun rays, this sunscreen is just perfect. It is the latest launch from this brand. The anti pollution sunscreen is water resistant. It secures your skin with SPF 40 and its advanced technology. The best thing about this product is that it is paraben and Mineral oil-free. It comes in a pump packaging which makes it extremely easy to use. It shields your skin from the PM 2.5, yes in big cities, the pollution levels and suspended particles are floating like crazy. The texture of this lotion is slightly sticky and greasy, therefore this is best suitable for men who've dry skin. Even for sensitive skin, this would work the best because of its chemical free formula. It's safeguards your skin against sun tanning and skin darkening because of the UV rays.
Key ingredients: Alteromonas ferment extract , Vitamin B3 and Licorice
8. Avene Very High Protection Cream SPF 50+
If you wish to use a sunscreen that is very high protection, waterproof and paraben free then this Avene very high protection sunscreen can be tried. The good thing is that this sunscreen is perfect for men with sensitive skin. It blocks the sun radiation from making the sun darker and skin burning. If you have sensitive skin then too this is a good choice of sunblocking product, which is hypoallergenic.
9. Lakme Sun Expert SPF 24 PA Fairness UV Sunscreen Lotion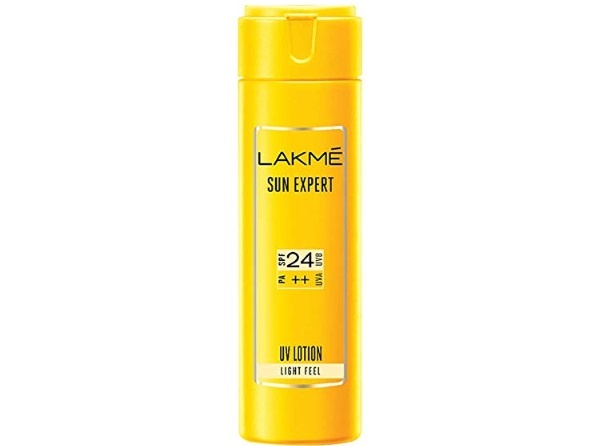 When the weather is hot, humid and sun rays are very harsh, using a sunscreen that is with SPF 24 and fairness boosting ingredients is excellent. This Lakme sun lotion is for all skin types though normal to dry skin types will love it more. This is dermatologically tested sunscreen that is hydrating in nature. It can be your every day use sunscreen which very affordable. The skin lightening ingredients help you ease the sun tan.
10. DERMA ESSENTIA Sunscreen SPF 50 Gel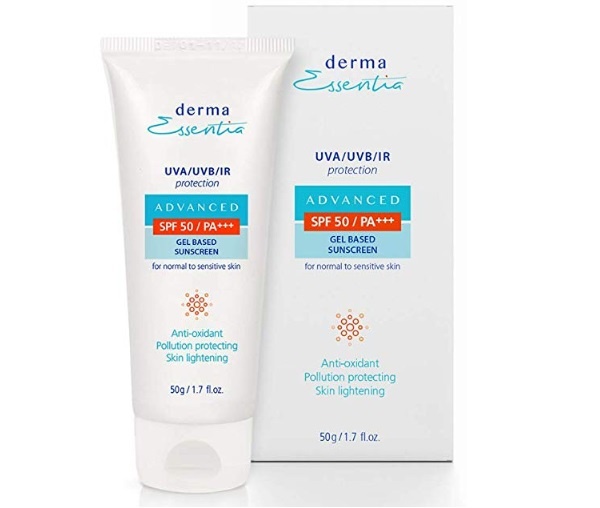 The anti pollution sunscreen gel is suitable for normal to sensitive skin. It has antioxidant rich formula that helps to protect your skin from the pollution and dust particles. It spreads nicely on your skin and gives prolonged protection. However, the product is slightly sticky if you have oily skin. Therefore I would recommend it for people who have combination, normal and dry skin. Yes, even though it has a gel based formula it can be little greasy. The sun protecting product is one of the best sunscreen lotions for normal skin for everyday use. It is not leave any white patches or Australia on your skin after the application.
11. Greenberry Organics SPF 40+ Sunscreen Spray Lotion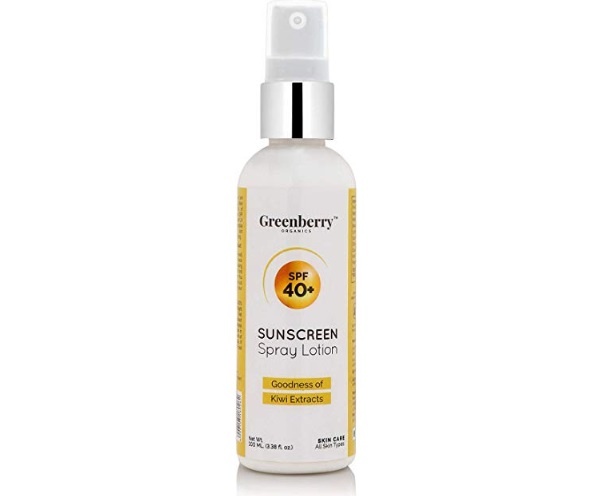 The sun lotion comes in a spray packaging. It contains SPF 40 and broad spectrum protection. Made with the organic ingredients, it's a perfect blend of certified natural ingredients. It is also paraben and Sulfate free, which is a highlight for this product. Coming with the goodness of kiwi extract. this is loaded with powerful antioxidant that fights free radicals and keep the premature aging and cell damage away. It also contains aloe vera. The lightly fragranced product gets applied nicely on the skin surface and is non-greasy. I will still not suggest this one for oily skin. It doesn't leave white cast yet make sure you blend it nicely after the application.
12. Lotus Herbals Safe Sun Daily Multi Function Sunblock SPF-70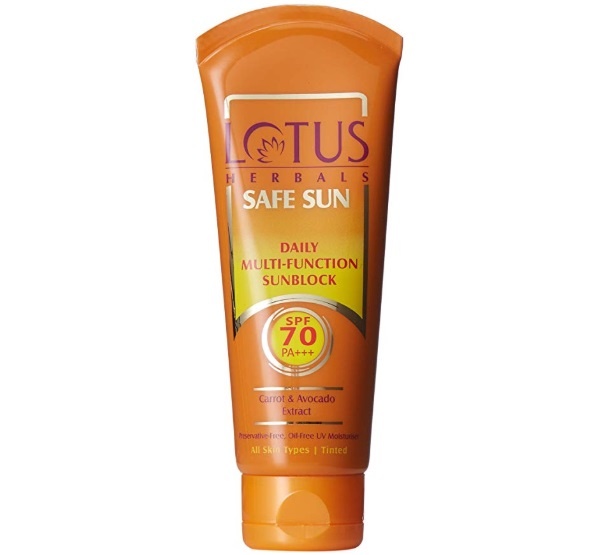 This Lotus Herbals daily sun lotion is primarily for all the skin types. This is enriched with natural ingredients like carrot, avocado which gives a nourishment and refreshing feel. This prevents the brown spots, dark spots, lines, sun tanning etc. These things are common when the skin get too much sun exposure continuously. This has anti aging and skin whitening benefits as well therefore me who wish to get skin lightening can use this. High SPF 70 is another added benefits of this sunscreen lotion. It contains carrots and avocado extracts.
13.

Biotique Bio Carrot Face & Body Sun Lotion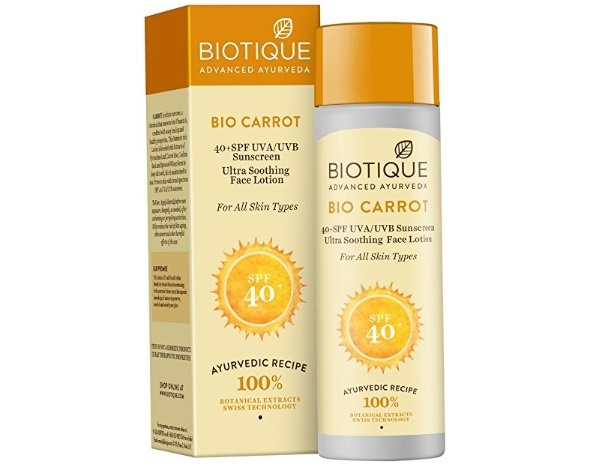 This Ayurvedic natural sunscreen from Biotique is enriched with the natural ingredients like: pure carrot oil, extracts of carrot seed, lodhra bark, quince seed and aloe vera. It's completely free of toxins and ensures protection with broad spectrum. This minimizes the fine lines appearance and sun tanning. This lotion based sunscreen is more for the men with dry skin as the formula is hydrating. Just a little blob is sufficient to cover the entire facial skin.Apply on the neck and exposed body parts too.
14. VLCC Water Resistant Sunscreen Gel Creme SPF 60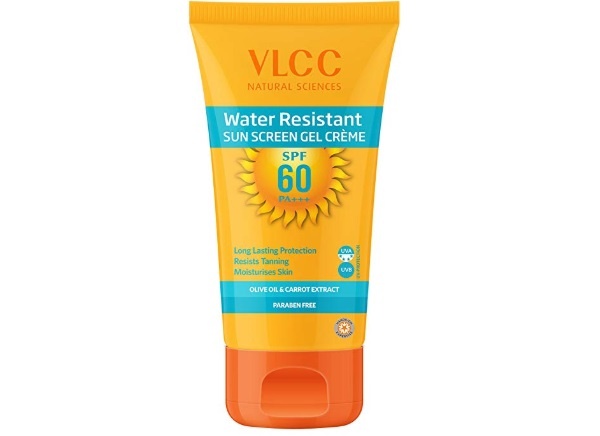 Choosing waterproof and water resistant sunscreen for men should not be difficult with this VLCC product. It coomes with the SPF 60 and secures you with its broad spectrum against tanning. It enables sun protection even while we had spent long hours in the sun. Rich in the Olive oil and carrot extracts, it is quite moisturizing for sensitive and dry skin. But it can also be quite heavy on the skin, so do remember that. Yet, I'll say for very dry skin, it'll be perfect. This sunscreen is suitable or boys/men who indulge in outdoor activities like playing sports, swimming, bike rides etc. 
15. Nivea Sun Moisturising Lotion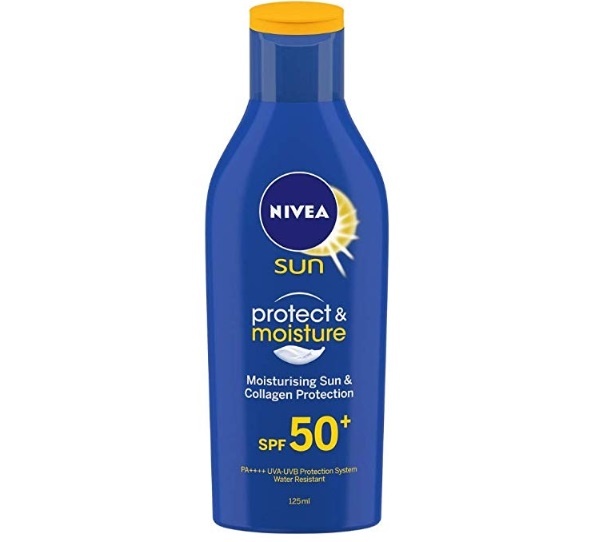 Nivea Sun Moisturising Lotion has the goodness of the natural emollients and skin healing hydrants that nourishes the dry face. This one of the best sunscreen for face and body both which is in budget. The product is suitable for winters as well as summers. This Nivea sunscreen has the SPF 50 which is adequate for daily wear and even for beaches. Nivea sun lotion provides instant sun protection and therefore, there is no need to wait for 20 minutes before leaving the house. It is a water resistant formula that is absorbed quickly. It gives protection against both UVA and UVB rays. Moreover, the sunscreen is suitable or men with dry face. It also has a Collagen Protect formula that protects skin's collagen to delay and prevent wrinkles.
Before you go, you must read:
How to Apply Sunscreen Lotions
First of all, you need to wash the face with cleanser or face wash

Or when you have come from the shower in the morning

Then you should pat dry the skin first

Take a dollop or coin sized of sunscreen (depending on your skin type)

Massage that on the face for 1-2 minutes

It takes time for lotion based sun blocks to get inside the skin

Wait for 2 minutes

Apply your regular skin cream

The same thing you have to do for the body

If you have to take bath in between the day then again apply the sunscreens to make sure you are UV protected.

Even the water proof ones wear off when you use soaps and shower products.
These are the best sunscreen for men available in India for different skin types as we have listed for oily, normal, dry skin and combination skin types. Have you used any of these? Which is your favorite for the year 2018? Do comments, if you have queries.